Amazon (AWS) Certification
Amazon Web Services (AWS) has emerged as one of the top cloud vendors in this cloud arena. AWS offers on-demand cloud computing platforms to organizations, individuals, as well as working professionals. Given the market share that AWS captures the cloud market, AWS is the most-used and most-demanded cloud platform. Amazon (AWS) has been known to offer scalable, reliable, and cost-effective cloud computing services.

Amazon Web Services (AWS) certifications are widely used across by professionals the most valuable certifications in the cloud computing industry. The learning platform offers detailed reports with reference to performance and identifies the areas that require improvement to pass AWS certifications.
AWS has over 175 fully-featured Cloud Computing services for a wide range of technologies, industries, and use cases. Further, these include-
Compute
Storage
Databases
Analytics
Networking
Mobile
Developer Tools
IoT
These services help companies accelerate faster with lower IT costs, and scale. Hence, trusted by many. AWS certification is a level of Amazon Web Services cloud specialization that an IT professional receives after qualifying one or more exams. Also, AWS offers different certification exams for cloud engineers, administrators and architects.
Testprep Training provides real-time exam questions and online courses for AWS which are constantly updated with the latest services launched. The online courses and practice exams incorporate detailed reports and exams about your performance.
AWS Certification Path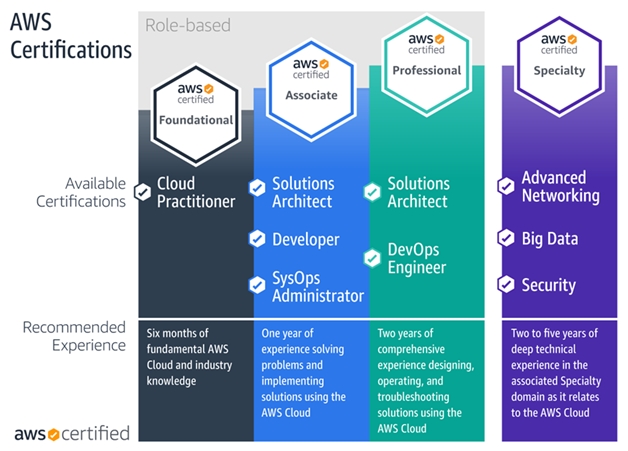 Why choose AWS Certification?

AWS is the world's most comprehensive and broadly adopted cloud platform, thereby making AWS Certifications the most valuable certifications in the cloud computing industry. As a result, IT professionals gain AWS certifications to demonstrate and validate technical cloud knowledge and skills. Here are a few other reasons to choose AWS certifications-
Increase in salary.
High demand in the job market.
Latest knowledge of the domain.
Opens doors to new avenues.
Emerging Networking Opportunities.
Market Demand for AWS Certification
With Amazon being the most mature provider and leader in the cloud computing world. Certainly, it plays a significant role in the cloud market, not just in present but also for years to come. As it powers many associations. As a result, there is increasing growth and demand for cloud computing both in terms of utilization and prominence.