What is the GMAT Exam?

The Graduate Management Admission Test (GMAT) is a standardized, three-part test delivered in English. The test was designed to help admissions officers evaluate how suitable individual applicants are for their graduate business and management programs. It measures basic verbal, mathematical, and analytical writing skills that a test-taker has developed over a long period of time through education and work.
The GMAT exam does not measure a person's knowledge of specific fields of study. Graduate business and management programs enroll people from many different undergraduate and work backgrounds, so rather than test your mastery of any particular subject area, the GMAT exam will assess your acquired skills. Your GMAT score will give admissions officers a statistically reliable measure of how well you are likely to perform academically in the core curriculum of a graduate business program.
Of course, there are many other qualifications that can help people succeed in business school and in their careers - for instance, job experience, leadership ability, motivation, and interpersonal skills. The GMAT exam does not gauge these qualities. That is why your GMAT score is intended to be used as one standard admissions criterion among other, more subjective, criteria, such as admissions essays and interviews.


Why Take the GMAT Exam?
GMAT scores are used by admissions officers in over 6,000 graduate business and management programs worldwide. Schools that require prospective students to submit GMAT scores in the application process are generally interested in admitting the best-qualified applicants for their programs, which means that you may find a more beneficial learning environment at schools that require GMAT scores as part of your application.


GMAT Exam Format
The GMAT exam consists of four separately timed sections (see the table). The test starts with one Analytical Writing Assessment (AWA) essay prompt, and you will have 30 minutes to type your essay on a computer keyboard. The AWA is followed immediately by the 30-minute Integrated Reasoning section, which features 12 question prompts in four different question formats. The test ends with two 75-minute, multiple-choice sections: the Quantitative section, with 37 questions, and the Verbal section, with 41.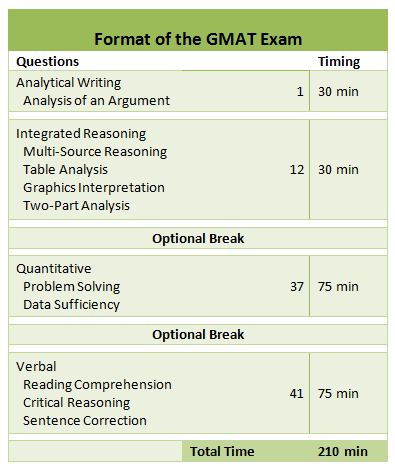 Here's how it works.
At the start of each GMAT multiple-choice section (Verbal and Quantitative), you will be presented with a question o f moderate difficulty. The computer uses your response to that first question to determine which question to present next. If you respond correctly, the test usually will give you questions of increasing difficulty. If you respond incorrectly, the next question you see usually will be easier than the one you answered incorrectly. As you continue to respond to the questions presented, the computer will narrow your score to the number that best characterizes your ability. When you complete each section, the computer will have an accurate assessment of your ability.
Because each question is presented on the basis of your answers to all previous questions, you must answer each question as it appears You may not skip, return to, or change your responses to previous questions.
When you take the test:
Only one question at a time is presented on the computer screen.
The answer choices for the multiple-choice questions will be preceded by circles, rather than by letters.
Different question types appear in random order in the multiple-choice sections of the test.
You must select your answer using the computer.
You must choose an answer and confirm your choice before moving on to the next question.
You may not go back to change answers to previous questions.


FAQ's on GMAT Exam
Q1.What Computer Skills Will I Need?
You only need minimal computer skills to take the GMAT exam. You will be required to type your essays on the computer keyboard using standard word-processing keystrokes. In the multiple-choice sections, you will select your responses using either your mouse or the keyboard.
Q2. What Are the lest Centers Like?
The GMAT exam is administered at a test center providing the quiet and privacy of individual computer workstations. You will have the opportunity to take two optional breaks - one after completing the Integrated Reasoning section and another between the Quantitative and Verbal sections. An erasable notepad will be provided for your use during the test.
Q3. How Are Scores Calculated?
Your GMAT scores are determined by
The number of questions you answer
Whether you answer correctly or incorrectly
The level of difficulty and other statistical characteristics of each question
Tour Verbal, Quantitative, and Total GMAT scores are determined by a complex mathematical procedure that takes into account the difficulty of the questions that were presented to you and how you answered them. When you answer the easier questions correctly, you get a chance to answer harder questions - making it possible to earn a higher score. After you have completed all the questions on the test - or when your time is up - the computer will calculate your scores. Your scores on the Verbal and Quantitative sections are combined to produce your Total score. If you have not responded to all the questions in a section (37 Quantitative questions or 41 Verbal questions), your score is adjusted, using the proportion of questions answered.
Q4. Analytical Writing Assessment Scores
The Analytical Writing Assessment consists of one writing task: Analysis of an Argument. Your essay is scored on a scale of 0 to 6, with 6 being the highest score and 0 the lowest. A score of zero is given for responses that are off-topic, are in a foreign language, merely attempt to copy the topic, consist only of keystroke characters, or are blank.
What do we offer?
Full-Length Mock Test with unique questions in each test set
Practice objective questions with section-wise scores
In-depth and exhaustive explanation for every question
Reliable exam reports to evaluate strengths and weaknesses
Latest Questions with an updated version
Tips & Tricks to crack the test
Unlimited access


What are our Practice Exams?
Practice exams have been designed by professionals and domain experts that simulate real time exam scenario.
Practice exam questions have been created on the basis of content outlined in the official documentation.
Each set in the practice exam contains unique questions built with the intent to provide real-time experience to the candidates as well as gain more confidence during exam preparation.
Practice exams help to self-evaluate against the exam content and work towards building strength to clear the exam.
You can also create your own practice exam based on your choice and preference
100% Assured Test Pass Guarantee

We have built the TestPrepTraining Practice exams with 100% Unconditional and assured Test Pass Guarantee!
If you are not able to clear the exam, you can ask for a 100% refund.