CAT (Common Admission Test)


About CAT (Common Admission Test)

CAT exam is conducted for admission to the Post-graduate and Fellow Programs in management courses of several management institutes all over India including the IIMs. The Indian Institutes of Management (IIMs) conducts the entrance exam every year.

Selection of the candidates depends on the CAT score along with other criterion like - group discussion (GD), academic performance, work experience, written assessment and interview performance. Note, the weightage assigned to CAT score may differ for each institute.


Eligibility Criterion for CAT Exam
Candidate must hold a 10+2+3 degree from a recognized university, with minimum 50% over all aggregate for general candidates.
Candidates must have completed the professional degrees like the CS, CA, or ICWA with the required percentage.

Relaxation of 5% for the candidates belonging to the reserved categories like SC, ST, OBC, and also candidates from PWD quota and with disability.
Candidates appearing in the final year of their bachelor's Examination or any other equivalent are eligible to appear for the entrance
Admission will only be given after the submission of the provisional or any other certificate from the university or the principle of the school or the university or registrar, as per the stipulated dates by the respective IIM.
Please Note - Applicants should note that the mere fulfilment of minimum eligibility criteria doesn't ensure the consideration by the IIM for short listing. Therefore it is advised to the applicants to maintain a unique email account and a phone number till the selection process goes on.

Exam Pattern for CAT Exam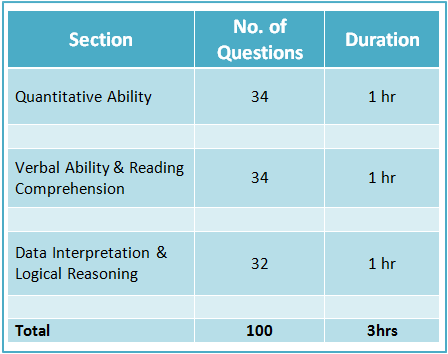 Course Structure for CAT Exam

CAT Exam syllabus has three sections namely -
Quantitative aptitude
Verbal reasoning
Data interpretation & logical reasoning
Note, there is no specific portion in each part that can be expected in the exam. You will have to make sure that you are mastering all three parts of the CAT exam. After revising the complete syllabus, you will have to start learning tips and tricks like shortcuts to solve the questions fast. it is very important to practice more and more practice papers and other tests to know your accuracy levels and area of improvement.

CAT Exam is a computer-based test, conducted in multiple cities as per the availability and choice. A candidate is free to choose the date of his/her test.


Top Institutions for CAT
List of top institutions include 20 IIMs and other prominent B- Schools for admission in their post-graduate

FORE School of Management
S.P. Jain Institute of Management Research
Fortune Institute of International Business (FIIB)
K. J. Somaiya Institute Of Management Studies And Research
Faculty of Management Studies (FMS) Delhi
Jaipuria Institute of management
MDI Gurgaon
SJMSOM (IIT-Bombay)
VGSOM (IIT Kharagpur)
Department of Management Studies (NIT Trichy)
DMS (IIT-Delhi)
TAPMI
IMT Ghaziabad
XIM-B


Application Process for CAT Exam
Register online at the CAT website with specified registration fee for General/NC-OBC and SC/ST/PWD-DA category respectively. Payment of registration fee can be done through online modes only including credit card, debit card or through net banking.
You do not have the option of choosing you preferred slot this time
The candidates must show their original mark sheets and to prove their eligibility submit photocopies at the time of interview. Also if you are selected for a programme, original degree certificate and mark sheets along with your photocopies must be submitted for verification at the time of joining the programme.

Official Website
http://www.iimcat.ac.in
What do we offer?
Full-Length Mock Test with unique questions in each test set
Practice objective questions with section-wise scores
In-depth and exhaustive explanation for every question
Reliable exam reports to evaluate strengths and weaknesses
Latest Questions with an updated version
Tips & Tricks to crack the test
Unlimited access


What are our Practice Exams?
Practice exams have been designed by professionals and domain experts that simulate real time exam scenario.
Practice exam questions have been created on the basis of content outlined in the official documentation.
Each set in the practice exam contains unique questions built with the intent to provide real-time experience to the candidates as well as gain more confidence during exam preparation.
Practice exams help to self-evaluate against the exam content and work towards building strength to clear the exam.
You can also create your own practice exam based on your choice and preference
100% Assured Test Pass Guarantee
We have built the TestPrepTraining Practice exams with 100% Unconditional and assured Test Pass Guarantee!If you are not able to clear the exam, you can ask for a 100% refund.


Table of Contents
Quantitative aptitude
Verbal reasoning
Data interpretation & logical reasoning