Certifications are the most viable and affordable way to advance one's career. One can easily identify the field in which he or she wants to develop and then select the certification according to that field. Certifications like Tableau Desktop Specialist Exam not only add value to one's skill set but also help one to develop and show dedication towards the career.
Before one chooses the certification to opt for, the consultation of the exam format and study resources is very important. We have curated this article to explain to you the exam format in detail and also some important policies which are essential for you to know before sitting for the exam. Let us get started!
Tableau Desktop Specialist Exam Overview
The Tableau Desktop Specialist Certification Exam is for candidates having foundational skills and knowledge of Tableau Desktop and at least three months of applying this understanding in the product.
Exam Prerequisites
There are no required prerequisites for this exam. Everyone learns differently and every day use of Tableau varies. Recommendations for learning resources and experience with the product are guidelines, not requirements.
Exam Format
The exam format for Tableau Desktop Specialist is summarized in a table below followed by a brief description of the same –
Firstly, The name of the exam is Tableau Desktop Specialist and there is no specific code for this exam. This exam consists of 30 number of questions that can be of type like a case study, short answers, multiple-choice, mark review, drag, and drop, etc.
Subsequently, The candidates can take the exam in English, Japanese, Simplified Chinese, German, French, Brazilian Portuguese, International Spanish. And, this exam will cost USD $100 inclusive of additional taxes.
Furthermore, you are expected to complete this exam in time duration of 60 minutes, which is not a difficult task if you know how to manage your time properly. And, to pass the exam it is required to score a minimum of 70%.
| | |
| --- | --- |
| Exam Name Tableau Desktop Specialist | Delivery Platform Windows Virtual Machinecontaining Tableau Desktop |
| Exam Duration 60 mins | Exam Format Multiple Choice and Multi-Response Questions |
| Validity No Expiration | Number of Questions 30 Questions |
| Eligibility/Pre-Requisite NIL | Exam Fee $100 USD |
| Exam Language English, Japanese, Simplified Chinese, German, French, Brazilian Portuguese, International Spanish | Pass Score 70% and above |
Exam Registration
To register yourself for the Tableau Desktop Specialist examination, follow these steps mentioned below:
Firstly, Go to the official Tableau Desktop Specialist exam guide page.
Secondly, Scroll down to the System Preparation option and click on register now.
Thirdly, You will be redirected to the Loyalist Exam Services page, who is the official exam partner of Tableau.
Subsequently, The candidate is then required to log in or signup. Then, follow the prompt.
Lastly, Complete the registration and make the payment.
Awarded Credentials
After the successful completion of this exam, you will be awarded the title of Tableau Desktop Specialist. This title does not expire.
Course Outline
The Tableau Desktop Specialist Course covers the following domains –
Connecting to & Preparing Data
Firstly, Create and save data connections
Secondly, Create a live connection to a data source
Thirdly, Explain the differences between using life connections versus extracts
Fourthly, Create an extract
Also, Save metadata properties in a. TDS
Subsequently, Modify data connections
Furthermore, Add a join and a blend
Also, Add a union
In addition, Manage data properties
Also, Rename a data field
Subsequently, Assign an alias to a data value
Moreover, Assign a geographic role to a data field
Also, Change data type for a data field (number, date, String, Boolean, etc.)
Lastly, Change default properties for a data field (number format, aggregation, color, date format, etc.)
Exploring & Analyzing Data
Create basic charts
Firstly, Create a bar chart and a line chart
Secondly, Draw a scatterplot and map using geographic data
Thirdly, Create a combined axis chart and a dual-axis chart
Fourthly, Create a stacked bar and a chart to show specific values (crosstab, highlight table)
Organize data and apply filters
Create a visual group and a group using labels
Create a set
Organize dimensions into a hierarchy
Add a date filter and context filter
Apply analytics to a worksheet
Add a manual or a computed sort
Add a reference line or trend line
Use a table calculation
Use bins and histograms
Create a calculated field (e.g. string, date, simple arithmetic)
Add a parameter
Sharing Insights
Format view for presentation
Use color, Bolding, shapes
Use viz animations
Change the size of marks
Select fonts
Create and modify a dashboard
Create a dashboard layout
Add interactive or explanatory elements
Add dashboard actions
Modify existing dashboard layout for mobile devices
Create a story using dashboards or views
Share a twbx as a PDF
Share a twbx as an image
Understanding Tableau Concepts
Dimensions and measures
Explain what kind of information dimensions usually contain
Demonstrate what kind of information measures usually contain
Discrete and continuous fields
Firstly, Explain how discrete fields are displayed in Tableau
Secondly, Show how continuous fields are displayed in Tableau
Thirdly, Explain the difference between the discrete data parts and continuous date values in Tableau
Aggregation
Explain why Tableau aggregates measures
Describe how an aggregated measure changes when dimensions are added to the view
Timeliness
Subsequently, Completing a task effectively and efficiently has become a standard that organizations expect from employees. This exam is timed because we view time as a critical competency needed to be successful.
To have more detailed information about the course outline, visit the online tutorials for Tableau Desktop Specialist exam by Testpreptraining.com!

Learning resources for Tableau Desktop Specialist Exam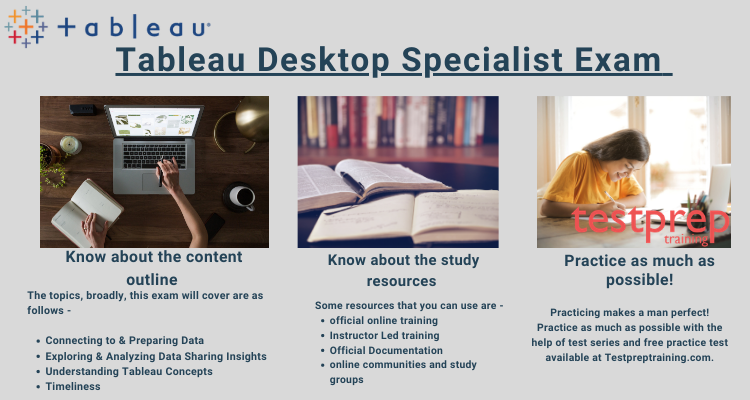 There are numerous resources apart from knowing exam format for Tableau Desktop Specialist. Furthermore, You can use these resources to prepare – books, online communities, online trainings, instructor-led trainings, preparation guides and sample papers as well as Tableau Desktop Specialist Practice Exam. Also, You can try a free practice test now too! You can even find the online tutorials by Testpreptraining.com! You can find the official free resources for the Tableau Desktop Specialist exam through the links listed below –

Get ready to give a major boost to your career by cracking the Tableau Desktop Specialist exam. Hurry up & start preparing now!