Microsoft has launched various certification opportunities for everyone. They are intended to equip professionals to take on tech's ever-evolving job roles. Providing the same essence in their Microsoft Exam MD-100 Windows 10, Microsoft aims for validating your expertise. This exam equips you with skills to manage identity, access, policies, updates, and apps. As an Administrator, you will typically collaborate with the Microsoft 365 Enterprise Administrator to design and implement a device strategy that meets the business needs of a modern organization.
However, these exams are quite difficult to crack. They require to expect guidance and proper training for you to succeed. Just relax, because we have got you covered. Here in this article, we present you a step by step study guide to help you embark on your journey.
Prerequisites for the MD-100 Exam
There are no prerequisites for the Microsoft MD-100 Windows 10 Exam. However you must be familiar with Microsoft 365 workloads. Additionally, you must be proficient and experienced in deploying, configuring, and maintaining Windows 10 and non-Windows devices and technologies.
Target Audience : MD-100
The MD-100 Certification Exam is valuable for new IT Professionals with at least a year of working in Windows 10, and also for experienced desktop support specialists looking to validate their Windows 10 skills. This MD-100 exam covers everything you need to know to run an enterprise Windows 10 environment.
Certification Details
With the successful completion of MD-100 : Windows 10 and MD-101 : Managing Modern Desktops you will earn the certification of Microsoft 365 Certified: Modern Desktop Administrator Associate.

Microsoft Exam MD-100 Study Guide
The following study guide is curated with the best learning resources. Each and every step in this study guide will lead you closer to reaching your goal. So, if you wish to qualify the MD-100 exam, buckle up because this study guide is all you need.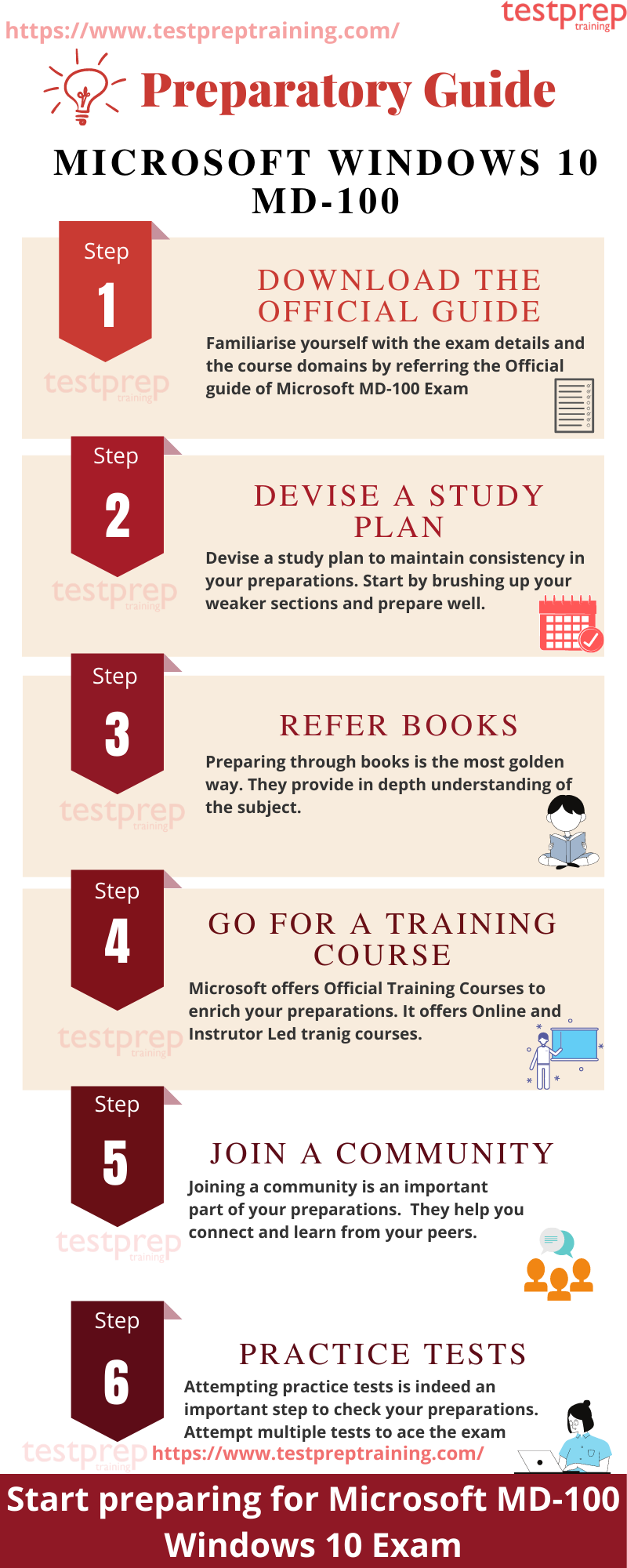 Step 1- Refer the Official Exam Guide
Firstly, you need to go through the Official guide of Microsoft MD-100 exam. Familiarise yourself with all the objectives and course domains of the exam. Devote enough time to each topic and have in-depth knowledge of the subject by tailoring your study focus around the course domains. Moreover, the official guide acts as a blueprint for the exam, hence always remember to refer to it. The Microsoft MD-100 exam objectives include:
Microsoft MD-100 exam updated course outline as on March 8, 2021.
1. Deploy Windows
Install Windows 10
perform a clean installation
perform an in-place upgrade (using tools such as WDS, ADK, etc.)
select the appropriate Windows edition
Perform post-installation configuration
configure Edge and Internet Explorer
configure mobility settings
customize the Windows desktop
troubleshoot activation issues
configure printers and external devices
configure Windows 10 by using provisioning packages
configuring Microsoft Store settings
configure application settings
configure and manage services
2. Manage devices and data
Manage users, groups, and devices
managing local groups
manage local users
managing users, groups, and devices in Active Directory Domain Services
manage users, groups, and devices in Azure Active Directory
configure sign-in options
Configure devices by using local policies
implement local policy
troubleshoot group policies on devices
configure Windows 10 settings by using group policy
Manage Windows security
configure user account control (UAC)
configure Windows Defender Firewall
implement encryption
configuring Windows Defender Antivirus
3. Configure storage and connectivity
Configure networking
configuring client IP settings
configure mobile networking
troubleshoot networking
Configure data access and protection
configure NTFS permissions
configuring shared permissions
configure local storage
manage and optimize storage
configure file and folder permissions
configure OneDrive/OneDrive for Business
4. Maintain Windows
Configure system and data recovery
perform file recovery
recover Windows 10
troubleshoot startup/boot process
create and manage system restore points
Manage updates
troubleshoot updates
select the appropriate servicing channel
configure Windows update options
plan for Windows updates
configure updates by using Windows Update for Business
Monitor and manage Windows
configure and analyze event logs
manage performance
manage Windows 10 environment
configure local registry
schedule tasks
Configure remote connectivity
manage Windows 10 remotely by using Windows Admin Center
configure remote assistance tools including Remote Assist and Quick Assist
manage Windows remotely by using Windows Remote Management and PS remoting
configure remote desktop access
Step 2- Devise a Study Plan
The next step is to strategize a study plan for your preparations. While devising the plan keep in mind the course topics and time duration left for the real exam. Remember to begin with strengthening your weaker sections. Moreover, devote enough attention to topics which have a higher weightage in the exam. Following your plan will help you remain consistent and also help in avoiding distractions. The key to excel is to start early, hence begin with your preparations and stay motivated.
Step 3- Study the traditional way through Books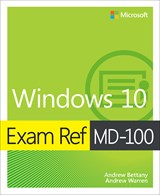 Books are the most important ingredient of preparation. There are a vast variety of books available in the market which you can use to prepare for the Microsoft MD-100 Exam. Therefore, our suggestion to you would be to find books for the Microsoft MD-100 exam from genuine sources.
We recommend you the Microsoft Exam MD-100 Windows 10 Certification Guide book offered at the Microsoft Press Store. This book focuses on the critical thinking and decision-making acumen needed for success at the Microsoft Certified Associate level.
Step 4- Go for a Training Course
Microsoft offers their training courses to provide you with the necessary tools, Microsoft MD-100 exam dumps, and study resources. These Microsoft Exam MD-100 training courses aid your preparations by providing you the practical experience and hands-on training. Microsoft offers two types of training courses
Instructor Led Training
Microsoft offers the Course MD-100T00-A: Windows 10 as a part of its instructor led training.
About the Course
The Course MD-100T00-A: Windows 10 training course will help you learn how to support and configure Windows 10 desktops in an organizational environment. This course covers 13 modules which are focused on imparting you with the essential skills and practical knowledge to clear the exam.
Skills developed
The skills that are imparted through this instructor led training course are-
Firstly, Install and customize Windows 10
Secondly, Configure Updates for Windows.
Thirdly, Configure devices and drivers for Windows.
Also, Configure storage for Windows.
Subsequently, Configure network and remote management settings in Windows.
Moreover, Configure and manage browsers and applications in Windows.
Not to mention, Configure account access and authentication.
Additionally, Configure file and folder permissions.
Then, Describe methods for securing Windows 10, common threats and methods for mitigating against them.
Further, Troubleshoot Windows and application installations.
Furthermore, Troubleshoot hardware and driver issues.
Lastly, Troubleshoot file issues and perform recoveries.

Online Learning Courses
Microsoft also offers the online learning course to assist your self- paced learning. The Microsoft 365 – Modernize your enterprise deployment with Windows 10 and Microsoft 365 Apps. This course covers 9 modules.
Step 5- Join the Community
Online forums and study groups are indeed a great way to prepare for the MD-100 Exam. The best way to get in touch with other candidates is through study forums or online groups. Moreover, you can ask a question related to the topic you're having difficulty with.
Also, such groups provide regular insights about the exams. The discussions are really beneficial for you to excel the exam.
Step 6- Attempt Practice Tests
Finally, it is time to check your preparations. Self-Evaluation is the key and hence your next step is to go for Microsoft MD-100 practice exam tests. The more you're going to practice, the better for you. Moreover, these practice tests provide you with the real exam environment and also help you analyse areas that need improvement. Strengthening your weaker domains will surely help you pass with flying colours. Therefore, attempt as many practice tests as you can. Start using Microsoft MD-100 practice tests now!

Enrich and upgrade your profile with the Microsoft MD-100 Windows 10. Start Preparing Now!