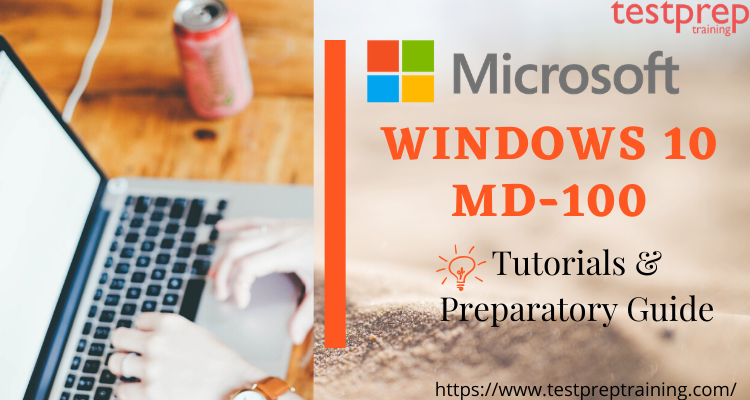 Microsoft has launched various certification opportunities for everyone. They are intended to equip professionals to take on tech's ever-evolving job roles. Providing the same essence in their MD-100 Microsoft Windows 10, Microsoft aims for validating your expertise.
Certifications from Microsoft are among the most highly regarded in the IT field. They validate your skills with a globally-recognized badge of honour, and also illustrate your commitment to your profession. These certifications provide you with an extra edge over your competitors. However, these exams are quite difficult to crack. They require to expect guidance and proper training for you to succeed. Just relax, because we have got you covered. Here in this article, we present you tutorials and preparatory guide to help you embark on your journey.
What is Microsoft MD-100 Exam?
MD-100 exam is for candidates who are Administrators and knows how to deploy, configure, secure, manage, and monitor devices and client applications in an enterprise environment. This exam equips you with skills to manage identity, access, policies, updates, and apps. As an Administrator, you will typically collaborate with the Microsoft 365 Enterprise Administrator to design and implement a device strategy that meets the business needs of a modern organization. This exam is a stepping stone for you to become a Microsoft 365 Certified: Modern Desktop Administrator Associate.
Why choose Microsoft MD-100 Exam?
The highly acclaimed Microsoft MD-100 Exam for Windows 10 accelerates your career growth and definably helps you climb up your professional ladder. Importantly, the MD-100 exam is also a stepping stone away from the help desk and toward higher-level system administration roles. The MD-100 will not only teach you about the tools you never knew were tucked into the Windows OS, but it'll validate the entire body of Microsoft knowledge you've already acquired. This certification exam also guarantees the following benefits.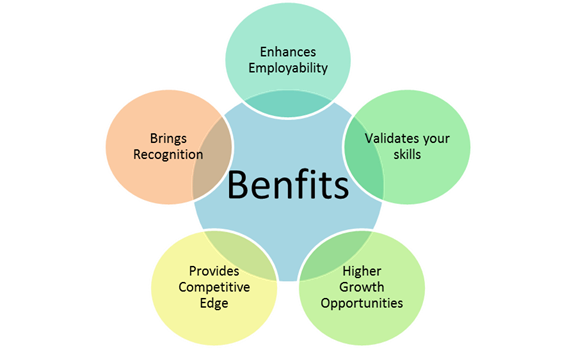 Validates your skills
This certification validates your mastery in managing and deploying devices and client applications in an enterprise environment. It demonstrates your expertise and knowledge.
Enhances Employability
This certification proves your skills and therefore enhances your employability by making you job ready.
Higher growth opportunities
This certification guarantees high growth opportunities. About 23% of Microsoft certified professionals reported receiving up to a 20% salary increase. It also helps you chase further advanced goals in the field of IT.
Provides competitive edge
Microsoft Certifications provide you with a competitive edge over non certified candidates. It is estimated that certified employees earn 15% more than those without certification and are nearly 20% more productive.
Brings recognition
You'll make immediate impact as a Microsoft Certified Professional. This credential will help you in getting noticed and bring recognition.Additionally, once you're certified you will be able to share your achievements through your Microsoft Badge. This Microsoft Badge can be shared online within your professional network as it trusted and verifiable. It also helps find jobs easily and increases your salary potential.
Certification Details
With the successful completion of Microsoft Exam MD-100 Windows 10 and MD-101 : Managing Modern Desktops you will earn the certification of Microsoft 365 Certified: Modern Desktop Administrator Associate.

Exam Details : MD-100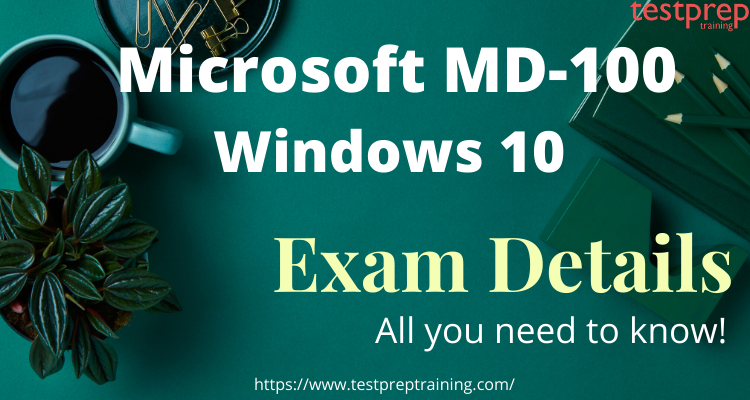 Before commencing your preparations it's important to familiarise yourself with the exam details. Let's discuss

Prerequisites for the MD-100 Exam
There are no prerequisites for the Microsoft MD-100 Windows 10 Exam. However you must be familiar with Microsoft 365 workloads. Additionally, you must be proficient and experienced in deploying, configuring, and maintaining Windows 10 and non-Windows devices and technologies.
Target Audience : MD-100
The MD-100 Certification Exam is valuable for new IT Professionalswith at least a year of working in Windows 10, and also for experienced desktop support specialists looking to validate their Windows 10 skills. This MD-100 exam covers everything you need to know to run an enterprise Windows 10 environment.
Exam retake policy : MD-100
If you were not able to clear the exam in the very first attempt, then remember it's not the end of the road but just a small bump. Microsoft allows you 5 attempts per year for a specific exam. The exam retake policy is as follows-
If a candidate is not able to clear the exam in the first attempt, the candidate must wait at least 24 hours before retaking the exam.
If a candidate does not clear the exam the second time, candidate must wait at least 14 days before retaking the exam a third time.
A 14-day waiting period is also there for the fourth and fifth subsequent exam retakes.
Cancellation and Reschedule Policy:
Microsoft allows free cancelling of the Exam within 24 hours prior to your scheduled appointment.
But, if you fail to show up on your exam day without rescheduling or cancelling your exam, Microsoft reserves all rights to forfeit your entire exam fee.
Reschedule, cancel or schedule Microsoft MD-100 exam using the Certification Dashboard.
Exam FAQ: Microsoft MD-100
In order to qualify the MD-100 examination, you must have clarity about all the exam policies. For further queries visit Microsoft MD-100 Exam FAQs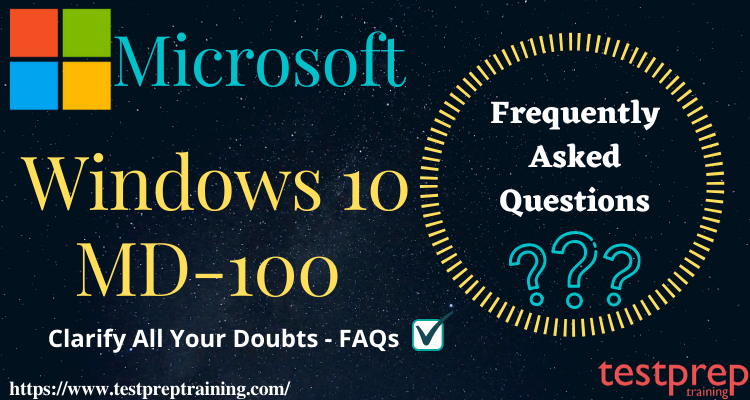 Course Outline : MD-100
Understanding the course outline of MD-100 is the next important step. It familiarises you with the exam framework. The exam course includes 4 domains. The Percentage against each domain represents its weightage in the exam. Also, these domains are divided into subtopics to provide further insights into the exam course. The Microsoft MD-100 exam objectives include:
Microsoft MD-100 exam updated course outline as on March 8, 2021.

1. Deploy Windows
Install Windows 10
Perform post-installation configuration
2. Manage devices and data
Manage users, groups, and devices
Configure devices by using local policies
Manage Windows security
3. Configure storage and connectivity
Configure networking
Configure data access and protection
4. Maintain Windows
Configure system and data recovery
Manage updates
Monitor and manage Windows
Configure remote connectivity
Microsoft MD-100 Study Guide for Preparation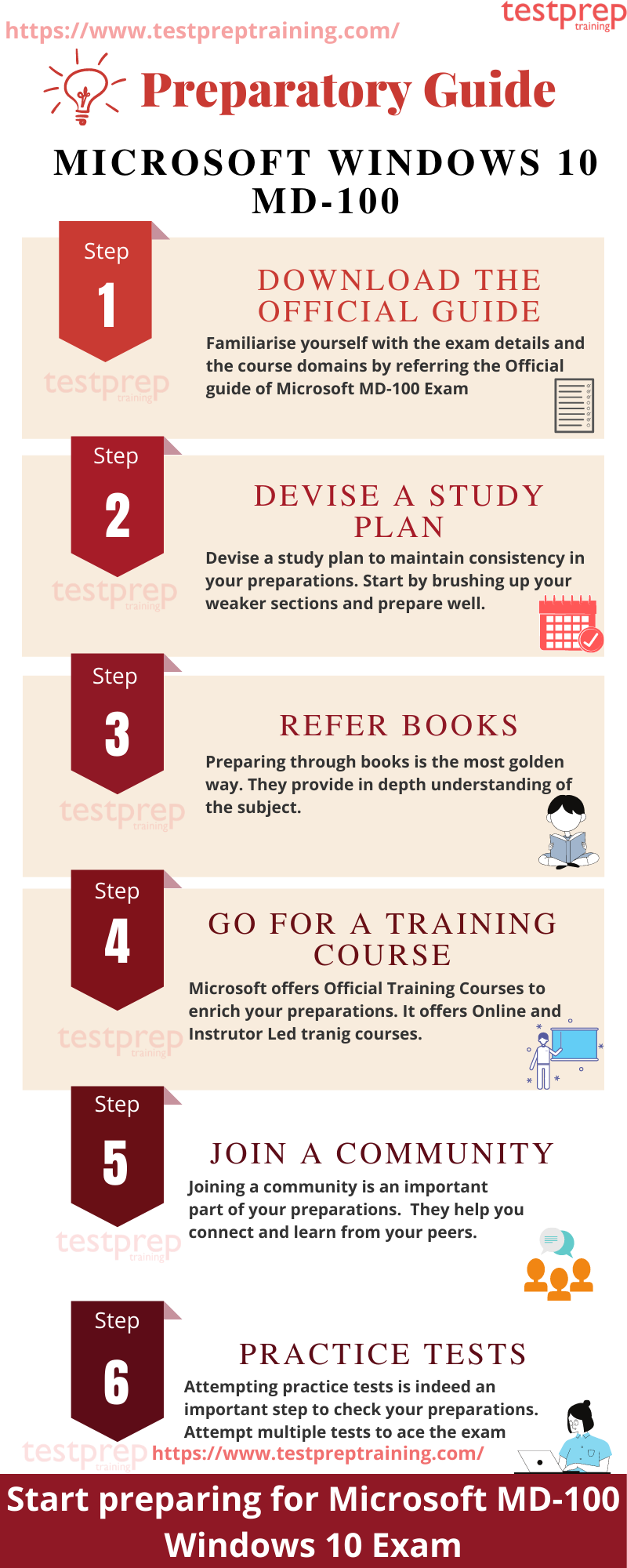 The key to successfully pass an exam is by preparing right. Preparations demand consistency and determination. There are plenty resources available, for your preparations. You must have the right information and tools to crack the exam. We present you our specially curated preparatory guide to help you pass the Microsoft MD-100 Certification in the very first attempt. Let's discuss step by step.
Step 1- Refer the Official Exam Guide
Firstly, you need to go through the Official guide of Microsoft MD-100 exam. Familiarise yourself with all the objectives and course domains of the exam. Devote enough time to each topic and have in-depth knowledge of the subject by tailoring your study focus around the course domains. The official guide acts as a blueprint for the exam with including the Microsoft MD-100 exam dumps and other study resources, hence always remember to refer it.
Step 2- Devise a Study Plan
The next step is to strategize a study plan for your preparations. While devising the plan keep in mind the course topics and time duration left for the real exam. Remember to begin with strengthening your weaker sections. Moreover, devote enough attention to topics which have a higher weightage in the exam. Following your plan will help you remain consistent and also help in avoiding distractions. The key to excel is to start early, hence begin with your preparations and stay motivated.
Step 3- Study the traditional way through Books
Books are the most important ingredient of the preparation. There are a vast variety of books available in the market which you can use to prepare for the Microsoft MD-100 Exam. Therefore, our suggestion to you would be to find Microsoft Exam MD-100 books from genuine sources.
We recommend the Microsoft Exam MD-100 Windows 10 Certification Guide Book offered at the Microsoft Press Store. This book focuses on the critical thinking and decision-making acumen needed for success at the Microsoft Certified Associate level.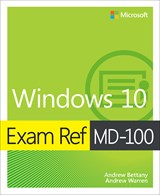 Step 4- Go for a Training Course
Microsoft offers their training courses to provide you with the necessary tools and resources. These Microsoft Exam MD-100 training courses aid your preprations by providing you the practical experience and hands on training. Microsoft offers two types of raining courses
Instructor Led Training
Microsoft offers the Course MD-100T00-A: Windows 10 as a part of its instructor led training.
About the Course
The Course MD-100T00-A: Windows 10 training course will help you learn how to support and configure Windows 10 desktops in an organizational environment. This course covers 13 modules which are focused on imparting you with the essential skills and practical knowledge to clear the exam.
Skills developed
The skills that are imparted through this instructor led training course are-
Install and customize Windows 10
Configure Updates for Windows.
Configure devices and drivers for Windows.
Configuring storage for Windows.
Configure network and remote management settings in Windows.
Configure and manage browsers and applications in Windows.
Configureing account access and authentication.
Configure file and folder permissions.
Describe methods for securing Windows 10, common threats and methods for mitigating against them.
Troubleshoot Windows and application installations.
Troubleshooting hardware and driver issues.
Troubleshoot file issues and perform recoveries.
Online Learning Courses
Microsoft also offers the online learning course to assist your self- paced learning. The Microsoft 365 – Modernize your enterprise deployment with Windows 10 and Microsoft 365 Apps. This course covers 9 modules.
Step 5- Join the Community
Online forums and study groups are indeed a great way to prepare for the MD-100 Exam. The best way to get in touch with other candidates is through study forums or online groups. Moreover, you can ask a question related to the topic you're having difficulty with.
Also, such groups provide regular insights about the exams. The discussions are really beneficial for you to excel the exam.
Step 6- Attempt Practice Tests
Finally, it is time to check your preparations. Self-Evaluation is the key and hence your next step is to go for Microsoft MD-100 practice exam tests. The more you're going to practice, the better for you. Moreover, these practice tests provide you with the real exam environment and also help you analyze areas that need improvement. Strengthening your weaker domains will surely help you pass with flying colors. Therefore, attempt as many practice tests as you can. Start using Microsoft MD-100 practice tests now.

Enrich and upgrade your profile with the Microsoft MD-100 Windows 10. Start Preparing Now!
100% Exam Pass Guarantee
Want to become a Microsoft MD-100 Administrator?
Learn More
Are you preparing for Microsoft MD-100 Exam?
Take a Quiz