DevOps as a groundbreaking philosophy has brought new changes which have reframed the IT sector as we see today. With the increase in industry, the demand for DevOps engineer experts has increased. So, many IT professionals prefer a DevOps career because of its massive potential for long-term growth. Microsoft offers Exam AZ-400 Microsoft Azure DevOps Solutions suitable for professionals working in this domain to combine people, processes, and technologies for continuously delivering valuable products and services to meet end-user requirements and business objectives.
So in case you are planning to pursue a career as Microsoft Azure Certified DevOps Associate, then Microsoft Azure AZ-400 exam is the most significant step in your journey. To know more, stay with us. The article gives a comprehensive guide providing complete details about the exam together with tips and tricks by experts to prepare for the exam.
Why to go for AZ-400 Exam?
With large exposure of Microsoft Azure cloud services, Microsoft Azure certified professionals are in high demand for developing cloud applications and managing cloud infrastructures. Among the most prominent advancements, the key of these technological revolutions is the DevOps movement.
So it is extremely crucial to understand the worth of the Microsoft AZ-400 certification exam before you dive into preparing for the exam. Also you must have a clear understanding of the opportunities and job market for DevOps professionals.
DevOps professionals often start as sysadmin operators or multilingual programmers with minimum skills in infrastructure management. Such that, a career in DevOps will persistently analyze a candidates potential to learn about the latest DevOps tools. So, let's gather all the necessary resources and preparation material and get started. But before you rush let's just make a pit stop and acquire a few basic details of the AZ-400 exam.
Microsoft AZ-400 : A General Review
DevOps, as the name suggests, is an amalgamation of development and operations. The application of DevOps in software development has received wide recognition that helps in establishing a clear affiliation between development and IT operations. The primary purpose of DevOps is to reinforce the relationship between development and IT operations.
Candidates preparing for this exam are DevOps professionals who are required to bring together people, processes, and technologies to continuously deliver valuable products and services to meet end-user needs and business objectives. Following are required skills to become a DevOps Professional –
DevOps professionals should be able to streamline delivery by optimizing practices, improving communications and collaboration, and creating automation.
They should be able to design and implement strategies for application code and infrastructure that permits continuous integration, testing, delivery, monitoring, and feedback.
Also candidates appearing for the exam must be proficient with Agile practices.
Candidates should be familiar with both Azure administration and Azure development and experts in at least one of these areas.
Azure DevOps professionals should be able to design and implement DevOps practices for version control, compliance, infrastructure as code, configuration management, build, release, and testing by using Azure technologies.
AZ-400 Exam Details
Now before you start preparing for your AZ-400 exam let's go through the details of AZ-400 exam to avoid any detail missing in the process of preparation. Lets us just start by noting all the basic information about the AZ-400 exam.
AZ-400 Exam Prerequisites
To achieve the status of Microsoft Certified: Azure DevOps Engineer Expert, few things to check on your checklist before going for Microsoft Azure DevOps Solution Certification. The certification can be achieved by qualifying the AZ-400 exam. For this you must have a clear understanding about the fundamentals of Azure. Microsoft has prescribed two possible scenarios in which you can apply for the DevOps engineer expert certification.
You should have an Azure administrator certification or Azure developer certification. In case you are new to the Azure learning path, then go for the Microsoft Azure Fundamentals exam i.e. AZ-900 exam preparation first.
Post that, you can easily proceed towards an associate-level Azure certification as Azure Administrator or Azure Developer. Where, Microsoft Azure administrator associate certification is referred as the AZ-103 exam and Microsoft Azure Developer Associate certification is referred as the AZ-203 exam. You can choose from either one of them for attaining eligibility to appear for the Microsoft Azure DevOps certification AZ-400 exam.
Therefore it is very important to ensure you are well skilled before appearing for the Microsoft AZ-400 exam. So, In order to avoid any inconvenience – Get ready and prepare for Microsoft AZ-400 exam with practice tests.
Microsoft AZ-400 Course Outline
Microsoft Azure DevOps Solution AZ-400 also follows a similar structure to any other Azure role-based exam. In case you have already appeared for the azure role-based exam before then you don't have to bother much about the exam policies, pattern, scoring, and other related topics.
Microsoft Azure DevOps Solution AZ-400 Exam Details
| | |
| --- | --- |
| Exam Name | Microsoft Azure DevOps Solution AZ-400 Exam |
| Technology | Microsoft Azure |
| Prerequisites | Azure Administrator Associate or Azure Developer Associate Certificate |
| Exam cost | $165 USD |
| Total Questions | 40-60 |
| Exam Duration | 150 Minutes |
| Exam Language | English, Korean, Japanese, Simplified Chinese |
| Type of questiosn | Multiple-choice, Multiple-answer, Sequence type, Case studies based questions |
Now that we've acquired the basic exam details, let's move forward towards the module section. Since the exam is an expert level certification, so it's going to be difficult. Don't take it lightly. Therefore Microsoft has structured different modules so that it is easy to adapt and structure your preparation accordingly.  We have detailed all the modules below.
AZ-400 Exam updates in the course outline as on July 13, 2022.
1. Configure processes and communications (10—15%)
Configure activity traceability and flow of work
Configure collaboration and communication
2. Design and implement source control (15—20%)
Design and implement a source control strategy
Design and implement an authentication strategy (Microsoft Documentation: Design authentication and credential strategies)
Design a strategy for managing large files, including Git LFS and git-fat
Design a strategy for scaling and optimizing a Git repository, including Scalar and crossrepository sharing (Microsoft Documentation: Git limits)
Implement workflow hooks (Microsoft Documentation: Webhooks)
Plan and implement branching strategies for the source code
Configure and manage repositories
3. Design and implement build and release pipelines (40—45%)
Design and implement pipeline automation
Design and implement a package management strategy
Design and implement pipelines
Select a deployment automation solution, including GitHub Actions and Azure Pipelines (Microsoft Documentation: Deploy to App Service using GitHub Actions)
Design and implement an agent infrastructure, including cost, tool selection, licenses, connectivity, and maintainability
Develop and implement pipeline trigger rules (Microsoft Documentation: Trigger one pipeline after another)
Develop pipelines, including classic and YAML (Microsoft Documentation: Create your first pipeline)
Design and implement a strategy for job execution order, including parallelism and multi-stage (Microsoft Documentation: Task Parallel Library (TPL), jobs.job.strategy definition)
Develop complex pipeline scenarios, such as containerized agents and hybrid (Microsoft Documentation: Define container jobs (YAML))
Configure and manage self-hosted agents, including virtual machine (VM) templates and containerization (Microsoft Documentation: Run a self-hosted agent in Docker)
Create reusable pipeline elements, including YAML templates, task groups, variables, and variable groups (Microsoft Documentation: Define variables)
Design and implement checks and approvals by using YAML environments (Microsoft Documentation: Release deployment control using approvals)
Design and implement deployments
Design and implement infrastructure as code (IaC)
Maintain pipelines
4. Develop a security and compliance plan (10—15%)
Design and implement a strategy for managing sensitive information in automation
Automate security and compliance scanning
Automate analysis of source code by using GitHub code scanning, GitHub secrets scanning, pipeline-based scans, and SonarQube
Automate security scanning, including container scanning and OWASP ZAP (Microsoft Documentation: Develop secure applications on Azure)
Automate analysis of licensing, vulnerabilities, and versioning of open-source components by using WhiteSource and GitHub Dependency Scanning (Microsoft Documentation: DevSecOps with GitHub Security)
5. Implement an instrumentation strategy (10—15%)
Configure monitoring for a DevOps environment
Analyze metrics
Don't be demotivated with this long list of modules. We understand your concern to complete the syllabus. So make sure to check out all the AZ-400 exam preparation resources under the section 'Prepare for AZ-400 exam'.
Pass Microsoft AZ-400 Exam with real-time practice exam and expert guidance. Try AZ-400 Free Practice Test Now!
Process of Exam Scoring for AZ-400
Make sure you are scoring above 700 which is always appreciated to boost your self-confidence. But, if by chance you score below 700 then you would not be qualified. You can easily view your remarks after a few moments of your submission of the AZ-400 exam. But in case you're eager to know about the detailed exam statement of yours, then you have to wait for a few days. Your scorecard will reflect all the details of your overall performance of the AZ-400 exam you've undertaken.
Is Retake available for AZ-400 exam?
Not to worry if you weren't able to qualify in the first attempt. Don't feel low. You can always take a retest. But we would recommend going for retest again only if you're fully convinced about your preparation this time. So make sure you are putting your best foot forward. So according to Microsoft-
If any person is not able to manage a passing score on the exam the first time, then the person must wait for at least 24 hours before rescheduling the AZ-400 exam.
If any person is not able to manage the passing score the second time as well, the candidate must wait for at least 14 days before rescheduling the AZ-400 exam for the third time.
A 14-day waiting period is also compulsory for both the fourth and fifth subsequent exam retakes. No examiner is allowed to appear for a given exam, not more than five times per year (12 months).
This 12-month time period starts on the last or fifth unsuccessful AZ-400 exam retake. Only after that, the examiner is again allowed to retake the exam 12 months from that date.
To attempt this exam more than five times per year or to have the time between attempts waived, then-candidate should request and obtain prior permission from Microsoft. Requests should be sent to [email protected] These requests should include the following information – MCID, Name, Email and Exam Number
How to Cancel/ Reschedule exam?
Following are some of the cases of cancellation –
In case you plan to cancel or reschedule any slot, then it should be done at least 6 business days before the scheduled exam time so that there are no charges for the cancellation.
In case there is any cancellation or rescheduling within 5 business days, then you will be charged a nominal fee.
In case you fail to reschedule or cancel the appointment 24 hours before the scheduled time then the entire exam fee will be forfeited. So be careful!
How to schedule AZ-400 Exam?
You need to follow the given steps in the process of scheduling the exam –
Go to the Microsoft portal and register for your exam.
When you are done with preparations go ahead and schedule your exam by clicking on the "schedule exam" link.
Fill all your details on the next page.
candidates can select the exam delivery options from the page of Pearson VUE, Microsoft's exam partner.
Your registration will complete once there's a confirmation on the payment of your exam fee.
Azure Training and Certification Path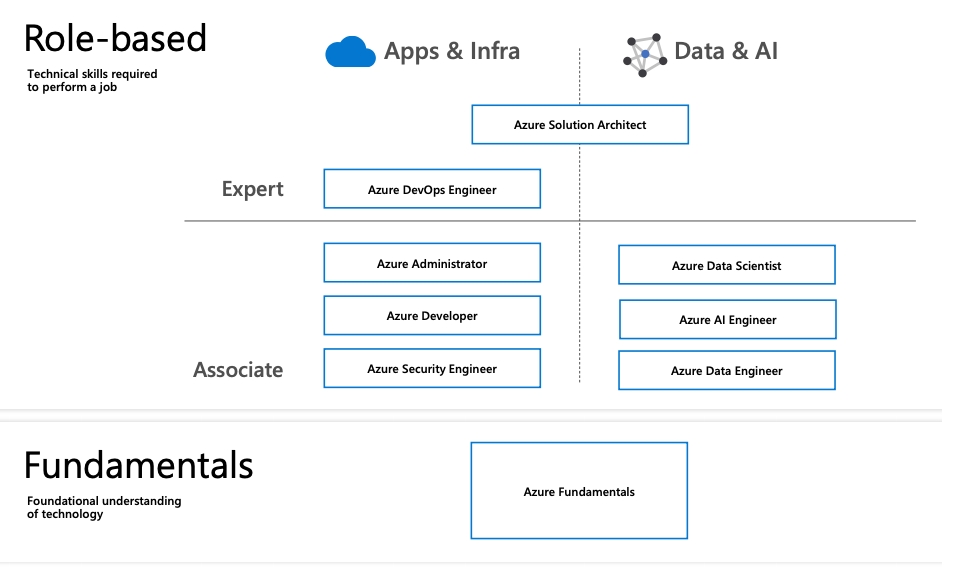 How to prepare for AZ-400 exam?
Getting certified for your knowledge and skills will boost your confidence and provide you with immense credibility. This will prove as a stamp of approval. So before you look for where to study? Here is a list of learning resources from which you can easily study. Right preparation path will allow you to pass the AZ-400 exam in the very first go. That's exactly what we want right? So let's get started!
Learning Resource 1 – Microsoft Learning Platform
Now let's direct you in the right direction so that you can complete your syllabus from a verified and genuine platform. For the same, make sure you go through the official website of Microsoft. For the AZ-400 exam, it would be a smart choice to first go through Microsoft website to get authentic information about the exam. You can easily locate the AZ-400 page where you can just go through all the necessary information about the AZ-400 exam. From exam pattern to all the included modules and study materials are covered on the portal itself.
Learning Resource 2 – Microsoft Documentation
Now make sure you don't mix Microsoft documentation with Microsoft learning portal as both of these contain different learning pages. By using Microsoft documentation you can easily understand Microsoft azure expert's solution DevOps fundamentals. Moreover, you can also get to know the different scales of different azure services. This will make sure that you are working by the clock and learning so much new to azure technologies offered by experts directly to you.
Learning Resources 3 – Instructor-Led Training
Microsoft provides you with online and instructor-led training for AZ-400 exam. Just a reminder for you, go through their portal once for instructor-led training. This is an advantage for all those of you who have tiny slots between their ongoing chores. These are totally on-demand classrooms so you can arrange classes according to your convenience. Isn't this cool? Who offers you that? So the moment you are able to find a Microsoft training partner, now you just have to head towards their website for booking training sections.
Learning Resource 4 – Books and Periodicals
Books are always a good way to acquire new knowledge. So, our suggestion to you would find books for exam AZ-400 from genuine sources. If you wish to consider magazines and scholarly journals, then double-checks before you rely on it. You can go through the following Microsoft AZ-400 books –
The DevOps Handbook: How to Create World-Class Agility, Reliability, and Security in Technology Organizations by Gene Kim, Patric Debois, John Willis, Jez Humble, and John Alspaw,
The DevOps Adoption Playbook: A Guide to Adopting DevOps in a Multi-Speed IT Enterprise by Sanjeev Sharma
DevOps: A Software Architect's Perspective (SEI Series in Software Engineering) by Lenn Bass, Ingo Weber, and Liming Zhu.
Learning Resource 5 – Study Groups and Forums
This particular step is not mandatory for your preparation. This step of joining any study group or forum depends on you. At any point while preparing you can join any study group. But this can always turn out in your favor. Study groups will make sure you are connected to all other people who are also going through the same journey as yours. You can always ask a question related to the topic you're having difficulty with. Many people in study groups can also help you understand any query you have relating to the AZ-400 exam.
Learning Resource 6 – E-books, Analyst Reports, and White Papers
Resources preferred by each candidate may differ but, the candidate should always go through AZ-400 E-books, Analyst reports, and white papers because these are published by Microsoft itself. These can turn out to be the most useful resources for your AZ-400 exam, as you can access these various reports using Microsoft credentials.
Learning Resource 7- Practice Tests
Finally, we're on the last step for the preparation for the AZ-400 exam. This final step will give you the exact insight into where you stand. Are you ready to self-evaluate? Make sure you're going through AZ-400 sample tests only after you have gone through the whole syllabus. All the sample test mock/test/ practice tests are designed in such a way that you encounter the real exam environment around you. After completing AZ-400 sample tests you can easily understand the areas you're lacking behind and work upon them. Practice papers can be from various sources. Remember the more you test yourself the better you're going to become.
On the Exam Day
By this time, you must be fully prepared, but the most important step is yet to be achieved. No matter how well you have prepared, exam anxiety is a common trait a day before the exam.
Don't come under any pressure. You won't be able to concentrate on the exam well.
Don't overthink. Just focus, and do what works best for you.
Just relax; you're going to be okay.
Conclusion
If you're aspired to advance your career and are motivated to follow your dreams. Microsoft Azure DevOps Solution AZ-400 certification will be the last and final step in your journey to becoming Microsoft Azure DevOps Engineer Expert. Certification courses like AZ-400 will not only prove that you have the skills required for the job but will also showcase your commitment towards your dreams and aspirations. Training and certification do impact your profession positively in terms of financial benefits too.
Don't doubt your worth, buckle up! Gear yourself up with all the resources we've discussed above along with proper use of your time. With these resources, the AZ-400 exam is completely achievable. ALL THE BEST.
GET CERTIFIED NOW!