Certifications such as the Multi-factor Authentication Essentials (MFA) test have become increasingly significant in the lives of career-minded people. They are the easiest and most convenient option to advance your profession without using too much time and effort. Multi-Factor Authentication (MFA), on the other hand, is the process of a person or device giving two or more distinct forms of proof of control connected with a certain digital identity in order to acquire access to the related permissions, rights, privileges, and memberships.
Furthermore, certificates not only assist you in developing and growing, but they also demonstrate your dedication to your personal aims and goals. A company is continuously looking for people that are eager to learn and progress. However, in order to pass the certification, you'll need the correct materials. This is the appropriate platform for you to get all of the knowledge and study tools you need at the end of the day. Hundreds of third-party suppliers offer additional MFA solutions, which are supported by default in the most prevalent operating systems. As a result, the need for specialists in this industry is increasing. Let's get started.
What is Multi-factor Authentication Essentials (MFA) Certification exam about?
The WatchGuard Multi-Factor Authentication Essentials exam will test your understanding of multi-factor authentication's fundamental concepts. It will also cover how to use WatchGuard AuthPoint to establish and manage multi-factor authentication and resources. This test is designed for network administrators who have experience in establishing and operating AuthPoint.

Key Concepts:
To successfully complete the Multi-factor Authentication Essentials exam, you must understand these key concepts:
AuthPoint Knowledge
Resource configuration
Group and user configuration
LDAP and RADIUS integration
Logon App
Troubleshooting
General Authentication and Security Knowledge
Now that we are familiarized with the concept of the exam, we shall now look at the details of the exam.
Exam Overview
There will be 55 multiple choices (choose one option), multiple selections (pick more than one option), true/false, and matching questions starting with the Multi-Factor Authentication Essentials test questions. To pass the exam, you must get a score of 75 percent or above. The test has a time restriction of two hours to complete. This is a proctored exam with two testing locations: the Kryterion testing facility and online, with virtual proctoring through an authorized webcam.
The Multi-Factor Authentication video course or instructor-led course is recommended, but not required. The cost of taking the exam is 200 USD.
| | |
| --- | --- |
| Name of the exam | Multi-Factor Authentication Essentials exam |
| No. and type of questions | 55 multiple choice (select one option), multiple selection (select more than one option), true/false, and matching questions. |
| Passing marks | 75% |
| Time allowed | 2 hours (120 minutes) |
| Cost of taking the exam | 200 USD |
These were the details of the exam which are essential to be known before sitting for the exam. Let us have a deeper look at the areas on which exam will evaluate a candidate.
Assessment Areas
The following are the topics on which the exam will access candidate's ability and knowledge for clearing the exam –
Course Outline for Multi-factor Authentication Essentials Certification Exam was updated in March, 2021.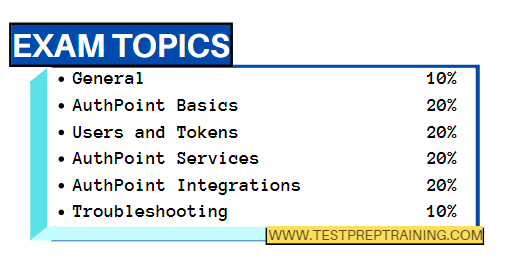 Topic 1: General
In this the candidates will understand the basic multi-factor authentication concepts that are not unique to AuthPoint. The sections include:
Topic 2: AuthPoint Basics
This will help candidates to understand how to set up AuthPoint. This include sections:
Topic 3: Users and Tokens
This provides understanding of how to set up AuthPoint. The sections are:
AuthPoint external identities
LDAP synchronization
LDAP user management
Hardware tokens and token management
Topic 4: AuthPoint Services
It will help in learning and understanding how to set up AuthPoint. The section in this are:
Topic 5: AuthPoint Integrations
This provides understanding and knowledge of configuring RADIUS and SAML authentication. It include:
RADIUS communication
RADIUS client resources
Network location policy objects
SAML resource configuration
SAML applications
Topic 6: Troubleshooting
This provides methods to troubleshoot the AuthPoint. The sections in this include:
So, now we have complete knowledge about exam details and syllabus details of the exam. let us now look at the study resources that might prove resourceful in cracking the exam.
Study Resources
There are several tools available to help you prepare for the WatchGuard Multi-Factor Authentication Essentials test. However, one must use extreme caution while selecting materials, since they will decide how well you pass the exam. Libraries, bookstores, and online groups are all good places to look for materials. Let's have a look at some resources that can assist in achieving positive outcomes.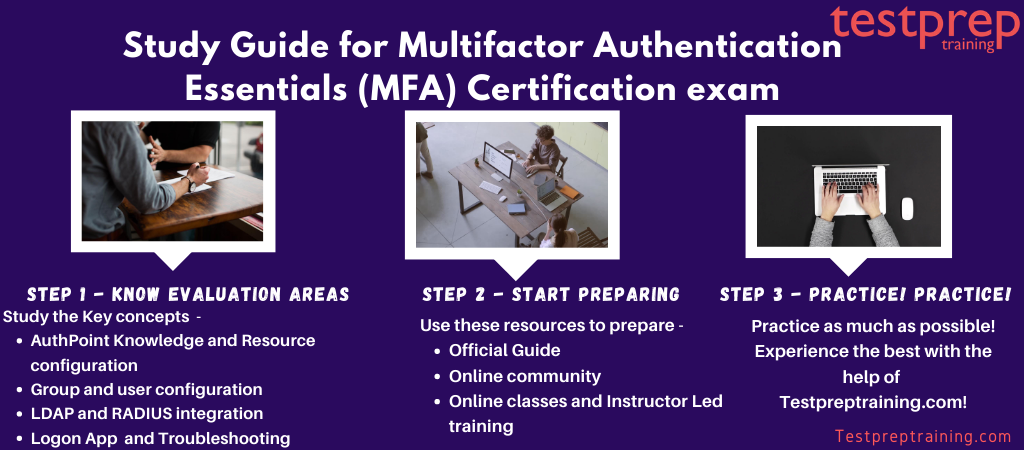 Resource – 1: Official Resources
The official materials recommended by the vendor are the most reliable options for preparation. WatchGuard recommends a number of official resources, including the AuthPoint Gateway, groups and users, and the AuthPoint Mobile App. The resources may be found on the official website or in the official study guide.
Resource – 2: Online resources – classes and instructor led training
Experts with in-depth expertise in the subject create online classes and training. They assist in the clarification of concepts and give a wealth of useful information. There are several reputable educational websites that offer high-quality information. Candidates will benefit from instructor-led training as they gain hands-on experience in the classroom. Partners can also take advantage of WatchGuard's free VILT technology-based training programs.
End-users can do so by enrolling in a class through our network of WatchGuard Certified Training Partners (WCTPs). Using their login, partners may sign up for training. On the WatchGuard website, end-users may also see the current WCTP training program. You can also take the help of tutorials by testpreptraining.com which is a significant way of preparation.
Resource – 3: Online community
People with similar interests form an online community. So, don't be afraid to ask your questions in the community, since there is no greater guide than a seasoned professional. You can also learn about other people's experiences and strategies. You can also learn about new resources and pool resources according to your needs.
Resource – 4: Practice papers and test series
The practice exam and test series for Multi-Factor Authentication Essentials might be quite helpful in your preparation. They assist you in identifying your weak areas and assisting you in improving to a larger extent. You will learn about your weak and strong areas by using these tests to measure yourself. You can pinpoint your flaw and then prevent it in tests. You can try a free Multi-Factor Authentication Essentials practice exam test now! There are many reliable sites that provide you with quality content and reliable material.

Validate your skills and enhance your resume by taking the Multi-Factor Authentication Essentials exam. Start preparing now!