In the modern digital era, cloud computing has become a crucial part of the everyday operations for many businesses. Microsoft has introduced Azure, a well-known cloud computing platform, offering a wide array of services like storage, networking, and analytics, among others. To validate your expertise in Microsoft Azure, there's a certification exam named AZ-900 Microsoft Azure Fundamentals. This exam tests your knowledge of Azure cloud services, workloads, security, privacy, pricing, and support.
This blog post aims to give you a thorough understanding of the AZ-900 exam's significance, the topics it covers, and how to prepare for it. So, if you're looking to improve your cloud computing skills or are planning to take the AZ-900 exam, keep reading!
Why opt for AZ-900 Exam?
''Microsoft certification assists you to keep up-to-date on the latest technologies in a structured way to build future career opportunities''.
It's true that Microsoft is one of the well-liked organizations offering certification courses in cloud computing. The AZ-900 exam is great for those wanting to grasp Azure basics and delve into the field for better prospects. As cloud security is crucial for businesses and individuals, it has led to a rise in security job opportunities. Consequently, there's a growing demand for Microsoft-certified professionals.
Now, let's move ahead and collect the exam-related details to become more familiar with the exam.
AZ-900 Glossary
Here are some key terms and definitions related to Microsoft Azure that are relevant for the AZ-900 exam:
Azure: Azure is Microsoft's special cloud computing platform that offers a wide variety of services for creating, putting out, and handling applications and services.
Azure Active Directory (Azure AD): Azure Active Directory (Azure AD) is a unique online identity and access management service that helps with verifying and permitting access for apps and services.
Azure Resource Manager: A management framework for Azure that provides a way to deploy, manage, and organize Azure resources.
Virtual Machine (VM): A virtualized computer that runs on Azure, providing the ability to run custom software and applications.
App Service: App Service is a one-of-a-kind offer on Azure that allows developers to build, launch, and increase web applications and APIs.
Storage Account: A service on Azure that provides a way to store and manage data, including blobs, files, queues, and tables.
Virtual Network: A virtualized network on Azure that provides a way to connect resources and services securely.
Azure Monitor: A monitoring service on Azure that provides insights into the performance and health of Azure resources.
Azure Security Center: A security management service on Azure that provides visibility and control over the security of Azure resources.
Azure Cosmos DB: A database service available worldwide on Azure that offers fast data processing and dependable access for important applications.
Azure Functions: A serverless compute service on Azure that provides developers access to run code in response to events or triggers.
Azure Kubernetes Service (AKS): A managed container orchestration service on Azure that simplifies the deployment and management of containerized applications.
Azure Cognitive Services: A set of AI and machine learning services on Azure that enable developers to add intelligent capabilities to their applications.
Azure ExpressRoute: An exclusive and private link connecting a company's own infrastructure to Azure datacenters.
Azure Marketplace: An online store on Azure that provides a way to discover, try, and buy third-party software and services.
Exam Details: Microsoft Azure AZ-900
If there's one thing you shouldn't overlook, it's definitely the information about the exam. In simpler terms, it's always a good idea to know about the exam in advance. So, here are the specifics for the Microsoft Azure AZ-900 exam:
Just like other Microsoft exams, AZ-900 has around 40-60 questions that you need to answer within 85 minutes. The questions come in different types, like case studies, short answers, multiple-choice, reviewing marks, dragging and dropping, and so on. Additionally, the exam will cost you $99 USD. But keep in mind, you need to score 700 points or more to pass the Microsoft AZ-900 exam.
Must Read: Where can I get Microsoft Azure AZ-900 exam dumps for free?
Who should take AZ- 900 Exam?
Each certification comes with its own set of requirements and career options. That's why we've highlighted the advantages that AZ-900 offers to those considering this exam.
If you're engaged in buying and selling cloud services, this exam can be really helpful, even if you're not from a technical background.
It's valuable for individuals looking to confirm their basic understanding of cloud services and solutions.
AZ-900 Exam is great for candidates with general IT experience or knowledge.
By taking the AZ-900 exam, you'll demonstrate your grasp of fundamental Azure concepts and prepare yourself for future Azure certification pursuits.
Course Outline for AZ-900 Exam
Now that you have the fundamental exam information, let's proceed to the outline of the AZ-900 exam course. Microsoft has divided the course into various sections to make it simpler for candidates to adjust and organize their study plan. Here's a brief overview of all the sections. Getting to know the course structure of the AZ-900 exam is the next crucial step. It helps you become familiar with how the exam is organized. The exam syllabus is divided into 3 main areas.
The content includes updates of English version of the exam as of July 31, 2023
Module 1 – Describe cloud concepts (25–30%)
The Microsoft Azure Fundamentals Exam cover the latest and updated exam guide including –
Describe cloud computing
Describe the benefits of using cloud services (Benefits of Cloud Computing Services)
Describe cloud service types
Module 2 – Describe Azure architecture and services (35–40%)
Describe the core architectural components of Azure
Describe Azure compute and networking services
Compare compute types, including container instances, virtual machines, and functions (Choose an Azure compute service, Azure Container Instances, Introduction to Azure virtual machines, Introduction to Azure Functions)
Describe Virtual Machine options, including Azure Virtual Machines, Azure Virtual Machine Scale Sets, availability sets, and Azure Virtual Desktop (Virtual machines in Azure, What are virtual machine scale sets? and What is Azure Virtual Desktop?)
Describe resources required for virtual machines (Windows virtual machines in Azure)
Describe application hosting options, including Web Apps, containers, and virtual machines
Describe virtual networking, including the purpose of Azure Virtual Networks, Azure virtual subnets, peering, Azure DNS, Azure VPN Gateway, and Azure ExpressRoute (What is Azure Virtual Network?, Virtual Network Subnet, Azure Virtual Network Peering, Azure Peering Service Overview, What is Azure DNS?, What is Azure VPN Gateway?, Azure ExpressRoute and Significance of Azure ExpressRoute)
Define public and private endpoints (What is a private endpoint?)
Describe Azure storage services
Describe Azure identity, access, and security
Module 3 – Describe Azure management and governance (30–35%)
Describe cost management in Azure
Describe features and tools in Azure for governance and compliance
Describe features and tools for managing and deploying Azure resources
Describe monitoring tools in Azure

Step by Step AZ-900 Exam Preparation Guide
Earning a certification for what you know and can do boosts your self-assurance and gives you a lot of trustworthiness. But the bigger question is, where can you find a real source you can trust? So, here's a list of learning resources that will assist you in your studies.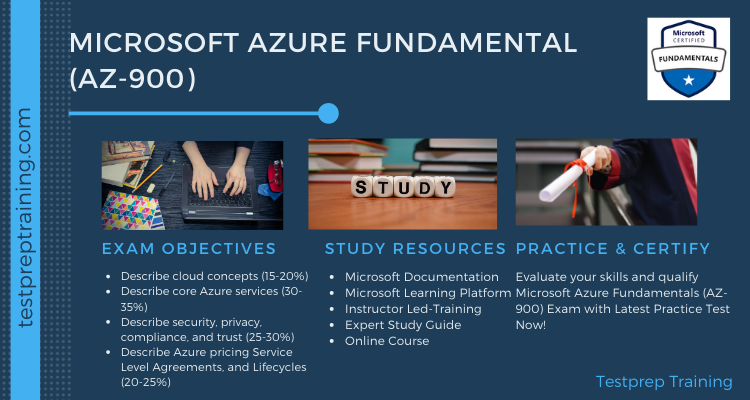 Must Read: How to pass Microsoft AZ-900 Exam?
Learning Source 1: Microsoft Learning Platform
The primary and most important source of learning is Microsoft's learning platform. So, be sure to explore Microsoft's official website. When it comes to the AZ-900 exam, it's wise to start by visiting the most reliable website for accurate information about the exam. You can easily find the page dedicated to AZ-900 where you can access all the essential details about the exam.
Learning Source 2: Microsoft Documentation
Next, you can proceed to Microsoft's documentation where you can easily grasp the basics of Microsoft Azure. Additionally, you'll become familiar with the various levels of Azure services. This approach helps you manage your time effectively while learning a lot of new things about Azure technology directly from the experts.
Learning Source 3: Instructor Led Training
Count yourself fortunate to have Microsoft's Microsoft instructor-led training, which essentially means learning online through sessions conducted by expert certified instructors. This type of training is incredibly beneficial for those with limited time in their busy schedules. Moreover, these are completely flexible classrooms where you can schedule classes when it suits you and learn at your own speed.
Learning Source 4: Books are your Best Friends!
Books play a vital role in getting ready for your certification. To put it differently, when you're studying for the exam, questions might confuse you or even make you worried. Yet, books can help you conquer this worry. There are top-notch books that have been popular for years and can be used to study for the AZ-900 exam. So, we recommend you to look for credible sources to find books for the AZ-900 exam.
Firstly, refer Microsoft Azure For Beginners by Adney Ainsley
Secondly, you must refer Microsoft Azure Ultimate Beginners Guide by Kennan Bismar
Also, refer Microsoft Azure Tutorial for Beginners by Dennis Hutten
Lastly, refer Beginner's Guide to Microsoft Azure
Learning Source 5: Join Forums or Study Group
Online discussion forums and study groups can be really helpful when you're getting ready for the exam. So, don't hesitate to become part of study forums or groups during your preparation. But remember, whether or not you join these is up to you. Study groups let you stay in touch with others who are on the same journey as you. Plus, you can also ask questions about topics you find challenging.
Learning Source 6: Practice Tests
We're aware of how valuable practice tests are during exam preparation. These tests provide a clear picture of your actual level. To put it simply, they show you what you're good at and where you need improvement. Here's a tip: only use practice tests after you've covered the entire syllabus. Since practice papers come from different places, make sure you choose the correct and reliable ones.
Let's Start Practicing Now!

Expert's Corner
To wrap up, attaining a Microsoft certification isn't simple. To put it differently, earning your certification demands a mix of effort, commitment, and patience. The Microsoft Azure AZ-900 exam evaluates your capability to complete technical tasks. What's more, the exam is an excellent chance to engage in this field. Additionally, Microsoft suggests having practical experience with the product and utilizing the designated training resources. So, to assist you, Testprep Training has organized all the pertinent information systematically.
Get ready to practice and prepare to become a Certified Microsoft Azure AZ-900 with hundreds of real-time exam questions. Try AZ-900 Free Test Now!