The Microsoft AZ-900 Exam is a certification exam that tests an individual's foundational knowledge of cloud services and how they are provided with Microsoft Azure. The exam is designed for individuals who are new to cloud computing and want to learn about the basic concepts and services offered by Microsoft Azure.
The exam covers a wide range of topics, including cloud computing concepts, Azure services, security, compliance, pricing and support, and Azure subscriptions and management. It is a multiple-choice exam consisting of 40-60 questions and must be completed within 85 minutes.
Microsoft AZ-900 Exam Glossary
Here are some common terms and concepts that you might encounter in the Microsoft AZ-900 Exam glossary:
Cloud Computing – The practice of using a network of remote servers hosted on the internet to store, manage, and process data, rather than a local server or a personal computer.
Virtual Machines – A software implementation of a computer that can run its own operating system and applications, just like a physical computer.
Serverless computing – A cloud computing model where the cloud provider manages the infrastructure and automatically allocates resources as needed, allowing developers to focus on writing code.
Internet of Things (IoT) – A network of physical devices, vehicles, and other objects that are embedded with sensors, software, and network connectivity to collect and exchange data.
Artificial Intelligence (AI) – A branch of computer science that focuses on creating machines that can perform tasks that would normally require human intelligence.
Azure Active Directory – A cloud-based identity and access management service that provides centralized authentication and authorization for Microsoft Azure and other Microsoft services.
Learn Azure Cosmos DB – A globally distributed, multi-model database service that supports multiple data models, including document, key-value, graph, and column-family.
Azure Kubernetes Service (AKS) – A fully managed container orchestration service that simplifies the deployment and management of containerized applications.
Understand Azure Site Recovery – A disaster recovery service that replicates virtual machines and physical servers to a secondary site, allowing for quick failover in case of a disaster.
Azure Cost Management and Billing – A service that provides cost and usage insights for Microsoft Azure, allowing organizations to optimize their spending on Azure resources.
Microsoft AZ-900 Exam Guide
Here are some official Microsoft resources for the AZ-900 Exam:
Microsoft AZ-900 Exam Tips and Tricks
Here are some tips and tricks to help you prepare for the Microsoft AZ-900 Exam:
Start with the exam objectives: Review the exam objectives and identify areas where you need to focus your study. This will help you create a study plan and make sure you cover all the topics you need to know.
Take advantage of free resources: Microsoft provides free online training, practice exams, and other resources to help you prepare for the exam. Take advantage of these resources to supplement your study materials.
Get hands-on experience: Sign up for a free Azure account and get hands-on experience with Azure services. This will help you understand how the services work and how they are used in real-world scenarios.
Use flashcards: Create flashcards to help you memorize key concepts, definitions, and terminology. You can use digital flashcards or create physical flashcards to carry with you.
Join study groups: Join online study groups or local study groups to connect with other exam takers and share study tips and resources.
Read the questions carefully: When taking the exam, read each question carefully and make sure you understand what is being asked before selecting your answer.
Manage your time: Manage your time during the exam and make sure you have enough time to answer all the questions. If you get stuck on a question, move on to the next one and come back to it later.
Get ready and prepare for the Microsoft AZ-900 Exam Today with learning material and expert tutorial Now!
AZ-900 Exam Course Outline
You may expect questions from the following identified modules on the Microsoft AZ-900 exam. Before you start studying for the AZ-900 test, you should have a good understanding of these subjects. The next critical step is to comprehend the AZ-900 exam's course overview. It acquaints you with the test format.
The content includes updates of English version of the exam as of October 28, 2022
Module 1 – Describe cloud concepts (25–30%)
The Microsoft Azure Fundamentals Exam cover the latest and updated exam guide including –
Describe cloud computing
Understand the benefits of using cloud services (Benefits of Cloud Computing Services)
Understand cloud service types
Module 2 – Describe Azure architecture and services (35–40%)
Describing the core architectural components of Azure
Describing Azure compute and networking services
Describe Azure storage services
Understand Azure identity, access, and security
Module 3 – Describe Azure management and governance (30–35%)
Describe cost management in Azure
Describe features and tools in Azure for governance and compliance
Describing features and tools for managing and deploying Azure resources
Understand monitoring tools in Azure

Microsoft AZ-900 Exam Details
| | |
| --- | --- |
| Exam Name | Exam AZ-900: Microsoft Azure Fundamentals |
| Technology | Microsoft Azure |
| Prerequisites | None |
| Exam Cost | $ 99 USD* |
| Total Questions | 40-60 Questions |
| Passing Score | 700 |
| Exam Duration | 85 Minutes |
Your Microsoft AZ-900 Exam will have 40-60 questions, just like any other Microsoft Exam. During the test, numerous types of questions are asked, such as case studies, short answers, multiple choice, mark review, drag and drop, and so on. Because there is no penalty for giving inaccurate answers because you will not be penalized, it is preferable to answer all questions but bears in mind the passing score of 700.
Start preparing with Microsoft AZ-900 practice exam and expert guidance. Try Free AZ-900 Practice Test Now!
Process of Exam Scoring for AZ-900
To pass the exam, you must have a minimum score of 700. Anyone who receives a grade below this will be deemed a failure. You will receive your result within a few minutes after submitting the paper, but you will have to wait a few days for a complete test report. Your scorecard will include information such as your overall exam performance, PASS/FAIL status, a bar chart displaying your exam performance in important categories, and directions for interpreting exam results.
Exam Retake Policy for AZ-900
There are many candidates having doubts with reference to the exam retake policies. Let's take a look at the defined cases –
In case you are not able to pass the exam for the first time, then you would be required to wait for at least 24 hours before exam retake.
In case you are not able to pass the exam for the second time, then the waiting time to take the exam next time is extend to 14 days.
Therefore you can take a maximum of 5 retakes in a year.
Exam Cancellation Policy for AZ-900
Some of the cases of cancellation include –
In case you plan to cancel or reschedule an appointment then it should be done at least 6 business days before the schedule exam time, such that there are no charges for the cancellation.
In case there is any cancellation or rescheduling within 5 business days, then you will be charged a nominal fee.
In case you fail to reschedule or cancel the appointment 24 hours before the scheduled time then the entire exam fee will be forfeited.
Exam Pricing for AZ-900
Before you begin your test preparation, it is critical to have a pricing check. The exam price may vary depending on the location from which you take the exam. For example, if you live in the United States, the exam will cost you $99. If you are a Microsoft Imagine Academy, Microsoft Partner Network, or Microsoft Certified Trainer, you may qualify for a cost reduction. In addition, students are entitled to a fee discount.
How to schedule AZ-900 Exam?
You need to follow the given steps in the process of scheduling the exam –
Go to the Microsoft portal and register your exam
When you are done with preparation go ahead and schedule your exam by clicking on the "schedule exam" link
Fill all your details on the next page
You can select the exam delivery option on the page of Pearson VUE, Microsoft's exam partner.
Your registration will complete once there's a confirmation on the payment of your exam fee.
Azure Training and Certification Path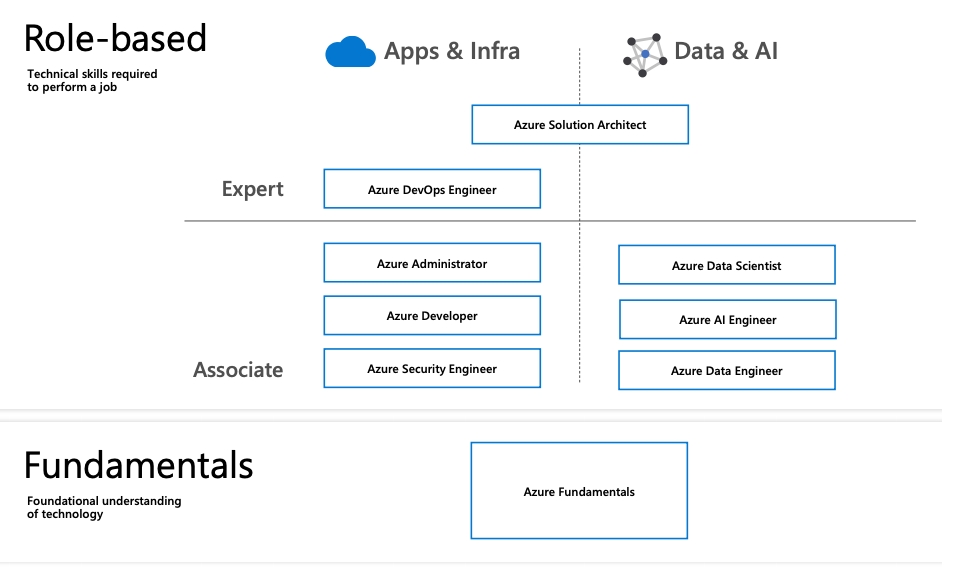 Preparation Guide for Microsoft AZ-900 exam
Your test result is determined by how you prepare for the exam. As a result, if you want to pass the AZ-900 certification test, you must study well. To pass the test on the first try, you must follow the proper preparation methods.
Use the following preparation guide to pass AZ-900 Exam.
Learning Resource 1 – Microsoft Learning Platform
All of Microsoft's tests and certifications are managed through the Microsoft site, which serves as a command centre. On the Microsoft Learning Page, we can discover a list of all Microsoft certificates. This site has a page for AZ-900 that should serve as the beginning point for your AZ-900 exam preparation.
Test registration, data on AZ-900 exam modules, connections to Microsoft Azure Fundamentals AZ-900 study resources, exam requirements, exam study groups, links to exam policies and exam structure, and other information may be found and verified in the portal. You may also check the Microsoft Portal for critical information like as test schedules, module changes, pricing changes, and more.
Learning Resource 2 – Microsoft Documentation
The Microsoft Documentation page must not be confused with the Microsoft's Learning portal as both of these sections contains separate learning pages. Use the Microsoft Azure Documentation page to easily locate the page dedicated to Azure Fundamentals. Microsoft Documentation page covers crucial Fundamentals concepts including Agility, Disaster Recovery, Elasticity, Fault Tolerance, High Availability and Scalability that are very crucial in any cloud ecosystem. Once you are through with the concepts then you should be able to compare and contrast basic steps for Azure cloud migration.
Learning Resource 3 – Instructor-led Training
While you are preparing for Microsoft Azure certification exam it is suggested to access links to instructor-led training from the Microsoft learning portal. The training for Microsoft AZ-900 exam comes with the name "Course AZ-900T01-A: Microsoft Azure Fundamentals". This learning resource contains exactly the same modules in the core AZ-900 exam syllabus. Just like the main exam, there are no prerequisites for taking this course although it recommends General IT knowledge.

Learning Resource 4 – Forums and Study Groups
You can find exam study group in the Microsoft Learning portal, for most of the Azure role-based exams. But for AZ-900 exam, this facility is unavailable. There are other popular forums providing learning content and practice exams. You can share your doubts related to Azure services and solutions in these forums. Such that you will get revert from experienced people and can also respond to other members' queries if you know the answer.
Learning Resources 5 – Books and Periodicals
You can also refer reliable book on Azure, which will have high impact in AZ-900 exam preparation. Some of the available Azure books which are very helpful during your AZ-900 exam preparation are –
Microsoft Azure For Beginners by Adney Ainsley
Microsoft Azure Ultimate Beginners Guide by Kennan Bismar
Microsoft Azure Tutorial for Beginners by Dennis Hutten
Beginner's Guide to Microsoft Azure
Learning Resource 6 – AZ-900 Practice Exam
One of the best sources to improve your learning is practice exams considered to be most effective to analyze your competence and skills in a particular domain. You may find various websites for AZ-900 exam preparation to provide the real exam dumps for AZ-900 exam. You can choose practice tests or sample papers from various sources but not the brain dumps for your preparation.

Learning resource 7 – E-books, Analyst Reports, and White Papers
Often most of the candidates always neglect references during the AZ-900 exam preparation process. But you must refer to e-books, analyst reports and related white papers since these items are published by Microsoft itself. A lot of relevant materials can be found related to Azure from these resources. Also subscribe to Azure notifications to get informed about all the latest updates regarding Azure.
Exam Day
When the final exam day arrives for which you have been working hard, you must follow some of the following steps to sweep through smoothly.
In case you are skeptical about a certain topic then quickly grab a blank paper and pen and write it down. This will help you refer the same in between the exam.
You must choose the answer which you are confident about, since scoring in AZ-900 is not a windfall gains.
Eliminate obvious incorrect answer choices based on how they are spelled or worded.
Sit back and relax. Take a moment before you hit the finish button. But just remember in case you are not able to make it to AZ, it's not a failure.
How hard is Microsoft Azure AZ-900 Exam?
Conclusion
Sine AZ-900 exam do not require prior experience as compared to other Azure role-based exams, therefore anyone with basic aptitude and logical skills can easily pass this exam without relying on intense AZ-900 exam preparation. But you must identify proper AZ-900 exam preparation resources as it can provide you with more insights on how to approach your exam preparation.
GET CERTIFIED NOW!