The SAS Certified Architecture and Design Specialist for SAS Grid Manager 9.4 exam validates the skills required to architect, plan, deploy and configure high-availability SAS Grid® Manager in a SAS® 9.4 environments. The exam consists of the task such as interpreting hardware infrastructure, software infrastructure and their requirements, optimizing SAS Grid Manager for Platform middleware configuration settings, understanding SAS Grid Manager workload management, etc. SAS Grid Manager 9.4 exam opens new realms in your professional career. It provides you with a competitive edge and enhances your marketability. Access to authentic resources is necessary to crack the exam. This Study Guide caters to all your needs to pass the exam with flying colours.
Learning Path
SAS offers numerous certifications which have categorized in several categories such as Foundation tools, Advanced analytics, BI and Analytics, Data Management, Administration, JMP, etc. This exam fall under the category of Partners.
Learning Objectives
The objectives for the exam includes learning about –
Firstly, Grid Architecture Definition
Secondly, Software Deployment
Thirdly, System Management
Also, High Availability
Study Guide for SAS Architecture and Design Specialist
This exam is one of the most essential credentials to include in your academic records. Therefore it important to kick start your preparations and have the knowledge of all preparatory resources. We have you covered with our Study Guide. Also, it summarises the preparatory resources and necessary steps to pass the exam with flying colours.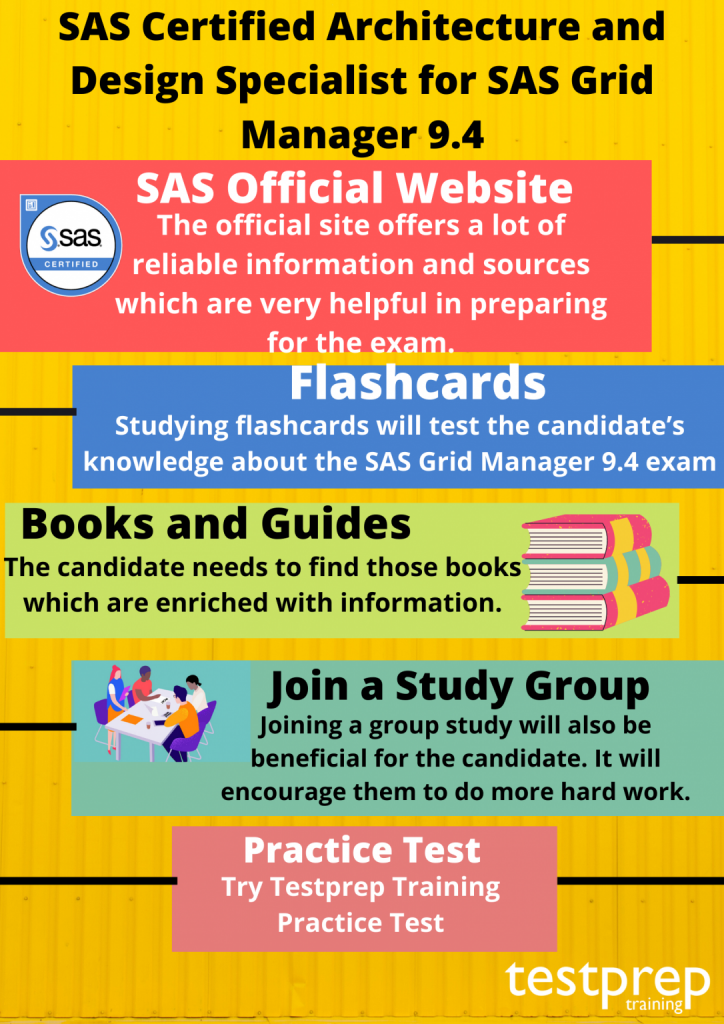 Visit SAS Architecture and Design Specialist Official Website
Visiting the SAS official website is an important step while preparing for the SAS Certified Architecture and Design Specialist for SAS Grid Manager 9.4 exam. The official site offers a lot of reliable information and sources which are very helpful in preparing for the exam. The resources such as study guide, documentation, sample papers, flashcards, whitepapers, sample questions, faqs, etc. The candidate can find all such important things on the official page. This exam covers the following domains:
Domain 1- Grid Architecture Definition
Firstly, this domain covers the concepts to develop and implement a hardware and software architecture for a SAS Grid implementation. Also, determine the pros and cons of implementing shared binaries and configuration files. Further, communicate and explain the hardware infrastructure, software infrastructure, and their requirements. Moreover, demonstrate an understanding of storage and shared file system related to Grid from requirements and architecture perspective. Then, understand how architecture impacts licensing. Furthermore, interpret and evaluate requirements to integrate user authentication to SAS Grid. Lastly, demonstrate an understanding of SAS use cases associated with submitting jobs in the grid (EG, EM, SASGSUB, SAS Studio and others).
Domain 2- Software Deployment
Secondly, this domain includes the concepts to Interpret and modify SAS Grid middleware configuration settings, and options to provide an optimized and tailored environment based on requirements.
Domain 3- System Management
Further, this domain focuses on topics to understand metadata related to Grid. Also, understand the scope of the Management Utilities. Moreover, understand SAS Grid Workload management.
Domain 4- High Availability
Lastly, this domain focuses on concepts to advise on architecture, infrastructure and deployment impacts related to High Availability. Then, demonstrate working knowledge of PSS failover. Also, use PSS to enable High Availability of other services.
Go for SAS Training Program
Training programs are a very necessary step in the preparation of such exams like SAS Certified Architecture and Design Specialist for SAS Grid Manager 9.4. SAS offers its own training programs on their various examinations and certifications.

Flashcards
Studying flashcards will test the candidate's knowledge about the SAS Grid Manager 9.4 exam with quiz-style printable flashcards. Further, these study flashcards highlight the most critical learning points from the SAS Grid Manager 9.4 study guide.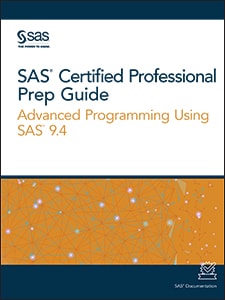 Learn from Books and Guides
The next step in the preparatory guide should be books and study guides. You need to find those books which are enriched with information. Finding a good book may be a difficult task, but in order to gather the knowledge and skills, the candidate has to find, read and understand. We recommend you to refer the following:
Self Evaluate with Practice Test
Regardless of how you prepare for the SAS Certified Architecture and Design Specialist exam, a practice run or two can help you in more ways than you might expect. Taking a practice test is a great way to diversify your study strategy and ensure the best possible results for the real thing. Analyzing your answers will help you identify the areas where you need to give special attention to, and will also let you know your alignment with the exam objectives. Lets Satrt Practising Now!

Join a Study Group
Joining study groups is a good way to get yourself fully involved with the certification exam you applied for. Moreover, these groups will help you get up to date with the latest changes or any update happening exam. Also, these groups contain both beginners as well as professionals. That is to say, you can ask any query related to the exam or you can talk about the exam without any hesitation
Boost your career with advanced learning resources for SAS Certified Architecture and Design Specialist. Start your Preparations Now!