Prepping for JMP Certified Associate: Statistical Thinking for Industrial Problem Solving (A00-910) exam has never been easy for any individual. However, with the right guidance and learning resource, one can always achieve the goal. So, here we are, yet again, to provide you with the best learning resources. In this article, we're going, to begin with, the very beginning and then work our way through the preparation guide. Reason being, this will enable you to be fully prepared while keeping every important information in mind.
Therefore, first, we're going to work through with all the exam details and the course outline. And, after that, you'll easily be able to gel up with the preparation guide. So, without a further due, let's begin.
About the exam:
Before venturing onto any exam it's crucial to start with getting familiar with the exam details and prerequisites. This will allow you to acknowledge the JMP Certified Associate: Statistical Thinking for Industrial Problem Solving exam better.
Exam Overview: A00-910 exam
The A00-910 exam is a performance-based examination. Any candidate who sits for the examination must apply all the skills and knowledge required to apply statistical thinking and fundamental statistical methods to solve industrial problems.
After qualifying the exam, the candidate will able to perform the following-
First of all, explaining the significance of using data and applying statistical methods to solve problems.
Secondly, the candidate will be able to develop a clearly defined problem statement to interpret a business problem into an analytics problem
Subsequently, he/she can also compile and arrange data for analysis.
Also, the candidate will have the ability to Visualise and explore data to find potential root causes of variation.
Not to mention, they will be able to translate analytics results into actionable decisions and outcomes.
Further, they can easily interpret the elements of a control chart to decide if a process is stable.
Moreover, the candidate can now design a measurement system analysis (MSA) and evaluate the results of an MSA.
In addition, conduct a capability study and evaluate Cp, Cpk, Pp and Ppk.
After this, interpret statistical interludes and hypothesis test outcomes.
Furthermore, the candidate can also describe the influence of sampling and sample size on statistical decision making.
In most cases, they can also explain the distinction between correlation and causation.
On one hand, the candidate will also be able to perform a simple regression model and interpret the results.
And, on the other hand, they can interpret analysis results for multiple linear regression and binary logistic regression.
Last but not least, they can even explain the value of DOE in developing knowledge of cause and effect.
Basic Exam Details
The A00-910 exam consists of 55-60 questions. And, all the questions will be multi-choice questions. Additionally, a candidate needs to achieve 725 marks and above to get qualified. To be noted, that the exam must be finished within 150 minutes. As for the exam fee, it is USD 180. However, this may vary according to the region. Therefore, make sure to examine this part correctly. Most importantly, the candidate will use JMP 14 to perform the exam.
And, this marks an end to the exam information. Now, it's time to view the exam content guide. Out of all, this is the most crucial step. So, make sure to you don't skip this.
Exam Content Guide
From our previous experience, we come across so many candidates pay the least importance to the course outline. Therefore, allows us to put you on the right pathway. As an extra benefit, let's just make you aware of the fact that half of the preparation is done the moment you're familiar with each topic under course outline. So, we urge not to skip this part, no matter what. In the same light, let's begin with the exam objectives.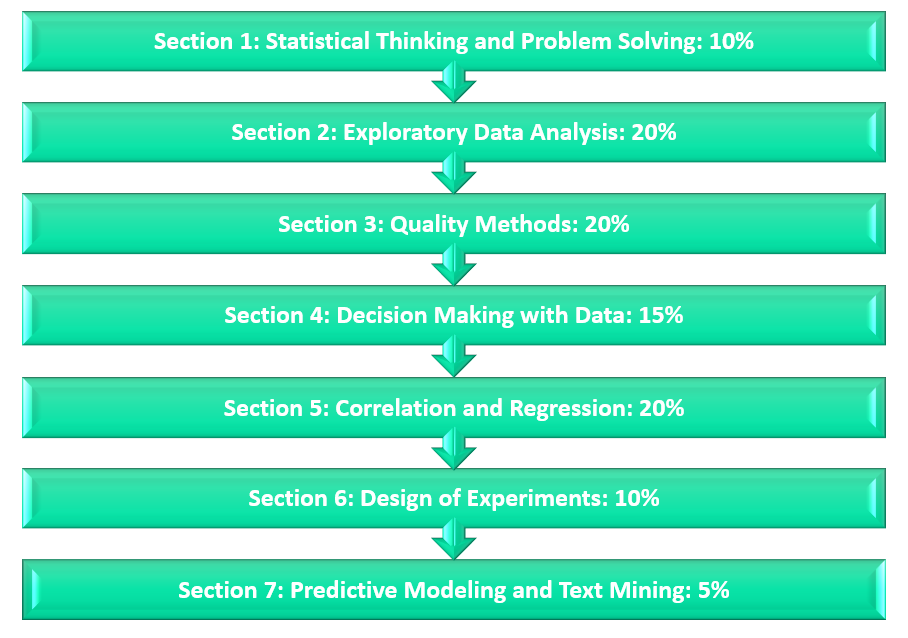 Section 1: Statistical Thinking and Problem Solving: 10%
First of all, defining statistical thinking and problem-solving.
Secondly, defining the process for the creation of a process map or SIPOC.
Thirdly, identifying the root causes of a problem, compile and collect data.
Section 2: Exploratory Data Analysis: 20%
Firstly, describing data using descriptive statistics and graphical summaries.
Subsequently, visualizing and exploring data.
Also, saving and sharing results.
Moreover, preparing data for analysis.
Section 3: Quality Methods: 20%
First thing first, using Statistical Process Control Charts.
Secondly, assessing process capability.
Subsequently, conducting Measurement System Studies.
Section 4: Decision Making with Data: 15%
Firstly, defining/describing Statistical Intervals.
Secondly, performing statistical tests.
Thirdly, determining sample size.
Section 5: Correlation and Regression: 20%
To benign with, defining and using correlation.
Subsequently, defining simple linear regression.
Consequently, defining/explaining multiple linear regression.
Lastly, defining/explaining logistic regression.
Section 6: Design of Experiments: 10%
Firstly, defining DOE and compare it to OFAT.
Secondly, discussing best practices and considerations to take when running an experiment.
Thirdly, analyzing the results of an experiment.
Last but not least, designing a simple experiment.
Section 7: Predictive Modeling and Text Mining: 5%
On one hand, explaining the difference between explanatory modelling versus predictive modelling.
And, on the other hand, interpreting results from a predictive model with validation.
Preparation Guide :A00-910 exam
For obvious reasons, studying is the best way to prepare for an A00-910 exam. However, the question arises, how can you prepare to study? Whether you're cramming or, hopefully, preparing gradually over a long period of time: Low stress and a good space always help.
But, how does one overcome stress quickly, and without the aid of a beach?
The answer to this question, follow this preparatory guide from heart and soul. And, we assure you that you will definitely qualify the certification with flying clours
1. Time to Review Exam Objectives
Before, venturing on any journey, one must have a clear idea of what he/she is putting themselves into. With that being said, reviewing each and every exam objective becomes the most important part of your preparation. So, make sure you visit the Official website of SAS, to have a clear view. Since it is the most authentic site to provide any information regarding the A00-910 exam. After you've gone through the basic exam details. It's time to hit the exam guide.
2. Download all the Exam Topics
The second most important step is to download the Course outline. It consists of all the domains and topics of the examination. So, make sure to download the Course Outline. This allows you to prepare for the SAS A00-910 exam, keeping in mind all the objectives clear.
3. Prepare with the training course
This training course is for individuals aspiring to develop core competency in applied problem-solving with data and statistics. It comprises of the Statistical Thinking for Industrial Problem Solving certification exam content areas and tasks. However, it is a 25- to 30-hour e-learning course blends mini-lectures, case studies, demos, practices, and quizzes to provide an applied and interactive learning experience. In addition, all the topics are grouped into seven stand-alone modules, and each module takes three to five hours to complete.
After completion, the candidate will be able to do the following-
First of all, map a process, define and scope your project, and determine the data that you need to solve your problem.
Secondly, describe data with graphics and use interactive visualizations to find and communicate the story in your data.
Also, use tools to quantify, control, and reduce variation in your product, service, or process.
Not to mention, draw inferences from data, construct statistical intervals, perform hypothesis tests, and understand the relationship between sample size and power.
Additionally, examine the linear association between pairs of variables.
Moreover, fit and interpret linear and logistic regression models.
And, speak the language of design of experiments (DOE).
Further, design, conduct and analyze an experiment in JMP.
Lastly, identify possible relationships, build predictive models and derive value from free-form text.
4. All JMP Learning Resources
Besides the training course offered by SAS. They also various learning to go through to excel in the certification.
5. White Polymer Case Study
This a PDF easily available on the official website. One can also download for hassle-free usage. This comes as a a very handy learning resource. Since every thing is classified and divided according, hence it become s easier to understand. So, make sure to check it out.
6. JMP Course Material Library
To all the candidates, JMP provides an online library, where they provide learning resources that truly enrich you. Not to mention, they have various course collection to chooses from. Firstly, you can get your hands on E-learning Courses. Moreover, they even provide instructor-led training. You may not know, but Instructor-led training are th4e gold standard of learning. Enrolling with the same, allow you to study at any time and any place. It's the most convenient resource, you'll ever come across.
7. Reference Books
No matter what the exam, books have always been a part of our life. With that being said, JMP provides a list of books, that will the candidate to clear the exam. So, here is the list of all the books, you must go through at least once-
First of all, we have the JMP Start Statistics: A Guide to Statistics and Data Analysis Using JMP, Sixth Edition
Secondly, you can go through the Practical Data Analysis with JMP
Subsequently, Visual Six Sigma: Making Data Analysis
Lastly, Statistics with JMP: Hypothesis Tests, ANOVA and Regression
8. Self Evaluate with free Sets
After all the learning resources, make sure you go through the practice sets. So, make sure you know where to find free practice. Now, we understand that the internet is cluttered with so many sample preparation, but make you are not falling for any fake one. Therefore, for your convenience, we are going to let you on a secret.
Testpreptraining provides the most authentic and genuine practice sets. And, most importantly, they are constantly, being updated according to the exam. Therefore, make sure to hit check them out. For more Practice papers, CLICK HERE.
Expert's Corner
We understand that it can be hard to maintain focus, but remember the best placement options are just a test away. It's no longer satisfactory enough for professionals to just have a degree'. Certification market value has skyrocketed in the last few years. The additional skills that certified professionals bring to the table are always welcomed by organizations. The advantage of certification seems so obvious now, but scepticism towards its value was rampant a few years ago. So don't hesitate and go get certified now.


Gain all the necessary skills and bag big salaries with advanced learning skills with expert's guidance on JMP Certified Associate: Statistical Thinking for Industrial Problem Solving exam.