Individuals with NSE credentials, such as the FIMMDA-NSE Debt Market (Basic) Module exam, would be able to further their careers in the securities and debt markets. So stay tuned for additional information that will help you pass the exam with flying colors. However, what is the greatest study guide for passing the FIMMDA-NSE Debt Market Foundation exam? Are you seeking a solution to this question as well? If you answered yes, you're in luck. In a nutshell, this blog covers every facet of the FIMMDA-NSE Debt Market Foundation test.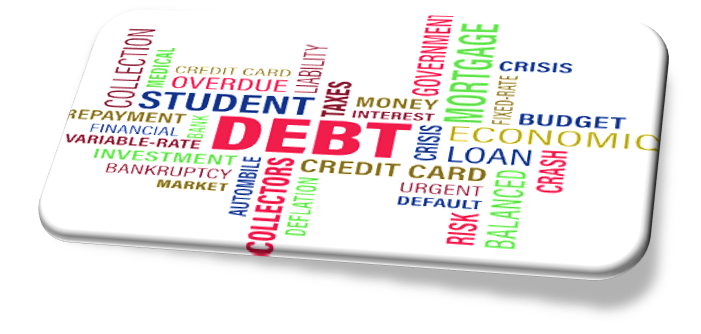 Furthermore, n recent years, India's security industry has grown in tandem with the country's economy and worldwide commerce. As a result, people must be able to influence and produce business.
What is NCFM?
NSE Academy Certification in Financial Markets is another name for NCFM. The National Stock Exchange of India provides this accreditation (NSE). NCFM is also for persons who deal with financial handlers and want to have a better grasp of how to provide better service.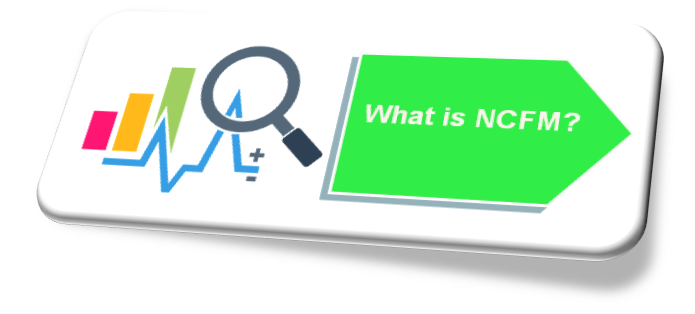 In addition, the NCFM module now includes 11 Foundation, 21 Intermediate, and 15 Advanced certificates. As a result, in order to receive the certification, the candidate must pass the specific test.
Why go for NCFM certification?
Students studying commerce and business management benefit greatly from the NCFM credentials. Furthermore, those interested in a career in banking and finance will benefit from this. So, here are a few advantages:
First of all, this will give a steady start to your career in finance.
Subsequently, attaining certification from NCFM will provide steady growth as well as great earnings.
Moreover, candidates do get higher opportunities in banking and financial management.
Consequently, as securities markets offer a great career in finance and commerce. Therefore, NSE Certifications and NCFM courses add an extra edge to your abilities and skills after graduating in commerce.
NSE FIMMDA Exam Overview
Different forms of debt instruments, such as bonds, T-Bills, and CDs, are covered in the FIMMDA-NSE Debt Market Basic Module (Foundation) exam. Furthermore, it provides information about the Indian debt market as well as the trading process of a debt instrument on the stock exchange. It also gives useful information on the Indian debt market and its many components. This also provides insight into the trading process of debt instruments on stock markets, as well as bond valuation.
Subsequently, this exam will help the student understand the following concept and fundamentals-
To begin, the applicant will quickly grasp the basic properties of debt instruments.
Secondly, on the NSE-WDM Segment, you will learn how to trade debt products.
Moreover, you will get an understanding of the debt market's regulatory and procedural features.
Lastly, the applicant will be taught bond valuation, yield curve, bootstrapping, and duration principles.
Exam Format

:
It's usually a good idea to go over all of the relevant test content before taking an exam. Exam information should be known ahead of time to avoid any trouble. As a result, we've included all of the information you'll need to apply for the FIMMDA-NSE test.
There are 60 multiple-choice questions in the NSE FIMMDA Debt Module test. Furthermore, the exam will last 120 minutes.
To be eligible for the exam, the candidate must have a score of at least 60%. This accreditation is also only good for five years.
In addition, the FIMMDA-NSE test costs Rs.2006/- (Rupees Two Thousand and Six Only including GST).
Furthermore, the FIMMDA NSE Debt Market Module Exam Questions are only available in English.
Meanwhile, a basic understanding of computers is essential. Because the test is given in English, applicants must be fluent in the language.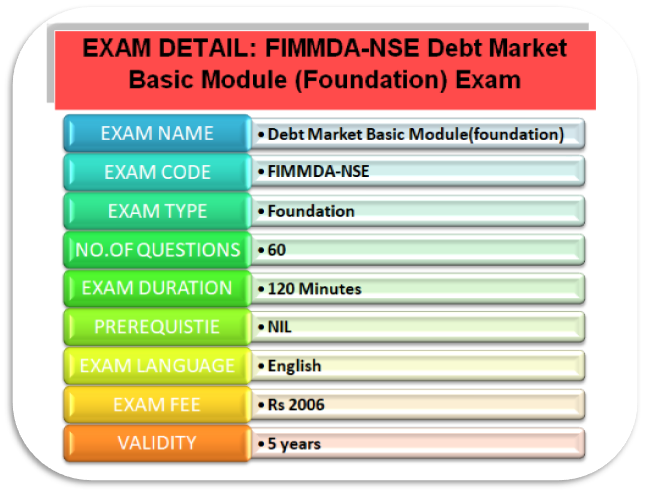 FIMMDA-NSE Exam Prerequisites

:
To be clear, the NSE has not established any precise certification qualifying requirements. To put it another way, anyone may take the FIMMDA-NSE test. Candidates must, however, have prior experience of debt instruments and trading. Various notions of bootstrapping, bond valuation, and regulatory elements of the debt market are also discussed.
Exam Scoring Process

:
Finally, we've arrived to the FIMMDA-NSE exam scoring procedure. Having a good understanding of the scoring procedure will help you prepare successfully for the FIMMDA-NSE test. So, let's look at the scoring standards to see if you're eligible for the test.
A candidate must get a minimum score of 60% to pass the examination. However, there is a negative marking for each wrong response. In a similar spirit, you may simply examine your exam results when it is completed. Furthermore, within 15 to 20 days, all qualifying candidates will get their diplomas in the mail.
Now, that you're fully equipped with the entire exam details. Let's move further and understand all the skills required for you to qualify for the FIMMDA-NSE exam.
Course outline: FIMMDA-NSE Exam
Indeed, NSE provides a course overview to the applicant. As a result, this section contains all of the courses necessary to pass the FIMMDA-NSE test. Furthermore, all of the courses are sorted into groups based on the candidate's preferences. The following topics are covered in the FIMMDA NSE Debt Market Module Course: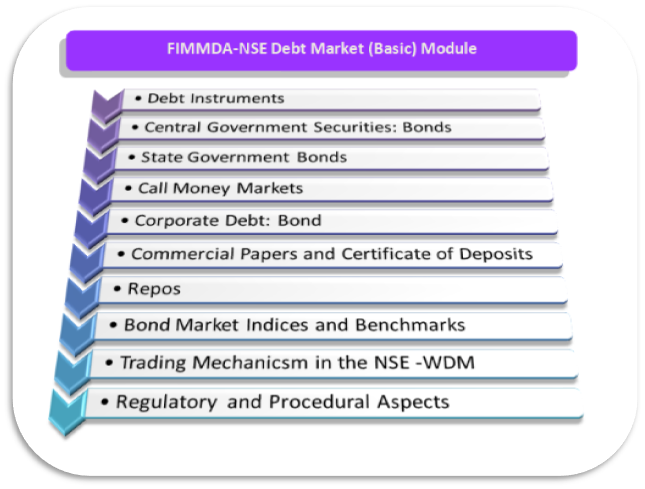 Certainly, the modules listed above cover all of the competencies needed to pass the FIMMDA-NSE test. In a nutshell, simply make sure you have all of the talents listed above and you'll be OK. Furthermore, as soon as you feel prepared to take the FIMMDA-NSE test, go ahead and schedule it. As a result, the next part covers the entire exam scheduling procedure.
Registrating for FIMMDA-NSE Exam
NSE offers candidates to schedule the exam at their own convenience. Not a fuss there. So, keep in mind to schedule the exam only when you're fully prepared.
Further, you need to follow the given steps to schedule the FIMMDA-NSE examination.
First of all, the candidate has to access the link 'Online Registration' available under Education>Certifications>Online Register / Enroll.
Secondly, after registration candidate will receive a unique NCFM registration number along with a user id and password.
Subsequently, the candidate can easily access their NCFM account to make payment / enroll for test / update address/check study material status / view certificates etc. 
Lastly, just pay the fees and select your slot and it's done.
Deferral Policy: FIMMDA-NSE Exam
Candidates are not allowed to reschedule. However, the candidate has to enroll again to appear for the FIMMDA-NSE exam.
Exam Related Queries
We have provided all the details regarding the FIMMDA-NSE exam. But, in case any candidate is facing any trouble regarding the certification exam, the candidate can visit testpreptraining.com. Moreover, this will serve as your one destination to all your problems.
Certainly, after acquiring all the details of the FIMMDA-NSE exam, it's time for a preparatory guide.
Preparatory Guide for the FIMMDA-NSE Exam
Your proper planning prevents poor performance!

People, keep in mind that the FIMMDA-NSE test is not tough. As a result, you should have no trouble passing the FIMMDA-NSE test and earning the certification. However, failing to prepare for the exam will almost certainly end in failure for obvious reasons. As a result, we strongly advise you to read through our preparation guide.
1. NSE E-Books
The NSE sends eBooks to candidates for preparation after they have paid and reserved a spot. In a similar manner, the eBooks cover the full curriculum. However, this is only useful if you want to get the bare minimum on the exam. As a result, if you rely only on this, you will not succeed. So, make sure you rely on various external references or training program for preparation.
2. NCFM Classroom Training 
A large number of students are enrolling at institutions to obtain NCFM certifications. These institutes also provide candidates with study materials and sample examinations. As a result, enrolling in this university will help you to adequately prepare for the examination.
3. NCFM Online Training
Candidates must be physically present in the classroom for classroom instruction. Online training, on the other hand, allows applicants to sit at home and take advantage of all of the perks while still preparing for the exam. Furthermore, this course will provide you with ideal options. You may also enroll in the FIMMDA NSE Debt Market Module Training at any time during the year. Furthermore, you may take advantage of the online instruction from any place.
4. Go Old school with Books
Now that you've completed your training, you're ready to apply what you've learned. It's time to get back to basics with literature. As you may be aware, books are an excellent resource for gaining knowledge in a non-disruptive manner. So, for those of you who are interested, here are a few books that could be of interest.
Fundamentals of The Bond Market written by Esme Faerber.
Corporate Debt Market in India written by Dr Raju G.
Debt Markets and Analysis: + Website (Bloomberg Financial) written by R. Stafford Johnson.
5. Self-evaluation time
Finally, we've reached the conclusion of the preliminary guide. In addition, this final phase will provide the candidate a clear picture of the issues in which they are missing. So, once you've gone through the full syllabus, make sure you're going over sample tests. Most significantly, all of the FIMMDA NSE Debt Market Module Practice Tests are created to simulate the real-world test scenario. Practice papers, on the other hand, might come from a variety of places. Above all, remember that the more you put yourself to the test, the better you will become.  Try a FIMMDA NSE Debt Market Module Free Test now!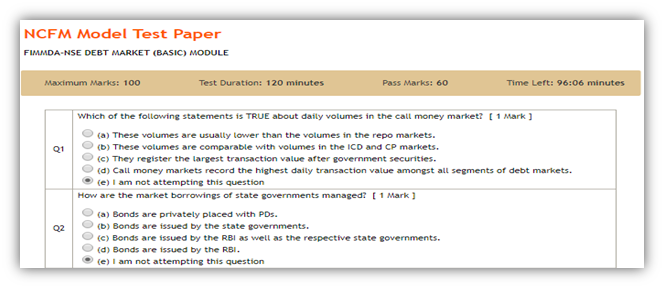 Strategies to qualify the FIMMDA-NSE exam
Now that you have the full preparatory guide. Let's understand how to strategies for the preparation.
First thing first, candidate should not rely on mugging. But instead, effective learning will offer great results.
Secondly, keep in mind that certain topics have high weight age in the examination. Therefore, prepare accordingly.
Thirdly, make sure to practice as much as you can.
Fourthly, while attempting the examination understand the question and then attempt it.
Last but least, candidate should manage time for better results.
In Conclusion
Adding certification to your CV can undoubtedly help you stand out and land a job. So, if you want to progress your job and are driven to achieve your goals. After that, passing the FIMMDA-NSE test would be the final step toward certification. In other words, a certification test such as the FIMMDA-NSE exam will demonstrate that you possess the necessary abilities for the position. This will also demonstrate your dedication to your goals and ambitions. Training and certification do have an influence on your career. It also has financial advantages. So, don't question your value, and be ready to strap up! Prepare yourself by using all of the materials we've mentioned thus far, as well as making good use of your time. Most significantly, the FIMMDA-NSE test is fully attainable with these resources.
SO TAKE YOUR CAREER TO THE NEXT LEVEL!