Cisco requires immense dedication and hard work. Most importantly, you must possess the right expertise to become a Cisco-certified professional. Similar is the case with the Cisco Certified Network Associate CCNA (200-301) exam. This is an associate-level, principle-based exam that encompasses technology areas; namely, Networking, Security, and Automation. Furthermore, it credits your dexterities of installing, supporting, and troubleshooting wired/ wireless networks in assorted tracks like Cloud Cyber Ops, Data Center, Routing and Switching, Security, Service Provider, etc. Finally, this certification evaluates your mastery of IP services and connectivity, Network fundamentals, etc. This exam is also a prerequisite for the professional level (CCNP) certification.
Why Take the Cisco CCNA (200-301) Exam?
Acquiring a Cisco Certified Network Associate certification is the very first step in the making of a career in IT technologies. In the process of achieving this certification, Cisco Certified Network Associate exam covers a vast spectrum of fundamentals of IT careers. This will generate myriad opportunities for the successors. Plus, Cisco has a history of working endlessly with a spirit to provide the best and timely solutions for networks since 1984. It was built by Leonard Bosack and Sandy Lerner, the pioneers of LAN(Local Area Networking). This makes it all the more reasonable and also reliable to choose them.
Who Should take the Cisco CCNA (200-301) Exam?
First thing first, the Cisco Certified Network Associate CCNA (200-301) certification exam is primarily for Engineers (network, telecommunications), technicians (network, network operations), and also, analysts (network, network operations center). Furthermore, this certification is also for educators, teachers, content makers, or anyone with the required skills. These skills are; viz, common key skills, like communication skills, troubleshooting skills, organizational skills, customer service skills, analytical skills, soft skills revolving around Microsoft Office Suite and Cisco equilibrium, and also the knowledge of industry-specific tools. This certification is also recommended for candidates wanting to improve their predictability stats and career growth. Finally, the candidates who want to appear for the CCNP exam are also required to pass this exam.
With this, you are now well aware of the exam and its target audience. It's now time to see what prior knowledge and experience is recommended to take the Cisco exam, and hence acquire the certification.
Recommend Knowledge and Prerequisite for Cisco CCNA (200-301) Exam

:
Cisco Certified Network Associate exam requires no particular degree. However, we suggest you have one in Computer Science or Information Science. Though, if you plan to work directly after completing the certification, a degree in the respected fields mentioned above is required by the organizations. Therefore, a basic understanding of all the topics in the exam is also required.
Now let's have a look at the basic structure of the Cisco CCNA (200-301) certification exam. Moreover, having a thorough knowledge of the exam pattern and the kind of questions asked, will certainly smoothen your exam preparation. So let's check it out.
Exam Details
The Cisco Certified Network Associate CCNA (200-301) exam is available in the English and Japanese languages. The exam has a total of 120 questions. Further, the candidate can register their exam on the Pearson VUE and the examination fee is $300 USD. 
| | |
| --- | --- |
| Exam Name Cisco Certified Network Associate CCNA | Exam Code 200-301 |
| Duration 120 mins | Format Multiple Choice and Multi-Response Questions |
| Exam Type Associate | Number of Questions 40-60 Questions |
| Eligibility/Pre-Requisite NIL | Exam Fee $300 USD |
| Exam Language English, Japanese | Register Pearson VUE |
With this, we've covered the fundamental details of the Cisco CCNA (200-301) exam. Besides, knowing the exam structure is essential to help you strategize a functional study plan, to ease your journey towards your desired certification. Saying so, let us move into the more technical section of the exam, ie., the course outline. It's a universal fact that without knowing the fields in which you'll be tested, you cannot qualify for any exam. So understanding every objective of the examination is substantial. So what are you waiting for? Read on to know what skills you need to have a command of.
Course Outline
The Cisco Certified Network Associate CCNA (200-301) certification exam covers the following domains –
Domain 1: Network Fundamentals (20%)
Firstly, explain the role and function of network components
Describe characteristics of network topology architectures
Compare physical interface and cabling types
Identify interface and cable issues (collisions, errors, mismatch duplex, and/or speed)
Compare TCP to UDP
Configure and verify IPv4 addressing and subnetting
Describe the need for private IPv4 addressing
Configure and verify IPv6 addressing and prefix
Also, compare IPv6 address types
Verify IP parameters for Client OS (Windows, Mac OS, Linux)
Describe wireless principles
Explain virtualization fundamentals (virtual machines)
Finally, describe switching concepts
Domain 2: Network Access (20%)
Firstly, configure and verify VLANs (normal range) spanning multiple switches
Configure and verify Interswitch connectivity
Configure and verify Layer 2 discovery protocols (Cisco Discovery Protocol and LLDP)
Then, configure and verify (Layer 2/Layer 3) EtherChannel (LACP)
Describe the need for and basic operations of Rapid PVST+ Spanning Tree Protocol and identify basic operations
Compare Cisco Wireless Architectures and AP modes
Also, describe physical infrastructure connections of WLAN components (AP, WLC, access/trunk ports, and LAG)
Describe AP and WLC management access connections (Telnet, SSH, HTTP, HTTPS, console, and TACACS+/RADIUS)
Configure the components of a wireless LAN access for client connectivity using GUI only such as WLAN creation, security settings, QoS profiles, and advanced WLAN settings
Domain 3: IP Connectivity (25%)
Firstly, interpret the components of the routing table
Determine how a router makes a forwarding decision by default
Configure and verify IPv4 and IPv6 static routing
Then, configure and verify single area OSPFv2
Finally, describe the purpose of first-hop redundancy protocol
Domain 4: IP Services (10%)
Firstly, configure and verify inside source NAT using static and pools 2019 Cisco Systems, Inc.
Configure and verify NTP operating in a client and server mode
Explain the role of DHCP and DNS within the network
Then, explain the function of SNMP in network operations
Describe the use of Syslog features including facilities and levels
Also, configure and verify DHCP client and relay
Explain the forwarding per-hop behavior (PHB) for QoS such as classification, marking, queuing, congestion, policing, shaping
Configure network devices for remote access using SSH
Finally, describe the capabilities and function of TFTP/FTP in the network
Domain 5: Security Fundamentals (15%)
Firstly, define key security concepts (threats, vulnerabilities, exploits, and mitigation techniques)
Describe security program elements (user awareness, training, and physical access control)
Configure device access control using local passwords
Describe security password policies elements, such as management, complexity, and password alternatives (multifactor authentication, certificates, and biometrics)
Then, describe remote access and site-to-site VPNs
Configure and verify access control lists
Configure Layer 2 security features (DHCP snooping, dynamic ARP inspection, and port security)
Also, differentiate authentication, authorization, and accounting concepts
Describe wireless security protocols (WPA, WPA2, and WPA3)
Finally, configure WLAN using WPA2 PSK using the GUI
Domain 6: Automation and Programmability (10%)
Firstly, explain how automation impacts network management
Compare traditional networks with controller-based networking
Describe controller-based and software-defined architectures (overlay, underlay, and fabric)
Then, compare traditional campus device management with Cisco DNA Center enabled device management
Also, describe characteristics of REST-based APIs (CRUD, HTTP verbs, and data encoding)
Recognize the capabilities of configuration management mechanisms Puppet, Chef, and Ansible
Finally, interpret JSON encoded data
Preparation Guide for the Cisco CCNA (200-301) Exam
After covering the exam details and course outline, we shall now move onto the most important path in your journey towards your destination. You are going to take an exam, that took you long stretches of persistent hard work and constant motivation. So, you must know what field you need to work upon harder to achieve success. Moreover, framing a proper study plan will help you a lot in acquiring the certification.
We'd suggest you to first revise your IT lessons/concepts regularly, and practice your soft skills of Networking, IP fundamentals, services, etc. Subsequently, review your soft skills of using Cisco, ask help from experts, and experienced IT professionals. Besides, Cisco expects it's candidates/ employees to perform as diligently as them when it comes to network solutions. The following study guide will surely help you in the long run, if followed with utmost dedication and honesty.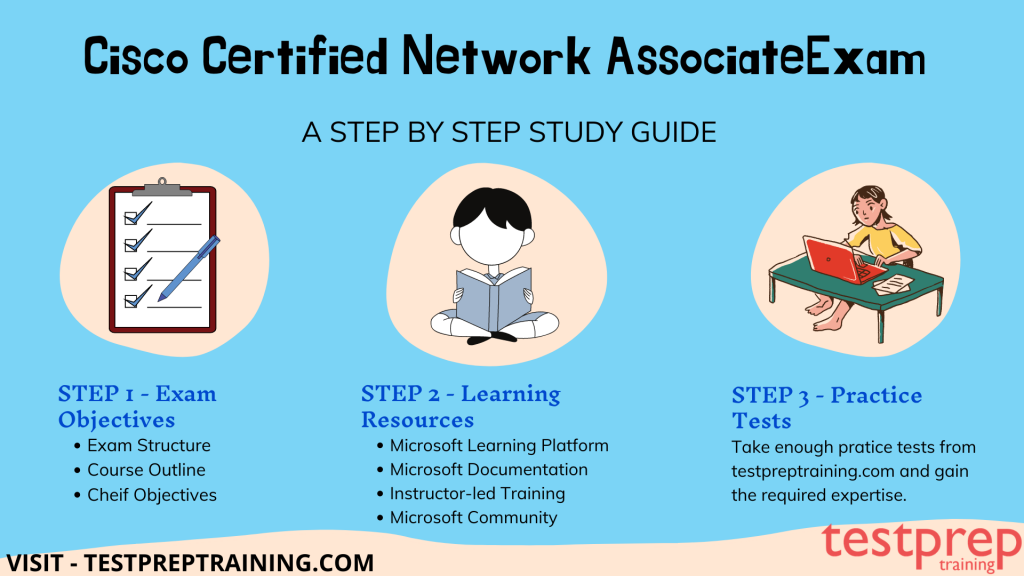 1. Cisco Website
Following are the resources to be found on the Cisco website –
CCNA At-a-glance (in a PDF format – 68 KB) – This will provide you with all the basic information of the course. Further, it showcases how the certification beneficial to you.
Frequently asked questions (in a PDF format 405 KB) – This document will guide you through the journey. Hence, all your doubts regarding the exam will be solved here.
2. Cisco Training
The Implementing and Administering Cisco Solution training is presented in an e-learning mode and instructor-led mode, both include lecture sections and self-study sections. Choose the one that suits you the best. Besides, the prerequisites for this training involves the basics of computer literacy, PC operating system navigation skills, IP address, and internet.
3. Books – Your Best Friends
Undeniably, books are the ultimate source of knowledge and are always there for you, whenever you have any doubts and queries. Cisco recommends two very important books to help you gain command of the necessary skills to become a Cisco Certified Network Associate. The two books are –
CCNA Preparation Library (640-801) by Stephen McQuerry – This book is authorized and owned by Cisco. It is one of the best books for candidates who do self-study and train themselves on their own. This book consists of 2 basic exam preparation tutorials for the exam; viz, Interconnecting Cisco Network Devices Part 1 and Part 2. It also includes all their concepts, theories, and dictionaries.
Cisco Certified Network Associate (CCNA) Study Guide (640-802) by Todd Lammle – This is a very popular book among candidates of CCNA exam as it is widely suggested by CCNA certified professionals and experts. As it contains four full-length practice questions and is authored by Todd Lammle, it becomes the most beloved and beneficial for the candidates. It also includes all the concepts of Cisco network devices.
4. Join Cisco Community
Joining an online community is always beneficial, no matter where it is done. The prospects of getting resolutions to an issue increase steeply when a greater number of people are involved. Also, multiple viewpoints make the stuff more dynamic. These discussions make the studies more comprehensive. Introverts get a chance to express themselves, who might otherwise prefer staying out of discussions. Forums work really well to build a community that is essential for understanding others.
5. Practice Tests
Taking a practice test is a great way to diversify your study strategy and ensure the best possible results for the real thing. Analyzing your answers will help you identify the areas where you need to give special attention to, and will also let you know your alignment with the exam objectives. So start practicing for the Cisco Certified Network Associate CCNA (200-301) exam Now!
Enrich Your Skills and Knowledge to Become a Cisco Certified Network Associate with Hundreds of Practice Exams. Start Practicing Now!