As we know that there are numerous IT certifications available out there. Almost every day thousands of jobs are waiting for the one particular candidate who is capable of doing the thing perfectly. So, here we are with the study guide of the Certified Information Systems Security Professional (CISSP) exam so that you will become the one for the job. Let us begin, CISSP is one of the usual sought-after and elite certifications in the information security industry. Maybe you heard that the CISSP exam is hard, terrifying, and resource-intensive, but it's not impossible to pass it! Not to mention, obtaining a Certified Information Systems Security Professional certificate can assist the candidate to have a thriving profession as a computer security professional.
As you may have already known, CISSP fills for Certified Information Systems Security Professional, and it's a certification designed by the International Information Systems Security Certification Consortium, or (ISC)2, in 1991. Further, the CISSP certification is a means to show your knowledge and demonstrate that you can install and direct an information security program successfully.
Job Title
If you are thinking that what your title will be like, then let us tell you that a CISSP is a seasoned consultant or employee, normally with a job title such as security analyst, security manager, or chief information security officer, to name just a few. Also, this personality has been on the job for five or more years and has a thorough knowledge and skills of the IT threat landscape, comprising emerging and excellent persistent threats, also controls, and technology to decrease attack surfaces.
Moreover, a CISSP additionally generates policies that establish a structure for proper controls and can operate or oversee risk management and software development security.
Course Outline: Certified Information Systems Security Professional
The most important step is understanding all the exam objectives because the final exam will depend on these objectives only. So, let's discuss CISSP exam outline. So, the CISSP exam covers eight domains from the (ISC)2 Common Body of Knowledge (CBK):
Security and Risk Management
Promoting professional ethics
Applying security concepts
Evaluating and applying security governance principles
Also, determining compliance and other requirements
Understanding legal and regulatory issues that pertain to information security in
Further, understanding needs for investigation types (i.e., administrative, criminal, civil, regulatory, industry standards)
Developing, documenting, and implementing security policy, standards, procedures, and guidelines
Moreover, identifying, analyzing, and prioritizing Business Continuity (BC) requirements
In addition, contributing to and enforcing personnel security policies and procedures
Understanding and applying threat modeling concepts and methodologies
Applying Supply Chain Risk Management (SCRM) concepts
Additionally, establishing and maintaining a security awareness, education, and training program
Asset Security
Classifying information and assets
Also, establishing information and asset handling requirements
In addition, provisioning resources securely
Managing data lifecycle
Further, ensuring appropriate asset retention (e.g., End-of-Life (EOL), End-of-Support (EOS))
Determining data security controls and compliance requirements
Security Engineering
Firstly, researching, implementing and managing engineering processes using secure design principles
Secondly, understanding the fundamental concepts of security models (e.g., Biba, Star Model, Bell-LaPadula)
Selecting controls based upon systems security requirements
Understanding security capabilities of Information Systems (IS)
Further, mitigating the vulnerabilities of security architectures, designs, and solution elements
Selecting and determining cryptographic solutions
Moreover, understanding methods of cryptanalytic attacks
Applying security principles to site and facility design
Lastly, designing site and facility security controls
Communications and Network Security
Assessing secure design principles in network architectures
Securing network components
Not to mention, implementing secure communication channels according to design
Identity and Access Management
Controlling physical and logical access to assets
Managing identification and authentication of people, devices, and services
Implementing and managing authorization mechanisms
Further, managing the identity and access provisioning lifecycle
Moreover, implementing authentication systems
Security and Assessment Testing
Validating assessment, test, and audit strategies
Conducting security control testing
Also, collecting security process data (e.g., technical and administrative)
In addition, analyzing test output and generate report
Moreover, conducting or facilitating security audits
Security Operations
Complying with investigations
Also, conducting logging and monitoring activities
Performing Configuration Management (CM) (e.g., provisioning, baselining, automation)
IN addition, applying foundational security operations concepts
Conducting incident management
Operating and maintaining detective and preventive measures
Additionally, implementing and supporting patch and vulnerability management
Understanding and participating in change management processes
Implementing recovery strategies
Moreover, implementing Disaster Recovery (DR) processes
Testing Disaster Recovery Plans (DRP)
Participating in Business Continuity (BC) planning and exercises
Managing physical security
Addressing personnel safety and security concerns
Software Development Security
Understanding and integrating security in the Software Development Life Cycle (SDLC)
Identifying and applying security controls in software development ecosystems
Assessing the effectiveness of software security
Further, assessing security impact of acquired software
Defining and applying secure coding guidelines and standards

CISSP Exam Details
Let us make the basic details about the Certified Information Systems Security Professional (CISSP) exam clear for you. To begin with, the Certified Information Systems Security Professional (CISSP) exam includes 250 questions of about ten different areas, business continuity planning and disaster recovery planning, access control systems and methodology,  operations, physical security, management practices, telecommunications, security, and networking security. Just so you know, other important areas to the CISSP certification are security architecture application and systems development, cryptography, law, investigation, and ethics. Moreover, the CISSP exam questions are resent in the form of multiple-choice or multiple responses.
Further, a CISSP certification needs an annual preservation CISSP exam fee of $85 at the end of each certification year, and the candidate must take the test every three years to remain a member in standing with the certification. Also, when it comes to passing marks, the candidate has to score a minimum of 700 out of 1000 points to successfully clear the exam. Now, let us jump to the study guide. 
Study Guide for Certified Information Systems Security Professional (CISSP)
Now let us begin the discussion for CISSP exam preparation, the following details are some necessary steps that you should study for producing an ideal plan for your Certified Information Systems Security Professional (CISSP) preparation. So, let's kick start the preparation with the CISSP exam study guide: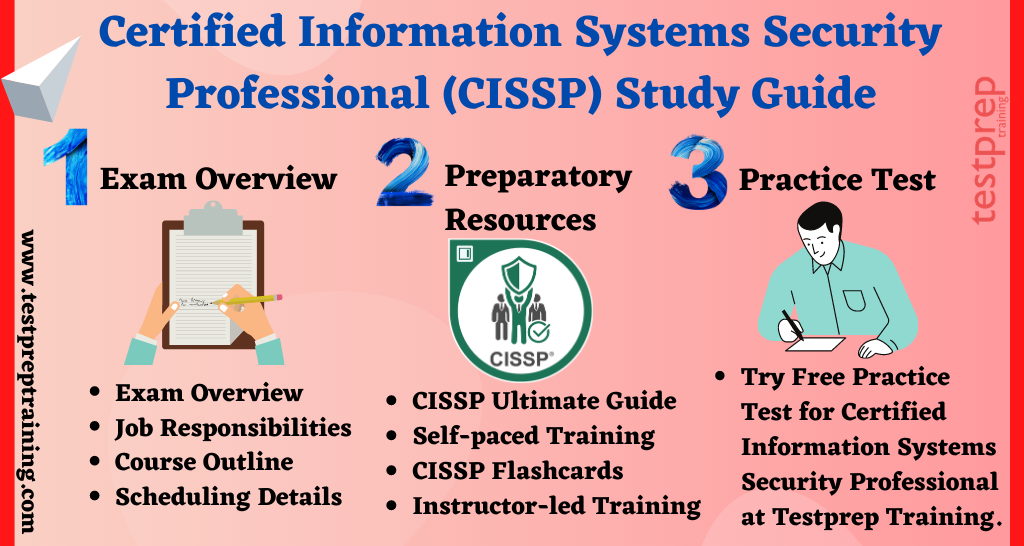 Visit the Official website
For better preparation, make sure you are up to date with all exam info. Also, what happens if certification exams keep on updating with new technology coming every day. So, your first step should be the Official website of (ISC)² and view and match if you and the website are on the same page. If not, then make sure you're equipped with all the new Certified Information Systems Security Professional (CISSP) exam info that is out there.
Download the Exam Outline
First of all, it is obvious to download the exam Outline. Make sure you don't skip this part. As mentioned earlier, the CISSP exam outline is the most important part of any certification exam. You can easily locate the exam outline on the official website as well. Also, make sure to view if there are any important notices, you must be updated on any new changes. So, just take a quick look at the CISSP exam topics:
Security and Risk Management
Asset Security
Also, security engineering
Communications and Network Security
Identity and Access Management
Security and Assessment Testing
In addition, security operations
Furthermore, software development security
CISSP Ultimate Guide
For the utmost preparation, the CISSP Ultimate Guide is your one-stop station to all the doubts relevant to the CISSP exam. Also, there is nothing wrong to say that this CISSP exam guide serves as full coverage of the exam and its related objectives. Further, candidates who are seeking an in-depth review of information must go and bookmark this guide so that they can get access to it anywhere and anytime they need.
Self-paced Training
(ISC)² Online Self-Paced Training is an alternative to traditional training classrooms. These modern and exclusive training courses allow candidates to study on their own convenient schedule with interactive study material. Remember, once you purchase the course, you can access the course content for a period of 120 days.
CISSP Flashcards
Candidates who are preparing for the Certified Information Systems Security Professional (CISSP) exam can now study anytime and anywhere for the certification exam. Moreover, the CISSP Flashcards given by (ISC)² assist candidates to get immediate feedback pertaining to their queries. Also, these flashcards give the capabilities to flag individual cards for a separate study. These flashcards are sectioned for each objective to make learning easier and effective.
Instructor-led Training
The candidate can also opt for the CISSP training programs. The (ISC)² provides training programs on every exam. The Instructor-led training programs for a particular exam contain all information on the exam such as description, intended audience, delivery method, duration, etc. Since, training is not feasible for everyone, (ISC)² offers instructor-led training as an option to help candidates prepare for the exam. These online training sessions allow you to participate from the convenience of your computer, thereby saving you travel time and expense. So what are you waiting for? Go and get trained!
Join a Study Group
Joining a group study will also be beneficial for the candidate. It will encourage them to do more hard work. Also, studying in the group will help them to stay connected with the other people who are on the same pathway as them. Also, the discussion of such study groups will benefit the students in their exams.
Practice Test
Practice tests are the one who ensures the candidate about their preparation. The CISSP practice test will help the candidates to acknowledge their weak areas so that they can work on them. They are considered as one of the most efficient sources to study for the exam as they offer live CISSP exam experience. There are many practice tests available on the internet nowadays, so the candidate can choose which they want. Also, (ISC)² offers its own practice test. The candidate can start Preparing for Certified Information Systems Security Professional (CISSP) Now!
In addition, we at Testprep training also provide free practice tests for making your preparation journey easier. Give them a shot!
Tips to Remember
Here are some CISSP exam tips to fight our exm stress
Gather all the related information about the exam.
Attempt all the essential steps of the above-mentioned study guide.
Don't forget to try the practice test.
Get proper sleep!
Have faith in the hard work you're doing.
Testprep training wishes you all the very best for your exam!