With the advent of Covid 19, the world saw an instant shift to the internet. Everything ranging from Online classes to Office work saw a drastic shift online. It is the right time that we need to understand that the world has accepted the fact that skills for the upcoming future are much more required than degrees. One such skill in the world that is required is "cloud computing". More than half of the organizations use multiple public clouds and the rest are expected to shift to the cloud soon. To bridge the Gap, Microsoft has come up with a certification Exam AZ-120: Planning and Administering Microsoft Azure for SAP Workloads. The certification has improved both the learnings by 70% and 84% of people have seen better job prospects after getting certified.
About Microsoft Exam AZ-120
If you are planning to appear for this exam then it is very important to have extensive experience and knowledge of SAP applications: SAP HANA, S/4HANA, SAP NetWeaver, SAP BW/4HANA, OS servers for SAP applications, and databases. For the AZ-120 exam, it would be an added advantage if you have an Azure Administrator Associate or Azure Solutions Architect Expert certification. However, taking these certifications is not as simple as it appears.
Moreover, it is essential to know the skills and knowledge you will be gaining after this certification. The exam will help you to implement, manage, and monitor identity, governance, and virtual networks in a cloud environment, plus provision, size, monitor, and adjust resources when needed. Furthermore, it tests your knowledge across five different subject areas, and that's how this learning path is structured.
Exam Format
The Microsoft Exam AZ-120: Planning and Administering Microsoft Azure for SAP Workloads consist of 40-60 questions that need to be completed within a time span of 90 minutes. You need to manage your time accordingly. Furthermore, it advised that since there are 40-60 questions in total, then, you should not spend more than 1 minute on each question. On average, if you finish your examination in 60 minutes, you will still have 30 minutes to revise and recheck your answers.
Furthermore, there are different types of questions present during the exam including case studies, short answers, multiple-choice, mark review, etc. Since there are different types of questions, you can complete the case study questions first. Subsequently, they are the most time-consuming ones. Next, you can go for short answers, followed by the multiple-choice. Keep in mind that you need to score a minimum of 720 or more points to pass the exam. Furthermore, the exam will cost you $165 USD. Last but not the least, the exam is available in the English language.
How to schedule the exam?
Planning and Administering Microsoft Azure for SAP Workloads AZ-120 has been built to tests and validates your expertise as an Azure Administrator. Furthermore, you should have should also have a strong understanding of core Azure services, workloads, security, and governance. You can schedule your examination with Pearson VUE.
For registering yourself for AZ-104: Microsoft Azure Administrator Associate examination you are required to follow the following steps:
You can book your examination with Pearson VUE.
Follow the instructions given on the site and select the available date and time slot and make the payment.
For Non-Students interested in Technology
For Students or Instructors
AZ-120 Course Outline
The content of this exam was updated on November 24, 2020.
Topics and sections help you in getting a clear understanding of the exam. Undoubtedly, for the Planning and Administering Microsoft Azure for SAP Workloads AZ-120 exam, we will learn and understand the important areas that will be useful during exam preparation.
Migrate SAP Workloads to Azure (10-15%)
Creating an inventory of existing SAP landscapes
And, Designing a migration strategy
Design Azure Solution to Support SAP Workloads (20-25%)
Innovating core infrastructure solution in Azure to support SAP workloads
Also, Making Azure infrastructure services to support SAP workloads
Further, Figuring a resilient Azure solution to support SAP workloads
Build and Deploy Azure for SAP Workloads (35-40%)
Automating deployment of Virtual Machines (VMs)
Moreover, Implementing and managing virtual networking
In addition, Managing, accessing and authentication on Azure
Furthermore, Dealing with identities
Lastly, Monitoring SAP workloads on Azure
Validate Azure Infrastructure for SAP Workloads (10-15%)
Performing infrastructure validation check
And, executing operational readiness check
Operationalize Azure SAP Architecture (10-15%)
Optimizing performance
Then, Migrating SAP workloads to Azure
Microsoft Azure for SAP Workloads AZ-120 Study Guide
The most important step is preparation. Undoubtedly with the right study material and resources, you will definitely excel in the examination. But there comes the most difficult part of hunting down for the study material. There is a lot of books, guides, and other resources available on the internet. We all often tend to get confused to select the right one for us. However, To help you in your preparation, we have collected few resources which you can refer to. Furthermore, following this preparation guide will help you learn and understand every exam's objectives. Here we are providing you with the best learning resources to qualify for the exam. Moreover, here we are going to illustrate a detailed description to help you prepare for the exam. Let's start: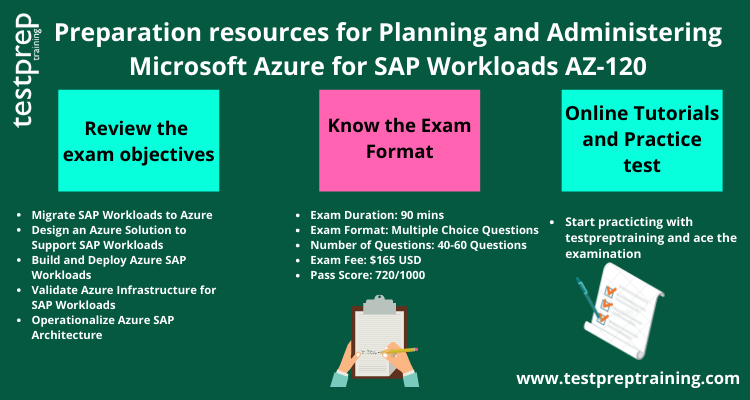 Online Tutorials
Online Tutorials enhance your knowledge and provide a depth understanding of the exam concepts. Additionally, they also cover exam details and policies. Nonetheless, these online tutorials provide and in-depth information related to the examination. This in turn will help you prepare well for the examination. Therefore learning with Online Tutorials will result in strengthening your preparation.

Expert Corner
When you begin your preparation journey, it becomes essential to review all exam objectives. Furthermore, by doing so it will provide you with a clear idea about all the different topics and skills that you need to be proficient in. Also, reviewing the exam objectives will leave no space for confusion in your head and you can focus on your preparation. Exam objectives can help you strengthen the modules and the respective subtopics. Furthermore, there are various books and you should also join the Microsoft community which will help you connect with like-minded people.
The final step to success is to practice what you have learned. Additionally, taking a practice test is a great way to diversify your study strategy and ensure the best possible results for the real thing. Furthermore, analyzing the practice test is very important so as to ensure complete preparation. We provide you with free sample papers to help you excel in the examination. Moreover, these free practice exam papers will give you a real-time examination feel. Therefore, start preparing now!