Amazon Web Services (AWS) certification is becoming one of the most trending and a 'must have' certification for an IT Professional working in the cloud computing field. The AWS Certified Developer Associate is one of the three associate-level certification offered by Amazon-Web Services.
AWS Certified Developer Associate Exam demonstrates your understanding of core AWS services, their uses, and basic AWS architecture best practices as well as your proficiency in development, deployment, and debugging cloud-based applications using AWS.
Amazon Web Services (AWS) is widely used worldwide with the ability to develop and transfer any type of application over the cloud. Getting certified in AWS will provide you many opportunities and enhance skills to provide a secure path. Moreover, AWS certification enhances your earning potential. The AWS Certified Developer Associate Salary is somewhere around Rs. 7,25,000 per annum. This article gives a brief overview about AWS Developer Associate certification (DVA- C01) exam, course outline and exam preparation guide.
Why Amazon Web Services (AWS)?
Many organizations have their own cloud services that have resulted in a big competition with other cloud services to be on top. Amazon Web Services (AWS) comes under the top cloud services with having a good impact on individuals and companies globally.
AWS service includes features like Data encryption and various access controls which provide data security over the cloud. Also AWS has the ability to host dynamic websites to run various web and application servers. It also includes hybrid abilities to work with.
AWS has three certification levels starting from Associate level to Professional level. AWS Certified Developer Associate is one of the basic AWS certification Architecture.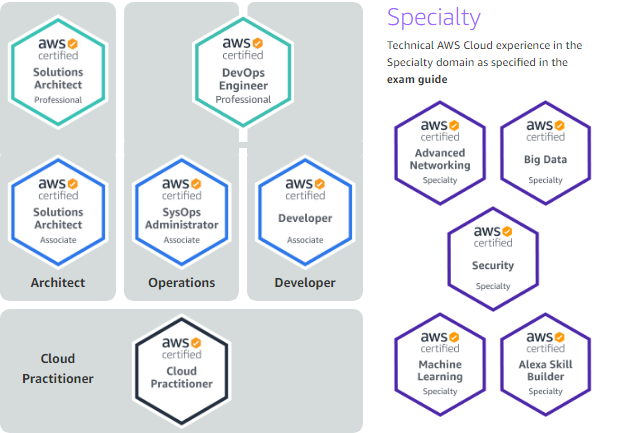 Overview of AWS Certified Developer Associate Exam
AWS Developer Associate Certification (DVA-C01) exam has been designed to test your knowledge and skills in deploying, developing and debugging the applications based on cloud with using AWS and its basic architecture. AWS Developer Associate exam will help the candidates to develop good understanding in core services of AWS and have a best practice in AWS architecture.
Exam Overview
AWS Developer Associate exam is designed to candidates having an advanced experience in developing and maintaining AWS applications. This certification will examine you knowledge on deploying, debugging and developing cloud based applications.
Exam Details for AWS Certified Developer Associate
Exam Name
AWS Certified Developer Associate
Exam Code
DVA-C01
Exam Duration
130 minutes
Exam Cost
$150 USD
Exam Questions
Multiple Choice and Multiple Response Questions
Exam Scoring
Scaled score from 100 to 1000
Passing Score
70% – 75%
Exam Language
English, Japanese, Korean and Simplified Chinese
Exam Eligibility
1. Experience of 1 or more years in developing AWS application.
2. Knowledge in one advance level programming language.
3. Ability to write code for serverless applications
Course Structure of AWS Certified Developer Associate
 There are five domains covered in AWS Certified Developer Associate Course Outline. These are:
AWS Developer Associate – Domain 1: Deployment
Deployment domain in AWS Developer Associate exams covers 22% of total weightage with topics covered such as,
Deploying the written code in AWS using CD/CI pipelines and patterns.
How to use Elean Beanstalk for deploying applications.
How to prepare the deployment package application for deploying it to AWS.
Serverless application deployment.
AWS Developer Associate – Domain 2: Security
Security domain of AWS Developer Associate includes authentication and encryption methods with having 26% of weightage. It is considered to be an important section in this certification. This includes,
How to make authenticated calls to AWS services.
Implementing applications for authorization and authentication.
Implementing encryption using AWS services.
AWS Developer Associate – Domain 3: Development with AWS Services
This domain covers the 30% weightage in the exam that is need to be focused more when preparing. The section which are covered in this domain are,
How to translate functional requirements into application designs.
Writing code for serverless applications and code that interacts with AWS services using API's and AWS CLI.
Implementing application design into application code.
AWS Developer Associate – Domain 4: Refactoring
This domain will provide deep knowledge about the AWS services and the features included in it. It covers 10% of weightage in exam and the sections covered in it are,
Migrating the existing application code to run on AWS.
Optimizing the applications for using best features of AWS services.
AWS Developer Associate – Domain 5: Monitoring and Troubleshooting
Monitoring and Troubleshooting domain covers 12% weightage in which you will develop skills to identify faults and how to monitor it. This section covers,
Writing code to get it monitored.
Performing root cause analysis on the faults found during testing or production.
Exam Prerequisites
 AWS Certified Developer Associate Prerequisites are:
It is necessary to have more than 1 year hands on experience in maintaining and developing AWS based applications.
You should have proficiency in at least one advanced level programming language with knowledge in AWS core services.
You should know how to write code for serverless applications and how to use AWS service API's, SDK's and AWS CLI to write applications.
Exam Structure
AWS Developer Associate certification Exam questions are in has MCQ type format. Exam has been divided into two types –
Multiple choice questions, in this you only have select one correct option out of four options.
Multiple response questions, in this there can be multiple correct answers from the options given.
Exam Scoring
For AWS Developer Associate exam you have to select one or more best suitable answers based on the type of questions.
Questions which are not answered will be marked as incorrect.
There can also be some content in the exam which hasn't assigned any score or no score will be given on that.
Exam Result
The exam score is scaled between 100 to 1000.
AWS Certified Developer Associate Passing Score is 70% to 75%.
There is no rule for passing each section; you just have to get the overall passing score.
Every section in this exam has a varying weighting, with differ in number of questions listed against each section in the exam.
AWS Developer Associate Exam is based on pass or fail format. Also the exam result will be mailed to you within five business days from the day of the exam.
Scoring in the exam is done by minimum standards established by AWS professionals as per the good guidelines and practice.
Exam Retake Policy
If you want to retake AWS Developer Associate certification exam then you have to wait for 14 days before retaking the exam. You can give the exam as many times until you have passed the certification. Also you have to pay the full fee for each attempt you take.
 Exam Objective: AWS Certified Developer Associate
Candidates giving this exam are validated using the following structure,
Uses of AWS services and understand the cloud native applications to write code.
Knowledge in maintaining and debugging code modules on AWS.
Understanding the AWS core services, its use and having best practice in AWS architecture.
Using AWS security best practice which includes IAM roles to write codes.
Exam Registration Process
Steps to registration for AWS Developer Associate Exam –
You need to sign in to aws.training.
Click on Certification on the top.
Then click on AWS Certification account, Schedule new exam.
Check for the exam you want to take and click schedule at Pearson VUI button or PSI.
How to prepare for AWS Certified Developer Associate exam?
AWS Developer Associate exam preparation can be done using free resources available both online and offline. This will help you a lot while studying by letting you understand more about your skills and abilities you have in AWS. Here is the AWS Certified Developer Associate Exam Guide to help you ace the exam:
Reference Books
There are many reference books which are available for AWS Developer Associate exam and some of them are,
Firstly, All in One AWS Certified Developer Associate Exam Guide
Secondly, AWS for Developers for dummies
Thirdly, AWS Development Essentials
Also, AWS Certified Developer Associate Guide: An Effective Guide for Developers
Exam Course Provider
You can search for the exam resources which are available online for getting AWS Developer Associate exam details and structure. There are many websites which provide online training for the exam with a full assistance to the course such as,
Udemy
Pluralsight
Simplilearn
Exam Q&A
You can also refer various websites and discussion forums offering quality information and topic details related to the certification such as,
Answers.com
Quora
Stackoverflow
Exam Practice Test
For exam, practice test questions can be used for better preparation. There are many websites offering Practice test, to analyze skills and knowledge on the AWS Developer Associate. You can check for practice sets on Amazon but they don't cover full topics. At Testprep Training you can have access to practice sets of questions on AWS Developer Associate in two ways –
AWS Certified Developer Associate Training
There are many free training that is provided by AWS for Developer Associate exam at https://aws.amazon.com/training/. These trainings requires registration and are available at zero cost. AWS also gives access to various Learning libraries to get to know more about the AWS services. It also includes AWS APN partner which helps you to accelerate your business on AWS.
Testprep Training offer AWS Developer Associate Free Tutorial and Free Practice Test to improve your chances to qualify AWS Developer Associate Exam.
Developer Learning Path in AWS
AWS has created a developer learning path which is designed for software developers who have a keen interest in developing cloud applications on AWS. This will help you build your technical skills and getting advanced in it.

How to prepare for AWS Developer Associate Exam?
When preparing for the AWS certification exam you need to study but it is also required to make a schedule for studying for the exam. Passing this certification will open doors for new opportunities and professional level certifications.
There are some steps which will be helpful for you to pass the certification exam,
Step 1 – Create a Blue Print for Exam Preparation
Before preparing for the exam try to do some research on AWS concepts and its exam pattern. Then make a chart mentioning the weakest and the strongest area according to the topics. Create a AWS Certified Developer Associate Exam Blueprint to work towards strengthening your skills and work according to the designed plan.
Step 2 – Understanding AWS Concepts
This can be an important part required for passing the certification,
You need to validate your skills and knowledge to understand the concepts instead of cramming it. Get hands on experience in AWS services and applications to get better knowledge on the topics.
Step 3 – Look for Preparation Material for AWS Developer Associate Exam
There are various websites providing practice tests and training to pass the AWS certification exam. There are some websites which provide free practice sets of questions. They also offer a free trial before purchasing the whole training materials. If you are into self-study then you can buy AWS reference books to study for the exam.
Step 4 – Practice, Practice and Practice !
Once you have gone through the learning material well the next step is to simply focus on Practicing. AWS Certified Developer Associate Practice Exams is all you need to check yourself.  It is suggested to practice on a daily basis to understand the concepts more easily. Continuous practice will help you identify your weak areas and work over it and strengthen the topics you are good at. It is better to make a schedule for studying and practicing questions. This will help you cover the topics quickly with giving time for practice.
Step 5 – Take the exam
On completion of the syllabus, take as many mock tests and practice it till the day of the exam. During the exam read through the requirement carefully and give the exam with full confidence.
Best of Luck for the exam!!