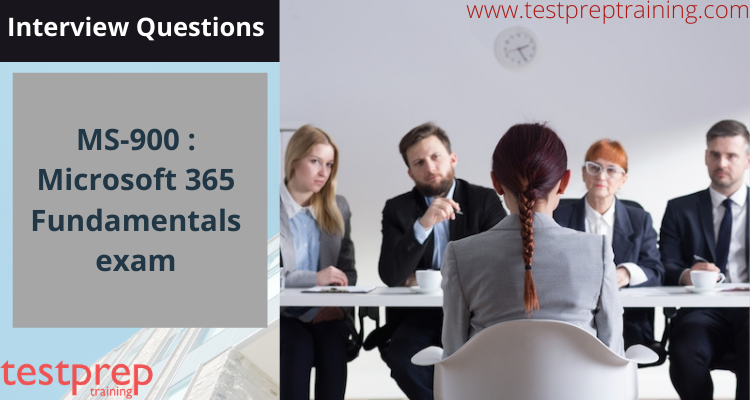 Well, preparing for the exam interview is equally important as preparing for the exam because it is the last step towards achieving what you want. Talking about the MS-900: Microsoft 365 Fundamentals exam interview, you must know that you require technical expertise in the field and the confidence and ability to portray the answers well. The exam is the best for candidates possessing knowledge and abilities about the general cloud services and the Software as a Service (SaaS) cloud model. Moreover, this exam requires an understanding of available options and benefits gained by implementing Microsoft 365 cloud service offerings. Hence, we have brought for you the set of frequent and the best possible MS-900 Interview Questions and answers that will help you understand the way of answering the questions and prepare well for the interview.
Let's move towards the MS-900 Interview Questions now.

What is Microsoft Azure and how does it differ from other cloud platforms?
Microsoft Azure is a cloud computing platform and infrastructure created by Microsoft for building, deploying, and managing applications and services through a global network of Microsoft-managed data centers. Azure offers a range of services including virtual machines, storage, databases, and more. Next, azure offers both Platform as a Service (PaaS) and Infrastructure as a Service (IaaS) options, making it a versatile cloud platform that can accommodate a wide range of use cases.
Azure differs from other cloud platforms such as Amazon Web Services (AWS) and Google Cloud Platform (GCP) in terms of features, pricing, and the target market. Further, azure is geared towards enterprises and has a strong focus on integration with Microsoft's existing products and services, such as Windows Server, Visual Studio, and Office 365. It also offers a large number of services specifically designed for hybrid cloud deployments, making it easier for organizations to manage both on-premises and cloud resources.
Can you explain the different services and features available in Microsoft Azure?
Microsoft Azure is a cloud computing platform that provides a range of services and features to help organizations build, deploy, and manage their applications and infrastructure. Some of the key services and features available in Azure include:
Virtual Machines: This service allows organizations to create, configure, and manage virtual machines running Windows or Linux operating systems.
Web Apps: This service provides a platform to host and manage web applications and services in the cloud.
Container Services: This service provides support for deploying and managing containers, including Docker and Kubernetes, in the cloud.
Database Services: This service provides a range of databases for various types of data storage, including Azure SQL Database, Azure Cosmos DB, and Azure Database for PostgreSQL.
Storage Services: This service provides a range of storage options, including blob storage, file storage, and disk storage.
Analytics Services: This service provides a range of services for analyzing and processing data, including Azure Stream Analytics, Azure HDInsight, and Azure Machine Learning.
Networking Services: This service provides a range of services for connecting and securing resources, including Azure Virtual Network, Azure Load Balancer, and Azure ExpressRoute.
Identity and Access Management: This service provides a range of services for managing identities, including Azure Active Directory and Azure AD B2B collaboration.
Security and Compliance: This service provides a range of security and compliance services, including Azure Security Center and Azure Information Protection.
Internet of Things (IoT): This service provides a range of services for IoT solutions, including Azure IoT Hub and Azure IoT Edge.
How would you manage and monitor resources in Microsoft Azure?
To manage and monitor resources in Microsoft Azure, you can use the Azure portal, Azure Resource Manager templates, Azure CLI, Azure Powershell, or REST APIs.
In the Azure portal, you can manage and monitor your resources through the Azure Dashboard, which provides an overview of all the resources in your subscription. You can also use the Azure Monitor, which provides real-time and historical data on resource utilization, performance, and health.
Azure Resource Manager templates allow you to automate the deployment and management of resources in Azure. These templates can be used to create and manage virtual machines, storage accounts, networks, and other resources.
Azure CLI and Azure Powershell provide a command-line interface to manage and monitor resources in Azure. These tools allow you to automate common management tasks and access the Azure platform programmatically.
Finally, you can use the Azure REST APIs to access and manage resources in Azure programmatically. The Azure REST APIs allow you to automate common management tasks and access the Azure platform programmatically.
Overall, the choice of tools will depend on your specific needs and preferences, but the goal is to provide a centralized and automated method for managing and monitoring resources in Azure.
Can you discuss your experience with configuring and managing virtual machines in Azure?
Yes, I have knowledge on how to configure and manage virtual machines in Azure. The process typically involves creating a virtual machine (VM) in Azure, configuring the virtual network and storage, and deploying an operating system on the VM. Once the VM is up and running, you can manage it like any other server, including installing software, configuring security, and performing updates and maintenance. To ensure high availability, you can set up load balancing and auto-scaling, and use Azure Backup to protect against data loss. You can also use Azure Monitor to track performance and troubleshoot issues, and implement disaster recovery strategies such as replicating VMs to another region.
How would you implement disaster recovery and backup solutions in Azure?
To implement disaster recovery and backup solutions in Azure, you can use the following methods:
Azure Site Recovery (ASR): ASR provides a disaster recovery solution for your on-premises infrastructure. You can replicate virtual machines from your on-premises environment to Azure, and then fail over to the replicas in Azure during a disaster.
Azure Backup: Azure Backup provides a secure and scalable data backup solution for your Azure VMs, as well as for your on-premises and cloud environments. You can use Azure Backup to backup data to the cloud, and restore the data as needed.
Azure Backup Server: Azure Backup Server provides a backup solution for your on-premises infrastructure, and helps you to protect your data by backing it up to Azure.
Azure Storage: Azure Storage provides a scalable and highly available data storage solution for your data. You can use Azure Storage to store your backups, and you can access the backups from anywhere in the world.
It's important to choose the right solution based on your requirements, such as RPO and RTO goals, data protection needs, cost, and compliance requirements. You can also combine these solutions to create a comprehensive disaster recovery and backup strategy.
Can you explain how to secure network connectivity and protect data in transit in Azure?
Securing network connectivity and protecting data in transit in Azure can be achieved through various methods such as:
Virtual Private Network (VPN): A VPN connection can be established between an on-premises network and Azure to secure the data transmission over the public internet.
ExpressRoute: This provides a private and direct connection between an on-premises network and Azure, bypassing the public internet.
Azure Dedicated HUB: It provides a private network connection to route all the network traffic between the virtual networks within the same region in Azure.
Azure Traffic Manager: It provides the capability to distribute network traffic across multiple endpoints, such as multiple regions.
Network Security Groups (NSGs): NSGs can be used to restrict traffic flow to and from resources in a virtual network.
Azure Firewall: It provides a managed firewall solution to protect the data in transit within a virtual network.
SSL/TLS encryption: SSL/TLS encryption can be enabled for web applications to encrypt data in transit between the client and the server.
All of these methods work together to ensure that data transmitted between Azure and on-premises networks, as well as within Azure, is secure and protected from unauthorized access.
What is Azure Active Directory and how would you use it to manage identities and access in the cloud?
Azure Active Directory (Azure AD) is a cloud-based identity and access management (IAM) solution offered by Microsoft as part of its Azure cloud platform. It provides a centralized platform for managing user identities, access control, and security for cloud applications and services.
To use Azure AD to manage identities and access in the cloud, you can perform the following steps:
Create an Azure AD tenant: This involves creating a new tenant in the Azure portal and configuring its settings as required.
Integrate Azure AD with on-premises Active Directory: This step involves using Azure AD Connect to synchronize user and group data from an on-premises Active Directory environment to Azure AD.
Manage user identities: This involves creating and managing user accounts in Azure AD, assigning licenses to users, and controlling their access to cloud applications and services.
Control access to cloud resources: This involves setting up conditional access policies to control access to cloud resources based on specific conditions such as location, device, or user group.
Implement multi-factor authentication (MFA): This involves configuring Azure AD to require users to provide additional authentication factors such as a one-time code or biometric verification to access cloud resources.
Monitor and report on identity-related activities: This involves using Azure AD reporting and auditing features to monitor and report on identity-related activities and events, such as successful logins, failed sign-ins, and password resets.
Can you discuss the process of integrating an on-premises Active Directory environment with Azure AD?
Azure AD Connect is the tool that is used to integrate an on-premises Active Directory environment with Azure AD. The process of integrating involves the following steps:
Preparation: Before integrating, it is important to verify that the on-premises environment meets the requirements for Azure AD Connect, such as minimum version of Windows Server, Active Directory forest and domain functional levels, and domain controller availability.
Installation: Azure AD Connect can be installed on a dedicated server or on an existing domain controller. The installation wizard will guide you through the process of setting up the synchronization process.
Configuration: After installation, you will need to configure the connection between Azure AD and the on-premises environment. This includes specifying the directory to be synchronized, selecting the attributes to be synchronized, and setting up the schedule for synchronization.
Synchronization: Once the configuration is complete, the synchronization process will begin. The synchronization process can be configured to run continuously in real-time, or at specified intervals.
Verification: After the synchronization process has run, it is important to verify that the users, groups, and other objects have been properly synchronized to Azure AD.
By integrating an on-premises Active Directory environment with Azure AD, organizations can benefit from centralized identity management and single sign-on (SSO) capabilities, enabling users to access cloud resources using their on-premises credentials.
How would you manage and secure access to cloud resources using Azure AD?
Azure AD provides a centralized identity management solution that helps to manage and secure access to cloud resources. The following are some of the steps involved in managing and securing access using Azure AD:
User Management: Azure AD allows you to create, manage, and delete user accounts, groups, and roles. You can also control user access to cloud resources using conditional access policies.
Multi-Factor Authentication (MFA): MFA can be configured in Azure AD to provide an extra layer of security for user authentication. MFA requires users to provide a combination of two or more authentication factors, such as a password and a security code sent to a mobile device.
Identity-Based Policies: Azure AD allows you to create identity-based policies that control access to cloud resources based on the user's identity and attributes. You can also use conditional access policies to enforce specific conditions for accessing cloud resources.
Azure AD Privileged Identity Management (PIM): PIM allows you to manage administrative access to Azure resources. You can control who has access to perform administrative actions, how long they have access, and what actions they can perform.
Role-Based Access Control (RBAC): Azure AD allows you to assign roles to users and groups to control access to cloud resources. RBAC ensures that users have only the level of access they need to perform their job functions.
Monitoring and Auditing: Azure AD provides detailed logs and reports that can be used to monitor and audit user activity and access to cloud resources. These logs and reports can be used to detect and respond to security incidents.
What is Azure AD Connect and how does it help to manage identity synchronizations between on-premises and cloud environments?
Azure AD Connect is a tool for synchronizing on-premises Active Directory with Azure Active Directory (Azure AD). It allows organizations to manage identities and authentication for both on-premises and cloud resources from a single platform. Azure AD Connect can help simplify the management of identity and access by providing a secure and automated way to synchronize user identities and attributes between on-premises and cloud environments. This helps organizations to maintain a consistent identity across their hybrid environment while also enabling users to access resources in either environment with a single set of credentials. Additionally, Azure AD Connect can also be used to integrate with other authentication mechanisms, such as Windows Server Active Directory Federation Services (AD FS), to provide a seamless sign-on experience for users.

Q1. What are the three models of storage service?
The major models of Microsoft's storage service are:
a public cloud storage service suitable for unstructured data
hybrid cloud storage service that allows the blending of public and private cloud services together for increased flexibility
and a private cloud storage service can be secured behind a company firewall for more control over data
Q2. What does Microsoft 365 apps for businesses include?
Microsoft 365 apps for business include-
Up-to-date desktop and mobile versions of Office apps: Outlook, Excel, Word, PowerPoint, OneNote, plus Access and Publisher (only for PC).
Storage of and sharing with 1 TB of OneDrive cloud storage.
Web versions of Excel, Word, and PowerPoint.
One license inclusive of fully-installed Office apps on 5 phones, 5 tablets, and 5 PCs or Macs per user
Q3. Explain SaaS.
Software as a service(SaaS) is a method for delivering software applications over the Internet, typically on a subscription basis. Cloud providers can use SaaS to host and manage their software applications and underlying infrastructure, as well as handle maintenance such as software upgrades and security patches. Users commonly access the app through the Internet, using a web browser on their phone or computer.
Q4. What is IaaS?
IaaS stands for Infrastructure as a service. This is a type of cloud computing service that provides important compute, storage, and networking resources on-demand, on a pay-as-you-go basis. It is one of the four types of cloud services, along with software as a service, serverless, and platform as a service.
Q5. What is the purpose of Microsoft storage?
Cloud storage is a service allowing the storage of data by transferring it over the Internet or a different network to an offsite storage system that is maintained by a third party. It includes everything from personal storage, which stores and/or backs up an individual's emails, pictures, videos, and other personal files, to enterprise storage, which allows businesses to use cloud storage as a commercially supported remote backup solution for securely transferring and storing data files or sharing them between locations.
Q6. How would you describe Azure?
The Azure cloud platform is a combination of more than 200 products and cloud services designed to help in bringing new solutions to life, solve today's challenges, and create the future. Also, it allows you to build, run and manage applications across multiple clouds, on-premises, and at the edge, with the tools and frameworks of your own choice.
Q7. What is Azure AD Connect?
Azure AD Connect is a Microsoft solution that may be used to satisfy and thereby achieve hybrid identity goals. You may also utilise Azure AD to give users with a single identity for Microsoft 365, Azure, and SaaS services.
Q8. What do you mean by on-premises storage?
On-premises storage basically means that the server of your company is hosted within your organization's infrastructure and, physically onsite, in many cases. The server is controlled, maintained, procured, administered, etc. by your company and its in-house IT team, or an IT partner. The data and other information are shared between computers through the local network.
Q9. Mention the features of Azure AD Connect.
Azure AD Connect provides the following features:
Synchronization
Pass-through authentication
AD FS and federation integration
Monitoring of Health
Q10. Explain the process of eDiscovery?
eDiscovery, or electronic discovery, is the process of locating and presenting electronic data for use as evidence in court proceedings. Search for material in Exchange Online mailboxes, Microsoft Teams, SharePoint Online, Microsoft 365 Groups and OneDrive for Business sites, Skype for Business chats, and Yammer teams using eDiscovery tools in Microsoft 365.
Q11. What is the role of Dynamic Access Control?
Domain-based Dynamic Access Control allows administrators to apply access-control permissions and restrictions based on well-defined rules that include the sensitivity of the resources, the job or role of the user, and also the configuration of the device used to access these resources.
Q12. What is Azure Active Directory?
Well, the Azure Active Directory Identity Protection is a reporting and monitoring tool. We can build risk-based rules that automatically respond to recognised concerns to preserve the organization's identity after a certain risk threshold has been achieved. These policies, in conjunction with the Conditional Access restrictions offered by Azure Active Directory and EMS, can either prevent or initiate adaptive remedial steps such as multi-factor authentication enforcement and password resets.
Q13. What does Business Voice do?
Microsoft 365 Business Voice makes it simpler for small and medium companies to turn Microsoft Teams into a powerful and flexible telephone system. It is generally a replacement for in-house phone systems and traditional telephony providers that can be complex and costly to manage.
Q14. Elaborate the term Phone System.
Phone System provides Private Branch Exchange capabilities without the complex and costly equipment. Phone System lets you replace your existing on-premises PBX system with a set of features delivered from Microsoft 365 or Office 365 which is tightly integrated into the cloud experience.
Q15. How does Microsoft 365 support MFA?
Well, both Microsoft 365 and Office 365 support MFA for user accounts using:
A text message sent to a phone requires the user to type a verification code.
The Microsoft Authenticator smartphone app.
A phone call.
Q16. What is Business Intelligence?
Business intelligence is essentially the collection of tools and processes that people use in order to gather data, turn it into meaningful information, and thus make better decisions. In Office 365 Enterprise, we have BI capabilities available in Excel and SharePoint Online. These services enable companies to collect data, display data, and exchange information with employees across numerous devices.
Q17. What do you know about the Microsoft 365 Defender?
Microsoft 365 Defender is a pre- and post-breach business defence solution that integrates detection, investigation, prevention, and response across endpoints, email, identities, and apps to guard against sophisticated assaults.
Q18. What is compliance manager?
Within the Microsoft 365 compliance centre, Compliance Manager is normally accessible as an end-to-end compliance management solution. With this release, it completes the shift from its prior placement in the Microsoft Service Trust Portal. Customers in the US Government Community Moderate, GCC High, and the Department of Defense can also use Compliance Manager.
Q19. Explain the Microsoft 365 admin center.
The Microsoft 365 admin center comprise of two views:
The simplified view helps the smaller organizations to manage their most common tasks.
Dashboard view consists of complicated settings and tasks. One can switch between them from a button at the top of the admin center.
Q20. Describe the concept of Windows as a service.
Windows as a service is a fresh concept introduced with the release of Windows 10.
Q21. What are the release channels of Windows 10?
Windows 10 has the following release channels:
The Semi-Annual Channel, that receives feature updates twice per year.
The Long-Term Servicing Channel, which is used only for specialized devices like those that control medical equipment or ATM machines. They receive new feature releases every two to three years.
Q22. What is Azure Virtual Desktop?
Well, Azure Virtual Desktop is a desktop and app virtualization service that runs on the cloud.
Q23. What does MyAnalytics offer?
MyAnalytics gives insights into the two key factors in personal productivity that are how people spend their time and who they spend it with. A team can get these benefits after an administrator sets up MyAnalytics within the organization.
Q24. Mention the pillars of Zero Trust model.
The three pillars of Zero Trust security model are:
Explicit verification of every access request.
Assume a breach mentality in order to minimize potential damage to, or loss of data from, additional parts of the company.
Use of least privileged access with just-in-time adaptive risk-based access policies.
Q25. What is IAM?
IAM stands for Identity and Access Management. This is a centralized identity system providing a single place to store user information and can then be used by all applications. For the Microsoft cloud, Azure Active Directory is the IAM system.
Q26. What is Microsoft Intune?
Microsoft Intune is a cloud-based mobile device management (MDM) and mobile application management solution (MAM). As a result, you have control over how your company's devices, such as mobile phones, tablets, and laptops, are utilised. You may also set up special policies to control certain applications. You can, for example, stop sending emails to anyone outside your company. People in your business may also use their personal devices for education or work thanks to Microsoft Intune.
Q27. What does the term BYOD mean?
Bring Your Own Device (BYOD) is a phrase that means "bring your own device." It is the concept of enabling employees to bring their own computers, cellphones, tablets, or other gadgets to work. As a result, rather than the IT department dictating certain hardware or technologies, consumers are free to utilise whichever platforms and devices they like.
Q28. What does conditional access refer to?
Conditional Access is a tool that finds its use by Azure Active Directory so as to bring signals together, to make decisions, and enforce organizational policies. Moreover, conditional access is at the heart of the new identity-driven control plane.
Q29. How is Microsoft Cloud App Security helpful?
Microsoft Cloud App Security is a Cloud Access Security Broker that provides log collecting, API connectors, and reverse proxy deployment types. It provides data travel control, comprehensive visibility, and advanced analytics across all Microsoft and third-party cloud services to identify and mitigate cyber risks.
Q31. How does Microsoft 365 help in optimizing costs ?
Microsoft 365 helps in optimizing costs in the following ways:
Vendor license cost consolidation
Reduce total cost of risk
IT administration and deployment savings
Save on automation and process improvements
Physical and Travel Expense cost displacement
Capital expenditure to operational expenditure cash flow
Q32. What does Service Level Agreement mean?
As we know that it is important for organizations to know that the services they're using are reliable and secure. Thus, they can achieve peace of mind about the services that they use on a daily basis. So, with Microsoft 365 services, the organization benefits from guaranteed levels of service, detailed in a legal agreement known as a Service Level Agreement.
Q33. What is private preview?
A product, or service, can be released only to a limited number of users in a private preview so as to test new features or functionality. The users can sign up to be members of a private preview. However, it isn't made available to the general public in the preview release.
Q34. Describe the purpose of GA.
When a product or service is GA, it's the release version, and it's fully supported. GA's goods and services have gone through the whole development and testing process to assure their stability and dependability. Microsoft 365 adds new features to its products and services on a regular basis. It is advantageous for IT developers and administrators to be aware of preview features prior to their general availability.
Q35. What are sensitivity labels?
Sensitivity labels from the Microsoft Information Protection solution allow classifying and protecting data of an organization while ensuring no alteration in user productivity and their ability to collaborate.

Prepare for Assured Success
Want to ace the MS-900: Microsoft 365 Fundamentals exam?
Learn More
Are you preparing for MS-900: Microsoft 365 Fundamentals exam?
Take a Quiz