In today's world, earning the greatest cloud certification is the best method to stand out in the cloud employment market. Furthermore, the certification will demonstrate to the company that you have the necessary potential and understanding for a specific job.
Cloud computing was one of the fastest-growing businesses in 2019, and it's poised to break records in 2020. Additionally, it uses the most up-to-date cloud services to cover every aspect of the information technology (IT) sector. As a result, organizations and industry leaders are increasingly turning to cloud computing in 2020 to reap the benefits. But they're also employing cloud technology to operate their businesses and organizations. Thus, providing good customer service and increasing their overall profit margins. 

However, the main confusion that arises here is, which certifications will be best for starting a career in cloud computing. So, in this article, we will talk about top cloud certifications in-depth, which will help you in kick-starting your career in this field. So, let's get started by talking about the top certification vendors that are ruling the market.
Top Certification Vendors 2020
The Cloud computing industry is dramatically increasing globally by delivering benefits to many leading organizations and corporations. It also aids in increasing efficiency and simplifying the many complicated activities and processes found in the IT industry. As a result, the importance of cloud computing has increased globally even at the starting of the year 2020. However, this includes the top providers such as AWS, Microsoft Azure, and Google Cloud Platform. So, next will understand these top cloud vendors before moving onto the certifications to get better clarity.
1. Amazon Web Services (AWS)
Nowadays, Organizations are searching for individuals with good cloud knowledge and skills that will help in transforming their businesses. Whether you are a beginner or want to advance your IT skills and knowledge, AWS Certification can help you to be effective and do more in the cloud. It looks at your cloud abilities to assist you to identify in-demand skills and companies to develop effective AWS teams. Furthermore, they offer certification tests organized by function and expertise to help individuals and teams achieve their specific objectives. Let's look at some of the benefits of AWS to have a better understanding.
Advantages of AWS

:
Firstly, mostly everything in the technology sector is linked to cloud computing. Similarly, AWS provides everything from hosting a small website to running a full data center.
Secondly, AWS certification will work as proof that you have advanced skills to accept complex challenges related to AWS.
Thirdly, having an AWS certification on your resume will provide a positive impact to the employer to whom you are applying for a job. Likewise, certified candidates are given more value than non-certified ones.
Fourthly, AWS is globally recognized as the top certification in terms of salary. With having AWS certification you can boost your pay.
Lastly, organizations with AWS certified professionals get access to become members of AWS Partner Network (APN), which provides various benefits like a concession on training, AWS usage support and many more.
2. Google Cloud Certification
GCP examine your skills and ability to transform businesses with Google Cloud technology. However, Google Cloud Platform refers to the collection of cloud computing services that runs on the same infrastructure of Google's products such as Google search engine, YouTube, etc.  Moreover, GCP provides various tools and services that help in managing infrastructures, provisioning servers and configuring networks. It also offers a variety of cloud services, such as computing, application development, machine learning, data analytics, and data storage. Developers, cloud administrators, and other IT professionals can access it over public or dedicated networks.
Now, let's understand why one should for the GCP certifications.
Advantages of GCP

:
Firstly, GCP is scalable as it provides extreme ease in up and downscaling.
Secondly, Google provides GCP services at a very good price in the market, as compared to its competitors. This includes four major key factors like sub-hour billing, sustained use discount, custom machine type, and preemptible instances.
Thirdly, it provides integrated Services. In this, you can use various APIs, AI and ML, IoT, Compute engine, Databases, Big Data analytics, Developer tools, Security, Storage simultaneously.
Lastly, GCP provides quick collaboration for all users. Therefore, multiple users can access and edit the projects at the same time.
3. Microsoft Azure certification exams
Microsoft examinations assist you in validating your abilities and expertise. Similarly, Microsoft Azure certifications can improve a candidate's chances of landing a job in the cloud computing industry. Furthermore, obtaining a Microsoft Azure certification is an excellent approach to begin your cloud career. This will assist you in gaining the skills and knowledge that will make you marketable. It will also assist in obtaining high-income pay in the sector by providing several opportunities to explore. Let's have a look at the benefits of Microsoft Azure Certifications in more detail.
Advantages of Microsoft Azure Certification

:
Firstly, cloud computing is expected to become a $300 billion business by 2021 globally. Azure provides data that is useful to enhance skills and knowledge in the cloud.
Secondly, Azure has maintained a good position in the industry amongst its competitors. Thus, individuals are showing interest in Microsoft Azure at a large quantity.
Thirdly, Cloud technologies like Azure are evolving at a rapid rate, outpacing the average rate of growth in the IT sector as a whole.
Fourthly, Microsoft Azure is easy to adapt and learn. You will deal with important concepts like Azure Automation and Operational Insights that are quite easy to learn if you have an understanding of Microsoft's tools. 
Lastly, Microsoft Azure is designed to handle the traditional tasks of designing, deploying, and managing platforms.
We've arrived at the most crucial portion of this article: the greatest certifications for novices. The certifications you can apply for to gain a head start in the world of cloud computing are detailed below. You will also receive information such as the essential experience and skills, as well as a course outline for your preparation. So, let's get started.
Top Cloud Certifications: Beginner Level
It can be tough to select which certification to pursue, so we've compiled a list of the best beginner-level certificates to assist you. First, we'll discuss AWS Cloud Certification, which is a popular certification.
1. AWS Cloud Practitioner
The AWS Certified Cloud Practitioner (CLF-C01) exam is for candidates who have the knowledge and skills to demonstrate the fundamentals of the Amazon Web Services platform, including various services and frequent use cases. Furthermore, the candidate will show knowledge of AWS Cloud economics, including charges, billing, and analysis. However, AWS Cloud Practitioner is a pathway towards achieving the Associate-level and furthermore advanced level certifications.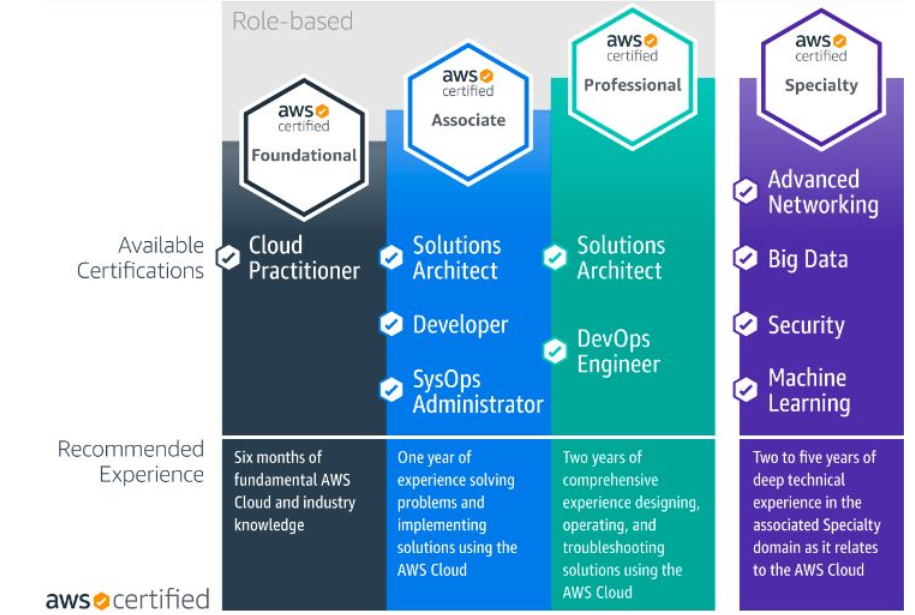 Abilities Validation for the Certification:
Firstly, defining the basis of AWS Cloud and the global infrastructure
Secondly, describing basic AWS Cloud architectural principles, value proposition, and key services on the AWS platform.
Thirdly, describing the basic security and compliance aspects of the AWS platform with a shared security model.
Fourthly, defining the billing, account management, and pricing models including identifying sources of documentation or technical assistance.
Lastly, describing the basic/core characteristics of deploying and operating in the AWS Cloud.
Knowledge and Experience
Firstly, it is recommended for the candidates to have at least six months of experience with the AWS Cloud in any role including technical, managerial, sales, purchasing, or financial.
Secondly, candidates should have a basic understanding of IT services and their uses in the AWS platform.
Coming to the exam details and course outline.
Exam Details
Firstly, the exam code for the AWS Cloud Practitioner Exam is CLF-C01.
Secondly, the exam duration will be of 90 Minutes.
Thirdly, there will be 65 questions in the exam
The exam will be available in English, Japanese, Korean, and Simplified Chinese language.
Fourthly, the exam validity is 3 years.
Lastly, the Passing score for the exam is 65-75% and the cost is $100 USD.
Course Outline
Cloud Concepts
In this, you will learn about defining the AWS Cloud and its value proposition.
Secondly, you will learn to identify the aspects of AWS Cloud economics by listing the different cloud architecture design principles.
Security and Compliance
In this, you will learn about defining the AWS shared responsibility model and AWS Cloud security concepts.
Secondly, you will learn about identifying AWS access management capabilities.
Thirdly, identifying the resources for security support
Technology
In this section, you will learn how to define the methods of deploying and operating in the AWS Cloud.
Secondly, you will learn about defining the AWS global infrastructure.
Thirdly, you will learn to identify the core AWS services and resources for technical support.
Billing and Pricing
This will help you to learn how to compare and contrast the various pricing models for AWS.
Secondly, you will learn to recognize the various account structures in relation to AWS billing and pricing.
Lastly, identifying the resources available for billing support.
Coming on to the next important certification exam that is AZ-900.
2. Microsoft Azure Fundamentals Exam AZ-900
AZ-900 exam is for candidates who want to demonstrate foundational level knowledge of cloud services and working of these services with Microsoft Azure. However, the AZ-900 is a fundamental certification exam that is intended for candidates with both technical, non-technical and who have a need to examine their foundational level knowledge in this area. This exam is the first step in learning about cloud services and how those concepts are illustrated by Microsoft Azure.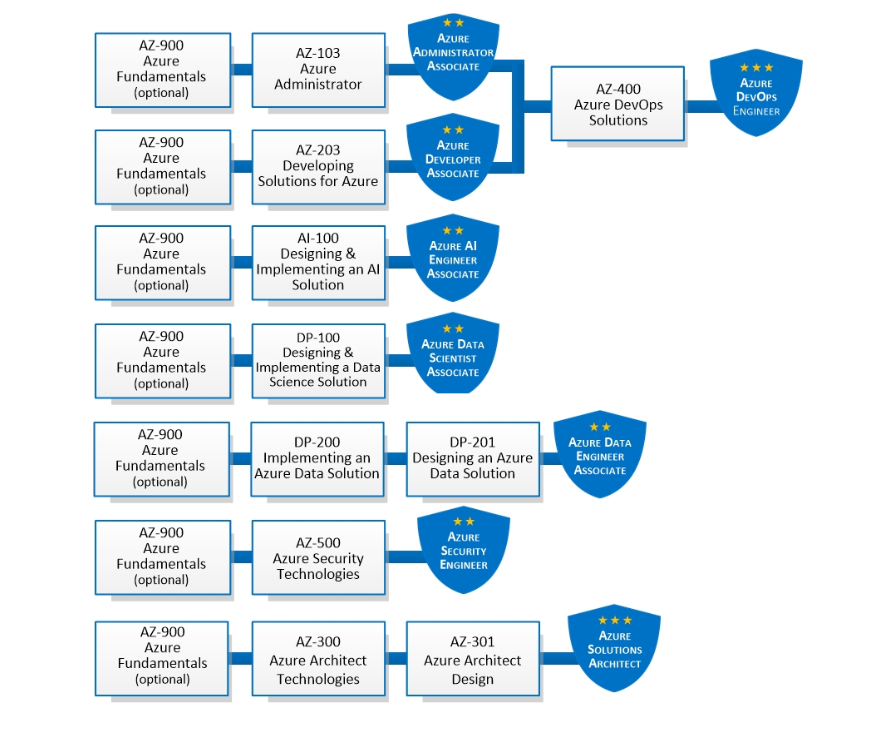 Exam Details
Firstly the exam name is Microsoft Azure Fundamentals better known as AZ-900.
Secondly, you will get 85 mins to complete the exam.
In this exam, you will get 40-60 Questions.
The exam is available in the English language.
Lastly, the passing score is 700 (on a scale of 1-1000) and this exam will cost you $99 USD.
Course Outline
Understanding Cloud Concepts
Firstly, you will learn about the consideration and benefits of using cloud services.
Secondly, you will understand the difference between IaaS, PaaS, and SaaS.
Then, the difference between Private, Public, and hybrid models.
Understanding Core Azure Services
Firstly, it will provide you information on topics like core Azure architectural components.
Secondly, it includes detail about the Core Azure products.
Lastly, the Core Azure solutions.
Understanding Security, Privacy, Compliance, and Trust
In this section, you will learn about the security network connectivity in Azure with Core Azure Identity services.
Secondly, you will learn about the various security tools and features.
Moreover, it includes Azure governance methodologies.
Then, you will learn how to monitor and report the options in Azure.
Lastly, understanding the privacy, compliance, and data protection standards in Azure.
Understanding Azure Pricing and Support
Firstly, you will cover the Azure Subscriptions with cost planning and management.
Secondly, the support options available in Azure.
Then, you will understand about the service lifecycle in Azure.
Lastly, the Azure Service Level Agreements (SLAs).
Important Note: The content of the AZ-900 exam is going to be updated on May 28, 2020. To learn more about it click here.
Let's proceed further and talk about the next certification that is GCP Cloud Engineer.
3. GCP Associate Cloud Engineer
GCP Associate Cloud Engineers are in charge of deploying apps, monitoring operations and managing enterprise solutions. Individuals can also do typical platform-based tasks using the Google Cloud Console and the command-line interface. As a result, in order to maintain one or more deployed solutions on Google Cloud that use Google-managed or self-managed services. A qualification in your credentials can also help you gain credibility as a Google associate cloud engineer. Most crucially, self-managed or Google-managed services on Google Cloud can be used to cope with problems.
Intended Audience
Firstly, candidates working in the IT industry.
Secondly, individuals in the role of Data architects, Developers, and Data Engineers.
Then, any individual accountable for managing Google cloud operations.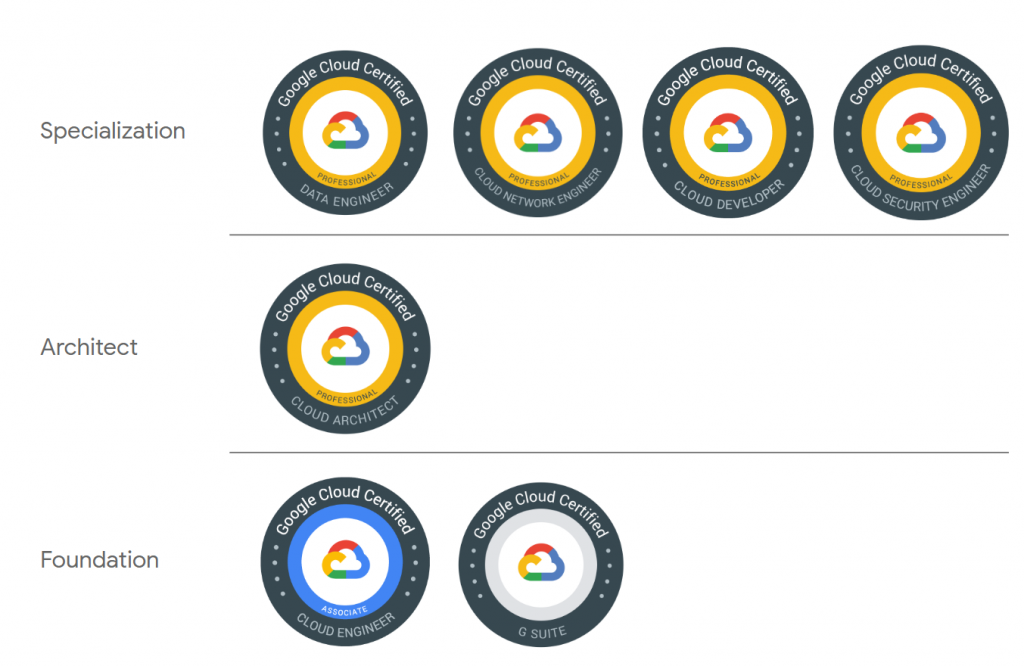 Exam Details
Firstly, for the GCP Associate Cloud Engineer exam, you get two hours to complete the exam.
Secondly, there will be multiple choice and multiple select types of questions in the exam.
The exam is available in English, Japanese, Spanish, Portuguese, French, German, and Indonesian language.
This exam will cost you $125 (plus tax where applicable).
Most importantly, for this exam, it is recommended to have at least six months of hands-on experience with Google Cloud.
Course Outline
Setting up a cloud solution environment
Firstly, you will learn about setting up cloud projects and accounts.
Secondly, it will help you to understand about managing billing configuration.
Lastly, it will help you learn about installing and configuring the command-line interface (CLI)
Planning and configuring a cloud solution
This section includes topics like planning and estimating GCP product use using the Pricing Calculator.
Moreover, you will learn about planning and configuring the compute resources and data storage options
Lastly, planning and configuring network resources.
Deploying and implementing a cloud solution
In this, you will learn about how to deploy and implement the compute engine resources.
Secondly, the deployment and implementation of Google Kubernetes Engine resources
Thirdly, deploying and implementing App Engine and Cloud Functions resources
Subsequently, deploying and implementing data solutions
Then, deploying and implementing networking resources
Ensuring successful operation of a cloud solution
In this section, you will deal with topics like, managing Compute Engine resources and managing Google Kubernetes Engine resources.
Secondly, you will learn about managing the App Engine and Cloud Run resources.
Then, the process of managing storage and database solutions.
Lastly, it will provide you detail about managing networking resources with monitoring and logging.
Configuring access and security
Firstly, you will learn how to manage identity and access management (IAM).
Secondly, you will learn about managing service accounts.
Lastly, it will explain to you how to view the audit logs for the project and managed services.
Expert Corner
Passing certification exams demonstrate to employers that you have the necessary abilities and knowledge for the job and are prepared to go above and beyond. Furthermore, they assist you in demonstrating that you have the necessary core knowledge to operate in any application. However, in order to obtain that position, you must work hard and earn the necessary credentials. That is to say, make up your choice and begin your cloud computing career by completing any of the certifications listed in the article based on your level of understanding. This will not only assist you in obtaining a solid career, but it will also ensure that your future is bright.
Learn and enhance your Cloud skills. Become a Certified Cloud Computing Professional Now!