Earning a Professional can help you to find a decent job and climb up on the corporate ladder. In the same vein, adding a WatchGuard Secure Wi-Fi Essentials Certification to your resume helps you shine in front of your employers, However, this exam is not an easy feat. You need access to the right learning resources to clear the exam. Don't worry as we provide you our Secure Wi-Fi Essentials Cheat Sheet that will guide you towards the certification. It will provide you the right strategy and set you on your road to sucess.
But before we discuss your Study Map that is your cheat sheet, lets have a quick look at the exam details.
Secure Wi-Fi Essentials Overview
The WatchGuard Secure Wi-Fi Essentials Exam evaluates your understanding of the general wireless concepts, Firebox wireless devices, and AP management, along with a Gateway Wireless Controller. It also screens your efficiency in managing wireless WatchGuard APs with the Wi-Fi Cloud. This exam is highly recommended for network administrators having prior experience with wireless networking and also AuthPoint deployment.
Key Concepts Of The Secure Wi-Fi Essentials Exam
To successfully obtain your certification in Secure Wi-Fi Essentials, you must gain command of these key concepts:
General Wireless Concepts
Firstly, wireless standards and protocols
Then, Radio frequencies and bands
Further, Wireless LAN basics
Also,AP deployment best practices
Fireware Wireless
Firstly, Firebox wireless devices
Then, Manage WatchGuard APs with the Gateway Wireless Controller on a Firebox Wi-Fi Cloud
Subsequently, How to configure, monitor, and troubleshoot wireless networks with Discover
Further, Locations, floor plans, and configuration inheritance
Additionally, Components of a wireless deployment
Moreover, Wireless security modes and protocols
Furthermore, Wireless Intrusion Prevention System (WIPS)
Also, Captive portals
Lastly, Engage and Analyze applications
Cheat Sheet: Secure Wi-Fi Essentials
The Secure Wi-Fi Essentials cheat sheet provides you with a quick summary of the exam and its resources. It is easy to digest and really helpful in your last minute revisions. Follow the steps to add this much valued credential in your resume.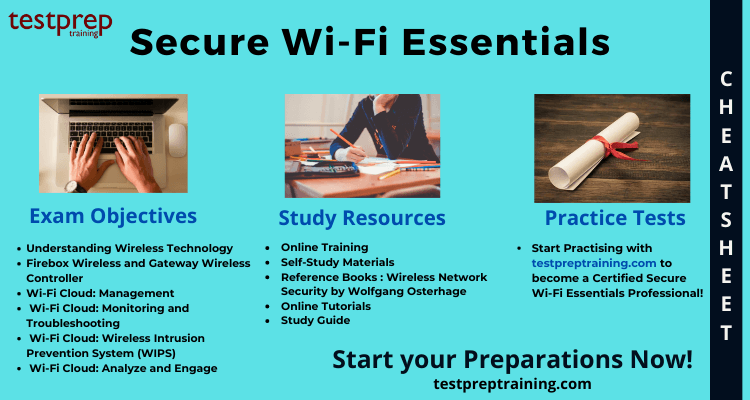 Understand the Exam Objectives
The course domains and modules act as a blueprint for the exam. The syllabus for should be very clear in your mind. Given the vast concepts that this exam covers, course outline plays an important role. Therefore you must familiarise yourself with the Official Secure Wi-Fi Essentials Study Guide and design your study around these exam concepts . The exam covers the following 6 domains-
Understanding Wireless Technology [10%]
Firebox Wireless and Gateway Wireless Controller [15%]
Wi-Fi Cloud: Management [25%]
Wi-Fi Cloud: Monitoring and Troubleshooting [20%]
Wi-Fi Cloud: Wireless Intrusion Prevention System (WIPS) [20%]
Wi-Fi Cloud: Analyze and Engage [10%]
Quick Links to your Study Resources
The importance of choosing the right learning resources is really high. As a matter of fact, there are various resources to choose from. This makes it difficult to select the authentic and genuine ones. Here are some quick links for the Secure Wi-Fi Essentials study guide. These resources are meant to supplement your learning experience and exam preparation.
Instructor-Led Training
WatchGuard greatly recommends candidates to enroll for this instructor-led training class to get themselves trained with hands-on experience. However, these Secure Wi-Fi Essentials training sessions are often held in the regions which are sponsored by the sales or a local WatchGuard distributor. WatchGuard also provides VILT technology-based training as complementary training for its partners. All WatchGuard end-users can register themselves for a session in the WatchGuard Certified Training Partners (WCTPs) network.
Self-Study Materials
WatchGuard also provides video-based courseware for the candidates seeking to take the Secure WiFi Essentials certification Exam. You can refer to these for self-study, and also in reinforcing the already mentioned instructor-led training. You must also review the Secure Wi-Fi Essentials course, which is is available on the WatchGuard Portal.
For WatchGuard Partners — Partners can get access to this course via the Learning Center in the Partner Portal
For End-users — End-users can access this course via the Courseware page available in the WatchGuard Support Center
Hitting the books
Books are the most valuable and reliable source for collecting information relating to the theoretical concepts of the syllabus. You can refer to as many books as you want and can get them from bookstores or libraries. Make sure that the books you select has all the necessary concepts that will be asked in the exam. Also, make sure that the book should offer maximum practice exercises that will help to understand better and learn the things for a long time. Here are some WatchGuard Secure Wi-Fi Essentials certification exam books to include in your journey
Firstly, Wireless Network Security by Wolfgang Osterhage
Secondly, Wireless Networks by Matthew Fast
Thirdly, Networking Made Easyby James Bernstein
Also, WiFi Analytics by Luke Buikema and John Kerber
Online Tutorials and Study Guide
Online Tutorials provide in depth understanding about the exam and its concepts. Also, the roadmap to your success is only complete when you have the right strategy. Study Guides will be your support throughout your journey towards the Secure Wi-Fi Essentials exam. Moreover, Online Tutorials and Study Guides will help you stay consistent and determined.

Discover Practice Tests!
The advantages of solving Secure Wi-Fi Essentials practice exam tests cannot be undermined. The more you solve, the more you'll get to know deeper about the Secure Wi-Fi Essentials Exam expectations. This will not only make you familiar with the exam environment. But will also increase your confidence. Moreover, the chances of you committing mistakes are reduced. As you will avoid repeating the mistakes that you did while solving the practice tests. Remember, Practice makes a man perfect. Therefore Start using Secure Wi-Fi Essentials Practice Test Now!

Boost your Learning to pass the Secure Wi-Fi Essentials Exam. Start your Preparations Now!