The Salesforce Nonprofit Cloud Consultant is reliable to successfully design and implement Nonprofit Cloud solutions that meet customer business requirements. Also, maintaining and scaling, and contributing to long-term customer success.
A Salesforce Nonprofit Cloud Consultant is responsible to design and deploy solutions that assist customer business processes. Also, they aid in requirements using Salesforce applications. All these consultants have expertise in designing solutions utilizing the Nonprofit Cloud functionality. Further, this leads to the implementation of these solutions within a customer organization. Also, the consultant has both practices working with nonprofit organizations and expertise in Salesforce applications. including the knowledge needed to implement multiple applications in common customer scenarios.
Exam Learning Objectives
Some of the exam learning objectives for Salesforce Nonprofit Cloud Consultant Certification exam are –
Designing and implementing successful solutions
Anticipating and mitigating risk
Meeting and managing customer expectations
Increasing customer confidence
Consistently delivering effective business results
Managing solution delivery and any issues that arise
Building solutions that are scalable and maintainable
Setting up change management practices to ensure long-term solution success
Troubleshooting and resolving issues
Prioritizing and escalating customer issues
Training the customer on new business processes in the solution
Target Audience
Now, that you have a rough idea, what the exam expects out of you, it's time for you to double-check if you really are an eligible candidate for the examination.
Firstly, the consultants who have expertise implementing Salesforce Nonprofit Cloud solutions in a customer-facing role.
Secondly, the proposed audience must have demonstrated experience with installing and configuring Salesforce Nonprofit Cloud.
If in case you wish to view and examine all the exam details then click here to visit the Online Tutorial page for the same.
Salesforce Certified Nonprofit Cloud Consultant Study Guide
The whole point of having a preparation Guide is to direct in the right direction. Keeping that in mind, we assure you, this study guide will offer you with exactly what you need to qualify the exam. This will allow you to evaluate your readiness to successfully complete the Salesforce Certified Nonprofit Cloud Consultant exam.
Also, this guide presents information about the recommended training and documentation, hands-on experience, training course completion, Trailhead trails, and self-study- all with the intent of helping you achieve a passing score.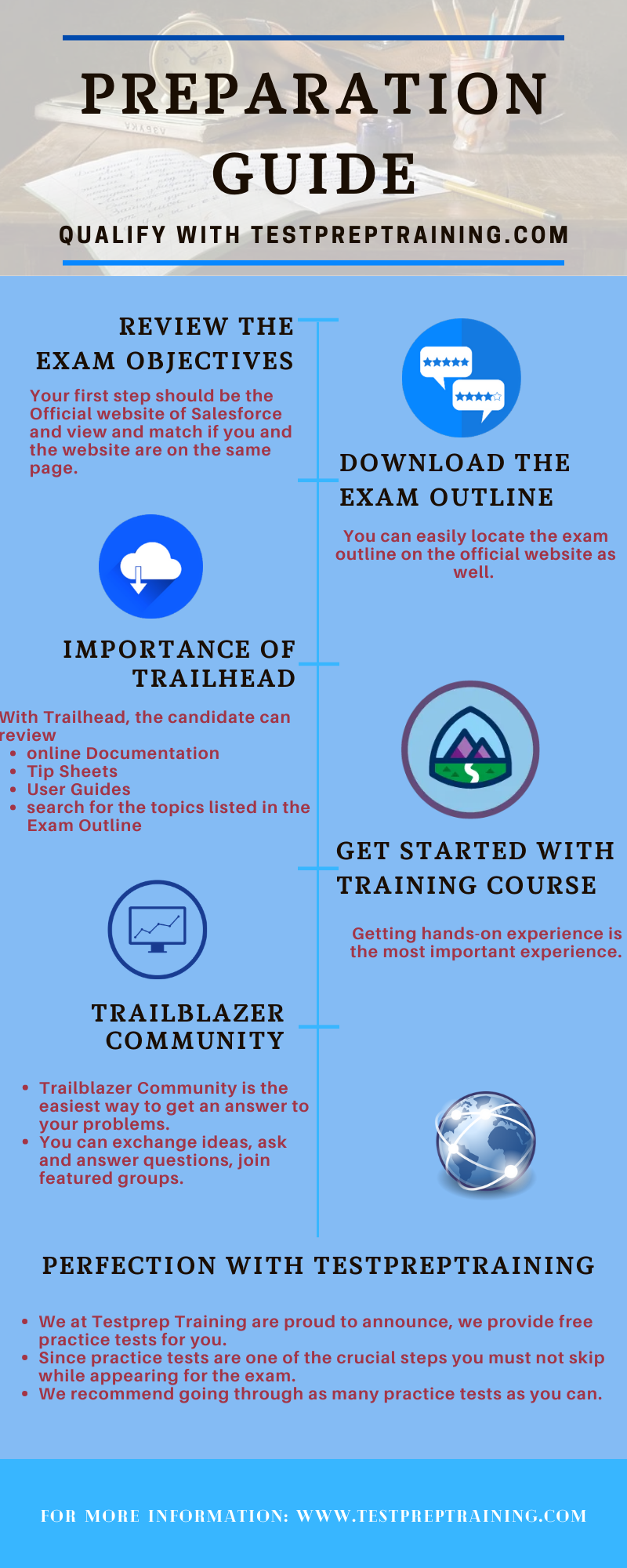 Review the Exam Objectives
First and foremost before you begin with the preparation for the certification exam, make sure you are up to date with all exam info. What happens if, certification exams keep on updating with new technology coming every day. So, your first step should be the Official website of Salesforce and view and match if you and the website are on the same page. If not, then make sure you're equipped with all the new exam info that is out there. Also, familiarise yourself with the Salesforce Nonprofit Cloud Consultant Exam Objectives
Download the Exam Outline
After reviewing all the Exam Objectives, it becomes obvious to download the Pdf file for exam Outline. Make sure, you don't skip this part. As mentioned earlier, the Exam Outline is the most important part of any certification exam. You can easily locate the exam outline on the official website as well. Also, make sure to view if there are any important notice, you must be updated on any new changes.
Importance of Trailhead
If you are someone who has already qualified and attained credentials with Salesforce, then you might know the importance of Trailhead. On the other hand, if you are a newbie, then let's put it out there. Trailhead is the most important aspect of your preparation guide when it comes to Salesforce.
With Trailhead, the candidate can review online Documentation, Tip Sheets, and User Guides, search for the topics listed in the Exam Outline section of this guide and study the information related to those topics.
Get started with Training Course
Getting hands-on experience is the most important experience for exams like  Salesforce Non-profit Cloud Consultant Certification. And, the only way you can achieve is through Salesforce Certified Nonprofit Cloud Consultant Training Nonetheless, Salesforce offers the candidate with quite a few options to choose from. So, head to their website, if you want to master your skills. We highly recommend training courses. The understanding here is not one dimensional but rather viewing a problem from every angle possible. 

Join the Community- Trailblazer Community
You know sometimes, we're stuck with some problem or the other. Well, we all are humans, so that an obvious fact. However, what if you're stuck somewhere with your preparation and need an answer from some expert oo any adviser. Don't know what to do then?
Take it from us, join a community, and in this case join Trailblazer Community. You'll thank us later, but this is the easiest way to get an answer to your problems. On joining the community, you can exchange ideas, ask and answer questions, join featured groups.
Practice Tests for Perfection
With all the mentioned training course and documentation, your last step in preparation must be going through practice tests. Now, the internet is filled with so much noise. Therefore, for your convenience, we at Testprep Training free  Salesforce Certified Nonprofit Cloud Consultant Practice Exams and series of a practice tests to evaluate yourself. Since practice tests are one of the crucial steps you must not skip while appearing for the exam. We recommend going through as many practice tests as you can. Start Preparing Now!

Boost your learning with expert learning resources. Prepare for Salesforce Nonprofit Cloud Consultant exam and become a certified candidate now!