For most individuals and professionals who desire to excel in the cloud field, becoming an AWS Cloud Practitioner is on their to-do list. And, nowadays, becoming certified is like receiving a key that unlocks the door to a higher level of employment options, whether in the field of work or in the business world. As we all know that Amazon Web Services (AWS) is the most complete and widely utilized cloud platform, with over 200 fully-featured services available from data centers all around the world. Many clients, including fast-growing startups, large corporations, and major government agencies, are now adopting AWS to cut costs and become more nimble while experiencing quicker innovation.
However, with this much popularity of AWS certifications, however, the degree of competition has risen as well. That is to say, candidates before even starting the preparation start thinking about the exam competition level which can really affect the preparation. With keeping all this as a priority, in this blog, we will be considering the various factor to help you achieve the role of a cloud practitioner. This include:
What is the AWS Cloud Practitioner exam?
Exploring study resources and training methods.
Lastly, Are you using practice tests?
So, let's begin with an overview of AWS Cloud Practitioner.
What is AWS Cloud Practitioner exam?
The AWS Cloud Practitioner certification is intended to assist businesses in identifying and developing individuals with services of cloud implementation. This exam verifies cloud fluency as well as AWS fundamentals. The Cloud Practitioner (CLF-C01) exam, on the other hand, is designed for those with skills for demonstrating an overall understanding of the AWS Cloud.
The exam validates your ability for executing various tasks:
Firstly, explaining the value of the AWS Cloud
Secondly, understanding and describing the AWS shared responsibility model
Thirdly, understanding security best practices
Then, understanding AWS Cloud costs, economics, and billing practices
Explaining the core AWS services, including compute, network, databases, and storage
Lastly, identifying AWS services for common use cases
Knowledge requirement
Before taking the AWS Cloud Practitioner exam, you must gain:
Six months of AWS Cloud experience
Basic knowledge of IT services and how they are used on the AWS Cloud platform
Basic understanding of AWS services and use cases, invoicing and pricing mechanisms, security principles, and how the cloud benefits your organization
Further, it is recommended to have knowledge of

AWS Cloud concepts
Security and compliance within the AWS Cloud
Core AWS services
Economics of the AWS Cloud
Things you must know:
AWS Cloud Practitioner is a foundational level exam. There will be a time duration of 90 minutes to complete 65 questions of type multiple choice or multiple responses. The exam will cost 100 USD and can be taken at a testing center or as an online proctored exam.
AWS Certified Cloud Practitioner: Market Value
Earning the title of AWS Certified Cloud Practitioner comes with a significant salary and benefits package. It not only prepares you for profitable employment in cloud-adopting companies but also opens the road for you to rise to more difficult technical roles with higher income.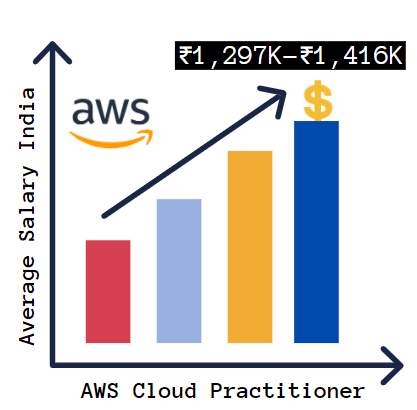 The AWS Cloud Practitioner salary is one of the top ten best-paid IT credentials in the United States, according to the report, with the average base AWS cloud architect salary being $1,48,623. And, AWS cloud practitioner salaries in India range from ₹1,297K to ₹1,416K.
Preparing for the role of Cloud Practitioner
It is essential to create a study strategy and cover all of the necessary study resources before taking any exam. So, below, we'll discover and grasp the numerous ways that will help you prepare for and pass the AWS Cloud Practitioner exam.
1. Focusing on the important area of the exam
Above we have understood the basic exam pattern and details that are necessary to proceed with the exam preparation. Now, moving on to the most significant section of this blog, the exam topics. Because, aside from practice exams, the exam guide is the only area in which we must invest the majority of our study time. This guide includes an outline of the test course as well as a list of all exam subjects and sub-topics. As a result, it is critical to maintain a high degree of focus in order to comprehend exam topics. This include:
1. Cloud Concepts
This contains various sections, such as:
Specifying the AWS Cloud and its value proposition
Identifying aspects of AWS Cloud economics
Explaining the different cloud architecture design principles
2. Security and Compliance
This contains various sections, such as:
Defining the AWS shared responsibility model
Defining AWS Cloud security and compliance concepts
Identifying AWS access management capabilities
Identifying resources for security support

3. Technology
This contains various sections, such as:
Specifying the techniques for deploying and operating in the AWS Cloud
Defining the AWS global infrastructure
Identifying the core AWS services
Identifying resources for technology support
Use the Cloud Practitioner tutorial to get a complete course outline!
4. Billing and Pricing
This contains various sections, such as:
Comparing and contrasting the various pricing models for AWS (for example, On-Demand Instances,
Recognizing the different account models in terms of AWS billing and pricing
Identifying resources available for billing support
2. Making using of AWS Recommended Training
AWS offers suggested courses to help you improve and expand your technical abilities. With the help of an expert, you will be able to cover the different sections of the Cloud Practitioner exam.
1. Classroom Course: AWS Cloud Practitioner Essentials
This course will help you in learning about Amazon Web Services (AWS) Cloud. For building your AWS Cloud expertise, you'll learn about AWS Cloud ideas, AWS services, security, architecture, pricing, and support. In addition, you will learn how to describe the AWS Cloud's fundamental global architecture, essential AWS services such as compute, network, databases, and storage, as well as the AWS Well-Architected Framework.
2. Digital Course: AWS Cloud Practitioner Essentials
This digital course will help in learning and understanding the process of:
Firstly, summarizing the working definition of AWS
Secondly, differentiating between on-premises, hybrid-cloud, and all-in cloud models
Thirdly, explaining the basic global infrastructure of the AWS Cloud
Describing the six main benefits of the AWS Cloud
Then, explaining examples of the core AWS services, including compute, network, database, and storage services
After that, identifying suitable solutions using AWS Cloud services for various use cases
Lastly, explaining:

AWS Well-Architected Framework
AWS Shared Responsibility Model
Core security services within the AWS Cloud
3. AWS Training and Certification Events
AWS Training and Certification hosts online and in-person events for helping in utilizing the potential of the AWS Cloud. That is to say, join AWS professionals for an event that suits your goals, whether you're establishing core cloud knowledge or going deep into a technical area. However, for the cloud practitioner exam, the exam Readiness event offers:
AWS Certified Cloud Practitioner:
In this, you will be guided through the exam's structure, including question formats, topic domains, and the breakdown of questions within those domains, in this exam preparation webinar. Further, you will also obtain a broad overview of AWS Cloud. This webinar will cover cloud principles, AWS services, security, architecture, pricing, and support in great depth.
3. Using Practice Tests
This is another crucial section of the study guide that will not only help you recognize your weak areas but also help you develop a strong revision level. To put it another way, by using the practice exams, you will be able to enhance your response abilities and save a lot of time. However, there are a variety of free sample exams available to help you get started with AWS Cloud Practitioner practice tests. As part of your review, you can take mock exams once you've gone over a section or a few subjects.
But, what next? That is to say, above we have understood the AWS Cloud Practitioner ways and methods to pass the exam. But, what are the things to do after passing the exam? Here, comes the gaining experience and finding job part. So, let's understand about this!
Steps to start career as a Cloud Practitioner
One of the companies that started the cloud computing revolution was Amazon Web Services. Google Cloud and Microsoft Azure were quick to follow suit. As a result, AWS is one of the market's oldest and most successful cloud computing enterprises, which must win the company's respect. So, beginning your career with the AWS certification will provide you with benefits. However, to get clarity, below, we will be talking about some steps to follow to have a good career start as an AWS cloud practitioner.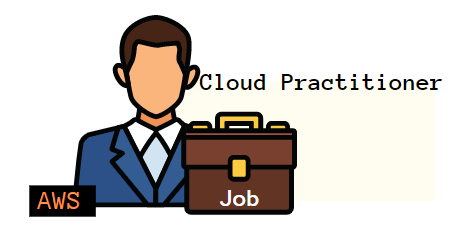 1. Gain hands-on experience
This step is very important to get a good job in the market. That is to say, if you have the required experience as well as an AWS certification then, no organization can say no to you! this is a fact. And, the best way to do so is to start building a project. Use the skills and knowledge that you enhanced while passing the cloud practitioner exam and start working on creating your own project. Moreover, this can work as a task to test your skills as well as this will work as an advantage during the interview to showcase your skills to the employer.
2. Cracking the job interview
After passing the AWS exam and gaining hands-on experience, the next step is to get a top job in the market. And, you must know that becoming AWS Certified Cloud Practitioner is the best method to start your career in the cloud field. This industry-recognized certification verifies your comprehensive knowledge of the AWS Cloud. As per a survey, AWS Certified experts may earn incomes that are up to 29% more than the average for certified employees and 10% higher than other cloud certifications. The cloud practitioner exam, on the other hand, necessitates a thorough comprehension and expertise of the AWS cloud. So, to prepare for this you can start using the top interview questions for the AWS Cloud Practitioner exam.
And, when it comes to jobs, how can we forget about mentioning the top companies hiring for AWS cloud practitioners. This includes:
Accenture
nVent
Deloitte
Ekfrazo Technology
Vectrus
3. Start looking for Advancement
Assume that you got a good job using the skills you gained while passing the AWS Cloud Practitioner exam. But, what next? The answer is more advanced certification. Once you started working as a cloud practitioner and learn more about your knowledge areas, you can look towards moving to the next level. That is to say, AWS certifications are divided into various levels as you have passed the first and the basic level, you can start preparing for associate or professional level exams. This will not help you in excelling your skills but it will also help you grow in the job market. Yes, this is right! Moving to the advanced level certification will automatically increase the salary.
However, to help in this, below are some of the AWS certifications that you can start working on according to your skills. This include:
Final Words
Above, we discussed an overview of the AWS Cloud Practitioner exam, as well as its market value and a useful study guide. This exam will put your knowledge, expertise, and ability to collaborate to the test. As a result, you must pay close attention to all of the critical regions. And, to improve your preparation, use the following information to design a study period and routine, as well as a deadline by which you must complete the syllabus. After that, devote some time to revision by taking practice examinations. Take the exam, pass it, prepare for the interview and become a successful AWS Cloud Practitioner.