The AWS Certified SysOps Administrator certification exam has been developed to validate the candidate's skills and knowledge and strengthen their career opportunities. The certification will help the candidate to gain expertise in the concepts of AWS services. AWS SysOps Administrator Associate certification demonstrates and validates your knowledge in operating, managing, and deploying AWS-based systems.
AWS SysOps Administrator exam is validated on the support of the ability to deploy, maintain, and operate scalably, extremely available, and fault-tolerant systems on AWS, together with the knowledge to implement and control the flow of data to and from AWS. The AWS Certified SysOps Administrator – Associate examination is assigned for systems administrators in a systems operations position with at least one year of expertise in deployment, management, and operations on AWS.
Exam Details
Here are the job and responsibilities the candidate will get once they clear the exam:
Deploy, manage, and operate workloads on AWS
Support and maintain AWS workloads according to the AWS Well-Architected Framework
Perform operations by using the AWS Management Console and the AWS CLI
Implement security controls to meet compliance requirements
Monitor, log and troubleshoot systems
Apply networking concepts (for example, DNS, TCP/IP, firewalls)
Implement architectural requirements (for example, high availability, performance, capacity)
Perform business continuity and disaster recovery procedures
Identify, classify, and remediate incidents
Candidates planning to take the AWS Certified SysOps Administrator exam are recommended to have 1-2 years' experience as a systems administrator in systems operations. Also, an understanding of virtualization technology. In addition, the candidate must have the ability to monitor and audit systems experience as well as translate architectural requirements. Furthermore, to have a fair knowledge of networking concepts like DNS, TCP/IP, and Firewalls. 
Exam Format
Understanding the exam format goes a long way in your preparations. It acts as a blueprint for the exam and helps the candidate to prepare for what they will face on the exam day. Familiarising with the exam format will help the candidate align their preparations with the exam and its objectives. Firstly, to begin with, the candidate will have to attempt 65 Multiple Choice and Multi-Response Questions in the exam. Also, the candidate will get 170 minutes to complete it. Further, it will cost them nearly $300 USD and is available in the English, Japanese, Korean, and Simplified Chinese languages. Most importantly, they need to get a passing score of 75%-80% to achieve this credential.
AWS Certified SysOps Administrator (SA0-C02): Course Outline
AWS Certified SysOps Administrator – Associate (SOA-C02) exam guide provides a course outline containing the topics and subtopics. The topics given in this course outline will help a lot during the exam preparation. However, they include: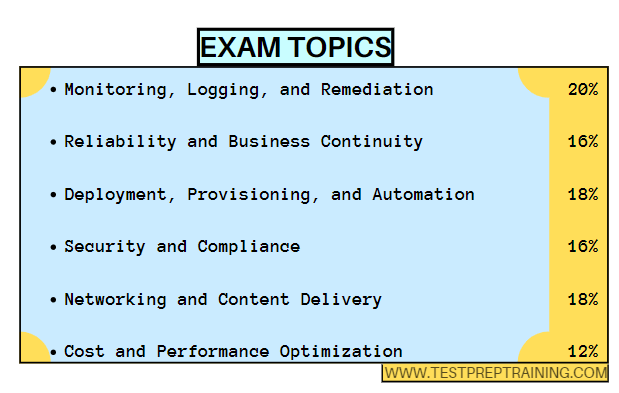 Domain 1: Monitoring, Logging, and Remediation
1.1 Implementing metrics, alarms, and filters by using AWS monitoring and logging services
1.2 Remediating issues based on monitoring and availability metrics
Domain 2: Reliability and Business Continuity
2.1 Implementing scalability and elasticity
2.2 Implement high availability and resilient environments
2.3 Implementing backup and restore strategies
Domain 3: Deployment, Provisioning, and Automation
3.1 Provisioning and maintaining cloud resources
3.2 Automating manual or repeatable processes
Using AWS services (for example, OpsWorks, Systems Manager, CloudFormation) to automate deployment processes (AWS Documentation: AWS OpsWorks, Use AWS CloudFormation to configure a service role for Automation, AWS CodeDeploy)
Implementing automated patch management (AWS Documentation: AWS Systems Manager Patch Manager, Patch management overview)
Scheduling automated tasks by using AWS services (for example, EventBridge, AWS Config) (AWS Documentation: EventBridge Event Examples from Supported AWS Services, Build a scheduler as a service, AWS Config)
Domain 4: Security and Compliance
4.1 Implementing and managing security and compliance policies
4.2 Implementing data and infrastructure protection strategies
Domain 5: Networking and Content Delivery
5.1 Implementing networking features and connectivity
Configuring a VPC (for example, subnets, route tables, network ACLs, security groups, NAT gateway, internet gateway ) (AWS Documentation: VPC with public and private subnets (NAT), NAT gateways, Internet gateways, Network ACLs)
Configuring private connectivity (for example, Systems Manager Session Manager, VPC endpoints, VPC peering, VPN) (AWS Documentation: Create a Virtual Private Cloud endpoint, AWS Systems Manager Session Manager, AWS PrivateLink and VPC endpoints, VPC peering)
Checking AWS network protection services (for example, AWS WAF, AWS Shield) (AWS Documentation: How AWS Shield works, What are AWS WAF, AWS Shield, and AWS Firewall Manager?)
5.2 Configuring domains, DNS services, and content delivery
5.3 Troubleshooting network connectivity issues
Domain 6: Cost and Performance Optimization
6.1 Implement cost optimization strategies
6.2 Implement performance optimization strategies

How difficult is AWS Certified SysOps Administrator Exam?
AWS Certified SysOps Administrator Exam is one of the difficult AWS certifications one can take to elevate one career. The exam covers various scenario-based questions with long descriptions that make it difficult to comprehend the question. But the key to successfully passing an exam is by preparing right.
As the AWS Certified SysOps Administrator exam validates the candidate's technical expertise so they must understand the technologies and how they integrate with each other. Some questions are really tricky, so make sure you understand the difference among the terms and choose the best solution in the real environment. Moreover, there is no straightforward rule to ace the exam. Therefore, the candidate needs to have access to the right resources to enrich their learning and broaden their knowledge horizon. Refer the following learning resources!
Learning Resources to Refer!
Exploring AWS Learning Paths– This learning path is designed for software developers, voice developers, solutions architects, UI developers, voice designers, and others. Majorly for those who perform a role involving Alexa skill-building. Also, anyone with beginner-level coding experience who wants to learn to build, test, and publish Amazon Alexa skills can refer to this.
Testprep Online Tutorials– AWS Certified SysOps Administrator Online Tutorial enhances your knowledge and provides a depth understanding of the exam concepts. Additionally, they also cover exam details and policies. Therefore learning with Online Tutorials will result in strengthening your preparation.
Testprep Online Course- Online courses are one of the most interactive paths of qualifying for the exam. Subject matter experts create them. Further, the course will provide the candidate a solid foundation of the exam concepts. Additionally, this online course guides the candidate along the learning curve.
Try Practice Test– Practice tests are the one who ensures the candidate about their preparation. The practice test will help the candidates to acknowledge their weak areas so that they can work on them. There are many practice tests available on the internet nowadays, so the candidate can choose which they want. We at Testprep training also offer practice tests which are very helpful for the ones who are preparing.