It might be easy to crack some examination, but when it comes to the AWS developer Associate examination all you need is the right study material and guide. There are many resources available in the market. These different kinds of study material might confuse you and furthermore, will lead to wasting your time because of lack of time. You have, however, arrived at the correct location. We've included all of the pertinent material, including study tools, that you'll need to ace the exam. So, let's get this party started:
About AWS developer Associate Examination

:
To begin, the AWS Certified Developer-Associate Examination (DVA-001) is designed for those who work as developers. A candidate's ability to demonstrate a mastery of essential AWS services uses, and basic AWS architecture best practices, as well as their expertise in designing, deploying, and debugging cloud-based applications utilizing AWS, is also validated by the certification test. In addition, the AWS Certified Developer – Associate Certification exam verifies the candidate's technical skills in creating and managing AWS-based systems.
Recommended Knowledge for the exam:
Nothing comes easy right, for the AWS Certified Developer – Associate Certification examination, you need to have the following knowledge –
Firstly, More than 1 year of hands-on experience developing and maintaining an AWS based application
Secondly, In-depth knowledge of at least one high-level programming language
Thirdly, Understanding of core AWS services, uses, and basic AWS architecture best practices
Subsequently, Proficiency in developing, deploying, and debugging cloud-based applications using AWS
Furthermore, the ability to use the AWS service APIs, AWS CLI, and SDKs to write applications
To add on, the Ability to identify key features of AWS services
Understanding of the AWS shared responsibility model and of application lifecycle management
Ability to use a CI/CD pipeline to deploy applications on AWS and to use or interact with AWS services
Ability to apply a basic understanding of cloud-native applications to write code and to write code using AWS security best practices (e.g., not using secret and access keys in the code, instead of using IAM roles)
AWS developer Associate Exam Details
The AWS Developer Associate examination consists of case studies, short answers, multiple-choice, mark review, etc. Since there are different types of questions, you can complete the case study questions first. Subsequently, they are the most time-consuming ones. Next, you can go for short answers, followed by multiple-choice. Further, you will have 130 minutes to complete the examination, so, manage your time wisely. Keep in mind to select the language of your preference as this examination is available in English, Japanese, Korean, and Simplified Chinese. Last but not the least, results for the examination are reported as a score from 100-1000, with a minimum passing score of 720.
AWS developer Associate Exam Outline
The AWS Developer Associate examination covers the following topics:
Domain 1: Deployment (22%)
1.1 Deploy written code in AWS using existing CI/CD pipelines, processes, and patterns.
1.2 Deploy applications using Elastic Beanstalk.
1.3 Prepare the application deployment package to be deployed to AWS.
1.4 Deploy serverless applications.
Domain 2: Security (26%)
2.1 Make authenticated calls to AWS services.
2.2 Implement encryption using AWS services.
2.3 Implement application authentication and authorization.
Domain 3: Development with AWS Services (30%)
3.1 Write code for serverless applications.
3.2 Translate functional requirements into application design.
3.3 Implement application design into application code.
3.4 Write code that interacts with AWS services by using APIs, SDKs, and AWS CLI.
Domain 4: Refactoring (10%)
4.1 Optimize application to best use AWS services and features.
4.2 Migrate existing application code to run on AWS.
Domain 5: Monitoring and Troubleshooting (12%)
5.1 Write code that can be monitored.
5.2 Perform root cause analysis on faults found in testing or production.
How difficult is AWS developer Associate Exam?
To begin with, nothing comes easy, however, nothing is impossible. Therefore when it comes to the AWS developer Associate examination, all you need is the right resources and a guide to practice. With the right study material and your efforts, you are able to crack this examination. There are rumors and other assumptions that this examination might be difficult. The reason behind this is people are afraid of making efforts and working hard. But we have sorted all the things for you, therefore, Let's get started: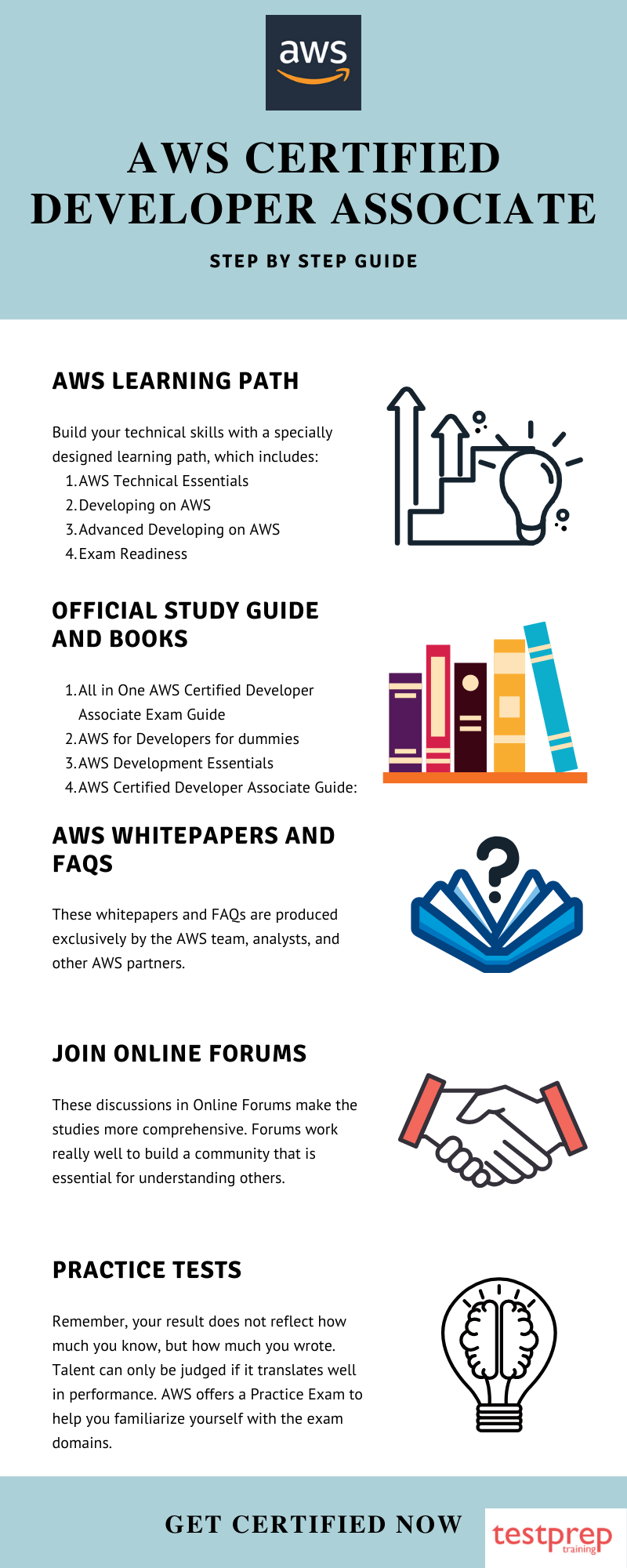 1. AWS Learning Path
AWS learning path is for candidates looking to build and validate their overall understanding of the AWS Cloud. Further, this path is useful for individuals in technical, managerial, sales, purchasing, or financial roles who work with the AWS Cloud.
2. AWS Whitepapers & Learning Resources
After, this you must go through AWS whitepapers. With these, you will expand your knowledge of the cloud with AWS technical content. Also, you'll find various technical whitepapers, technical guides, reference material, and reference architecture diagrams. You can to go through the following-
Overview of Amazon Web Services
Architecting for the Cloud: AWS Best Practices
How AWS Pricing Works
Compare AWS Support Plans
Refer to official AWS Whitepapers
3. Join a Community
It is essential to stay connected with people who have similar aims as you. This will not help you clarify your doubts but it will also help to gain additional knowledge related to the AWS Developer Associate examination. You should join some study groups where you can discuss the concepts with the people who have the same goal. This will lead the candidate throughout their preparation.
To know more about the details of the exam you can also visit the AWS developer Associate Exam Online Tutorials by Testpreptraining.com!

4. Evaluate with Practice Test
When you are done with all your preparation it is always advisable to go for some mock test before you plan to sit for the actual examination. This will not only boost your confidence but will also make you aware of the weak portions in your preparation and which require some more focus and hard work. Taking real-time practice tests will also release you from exam fear and exam pressure. Start your learning with AWS developer Associate Free Practice Test now!