Looking for a study guide to prepare for your BCS Foundation Certificate in Artificial Intelligence exam? Want to validate your skills with a professional certification? We are going to provide you with a comprehensive Study Guide with expert learning resources and step-by-step guide. Get ready to be equipped with all Advanced Learning resources to ace the exam. Moreover, this guide sets you on the right track in your journey towards this certification. But, before venturing on any journey, you should have a clear understanding of the exam and what it offers. With that being said lets first look at the exam details.
About BCS Foundation Certificate in Artificial Intelligence
Artificial Intelligence (AI) refers to the methodology for using a non-human system to learn from experiencing and imitating the behaviour of human intelligence. The BCS Foundation Certificate in Artificial Intelligence validates candidate's knowledge and understanding of the terminology and general principles of AI. This Foundation level Certificate includes and expands on the knowledge taught in the BCS Essentials Certificate in AI.
Key Exam Objectives
This exam is focused on covering the following key areas –
Firstly, The potential benefits and challenges of Ethical and Sustainable Robust Artificial Intelligence
Secondly, Basic process of Machine Learning (ML) – Building a Machine Learning Toolkit
Thirdly, Challenges and risks associated with an AI project, and the future of AI and Humans in work.
Who should take the exam?
The BCS Foundation Certificate in Artificial Intelligence exam is designed for candidates in the following areas:
To begin with, Candidates who are Engineers, scientists, organizational change practitioners, service architects, program and planning managers, web developers, chief technical officers, service provider portfolio strategists/leads, business strategists, and consultants.
Also, the certification is suitable for candidates having an interest in artificial intelligence in an organization, especially those working in areas such as science, engineering, knowledge engineering, finance, education or IT services.
Study Guide for BCS Foundation Certificate in Artificial Intelligence Exam
The level of preparation will determine how well will you perform in the exam. To ace the exam, you need to choose the best set of resources suited to your type and your level of understanding. There are numerous resources that can be used for preparing. The following study guide will detail the steps that will ensure your success in the exam.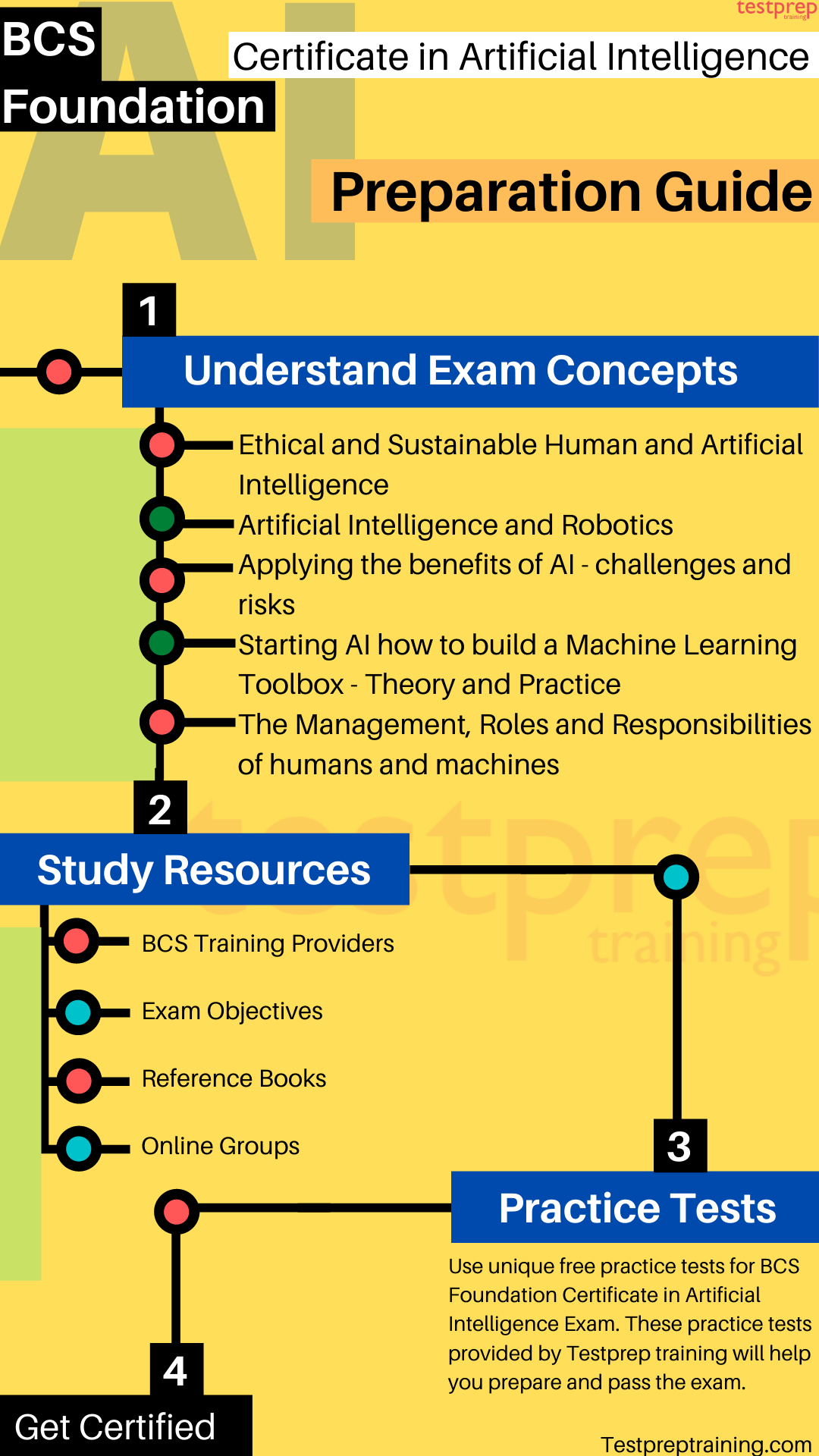 Step 1- Review the Exam Objectives
During the exam preparation, it is good to understand and review every exam's objectives. This will help candidates to easily get through the concepts and topics related to the exam. So, make sure you visit the Official website of BCS, to have a clear view. However, it is the most authentic site to provide any information regarding the BCS Foundation Certificate in Artificial Intelligence. This exam covers the following topics-
Topic 1: Ethical and Sustainable Human and Artificial Intelligence
Firstly, this domain covers recalling the general definition of Human and Artificial Intelligence (AI). Then, explaining what are Ethics and Trustworthy AI. Also, describing the three fundamental areas of sustainability and the United Nations seventeen sustainability goals. Further, describing how AI is part of 'Universal Design,' and 'The Fourth Industrial Revolution'. Moreover, understanding that ML is a significant contribution to the growth of Artificial Intelligence.
Topic 2: Artificial Intelligence and Robotics
This domain includes concepts to demonstrate understanding of the AI intelligent agent description. Also, describing what a robot is and explaining what an intelligent robot is.
Topic 3: Applying the benefits of AI – challenges and risks
Further, this domain focuses on describing how sustainability relates to human-centric ethical AI and how our values will drive our use of AI will change humans, society and organisations. Then, explaining the benefits of Artificial Intelligence by. Also, describing the challenges of Artificial Intelligence. Furthermore, demonstrating understanding of the risks of AI project and listing opportunities for AI. Additionally, identifying a typical funding source for AI projects and relate to the NASA Technology Readiness Levels (TRLs).
Topic 4: Starting AI how to build a Machine Learning Toolbox – Theory and Practice
This domain aims at describing how we learn from data – functionality, software and hardware. Also, recalling which typical, narrow AI capability is useful in ML and AI agents' functionality.
Topic 5: The Management, Roles and Responsibilities of humans and machines
Lastly, this domain includes the concepts for demonstrating an understanding that Artificial Intelligence (in particular, Machine Learning) will drive humans and machines to work together. Then, listing the future directions of humans and machines working together. Additionally, describing a 'learning from experience' Agile approach to projects
Step 2- Explore Study Resources
Passing the exam can be easy if you have access to the right set of resources. Make sure the content is precise and reliable enough. The resources that you'll pick will determine how well you prepare and pass the exam. Hence, you need to be very careful while choosing them. Lets highlight some of the highly suggested study resources you must include in your preparations.
Enrol for BCS Training Providers
BCS offers various training partners that provide courses and training programs for the certification exams. This training will help candidates to prepare for the exam they applied for and to get an accredited training course. However, the training will be of a minimum of 18 hours of study over a minimum of three days.

Choose the Relevant Reference Books
The BCS Accredited Training Organisations offer candidates BCS books and course materials. These books work as a reference for candidates to understand the exam more accurately. The books are divided into sections that are:
Recommended PRE-COURSE Reading
Human + Machine – Reimagining Work in the Age of AI by Paul R. Daugherty and H. James Wilson.
Recommended POST-COURSE Reading
Firstly, Ethics Guidelines for Trustworthy AI by High-Level Expert Group on Artificial Intelligence
Secondly, Artificial Intelligence, A Modern Approach (3rd edition) by Stuart Russell and Peter Norvig
Thirdly, Hands-On Machine Learning with Scikit-Learn and TensorFlow: Concepts, Tools, and Techniques to Build Intelligent Systems by Aurélien Géron
Moreover, The Singularity is Near by Ray Kurzweil
Further, The Fourth Industrial Revolution by Klaus Schwab
Additional Reading – Specialist Reference List
To begin with, Linear Algebra and Learning from Data (1st edition) by Gilbert Strang
Secondly, An Introduction to Linear Algebra (5th edition) by Gilbert Strang
Thirdly, The Mystery of Consciousness by John R. Searle
Moreover, Machine Learning by Tom Mitchell
Subsequently, Life 3.0 by Max Tegmark
Further, Sustainable Energy – without hot air by Sir David JC Mackay
Then, Machine Learning – A Probabilistic Perspective by Kevin P. Murphy
Additionally, Automated Planning Theory and Practice by Malik Ghallab, Dana Nau and Paolo Traverso
Furthermore, The Cambridge Handbook of Artificial Intelligence by Keith Frankish and William Ramsey
Also, Artificial Intelligence: 101 Things You Must Know Today About Our Future Author
Join Online Groups
One thing that will be beneficial during the exam preparation time is to join study groups. These groups will help you to stay connected with the other people who are on the same pathway as yours. Moreover, here you can start any discussion about the issue related to the exam or any query. By doing so, you will get the best possible answer to your query. Also, multiple viewpoints make the stuff more dynamic. These discussions make the studies more comprehensive.
Step 3 – Evaluate yourself with Practice tests
This can be a very essential part that can help you to prepare better for the exam. That is to say, practice tests are important as by assessing yourself with these tests you will know about your weak and strong areas. So, by practising you will be able to improve your answering skills that will result in saving a lot of time. Moreover, the best time to attempt practice tests is after completing one full topic as this will work as a revision part for you. Solving Practice tests can provide you with the confidence you need to be stress-free. Lets Start Practising Now!

Upgrade your knowledge and enhance your skills with BCS Foundation Certificate in Artificial Intelligence exam. Start your preparations Now!