AWS Certification helps learners gain credibility and confidence by demonstrating their cloud skills with an industry-recognized certificate, and it also helps employers find qualified people to lead cloud projects using AWS. The AWS Certified Developer Associate (DVA-001) Exam verifies your knowledge of fundamental AWS services, their applications, and best practices for AWS architecture. This qualification will help you earn more money. The annual salary for an AWS Certified Developer Associate is roughly Rs. 7,25,000.
This certification validates your ability to use AWS to design, launch, and debug cloud-based applications. Furthermore, the DVA-001 exam is designed for people who work as developers.
Skills Validated in the Exam:
The AWS Certified Developer Associate Examination equips you with the following skills and knowledge-
Firstly, demonstrate an understanding of core AWS services, uses, and basic AWS architecture best practices
Secondly, demonstrate proficiency in developing, deploying, and debugging cloud-based applications using AWS
Thirdly, Application of AWS services and understanding the cloud-native applications in coding
Further, Knowledge in maintaining and debugging code modules on AWS
Then, Understanding the AWS core services, its use, and having the best practice in AWS architecture
Also, Using AWS security best practice which includes IAM roles in coding
AWS Certified Developer Associate Prerequisites
AWS Certified Developer Associate exam is for individuals who perform a Developer role. It is important to have knowledge and experience in the following to be eligible for the exam:
To begin with, more than 1 years of hands-on experience developing and maintaining an AWS based application
Also, knowledge of at least one high-level programming language
Further, knowledge of core AWS services, uses, and basic AWS architecture best practices
Moreover, ability to develop, deploy, and debug cloud-based applications using AWS
Then, proficiency to use the AWS service APIs, AWS CLI, and SDKs to write applications
Lastly, Ability to write code for serverless applications

Study Guide For AWS Certified Developer Associate Exam
AWS Certified Developer Associate Study Guide will provide you with the roadmap to pass the exam with flying colors.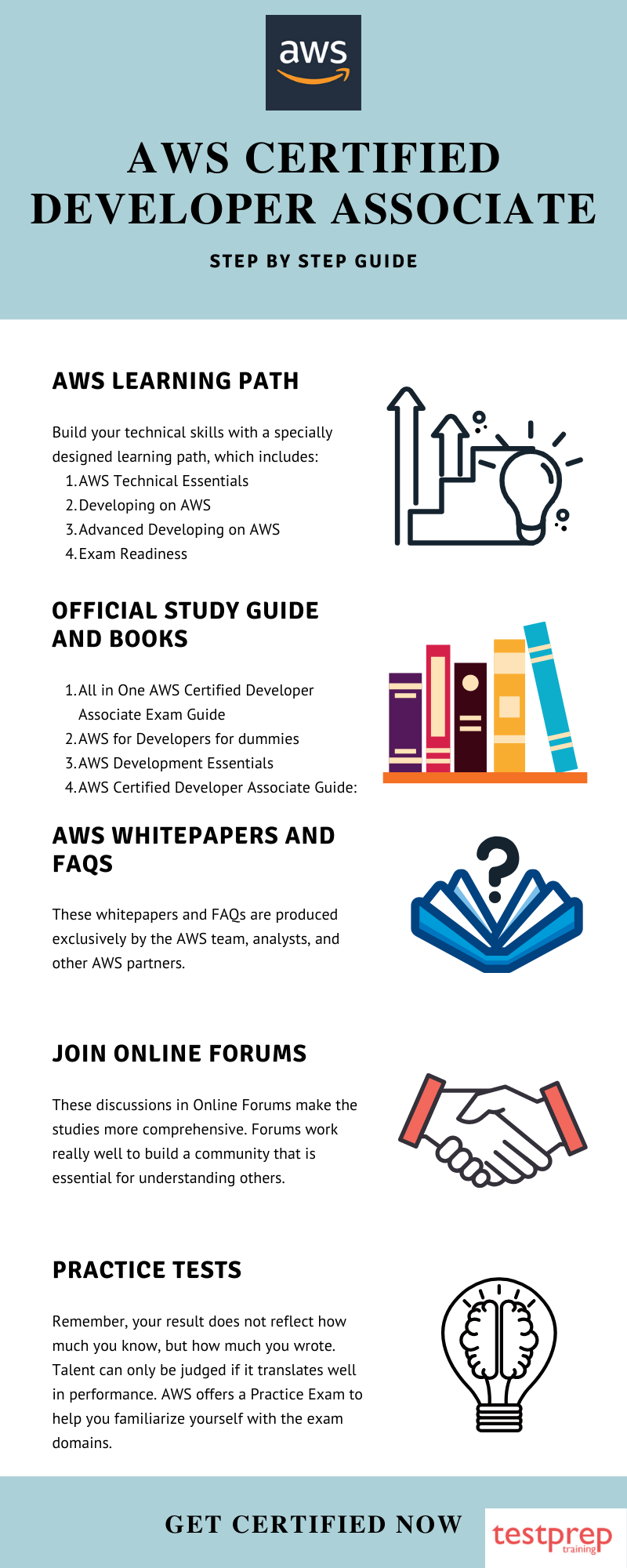 Step 1- Refer the AWS Certified Developer Associate Exam Objectives
Refer to the exam objectives as the first step. To learn more about the test course, go to the Official Guide. Furthermore, familiarising yourself with the course contents is necessary before commencing your preparations. The following 5 domains are covered in the AWS Certified Developer Associate course:
Domain 1: Deployment
This domain focuses on the concepts to deploy written code in AWS using existing CI/CD pipelines, processes, and patterns Further, deploy applications using Elastic Beanstalk, prepare the application deployment package to be deployed to AWS and deploy serverless applications
Domain 2: Security
Next the domain includes make authenticated calls to AWS services, implement encryption using AWS services, and implement application authentication, and authorization.
Domain 3: Development with AWS Services
Further this domain focuses on writing code for serverless applications, translating functional requirements into application design, implement application design into application code and writing code that interacts with AWS services by using APIs, SDKs, and AWS CLI.
Domain 4: Refactoring
Moreover this domain emphasises on concepts to optimize application to best use AWS services and features and migrate existing application code to run on AWS
Domain 5: Monitoring and Troubleshooting
Lastly, this domain includes writing code that can be monitored and performing root cause analysis on faults found in testing or production.
Step 2- AWS Learning Path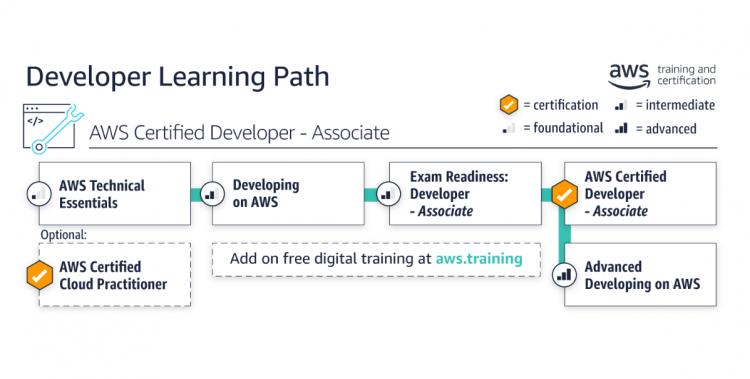 – AWS Technical Essentials
The AWS Technical Essentials beginning course will teach you about AWS's products, services, and common solutions. Furthermore, you will acquire practical experience with the principles of recognizing AWS services. This will allow you to make more educated judgments regarding IT solutions based on the needs of your company.
Key AWS Services Included:
Firstly, Foundational services: Amazon Elastic Compute Cloud (EC2), Amazon Virtual Private Cloud (VPC), Amazon Simple Storage Service (S3), and Amazon Elastic Block Store (EBS)
Then, Database services: Amazon DynamoDB and Amazon Relational Database Service (RDS)
Lastly, Management services: AWS Auto Scaling, Amazon CloudWatch, Elastic Load Balancing (ELB), and AWS Trusted Advisor
– Developing on AWS
Developing on AWS is a three-day course created by AWS for those interested in taking the AWS Developer Associate test. This course is designed to teach applicants how to use the AWS SDK to create safe and scalable cloud apps.
This course will teach you how to communicate with Amazon Web Services (AWS) using code. The course also covers fundamental AWS ideas, best practices, and troubleshooting techniques.
– Advanced Developing on AWS
AWS specialists also built the Advanced Developing on AWS course to familiarise applicants with the real-world situation of converting an on-premises monolithic application into a serverless microservices architecture. This three-day advanced training covers subjects such as architecting for a cloud-native environment, deconstructing on-premises legacy apps, and repackaging them into cloud-based, cloud-native architectures. This course also teaches you how to use the Twelve-Factor Application methodology's concepts.
– Exam Readiness
AWS offers Exam Readiness for the AWS Certified Developer Associate Training in three different formats –
Firstly, Classroom training – It is a physical or virtual classroom to train candidates with an AWS-accredited instructor
Secondly, Free digital training – It is an online training platform for candidates to schedule their sessions at their convenience.
Also, Free webinars – These webinars include presentations from AWS-accredited instructors. This is followed by a live Q&A session.

Step 3 :Official Study Guide For AWS AWS Certified Developer Associate Exam
AWS provides a thorough study guide that has been produced and confirmed by AWS specialists. This guide teaches you how to demonstrate your networking skills in an exam setting. It covers all test objectives and gives you hands-on experience in real-world scenarios that you'll face as an AWS Certified Developer Administrator (DVA-001). This Study Guide will help you internalize the Amazon Web Services procedures and best practices.
Step 4: Refer AWS Recommended Books
AWS recommends some verified books for the ones seeking to take its certification exam. These books are designed to help you grasp a firm proficiency in AWS administration.
Firstly, All in One AWS Certified Developer Associate Exam Guide
Secondly, AWS for Developers for dummies
Also, AWS Development Essentials
Then, AWS Certified Developer Associate Guide: An Effective Guide for Developers
Step 5 : AWS Whitepapers
AWS team offers several whitepapers, in order to enhance your technical knowledge. These whitepapers are produced exclusively by the AWS team, analysts, and other AWS partners.
Here is a list of some highly recommended AWS Certified Developer Associate White Papers
Step 6: Join Online Forums
When a large number of individuals involves in a problem, the chances of finding a solution grow dramatically. In addition, having different points of view makes the material more lively. The research gets more extensive as a result of these conversations in online forums. Introverts, who may normally avoid dialogues, get an opportunity to express themselves. Forums are excellent for forming a community that is necessary for understanding others.
Step 7: Solve Practice Tests
All you need to check yourself is AWS Certified Developer Associate Practice Exams. Practice papers are beneficial in a variety of ways. The more correct answers you get on a practice exam, the more secure you'll feel about the real thing. You'll also know how much time and effort you'll need to devote to each section of the question paper. Your brain will train to be at its highest potential for the duration of the exam. All of these variables can have a significant impact. Remember that your grade is based on how much you wrote, not how much you know. Familiarise with the real exam environment by preparing through Practice Tests!

Elevate your skills and qualify the AWS Certified Developer Associate (DVA-001) Exam. Start your Preparations Now!