System Principles are the basis of the COBIT 2019 based governance system. As discussed earlier, a principle is a value which guides behavior or evaluation.
COBIT has two sets of principles – system and framework. The system principles enlists the core requirements of a governance system for I&T.
There are 6 governance system principles in COBIT 2019. Governance principles ensures assessment of the stakeholder needs as per organizational objectives. It also sets direction through prioritization and decision-making. This helps in performance monitoring and compliance against the set direction and objectives.
The COBIT 2019 framework enlists 6 principles for a governance system:
The needs of stakeholder are addressed by the governance system. The governance system should also to generate value from the use of I&T. To create value, the enterprise must balance benefits, risk, and resources, and develop an actionable strategy and governance system.
Several components build a governance system. They can be of different types. Components should work together as per organizational requirement.
A governance system should be dynamic. Design factors (strategy or technology) changes, are assessed and the governance system is changed to reflect them.
Activities and structures for governance and management are different.
Organizational requirements enlist the customization in the governance system. Design factor customization, customizes the governance system. Design factors also influence priorities in the governance system.
The organizational functions affected by technology and used to achieve the governance and management objectives, should be part of the governance system.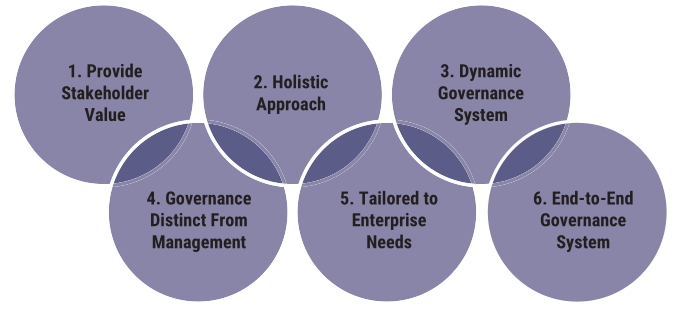 Go back to COBIT 2019 Tutorial page

100% Exam Pass Guarantee
Want to qualify COBIT 2019 Foundation Exam?
Learn More
Are you preparing to take the COBIT 2019 Foundation exam?
Take a Quiz