Financial Markets: A Beginner's Module (Foundation) FAQ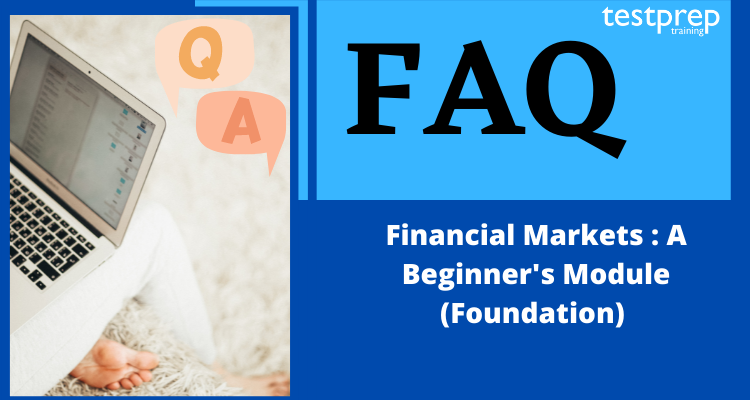 What is Financial Markets: A Beginner's Module (Foundation) examinaton ?
The Financial Markets: A Beginner's Module (Foundation) is a basic level program for those who wish to either begin a career in the financial markets in India or simply learn the fundamentals of capital markets. The course is structured to help understand the basic concepts relating to different avenues of investment, the primary and the secondary market, the derivatives market, and financial statement analysis.
Is there any negative marking in NCFM exam?
There is a negative marking for every wrong answer and 25% of the marks will be deducted.
What variety of questions appears in the exam?
There will only be multiple-choice and multi-response questions covered in the exam.
What is the difference between NCFM and NISM?
NCFM provide knowledge to professionals working in the financial industry by providing training certification for various industry fields to provide an advantage in getting a job. Whereas NISM is launched by SEBI is opted by those investors who have an interest in gaining knowledge in finance market. With SEBI it provides quality to financial market.
What is the benefit of NCFM Certification?
NCFM certification provides advantages and benefits to the individuals who want to pursue a career in finance. This will provide in depth knowledge in financial sectors and help you understand the concepts. This certification comes with different courses in the banking and finance which will provide abilities and skills. You learn about mutual funds and give you knowledge about the risk involved and provide you job security.
How many questions will appear in the exam?
The exam consists of 60 questions which need to be completed in time duration of 120 minutes.
What is the fee structure of the exam?
This certification is valid for 5 years and it will cost you INR 2006.
What are the languages available for the exam?
The exam is available in English language only.
What is the passing score for the exam?
The candidate has to score a minimum of 60% in order to pass the exam.
How the exam scores are calculated?
After the completion of your exam, the points you earned on each question are totaled and then compared with the cut score to determine whether the result is pass or fail.
Why should one take this course?
To get a basic understanding of the products, players, and functioning of financial markets, particularly the capital market.
To understand the terms and jargon used in the financial newspapers and periodicals.
Who will be benefit from this course?
Students
Teachers
Investors
Employees of BPOs/IT Companies
Employees of Brokers/Sub-Brokers
Housewives
Anybody have an interest in the Indian securities market

Prepare for Assured Success
Want to know more about Certified Financial Markets : A Beginner's Module (Foundation) ?
Learn More
Are you preparng for Financial Markets : A Beginner's Module (Foundation) ?
Take a Quiz