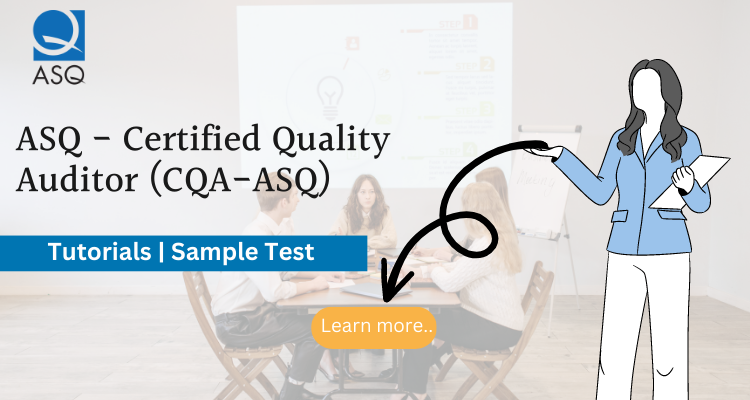 A Certified Quality Auditor (CQA-ASQ) evaluates and determines all aspects of a quality system and judges its level of allegiance to the standards set forth by the industrial management and quality evaluation and control systems, thus the Certified Quality Auditor exam examines and tests the skills of candidates for the above-mentioned movements. This exam investigates and gauges the understanding of the candidates regarding standards and principles of auditing, its techniques of evaluating, questioning, etc.
Target Audience
Candidates who want to become Auditors or get into this field are welcomed. Also, freelancers and educators who want to get into this field's core for teaching or other purposes have also been recorded for opting for this exam.
Recommended Knowledge and Prerequisites
The prerequisites for this examination are that the Candidates must have paid, full-time job experience. Paid internships, co-ops, or any other course of professional work are not taken into accounts of requirement. The candidates require 8 Years of on-the-job experience and 3 years in a Decision making position where candidates are at the authoritative level and execute/control projects and processes.
As when it comes to a Diploma from a technical or trade school, one year waived is to be expected. For the Associate degree, it is two years waived, for the Bachelor's degree, it's four years, and for the Master's or doctorate, it's five. Those Degrees or diplomas that are achieved by the candidates from educational institutions that are outside the United States must be equivalent to degrees from U.S. educational institutions.
Exam Details
| | |
| --- | --- |
| Exam Name Certified Quality Auditor | Code CQA – ASQ |
| Time Duration 330 minutes | Exam Format Multiple Choice and Multi-Response Questions |
| Exam Type Professional | Number of Questions 120 Questions |
| Eligibility/Pre-Requisite Prior knowledge of quality and auditing | Exam Fee USD $498 |
| Retake Fees USD $298 | Application Fees USD $70 |
| Exam Language English | Retake Within 2 years |
For More Details See – CQA-ASQ FAQ – Certified Quality Auditor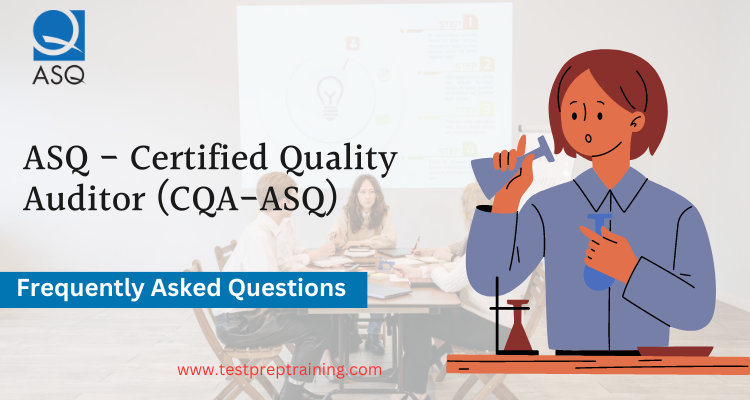 Course Outline
The Certified Quality Auditor (CQA-ASQ) covers the given topics –
I. Auditing Fundamentals (28 Questions)
ASQ Reference: AUDITING
Types of Quality Audits
Purpose and Scope of Audits
Criteria to Audit Against
Roles and Responsibilities of Audit Participants
Professional Conduct and Consequences for Auditors
II. Audit Process (44 Questions)
ASQ Reference: Audit Guide
Audit Preparation and Planning
Audit Performance
Next, Audit Reporting
Audit Follow-Up and Closure
III. Auditor Competencies (24 Questions)
Auditor Characteristics
On-site Audit Resource Management
Conflict Resolution
Communication and Presentation Techniques
Interviewing Techniques
Team Dynamics
IV. Audit Program Management and Business Applications (30 Questions)
Business and Financial Impact
V. Quality Tools and Techniques (24 Questions)
Preparation Guide
Preparing for the exams becomes much more fluffy and convenient once you have all the resources available at your fingertips. Reliable resources with easy access are like a perfectly cooked marshmallow. A learner can never get enough of it. In fact, the more available and easily access the resources are the better it is. It's easier to create charts, timetables, schedules and plots for chapters once you have your exam outline and resources ready and in front of you. We don't want these important things to be out of our sight and mind.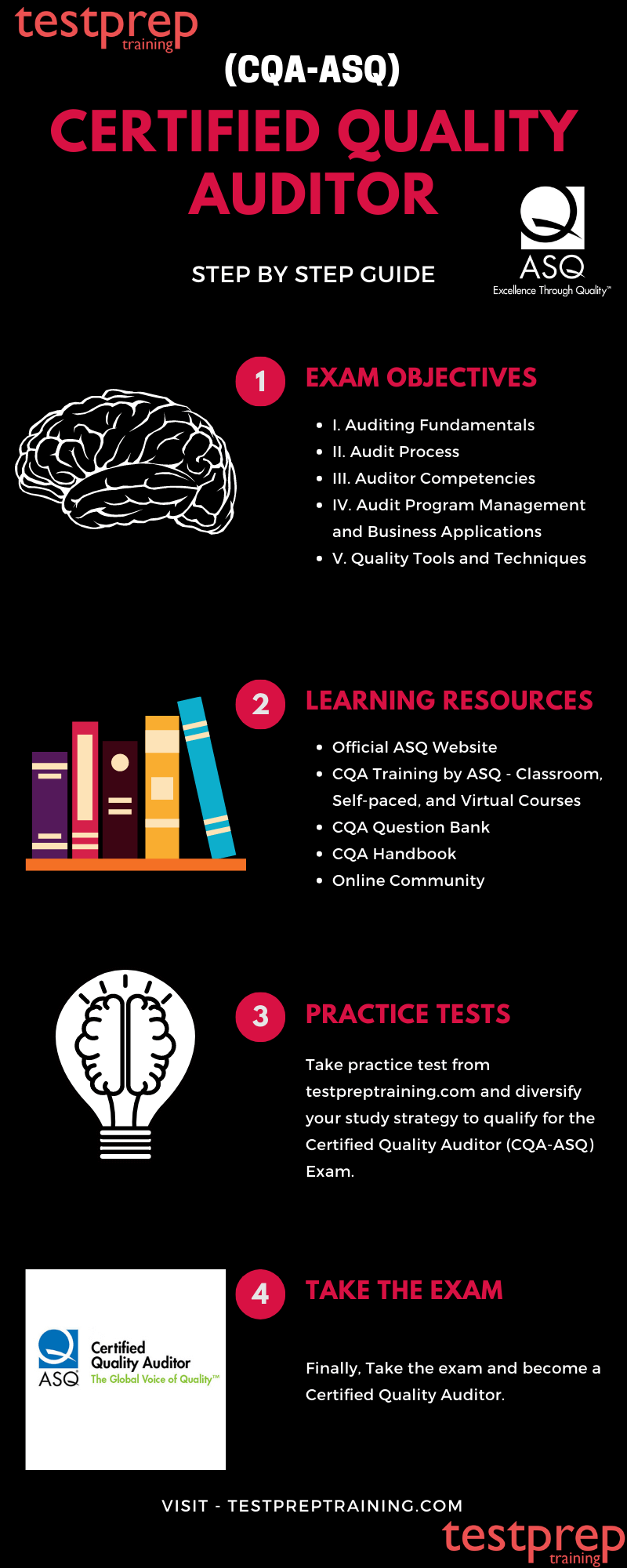 Learning Resource 1 – The Official Website
The official website provides a question bank, a handbook and training courses in 3 formats. Candidates are suggested to use them while training themselves and preparing for the exam. This will boost their sessions as they come from a very reliable source. The official website also has blogs and exam outline and Pdf guides for candidates to get much more clarified study sessions without doubts and troubles.
Learning Resource 2 – CQA Question Bank
The ASQ Certified Quality Auditor Question Bank consists of three exam sets, each of them comprises of 150 unique questions. This is to follow and create the exam equilibrium, it has the same number of exam-type questions that will appear on the CQA exam by ASQ. Candidates can retake them anytime and also have access to 365 days. The course ID is QBCQAASQ and the format is Web-based.
Learning Resource 3 – CQA Handbook
The CQA Handbook featured by the ASQ for the candidates for the CQA exam is the "Beyond compliance design of a quality system" by Janet Bautista Smith with Robert Alvarez. This book merges the 2 most crucial aspects that a CQA must know. To purchase the book, members have to pay $28.00 while the List Price is $40.00.
Learning Resource 4 – CQA Training by ASQ
All the courses are based on the knowledge body of the ASQ regarding the CQA examination. Also, all the courses have 365 days of electronic access.
This Certified Quality Auditor Refresher training is developed and delivered by the ASQ Audit Division. This is a three-day course designed for aspirants to experience a better studying process. Also, this course is not for beginners. This course also provides its students with a course manual and a copy of the ASQ Auditing Handbook's Fourth Edition.
This course is a web-based course with pre-tests, post-test, and progress checks throughout the course with exam-style exams and scenario-based examples. Candidates can study at their own place. This course is tailored on the basis of the 2012 CQA body of knowledge. Candidates must not forget this element and choose the course accordingly. The course includes plenty of auditing concepts and descriptions for better practice sessions. The course provides more than 350 questions to practice on.
This course is an Internet-based, instructor-led course that utilizes the capabilities of the internet and connectivity to keep the candidates always in touch with their instructors as needed. The web and teleconferencing technologies play a major part in this course as it entitles students to interact without traveling. Students have access to interaction both with the instructor, other students, and also to the course materials. This course provides its students with Materials like the course manual and a copy of The ASQ Auditing Handbook's 4th Edition.
Learning Resource 5 – Online Forum
Online forums are social platforms where candidates can form online communities and groups where they can share important notices, news, updates, notes, and practice papers. It acts as a multi-hub for information and is beneficial for candidates to stay updated and get access to a lot of content.
Evaluate with Practice Tests
Practise makes every aspirant ready and more determined for the exam. Many of the aspirants get anxious before the exam and as much as they studied, it all goes down for nothing. Practice doesn't only creates a good flow of information in your LTM (long term memory) but also a confident and disciplined set of actions and thoughts. This will provide you the ultimate ingredient for a good brewing result.

Strengthen your resume by becoming a Certified Quality Auditor with hundreds of practice tests. Start Preparing Now
100% Exam Pass Guarantee
Want to pass the Certified Quality Auditor (CQA-ASQ) Exam?
Learn More
Are you preparing for the Certified Quality Auditor (CQA-ASQ) Exam?
Take a Quiz