CISSP-ISSEP FAQ – Information System Security Engineering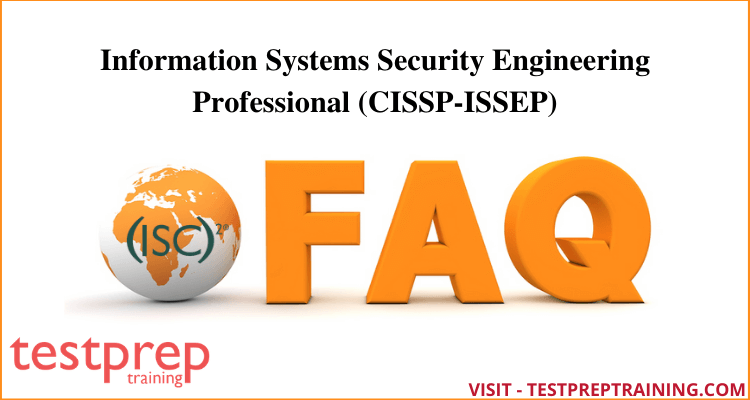 With all the important details and things that every examinee must know about the Information Systems Security Engineering Professional (CISSP-ISSEP) exam, here are a few CISSP-ISSEP FAQ that is short and quick for you to get on with your expenditure real sharp.
Top CISSP-ISSEP FAQ
Where should I register for the exam?
At the Testing center of Pearson VUE or their online desk.
How long do I have to wait to schedule my exam?
Candidates can schedule their exam anytime but should make sure to plot their appointment 24 hours from the time and day they are present at.
How do I reschedule my exam?
Candidates can visit the 'upcoming appointment' section and reschedule their exam.
Individual A's exam was cancelled but not B's, why?
Exams are cancelled based on the spread of the virus of a particular region, so if an individual's exam has been cancelled it's due the spread and threats of Covid-19.
If my exam is cancelled, will I receive a refund?
Candidates will receive a refund if their fee was processed during the payment procedure.
What's the validity of my certificate?
Your credential will be valid for a period of 3 years.
What do I need to do to rectify myself?
Candidates must earn 20 continuing professional education (CPE) credits each year that are based on engineering.
Do I need to pay for my recertification at any given point?
Candidates don't have to pay any fee for earning and maintaining their concentration.
What is the duration of the exam?
The exam's length is up to 3 hours.
How many questions will be asked?
A total of 150 questions will be asked in the exam. Note: If your exam is from 13th November, 2020, the exam questions will 125.
What kind of questions will be asked?
Multiple choice questions (MCQs) will be asked in the exam.
What is the passing score for the exam?
It is 700 out of 1000.
In which language will the test be presented in?
The test will be in English.
The exam's syllabus has recently been changed so when will this change be applicable?
The exam changes could be seen from November 13, 2020.
Prepare for Assured Success
Want to pass the (ISC)² - ISSEP Exam?
Learn More
Are you preparing for the (ISC)² - ISSEP Exam?
Take a Quiz