CISSP-ISSEP┃Information System Security Engineering Professional
The Information Systems Security Engineering Professional (CISSP-ISSEP) exam is a definitive and suitable credential for candidates if they are planning to grow in their respective fields in security and know-how to integrate security into all elements of business undertakings. This security engineering certification acknowledges and tests the candidates' abilities to practically apply systems engineering principles and processes to cultivate and create secure and strong systems in real-life.
Target Audience
The candidates who should consider the Information Systems Security Engineering Professional (CISSP-ISSEP) exam for their career growth and boost are the following:
Senior systems engineer.
Information assurance systems engineer.
Information assurance officer.
Information assurance analyst.
Senior security analyst.
Recommended Knowledge and Prerequisites
Candidates must possess the knowledge and skills to blend in and implement security system principles into projects, applications, business strategies & world and all information systems. Also, candidates must be a deserving CISSP and have two years of consistent, paid work experience in one or more of the five domains of the CISSP-ISSEP CBK.
CISSP- ISSEP Exam Format
The CISSP- ISSEP exam difficulty is quite high. So familiarising with the exam details is of utmost importance. The CISSP ISSEP exam questions are in Multiple Choice and Multi-Response Format. You get 3 hours to complete the 125 questions of this exam. Also, the cost is $599. Moreover the CISSP- ISSEP questions are available in English language only.
| | |
| --- | --- |
| Exam Name Information Systems Security Engineering | Exam Code CISSP-ISSEP |
| Exam Duration 3 hours | Exam Format Multiple Choice and Multi-Response Questions |
| Pass Score 700 (on a scale of 1-1000) | Number of Questions 125 |
| Eligibility/Pre-Requisite 2 years cumulative, paid work-ex | Exam Fee $599 |
| Exam Language English | Register Pearson VUE |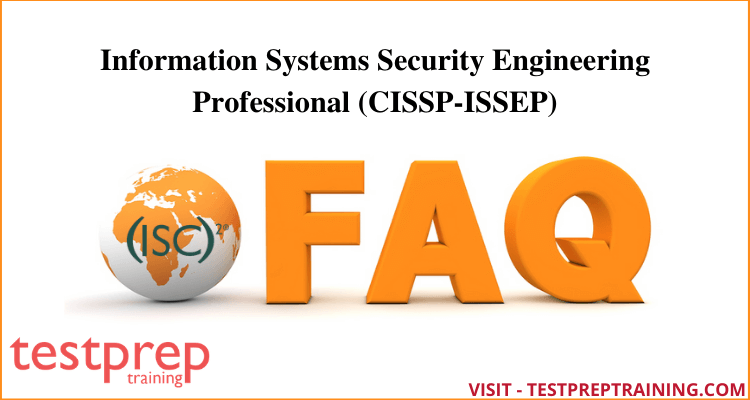 Course Outline
The Information Systems Security Engineering Professional (CISSP-ISSEP) Exam covers the following domains.
The Course Outline has been updated for the exam on November 13, 2020
Domain 1: Systems Security Engineering Foundations 25%
1.1 Apply systems security engineering fundamentals
Understand systems security engineering trust concepts and hierarchies
Identify the relationships between systems and security engineering processes
Apply structural security design principles
1.2 Execute systems security engineering processes
Identify organizational security authority
Identify system security policy elements
Integrate design concepts (e.g., open, proprietary, modular)
1.3 Integrate with applicable system development methodology
Integrate security tasks and activities
Verify security requirements throughout the process
Integrate software assurance methods
1.4 Perform technical management
Perform project planning processes
Perform project assessment and control processes
Perform decision management processes
Perform risk management processes
Perform configuration management processes
Perform information management processes
Perform measurement processes
Perform Quality Assurance (QA) processes
Identify opportunities for security process automation
1.5 Participate in the acquisition process
Prepare security requirements for acquisitions
Participate in selection process
Participate in Supply Chain Risk Management (SCRM)
Participate in the development and review of contractual documentation
1.6 Design Trusted Systems and Networks (TSN)
Domain 2: Risk Management 14%
2.1 Apply security risk management principles
Align security risk management with Enterprise Risk Management (ERM)
Integrate risk management throughout the lifecycle
2.2 Address risk to system
Establish risk context
Identify system security risks
Perform risk analysis
Perform risk evaluation
Recommend risk treatment options
Document risk findings and decisions
2.3 Manage risk to operations
Determine stakeholder risk tolerance
Identify remediation needs and other system changes
Determine risk treatment options
Assess proposed risk treatment options
Recommend risk treatment options
Domain 3: Security Planning and Design 30%
3.1 Analyze organizational and operational environment
Capture stakeholder requirements
Identify relevant constraints and assumptions
Assess and document threats
Determine system protection needs
Develop Security Test Plans (STP)
3.2 Apply system security principles
Incorporate resiliency methods to address threats
Apply defense-in-depth concepts
Identify fail-safe defaults
Reduce Single Points of Failure (SPOF)
Incorporate least privilege concept
Understand economy of mechanism
Understand Separation of Duties (SoD) concept
3.3 Develop system requirements
Develop system security context
Identify functions within the system and security
Concept of Operations (CONOPS)
Document system security requirements baseline
Analyze system security requirements
3.4 Create system security architecture and design
Develop functional analysis and allocation
Maintain traceability between specified design and system requirements
Develop system security design components
Perform trade-off studies
Assess protection effectiveness
Domain 4: Systems Implementation, Verification and Validation 14%
4.1 Implement, integrate and deploy security solutions
Perform system security implementation and integration
» Perform system security deployment activities
4.2 Verify and validate security solutions
Perform system security verification
Perform security validation to demonstrate security controls meet stakeholder security requirements
Domain 5: Secure Operations, Change Management and Disposal 17%
5.1 Develop secure operations strategy
Specify requirements for personnel conducting operations
Contribute to the continuous communication with stakeholders for security relevant aspects of the system
5.2 Participate in secure operations
Develop continuous monitoring solutions and processes
Support the Incident Response (IR) process
Develop secure maintenance strategy
5.3 Participate in change management
Participate in change reviews
Determine change impact
Perform verification and validation of changes
Update risk assessment documentation
5.4 Participate in the disposal process
Identify disposal security requirements
Develop secure disposal strategy
Develop decommissioning and disposal procedures
Audit results of the decommissioning and disposal process
Preparation Guide for the Information Systems Security Engineering Professional (CISSP-ISSEP) Exam
An exam credential brings out the excellence of your mastery to demonstrate and interpret the skills required for the job in the market. Mostly, candidates pursue their subjects based on what's really in demand and where the mainstream crowd is heading. This sometimes pulls candidates to the direction they never wanted to go to in the first place. Before starting your study sessions, download the free CISSP- ISSEP exam guide provided by the website to get the gist of what it is. This will boost your confidence and determination to give the exams as you will become super sure or you will realise the opposite.
Remember, be clear with your choices from the start, whether you want to opt for the credential, what kind of schedule you want to set in regards to your work-life balance, which resources will fit in the best, etc. All of these are proven to be a favored way to enhance your journey of studying and learning for what you aspire to achieve. Lets get started with your CISSP- ISSEP exam preparation.
Learning Resource 1: Official Website
The official website has many small yet important resources that are extremely beneficial for all the candidates, following are the three basics:
Updated CISSP- ISSEP exam outline – The updates exam outline, yes. The exam's syllabus has been changed and the newest exam outline will be used from 13th November 2020. So it's very important to check that and download the Pdf. If you are going to appear for the exam before it, the older version of the exam outline is also available at the site.
Glossary – The exam might have a few sets of words that you might not be able to interpret or understand, so the website has a glossary made especially for candidates to understand the vocabulary of the exam and their study.
Free Guide – The website also provides a free CISSP- ISSEP study guide that explains everything about the exam and answers all your doubts about whether or not you are fit for it and how you can grow further with the credential. This is a must, download the guide as it's very important due to the details and messages it sends out to its aspirants.
This is a formal course introduced by the (ISC)² for their aspirants. It's a 180 Days of express entry to the content hub of the Official (ISC)² ISSEP study material in the learning management system. This course includes 40 hours of video lectures wrapping all 6 domains that'll be coming for the exam. It also consists of Interactive flashcards, Domain Quizzes, Post-assessment practice questions, and Flexibility to learn on your schedule. Also, this course comes with a bonus! The CISSP Self-Paced Refresher is provided to the candidates at no additional cost, this course includes study materials for your voyage too. This is a completely different course but is offered for free. The official self-paced course's Price is $2,495.
Learning Resource 3: Flashcards
The Official Information System Security Engineering Professional Flash Cards is one of the best ways to rehearse. Flashcards are the most fun and engaging way to study for any exam anytime and anywhere. The fact they are small, pleasant to the eyes, and easy to carry and revise with makes it the best companion. with Official ISSEP Flash Cards! This will immediately lift your soul to study when you get bored with watching modules and reading books.
Online communities can benefit candidates when it comes to engaging with people at the same level of mastery as theirs or close to it, as online communities are filled with students, aspirants and experienced candidates who come together to be helped and help each other. Candidates can come across individuals who can share great tips and tricks and help them calm down or be well prepared before the exam.
Evaluate with Practice Tests
Practicing can never go wrong until and unless a person who never prepared for anything. Although the official website doesn't provide candidates with sample tests or mock tests, students can practice their test at Pearson VUE website, the main idea of this is to show candidates how it will exactly bon their exam day. This will really add salt to candidates' efforts of months of preparation. Boost your confidence with CISSP ISSEP practice exams now!
Strengthen your expertise to become an Information Systems Security Engineering Professional. Start Practicing Now
100% Exam Pass Guarantee
Want to pass the (ISC)² - ISSEP Exam?
Learn More
Are you preparing for the (ISC)² - ISSEP Exam?
Take a Quiz