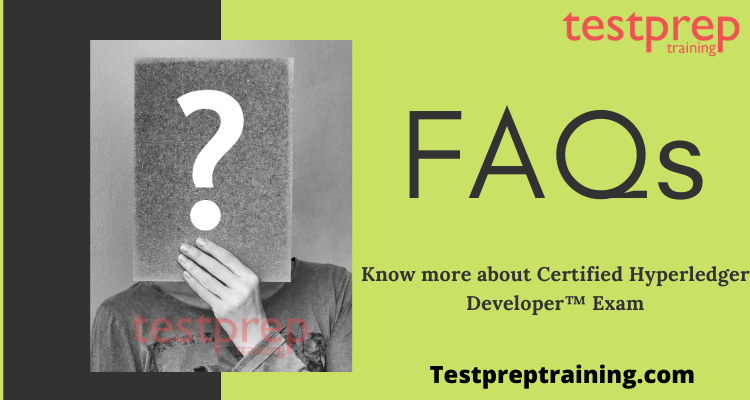 What is Certified Hyperledger Developer™?
The Certified Hyperledger Developer Training is excellently designed and carefully curated by experts to render a profound understanding of Hyperledger Fabric and Composer. Businesses can leverage the Hyperledger technology to enhance internal data integrity, and progress towards a low-cost solution for their organization. Certified Hyperledger Developer Training equips individuals with the essential knowledge and expertise to work a hyperledger developer.
What type of questions does the exam include?
The Certified Hyperledger Developer™ exam will include multiple choice and multiple response questions.
How many times can I give the exam?
You can only give this certification exam for no more than 3 times.
What is the retake policy of the exam?
The exam can be retaken after 24 hours of the previous attempt.
When will this certification expire?
The certification is valid for a lifetime; there is no need to renew.
How much does the Certified Hyperledger Developer™ exam cost?
This exam will cost you $99 USD including additional taxes.
What does Hyperledger Developers do?
Hyperledger Developers specializes in creating and implementing private permissioned solutions for organizations on top of Blockchain Technology. A professional in this domain works in companies as Healthcare, Network Security, Travel, Finance, Food Industry, Insurance, FMCG, Manufacturing, and other domains.
What is Exam Registration policy?
To schedule a Certified Hyperledger Developer™ certification exam follow the steps listed below-
Go to the official Blockchain Council website
Click on the certifications panel and Select Blockchain from the list
Select Certified Hyperledger Developer™ and you will be taken to the Hyperledger Developer™ certification page
Submit your Email Id and Name then click Buy Now
Update your details and pay the exam fee. You have successfully registered for the Certified Hyperledger Developer™ exam
What is Refund Policy for the exam?
The Blockchain Council offers its services on both online and offline channels. Service payments made after the work done are not refundable. Candidates will also get a free trial to evaluate services, products, and certifications before you make a purchase decision. After purchasing any certification, consulting, or any training service, your service access will be activated. And then there will be no refunds post activation.
What are some basic exam details?
Name of the exam – Certified Hyperledger Developer™
Certification Authority – Blockchain Council
Exam mode – Online
Exam Duration – 1 hour
Exam Pattern – Multiple choice Questions
Passing Score – 60+ marks out of 100 marks
Exam cost – INR 9,999
What are some reference books for this exam?
Hands-On Blockchain with Hyperledger [eBook]
Blockchain Development With Hyperledger
100% Exam Pass Guarantee
Want to be Certified Hyperledger Developer™?
Learn More
Are you preparing to be Certified Hyperledger Developer™?
Take a Quiz