Certified Authorization Professional (CAP) Interview Questions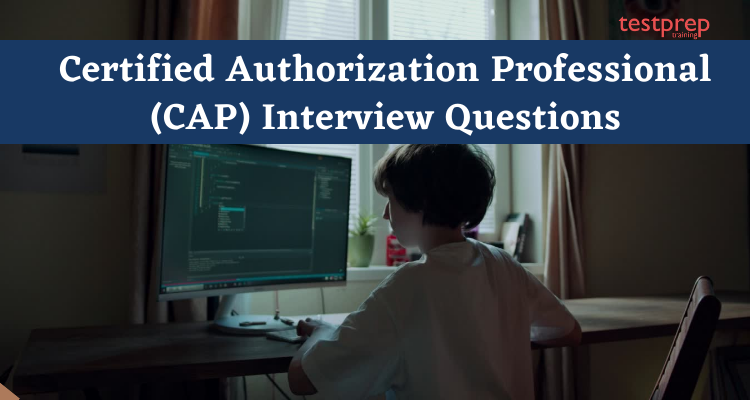 The Certified Authorization Professional certification is a tried-and-true way to advance your career and demonstrate your knowledge of the risk management framework (RMF). It certifies your advanced technical abilities and knowledge for authorising and maintaining information systems inside the RMF utilising best practises, policies, and procedures developed by (ISC)2's cyber security experts. Obtaining this certification will help you advance your career and boost your resume.
The interview process for a quality job in a top firm, on the other hand, can be difficult. Many people pass the exam yet are turned down for interviews. As a result, in this blog, we'll go through the top Certified Authorization Professional (CAP) interview questions that can help you during the hiring process.
1. What are the Principles of information security?
Confidentiality, integrity, and availability are the fundamental pillars of information security. Every component of the information security program must be developed to implement at least one of these principles. They are known as the CIA Triad when they work together.
2. Explain the National Institute of Standards and Technology (NIST).
The National Institute of Standards and Technology (NIST) is a non-regulatory body of the United States Department of Commerce that conducts physical science research. Its purpose is to encourage American innovation and competitiveness in the industrial sector.
3. What is Risk Management Framework (RMF)?
The Risk Management Framework is a United States federal government guideline, standard, and process for risk management that was developed by the National Institute of Standards and Technology to aid with the security of information systems.
4. Explain Rand Report R-609?
The first widely acknowledged published document to identify the role of management and policy issues in computer security was Rand Corporation Report R-609, which was the first widely recognize published document to identify the role of management and policy issues in computer security.
5. What do you understand by Third-party hosted Information Systems (IS)?
Third-Party Host means that the servers where the Contractor's software lives are in a physical location that is not under the Contractor's control, often known as "managed hosting," such as Amazon Web Service.
6. What is the definition of Computer Security?
From physical security to computer security, the scope of computer security has expanded to include:
The data's security preventing unauthorise access to that information
Personnel from many levels of the organisation are involved.
7. Describe Information System (IS) purpose.
Users of information systems can collect, store, organize and distribute data, which can be used for a variety of reasons in businesses. Many companies utilize information systems to manage resources and increase efficiency. In addition, some businesses rely on information technology to compete in global marketplaces.
8. What is operations security?
Operations security is concerned with safeguarding the specifics of a specific operation or series of actions.
9. Who is the United States Government Configuration Baseline (USGCB)?
The United States Government Configuration Baseline (USGCB) is a project that aims to equip federal agencies with best practices for information security configuration.
The USGCB's goal is to standardize IT configuration settings, minimize expenses, accelerate technology adoption rates, increase efficiency, and reinforce system hardening procedures in order to handle both present and future security threats. It also includes rules for power-management settings in order to save energy, reduce expenses, protect the environment, and comply with presidential orders.
10. Who is the Security Control Assessor (SCA)?
The person, group, or organization in charge of completing a security control evaluation.
11. Explain Security Control Assessment (SCA) plan.
Firstly,an SCA is a formal assessment of a system against a set of controls.
Secondly, it is carried out in conjunction with or independently of a comprehensive ST&E as part of the security authorization.
Further, the SCA and ST&E will assess the implementation (or intended implementation) of the controls outlined in the SSP. The outcome is the risk assessment report. The areas of risk in the system will be documented in this report.
Last but not least, audits, security reviews, vulnerability scanning, and penetration testing are all examples of system tests that are perform.
12. Describe Initial Security Assessment Report (SAR).
One of the three major necessary documents for a system, or common control set, authorization package is the security assessment report or SAR. For the authorized official and system owner, the SAR appropriately reflects the results of the security control evaluation.
13. Explain  Interim Security Assessment Report (SAR).
Provides a disciplined and systematic approach for recording the assessor's findings and recommendations for fixing any discovered flaws in security measures.
14. What are the critical information characteristics?
Firstly, availability
Secondly, accuracy
Further, authenticity
Next, Confidentiality
Last but not least, Integrity
15. What do you understand by Plan of Action and Milestones (POAM)?
It describes the resources needed to complete the plan's aspects, any milestones in achieving the tasks, and the scheduled completion dates for the milestones.
16. Explain Information System (IS) Risk.
Information system-related security risks are those that develop as a result of a loss of confidentiality, integrity, or availability of information or information systems and take into account the organization's implications.
17.  What exactly is a risk matrix?
A risk matrix is a mechanism used to map the outcomes of a risk assessment process for proper handling. Risk treatment is often implemented by an organization's management for "Extreme" and "High" hazards. The risk appetite of the organization is frequently use to determine "medium" hazards.
18. What is risk?
To put it simply, the risk is the probability of something bad happening. Risk is uncertainty regarding the effects/implications of an activity in relation to something that humans value, with a concentration on negative, unfavorable outcomes.
19. Define Gap Analysis.
A gap analysis is a process by which a company compares its present performance to its intended, expected performance. This research is use to examine whether a company is achieving expectations and successfully utilizing its resources.
20. What is the distinction between process, guidelines, and policies?
Firslty, Policy: A high-level document outlining senior management's intent on security directions.
Next, Procedure: A thorough step-by-step set of actions (SOP) must be completed in order to obtain the desired outcome.
The term "guideline" refers to a series of recommendations/best practices that are optional to follow.
21. Define information security.
Information security, abbreviated as InfoSec, is the process of safeguarding information through limiting information threats. It's a component of information risk management.
22. Explain vulnerability.
The traits and circumstances of a community, system, or asset that render it vulnerable to the destructive impacts of a hazard are vulnerability. There are numerous aspects of a vulnerability that result from physical, social, economic, and environmental issues.
23. What is a threat?
Software assaults, intellectual property theft, identity theft, equipment or information theft, sabotage, and information extortion are all examples of information security concerns.
A threat is something that can exploit a vulnerability to breach security and negatively change, erase, or injure an item or objects of interest.
24. What constituents make up an information system?
An Information System (IS) is more than just computer hardware; it is the full combination of software, hardware, data, people, and procedures required to use information as a resource in the company.
25. What does it mean to balance security and access?
Firstly, security and access must be balance.
Secondly, it is impossible to achieve perfect security; it is a process, not an absolute.
Next, security should be view as a trade-off between protection and availability.
To achieve balance, the level of security must permit appropriate access while while protecting against dangers.
26. Define SDLC.
Firstly, the Life Cycle of Systems Development
Secondly, information security must be control in the same way that any other key system in the firm is.
Further, making use of a methodology
Next, ensures a strict procedure
Last but not least, prevents omission of steps
27. What are the three kinds of data ownership and what are their responsibilities?
Data Owner – the person or organisation in charge of the protection and usage of a certain piece of data.
Secondly, data custodian – the person or organisation in charge of storing, maintaining, and safeguarding information.
Data Users – end-users who use information to execute their everyday tasks in support of the organization's mission.
28. What is the distinction between a threat agent and a threat?
A threat is a type of thing, person, or other entity that poses a potential risk to an asset. Threats are never far away. A threat agent is an individual instance or component of a threat.
29. What exactly is an attack?
An attack is a deliberate or unintentional attempt to do harm or compromise information. A passive attack occurs when someone casually reads sensitive information that was not intend for his or her use. The attack is consider active when a hacker attempts to break into an information system.
30. What exactly is a security blue print?
The security blueprint is the organization's plan for implementing new security measures. The blue print, also known as a framework, gives a structured approach to the security planning process.
Conclusion for Certified Authorization Professional (CAP) Interview Questions
Certified Authorization Professional (CAP) Interview Questions and Answers are designed to prepare you for the most often asked questions in numerous employment interviews. Tips and Tricks for Cracking Certified Authorization Professional (CAP) Interview Questions are mentioned below. These Certified Authorization Professional (CAP) Interview Questions and Answers are beneficial for Beginner, Advanced Experienced, and Job Seekers with varying degrees of experience. Going over Certified Authorization Professional (CAP) Interview Questions is a smart idea. Best wishes for your career quest.
100% Exam Pass Guarantee
Want to become a Certified Authorization Professional?
Learn More
Are you preparing for the Certified Authorization Professional exam?
Take a Quiz