AWS Certified DevOps Engineer Professional- FAQs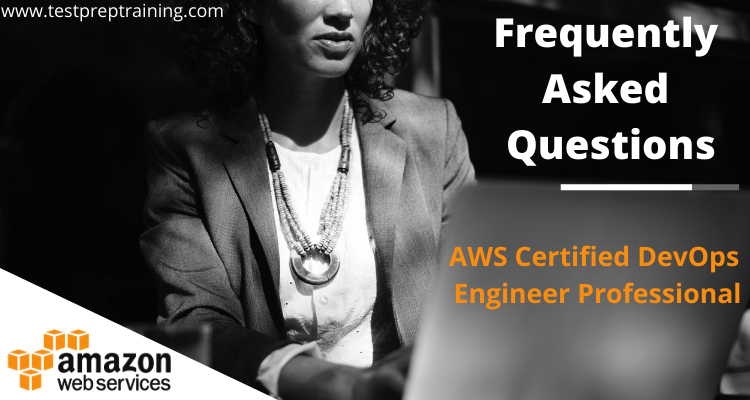 What is AWS Certified DevOps Engineer Professional Exam?
AWS DevOps Engineer Professional certification exam validates the technical expertise of the candidate in provisioning, operating, and managing distributed application systems on the AWS platform. It validates an examinee's ability to –
Implement and manage continuous delivery systems and methodologies on AWS
Implement and automate security controls, governance processes, and compliance validation
Define and deploy monitoring, metrics, and logging systems on AWSImplement systems that are highly available, scalable, and self-healing on the AWS platform
Design, manage and maintain tools to automate operational processes
What is the course outline for AWS Certified DevOps Engineer Professional Exam?
The main areas to focus on the exam are:
SDLC Automation
Configuration Management and Infrastructure as Code
Monitoring and Logging
Policies and Standards Automation
Incident and Event Response
High Availability, Fault Tolerance, and Disaster Recovery
How much the AWS Certified DevOps Engineer Professional Exam will cost?
The exam will cost you $300 USD including the additional taxes.
What is the time duration for the AWS Certified DevOps Engineer Professional Exam?
You will get 180 minutes to complete the AWS Certified DevOps Engineer Professional exam.
What are the languages available for AWS Certified DevOps Engineer Professional Exam?
This exam is available in English, Japanese, Korean, and Simplified Chinese.
What is the validity of AWS Certified DevOps Engineer Professional Exam?
This exam is valid for three years.
Why should I consider AWS Certified?
AWS Certification helps learners build credibility and confidence by validating their cloud expertise with an industry-recognized credential and organizations identify skilled professionals to lead cloud initiatives using AWS.
What is the retake policy?
If you don't pass the test the first time, you'll have to wait 14 days before you can repeat it. There is no limit to how many times you may take the test until you pass it. However, you must pay the entire registration cost for each re-attempt. Additionally, test takers for the Beta exam will only have one attempt.
When will I get my result?
Right after completing your exam, a pass or fail notification will display on the testing screen. Also, candidates will receive an email confirming their exam completion. A detailed exam result within five business days of completing your exam. This exam detail will appear on the Certification Account yours, under Previous Exams.
What are the service and features covered in the exam?
They do not publish the services and features which covers in their certification exam. The current topic areas and objectives in the exam are in the guide, for reference. See AWS Exam guides, to know more.
Are there benefits offered to AWS certified Individuals
AWS offers several benefits to its certified members, apart from validating their skills. See the AWS Certification Benefits page to get a complete list of benefits.
Which certification program are available to take from home or office with online protoring
AWS offers its certification exams via online proctoring as well. AWS uses Pearson VUE, a third-party test delivery provider for its online proctoring exams. Visit the Pearson VUE site, to learn more about AWS online proctored certification exams.
How do I become AWS certified?
In order to become AWS certified, you must get a passing score in the proctored exam, and attain your Certification. After getting a passing score, they will send you your certification credentials.
How long will be certification be valid?
AWS certified individuals should get their certification recertified, every three years. See the AWS Certification Recertification page for more details.
What is the difference between AWS Certification and Exam?
AWS exam refers to a test that validates your technical knowledge of AWS products and services. On the other hand, AWS certification is a credential that you earn upon successfully passing the exam. You are given a digital badge and title which can be used on business cards and other professional collateral to designate yourself as AWS Certified.
How often are exams updated?
AWS rotates its questions in and out, on a regular basis. This is done in adherence to the exam guide. The major revisions to an exam will be made public by AWS, via the Exam guide.
When AWS releases a new product or service, How soon will it appear on the exam?
Any new product, service, or feature will generally be made available, 6 months prior to it appearing on a certification exam.
What is the benefit of AWS certification digital badges?
AWS Certification offers digital badges to benefit you with increased earning as well as showcase your Certification status. they provide digital badges through Credly's Acclaim platform to offer flexible options for recognition and verification. Also, you can benefit from one-click badge sharing on social media newsfeeds, tools for embedding verifiable badges on websites or email signatures.
I cannot find my digital badge on Credly's Acclaim platform?
In case your digital badge(s) does not appear on Credly's Acclaim platform, then you might have more than one AWS Certification Account. Ensure you are login into the account that holds your necessary certification(s). If you have more than one AWS Certification Account with the same email address, you will need your accounts merged before you claim your badge(s) on Credly's Acclaim platform.
Suggest the process to get a group of people certified AWS Professional.
In this case, you can purchase Certification exam vouchers, to eliminate the need for candidates to have to pay when scheduling their exam. They simply enter a voucher code when scheduling exams at either Pearson VUE or PSI.
What are the various ways to take the certification exam?
Certification exams are offered via online proctoring using the third-party test delivery provider Pearson VUE. Details of online proctoring are specified on Pearson VUE site. Pearson VUE handles your information in accordance with their privacy policies, posted on the Pearson VUE site. Providing Pearson VUE with your information may involve transferring it to another country.
Does AWS offer practice test for Certification?
Yes, they offers practice exams for all Foundational, Associate, and Professional Exams, as well as most of our Specialty exams. The practice exams will allow you to test your knowledge online in a timed environment, and experience the exam format and platform prior to taking the full exam. The Foundational and Associate-level practice exams are 20 USD and the Professional and Specialty practice exams are 40 USD. Purchase of a practice exam provides you with one attempt. 
How will get my score for practice exam?
On completing the practice exam, a score report will be emailed to you with high-level feedback to help you understand how you scored on the exam content covered on the practice exam. Please note, answers to the practice exam are not provided to the test taker. The exam guide is also provided with the score report to help you with your exam preparation.
What is the process to arrange a special accommodation for the exam?
The Special accommodations will be arranged for you with the test delivery provider before you register for the exam. Please note, PSI & Pearson VUE do not share accommodation request details, so the appropriate documentation will need to be provided to the test delivery provider you wish to test with.
How to find the test centers near me?
You can find test centers with the following options –
PSI test centers
Pearson VUE test centers

100% Exam Pass Guarantee
Want to become an AWS Certified DevOps Engineer Professional?
Learn More
Are you preparing to become an AWS Certified DevOps Engineer Professional?
Take a Quiz