AZ-303 and AZ-304 exams are retired. AZ-305 replacement is available.
Well, it has been a while now after Microsoft replaced AZ-300 with AZ-303 and AZ-301 with AZ-304 exam. Many of you must be stuck between choosing AZ-303 and AZ-304 exam? Want to understand the difference between AZ-303 and AZ-304? Let us make this decision easy for you. In this article, we are going to describe the differences between AZ-303 and AZ-304. There is often confusion around these two exams, and why and how they are different. But in many ways, they have a lot of similarities – as both cover a lot of the same technologies.
First, we will understand some of the differences between the titles – Microsoft Azure Architect Technologies (AZ-303) and Microsoft Azure Architect Design – the design of course is amongst the core differences!
First of all, Azure Certification is considered one of the most demanded certifications in the era of technology. The Azure Certification has set a standard for its certifications all around the globe and holds the capability to take your career to new heights. Further, The Azure certification offers a promising career to potential aspirants with the knowledge of this software and system process. Now, let us discuss both the exam.
Basic Exams Details – Overview
The Microsoft Azure Architect Technologies AZ-303 exam is for candidates who have skills and abilities for designing and implementing solutions running on Microsoft Azure, including aspects like compute, network, storage, and security. An Azure Solution Architect partners with the cloud administrators, cloud DBAs, and clients for implementing the solutions. To have a smooth AZ-303 exam experience it is very important to have all the details gathered and prepare with proper learning resources.
Candidates applying for Microsoft AZ-303 exam should have:
Firstly, Advanced experience and knowledge of IT operations
Secondly, High-level knowledge and understanding in areas like networking, virtualization, identity, security, business continuity, disaster recovery, data platform, budgeting, and governance. However, candidates in this role should know how to manage decisions in each area and affect an overall solution.
In addition, they must have expert-level skills in Azure administration with having experience in Azure development and DevOps processes.
The Microsoft Azure Architect Design AZ-304 exam measures the candidate's ability to accomplish the following technical tasks: design monitoring; design identity and security; plan data storage; design business continuity; and design infrastructure. Furthermore, candidates for this exam should have subject matter expertise in designing and implementing solutions that run on Microsoft Azure, including aspects like compute, network, storage, and security. Responsibilities for an Azure Solution Architect include advising stakeholders and translating business requirements into secure, scalable, and reliable cloud solutions.

Exam Format: AZ-303 and AZ-304
Now, let us focus on the exam details for both the exam. Over the years, Microsoft has shown many new upgrades in the certifications and is continuing the same. As they have to make changes accordingly with the latest trend and technologies so that individuals always get the best knowledge out of this. Since both the exams belong to the Microsoft, they have the common format.
Firstly, AZ-303 and AZ-304 exams consist of 40-60 questions. The candidate needs to maintain high accuracy and speed.
Secondly, The types of AZ-303 exam questions that candidates can face in the exams include scenario-based single answer questions, multiple-choice questions, arrange in the correct sequence type questions, drag & drop questions, mark review, drag, and drop, etc.
Moreover, the candidate needs to score a minimum of 700 or more to pass the exam. Therefore to achieve this Microsoft AZ-303 exam passing score it is very important to have all learning resources ready.
Further, these exams are available in English, Japanese, Chinese (Simplified), Korean languages.
Also, the exam costs you $165 USD.

Comparing the Course Outlines
Let us now compare the course outlines of the AZ-303 and AZ-304. We can say that both the exams has a little bit in common but on the other hand, they are vastly different from one another. If we talk about the AZ-303, it incorporates the Implementing storage accounts, VMs for Windows and Linux. virtual networking, container-based applications, Azure Active Directory, also managing hybrid identities, workloads in Azure, security for applications, etc. On the other hand, if we see AZ-304, it includes solution for single-sign on, authentication, Conditional Access, including multi-factor authentication, user self-service, Azure Policy, database scalability, encrypting data at rest, data in transmission, and data in use, site recovery capacity, site recovery network, geo-redundancy of workloads autoscaling, etc. Moreover, please refer the following image:
Microsoft AZ-303 and AZ-304 Exam has updates in the course outline as on May 25, 2021.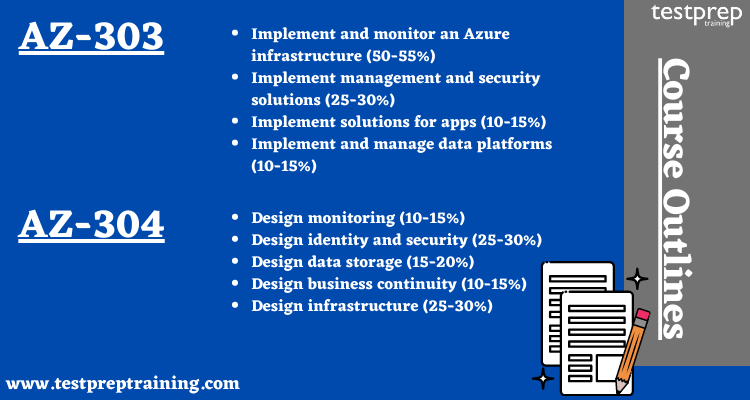 Key difference between AZ-303 and AZ 304 Exam
To begin with Microsoft Exam AZ-303 is filled with questions around how to implement technologies, On the other hand the AZ-304 exam is all about which technology is the best suited for a given scenario. Moreover, at times the differences between the two exams can sometimes be narrow, but the key point of differentiation is that the AZ-304 exam is based on questions based around customer requirements, in comparison to the AZ-303 exam is based on technical operations and its implementations.
Also, the Microsft AZ-304 exam focuses on capturing business needs using real-world examples, constraints, and business objectives, and selecting solution implementations based on the requests of an organization. In comparison to the AZ-303 exam focuses on taking those solutions and ensures that they are properly built, implemented, or migrated.
Register for the exam
Follow the steps written below to register for the exam –
Firstly, Go to the Microsoft site and find your certificate in the list. Then select schedule exam, to register.
Next, If the certificate will be available for your country then you will be able to select the exam during the registration process.
Finally, You will also select the language of the greeter, proctor, and proctoring software.
Microsoft Azure Learning Resources and AZ-303 Study Guide
Microsoft Learning Platform – Microsoft offers various learning paths, the candidate should visit the official website of Microsoft. The candidate can find every possible information on the official site. For this exam, the candidate will find many learning paths and documentations. Finding relatable content on the Microsoft website is quite an easy task. Also, you can find the study guides.
Microsoft Documentation – Microsoft Documentations are an important learning resource while preparing for exams. The candidate will find documentation on every topic relating to the particular exam.
Instructor-Led Training– The training programs that Micorosft provides itself are available on their website. The instructor-led training is an essential resource in order to prepare for the exam like AZ-303 and AZ-304.
Testprep Online Tutorials– Online Tutorial enhances your knowledge and provides a depth understanding of the exam concepts. Additionally, they also cover exam details and policies. Therefore learning with Online Tutorials will result in strengthening your preparation. Click for tutorials- Exam AZ-303: Microsoft Azure Architect Technologies and Exam AZ-304: Microsoft Azure Architect Design.
Try Practice Test– Practice tests are the one who ensures the candidate about their preparation. The AZ-303 practice test will help the candidates to acknowledge their weak areas so that they can work on them. There are many practice tests available on the internet nowadays, so the candidate can choose which they want. We at Testprep training also offer practice tests which are very helpful for the ones who are preparing.
We at Testprep Training hope that this article helped you to get an understanding about how different these two exams are! For better preparation, the candidate should practice upper mention learning resources and try practice test as well. We wish you good luck for your exam!