Do you wish to become a Certified as a Solutions Architect Associate? Then, AWS Certified Solutions Architect Associate certification exam is definitely the right choice for you. Also, from the past few years, AWS demand has rapidly grown in the market. Not to mention, the top-notch companies are also in search of Solution Architect. Due to this, companies are in search of certified candidates.
Moreover, this has created a buzz among individuals. Therefore, you may find plenty of content regarding the AWS Solutions Architect Associate exam. But, it is not easy to keep all of the good content altogether or bookmark all of them. Don't worry we have it all. Now, before we head on and understand all the information regarding the AWS Certified Solutions Architect Associate Exam. Let's first understand who is a Solution Architect and what are their responsibilities.
Who is a Solutions Architect?
A solution architect is accountable for the design of one or more applications or services within an organization. And, is usually part of a solution development team. Moreover, they must have technical as well as business skills. They also work with an enterprise architect for strategic direction. Not to mention they mainly concentrate on the technical decisions regarding the solution. Certainly, they are the key that impacts business outcomes, leading to high demand for AWS professionals with the specified skills.
Responsibilities of Solutions Architect Associate
The main responsibilities of a Solution Architect are as follows-
Firstly, they should know how technology can be used to solve a given business problem.
Secondly, they are responsible to create a solution according to the required framework, platform, or tech-stack.
Subsequently, they focus on how the application will look, what the modules will be, and how they interact with each other.
Further, they are responsible for how things will scale for the future and how they will be maintained.
In addition, they are the ones responsible for figuring out the risk in third-party frameworks/platforms
Lastly, they also focus on discovering a solution to a business problem
Now that you're eager to know about the exam, let's not wait anymore. Therefore, we have provided all the information regarding the exam below. So let's start.
You may also Read: How to become AWS Solutions Architect Associate?
AWS Certified Solutions Architect Associate: Exam Overview
As mentioned earlier, a Solutions Architect is one who has a thorough understanding of cloud architectural principles. Further, these principles are necessary for the designing and deployment of the extensible, trustworthy, and robust business solutions on the cloud.
Also, the AWS certifications for Solutions Architect are helpful in learning, recognizing, validating, and demonstrating your expertise in architecture. Not to mention, it also helps in deploying robust and secure applications on the AWS platform.
As a result, Amazon Web Services provides two AWS Architecting certifications –
Firstly, AWS Certified Solutions Architect Associate.
Secondly, AWS Certified Solutions Architect Professional
As stated above, we're going to cover the complete AWS Certified Solutions Architect Associate resources in this article. Let's take the first step and start with the basic information of the exam.
Exam Details
The AWS Certified Solutions Architect Associate exam is meant for the candidates who are liable to perform the role of a Solutions Architect. Certainly, this exam generally acknowledged the ability of the candidate for –
First of all, defining a solution based on customer requirements with architectural design principles.
Subsequently, providing guidance to the organization on implementation as per the best practices throughout the project lifecycle.
The AWS Certified Solutions Architect Associate questions are in Multiple Choice format. You will face 65 questions that are to be completed in a time span of 130 minutes. The exam cost is 150 USD. Most importantly, the exam is conducted in only English, Japanese, Korean, and Simplified Chinese languages. So, make sure you are proficient in at least one of the languages. Also the AWS Certified Solutions Architect Associate validity is 3 years.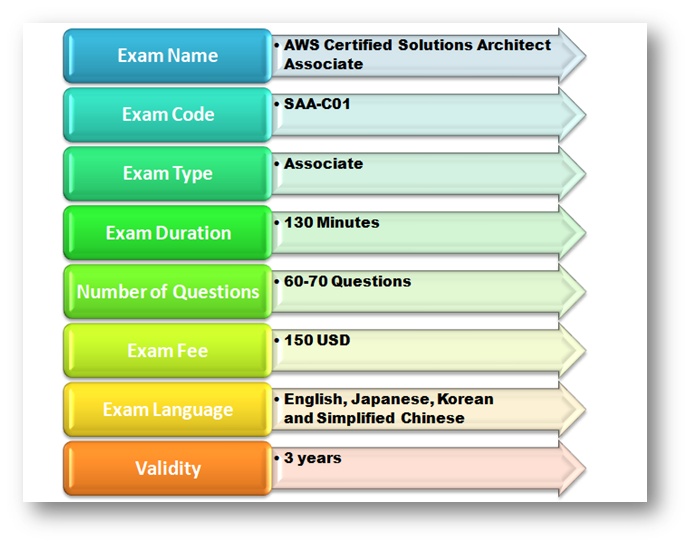 AWS Solutions Architect Associate – Course Outline
We will now provide a list containing all the modules covered in the AWS Certified Solution Architect Associate exam. Below illustrates a brief overview of the course outline
Domain 1: Design Resilient Architectures 30%
1.1 Design a multi-tier architecture solution
1.2 Design highly available and/or fault-tolerant architectures
1.3 Design decoupling mechanisms using AWS services
1.4 Choose appropriate resilient storage
Domain 2: Design High-Performing Architectures 28%
2.1 Identify elastic and scalable compute solutions for a workload
2.2 Select high-performing and scalable storage solutions for a workload
2.3 Select high-performing networking solutions for a workload
2.4 Choose high-performing database solutions for a workload
Domain 3: Design Secure Applications and Architectures 24%
3.1 Design secure access to AWS resources
3.2 Design secure application tiers
3.3 Select appropriate data security options
Domain 4: Design Cost-Optimized Architectures 18%
4.1 Identify cost-effective storage solutions
4.2 Identify cost-effective compute and database services
4.3 Design cost-optimized network architectures
Now that all the domains are very clear to you. Let's move on and understand how will this exam be beneficial to you. 
Benefits of AWS Certification
Now that you're ready to be certified with AWS it's time for your added bonus. You may be surprised by these numbers. So, hold your excitement.
Firstly, many big brands are adopting multi-cloud strategies, resulting in an increase of AWS Certifications.
Secondly, AWS certified professionals obtain digital badges. Further, these digital badges exemplify your certification achievement.
Subsequently, the AWS Certified candidates also get a better paycheck in comparison to the non-certified candidates.
Last but not least, if you are a freelancer, then AWS certification helps in projects in your kitty!
Now that you have a fair idea about the AWS Solutions Architect Associate exam, we will move on to the Learning resources to prepare for the exam.
Preparatory Guide for AWS Certified Solutions Architect Associate Exam
Let's prepare you as you've never prepared before!
It's rightfully said work smarter not harder. So, we've processed a study guide that will help you qualify the certification with flying colours. We will provide a detailed preparatory guide to be used as a methodical approach for preparation. So, the below illustration showcases the roadmap to success. Follow your AWS Certified Solutions Architect Associate exam guide and ace the exam!
Must Read: How to Clear AWS Solutions Architect Associate Exam ?
Learning Resource 1 – Reference Books
First of all, let's start with books. As we all know, reference books are an important resource. There are various books available for AWS Solutions Architect Professional exam.
AWS Certified Solutions Architect Official Study Guide: Associate Exam (Aws Certified Solutions Architect Official: Associate Exam) by Joe Baron
AWS Certified Solutions Architect Study Guide: Associate SAA–C01 by Ben Piper and David Clinton
Learning Resources 2 – Amazon Web Services (AWS) Training
AWS provides training that helps you to build competence, confidence, and credibility through practical cloud skills. In the AWS Certified Solutions Architect Associate Training, you can choose to learn online at your own pace. Moreover, they provided an accredited AWS instructor built by experts at AWS. Further, it offers the same level for both beginners who are building on existing IT skills, or professionals with cloud knowledge. So, you can go through these AWS training to clear your doubts and advance your skills..
Learning Resource 3 – AWS Whitepaper
You must have heard about white papers. Also, AWS whitepaper is a great source of information which covers the basic topic such as security, architecture, as well as economics. Therefore, for your convenience, we're providing popular AWS whitepapers-
Firstly, Architecting for the Cloud: AWS Best Practices whitepaper, Feb 2016.
Secondly, AWS Well-Architected web page (various whitepapers linked).
Learning Resource 4 – Exam Practice sets
Self-study is the most important aspect when preparing for any exam. So, make sure to go for self-evaluation. In order to that make sure to practice as much as you can. Subsequently, practicing with AWS Certified Solutions Architect Associate practice tests will help you understand where you need to work in your preparation. However, practice papers can be from various sources. So, remember the more you test yourself the better you're going to become. Start preparing with AWS Certified Solutions Architect Associate free practice tests
Now that we've provided the preparatory guide. Make sure to prepare well for the exam. We are rooting for your success. And, in case you are the kind of person who gets anxious before the exam. Then, make sure to check out the below section. We're sure it will be helpful.
Keep calm and crush exam anxiety
First things first, pull yourself together. Control all your thoughts and focus your mind on the exam. It's going to go fine. Just put your best foot forward. Still, if you're freaking out, here are a few tips for your exam day.
First of all, make sure to prepare all your things the night before, so that in the morning it's all not a mess.
Subsequently, on the day, try to wake up early and read something short and precise. This will help in warming up your mind and body before the exam.
Further, before attempting the exam, make sure you've had a healthy meal.
And, if nothing helps, try meditating.
Lastly, just relax, and don't overthink. You're going to be okay.
Experts Corner
We understand that it can be hard to maintain focus, but remember the best placement options are just a test away. Also, it's no longer satisfactory enough for IT professionals to just 'know computers'. The certification market value has tripled in the last few years. Not to mention, the additional skills that certified professionals bring to the table are always welcomed by organizations. The advantage of certification seems so obvious now, but skepticism towards its value was rampant a few years ago. So don't hesitate and go get certified now.
Get ready to boost your learning and prepare for AWS Certified Solutions Architect Associate Exam with real-time exam questions and expert guidance.