Project Management Professional Certification (PMP)® exam demonstrates to employers, clients and colleagues that you possess project management knowledge, experience and skills to bring projects to successful completion. As the demand for skilled project managers is at a critically urgent level, practitioners who hold the PMP certification are well-positioned to provide the professional skills necessary to lead project teams and achieve successful project results. Moreover, the certification depicts that you have real-life project management experience.
Who Should Apply for Project Management Professional Certification (PMP)®?
An experienced project manager must –
Firstly, Perform their duties under general supervision and are responsible for all aspects of the project for the life of the project
Secondly, Lead and direct cross-functional teams to deliver projects within the constraints of schedule, budget and resources
Also, Demonstrate sufficient knowledge and experience to appropriately apply a methodology to projects that have reasonably well-defined project requirements and deliverables.
Prerequisites for the exam
In order to become a Certified Project Management Professional, it is very important to have a real-world project management experience that's led to success. Therefore, before you apply, ensure you meet of the following sets of PMP Certification requirements –
A four-year degree
36 months leading projects
35 hours of project management education/training or CAPM® Certification
— OR —
A high school diploma or an associate's degree (or global equivalent)
60 months leading projects
35 hours of project management education/training or CAPM® Certification
Study Guide for Project Management Professional (PMP)® Certification
There are numerous resources that can be used for preparation. But cracking the certification becomes difficult when the set of resources chosen is not apt. You should be very careful while choosing the resources. Let us have a look at handful of resources with the Pmp Project Management Professional Exam Study Guide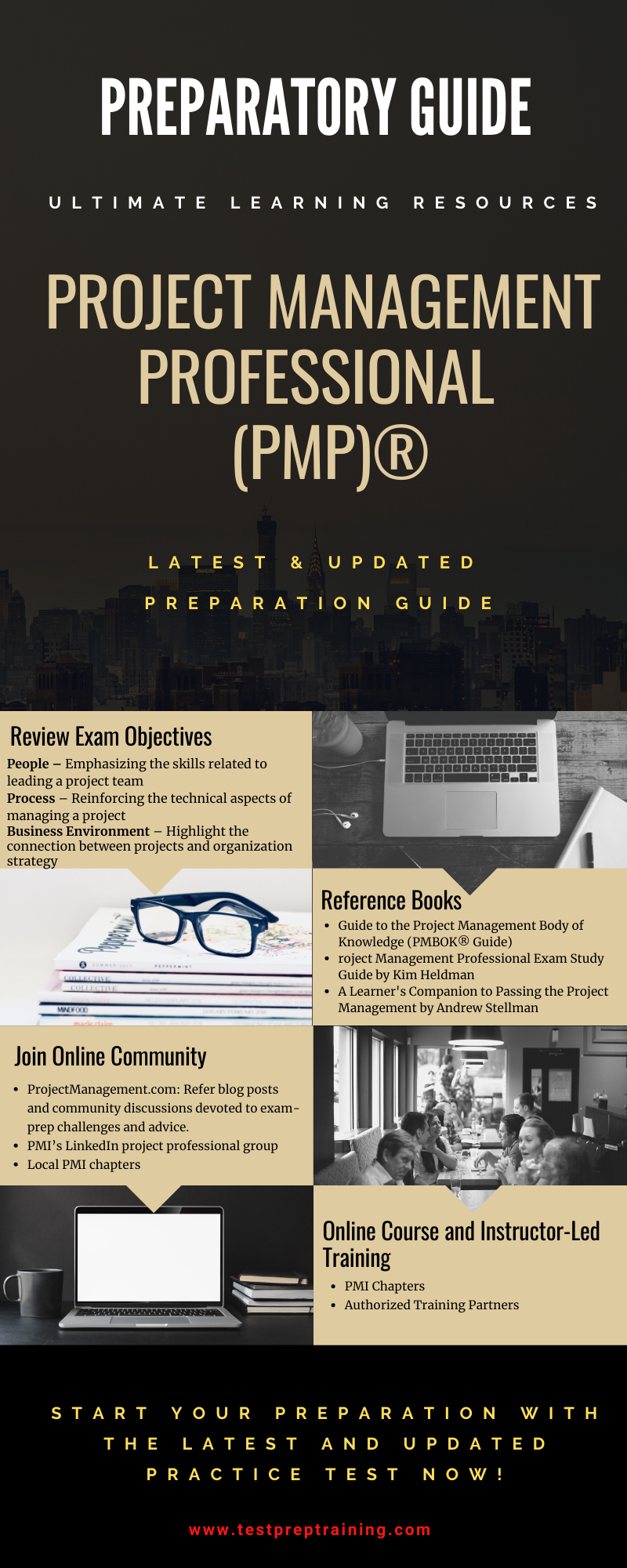 Step 1: Collect Exam Information
Project management professionals need more diverse skills and approaches than ever before. The Project Management Professional (PMP)® certification exam changed on 2 January 2021 to meet those needs and will focus on three new domains:
Domain I – People (42%)
This domain consists of total 14 tasks including, Manage conflict, Lead a team, Support team performance, Empower team members and stakeholders. Together with ensuring team members/stakeholders are adequately trained as well as building a team, address and remove impediments, obstacles, and blockers for the team. Further, you will learn about Negotiating project agreements, collaborate with stakeholders, and building shared understanding. Also, you will learn to engage and support virtual teams, Define team ground rules, Mentor relevant stakeholders as well as Promote team performance through the application of emotional intelligence.
Domain II – Process (50%)
Th Second domain consists of 17 tasks including executing project with the urgency required to deliver business value, Manage communications and assess and manage risks. Moreover, you will learn to engage with stakeholders, plan and manage budget, resources and schedule. Togetherwith, planning and managing quality of products/deliverables, and scope. Further, you will learn to Integrate project planning activities, manage project changes, plan and manage procurement and artifacts. Also, you will determine appropriate project methodology/methods and practices. Then, you will also be responsible to establish project governance structure, as well as manage project issues. You must also ensure knowledge transfer for project continuity as well as plan and manage project/phase closure or transitions.
Domain III Business Environment (8%)
In the last and final domain, you will learn to plan and manage project compliance, – Evaluate and deliver project benefits and value. Moreover, you will be required to evaluate and address external business environment changes for impact on scope and support organizational change.
Step 2: Explore Learning Resources
There are plenty of Learning Resources available in the market place to aid your preparations for the exam. The following Learning Resources will support your journey towards the exam.

Resource 1: Books – The ultimate guide!
Books are the most valuable and reliable source for collecting information relating to the theoretical concepts of the syllabus. You can refer to as many books as you want and can get them from bookstores or libraries. Make sure that the books you select have all the necessary concepts that will be asked in the exam. Also, the book should offer maximum practice exercises that will offer practical knowledge. The book prescribed include –
Firstly, a Guide to the Project Management Body of Knowledge (PMBOK® Guide) is a go-to reference book.
PMP: Project Management Professional Exam Study Guide by Kim Heldman
Head First PMP: A Learner's Companion to Passing the Project Management by Andrew Stellman (Author)
Also, Project Management Professional Pmp Handbook
Resource 2: Online classes and Instructor-led training
You can also refer to Project Management Professional Training and online classes in order to clear the concepts and develop strong understanding. Since, the person taking the exam is already experienced in the field of project management. He is completely trained in the practical aspects of the exam. The more focus should now be paid to the theoretical aspect. This can be done by getting trained from experts or by getting classes by a reliable organization. 
Resource 3: Join Online Community
Joining an online forum or study community is really beneficial for your preparations. You get to connect with your peers who are on the same journey towards this exam. Moreover, these online forums have healthy discussions time to time that help you expand your knowledge. Also given the multiple perspectives of various individuals and experts you get to learn from their expertise. Further, you can clarify your doubts as and when they arise all due to these online communities. You can refer to the following clubs by PMI:
Step 3: Evaluate with Practice Tests
The practice papers and test series are one way to evaluate your progress. The Pmp Project Management Professional Practice Tests help you in identifying week portions of your preparation. You get to know about your loopholes. Strengthening your weaker areas surely guarantees success. There are many reliable sites which helps you by providing sample papers and test series. Attempt multiple tests to boost your confidence.  Try a free practice test now! Make sure to practice as much as you can in order to reach the best level.