We are well familiar with the value of the WatchGuard Network Security Essentials Certification that is widely recognized as the standard of expertise. For achieving Network Security Essentials certification, it is important to cover up all the knowledge of basic networking and how to manage, configure and monitor a WatchGuard Firebox. In order to help you get completed with all the things related to the this exam, in this cheat sheet we will talk about all the ways and areas that will lead you towards earning this certificate.
However, the Network Security Essentials exam is suitable for network administrators who have expertise configuring and succeeding Firebox devices that work Fireware v12.4.
Moving on, below we will talk about the key concepts of Network Security Essentials Cheat.
Network Security Essentials Cheat: Key Concepts
To powerfully complete the WatchGuard Network Security Essentials exam revision, you must get knowledge in these following key concepts:
Fireware Knowledge
Firstly, Firebox activation and initial setup
Secondly, Network configuration
Thirdly, Policy and proxy configuration
Then, Subscription services configuration
Next, User authentication
Device monitoring, logging, and reporting
Lastly, Branch office and mobile VPN configuration
General Network and Security Knowledge
Firstly, IPv4 networking concepts (subnets, DNS, TCP/IP, DHCP, NAT, static routing)
Then, General understanding of firewalls
Test environment
This is an online proctored exam, with two location testing options: Kryterion testing centre n Online, with virtual proctoring through an approved webcam
Prerequisites for the exam
For this particular exam, there are no prerequisites as such. However, the Network Security video course or instructor-led course is recommended, but not demanded.
Cheat Sheet: Network Security Essentials
We all know that WatchGuard provides unique access to network security concentrating on bringing best-in-class, enterprise-grade security to any business, notwithstanding of size or technical expertise. For getting certified with WatchGuard certification, you will become Ideal for SMBs and disseminated enterprise organizations. However, in order to prepare better it is important to have right resources and pathway. So, this cheat sheet will surely make the preparation journey easy and you'll be able to pass the exam with confidence.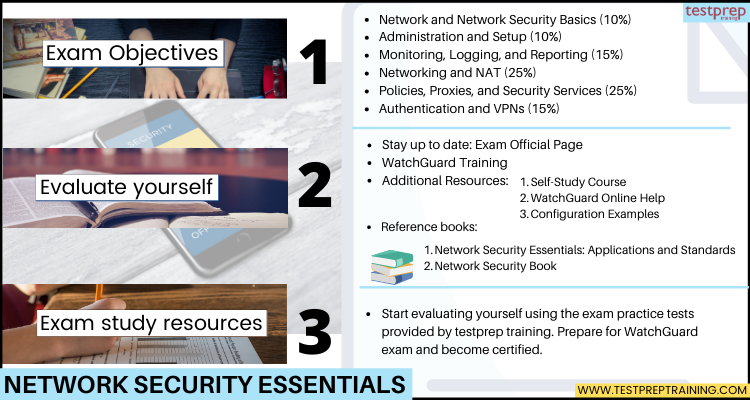 1. Getting Familiar with Exam Objectives
Understanding and familiarising yourself with the Network Security Essentials Exam's primary goals is critical. Knowing the exam objectives will give you a better understanding of the exam. Furthermore, you will be able to better match yourself with the exam's primary goals. In addition, it aids in the evaluation and marking of areas that may be examined later. However, the topics that are included in the WatchGuard Network Security Essentials certification exam are provided below:
Network and Network Security Basics (10%)
Administration and Setup (10%)
Monitoring, Logging, and Reporting (15%)

Networking and NAT (25%)
Policies, Proxies, and Security Services (25%)
Authentication and VPNs (15%)
2. Stay up to date: Using Exam Official Page
Before beginning your preparation for the Network Security Essentials exam, the first thing one must do is to visit the WatchGuard's official Website. This will help you get updated with the changes and modifications done with the exam. Moreover, there you can also review the WatchGuard Network Security Essentials study guide and topics that you can download the official Blue Print from the WatchGuard's official website. Exam Updates and changes.
3. Instructor-Led Training 
WatchGuard provides this course that offers all the skills you need to gain in order to qualify for the examination. Instructor-led training will help you to get hands-on experience. However, the WatchGuard Network Security Essentials training classes are often held in-region, sponsored by sales or a local WatchGuard distributor. WatchGuard end-users can register for a class in network of WatchGuard Certified Training Partners (WCTPs).
5. Additional Resources 
Self-Study Course (Video) 

WatchGuard offers video-based courseware that you can use for self-study, or to reinforce instructor-led training.

Online Help 

The Online Help systems provided for the various WatchGuard Fireware management tools include detailed information to expand on the principles presented in the Network Security Essentials training courseware. For the knowledge categories included in the Assessment Objectives section, you can review the corresponding content in the appropriate Help system.

Configuration Examples 

Fireware configuration examples give you the information you need to configure your Firebox to meet specific business needs. For each example, there is a reference configuration files so you can see the final configuration of the features involved in each use case. This also include a guide to cover the details of each configuration. You can use these configuration examples to help you expand your understanding of Fireware, as it relates to the knowledge categories specified in the Assessment Objectives section.
6. Reference books for good understanding
We highly recommend you to hit the books while you are preparing for the Network Security Essentials exam. Because books provide you a detailed understanding about the exam courses and help you gain deeper insights and profound knowledge. Moreover, you will get familiarity and understanding with concepts and thus work as a good source for any time preparation. For the Network Security Essentials exam guide, the recommended books include:
Firstly, Network Security Essentials: Applications and Standards by William Stallings
Secondly, Network Security: Private Communication in a Public World by Chalie Kauffman
7. Evaluate using Practice Tests
Taking a WatchGuard Network Security Essentials sample exam will help you better understand your study method and prepare for the real exam. And, as a result, you'll be able to discover your weak spots and improve on them. Furthermore, utilizing the WatchGuard Network Security Essentials practice exams can assist you in comprehending the question structure as well as improving your response abilities.