The MS-500: Microsoft 365 Security Administrator secures the Microsoft 365 enterprise environments, reacts to threats, conducts investigations, and implements data governance. Further, candidates for this exam manage, implement, and monitor security and compliance solutions for Microsoft 365 and hybrid environments. Certifications from Microsoft are highly acclaimed all around the world. Achieving this certification puts you in an advantageous position and helps you gain mastery in your professional career.
Target Audience: MS-500
The Exam MS-500: Microsoft 365 Security Administration is aimed at IT Professional working with the task of a Microsoft 365 security administrator role. This role collaborates with the Microsoft 365 Enterprise Administrator, business stakeholders and other workload administrators to plan and implement security strategies and ensures that the solutions comply with the policies and regulations of the organization.
Knowledge Required: MS-500
Candidates for this exam should have familiarity with Microsoft 365 workloads and have strong skills and experience with identity protection, information protection, threat protection, security management, and data governance. This role focuses on the Microsoft 365 environment and includes hybrid environments.
Certification Details: MS-500
On passing the Microsoft MS-500 certification Exam certifies you to become Microsoft 365 Certified:Security Administrator Associate.

Microsoft MS-500 Study Guide
The roadmap to your success is only complete with the help of right preparatory resources. You need to stay consistent and determined. Moreover you must follow a study pattern while learning from authentic and genuine resources. This step by step Study Guide will be your support throughout your journey towards the exam.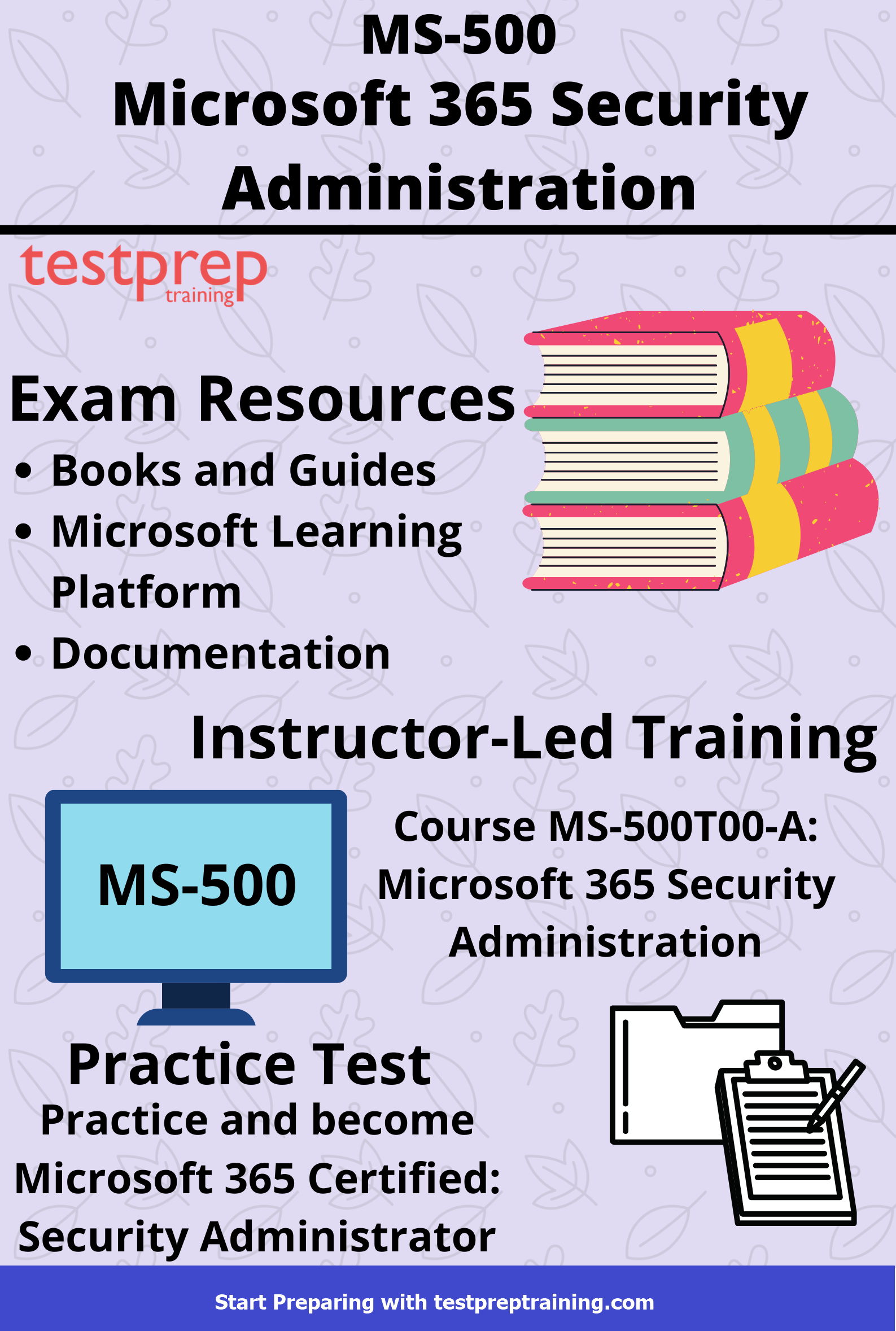 Review the Exam Objectives
Firstly start off by visiting the official website of Microsoft. This is a smarter move because you should always go by the most trusted website to get authentic information. You can easily locate all the information regarding the Microsoft MS-500 certification exam. From exam pattern to all the included modules and study materials are covered on the portal itself. Familiarise yourself with all the objectives and course domains of the exam. Devote enough time to each topic and have in-depth knowledge of the subject. Moreover, this will also result in strengthening your preparation. This exam includes the following 4 domains:
Course Outline for Microsoft MS-500 Exam was updated on March 23, 2021.
Domain 1- Implement and manage identity and access (30-35%)
Firstly, this domain focuses on secure Microsoft 365 hybrid environments, secure Identities, implement authentication methods and implement conditional access. Also, implement role-based access control (RBAC) implement Azure AD Privileged Identity Management (PIM) and implement Azure AD Identity Protection.
Domain 2- Implement and manage threat protection (20-25%)
Further, this domain includes concepts to implement an enterprise hybrid threat protection solution, implement device threat protection, implement and manage device and application protection. Moreover, implement and manage Office 365 ATP.
Domain 3- Implement and manage information protection (15-20%)
Subsequently, this domain focuses on concepts to secure data access within Office 365, manage Azure Information Protection (AIP) , manage Data Loss Prevention (DLP) and implement and manage Microsoft Cloud App Security.
Domain 4- Manage governance and compliance features in Microsoft 365 (25-30%)
Lastly, this domain includes configure and analyze security reporting, manage and analyze audit logs and reports. Also, manage data governance and retention, manage search and investigation and manage data privacy regulation compliance.
STEP 1: Microsoft Learning Platform
Microsoft offers various learning paths, you should visit the official website of Microsoft. For this exam, you will find many learning paths and documentations. Finding relatable content on the Microsoft website is quite an easy task. Moreover, there you can explore the MS-500 Microsoft 365 Security Administration Study Guide as well.
STEP 2: Microsoft Documentation
Documentations are an important learning resource while preparing for Exam MS-500: Microsoft 365 Security Administration. The candidate will find documentation on every topic relating to the particular exam. This step is very valuable in preparing for the exam.
STEP 3: Instructor-Led Training
The training programs that Microsoft provides itself are available on their website. The instructor-led training is an essential resource in order to prepare for the exam like MS-500. You can find the instructor-led training on the page of the particular exam on the Microsoft website. There are various Microsoft MS-500 online training courses available prior to one exam. The following is the training program offered by Microsoft. 
Course MS-500T00-A: Microsoft 365 Security Administration

STEP 4: Join a Study Group
Joining a forum is an excellent way of preparing for an exam. You'll get to connect with other like-minded individuals preparing for the same exam. Such groups allow you and others to share tips, doubts, experiences and challenges with each other. You also get to learn from the expertise of your peers and therefore joining a community is an important step while preparing..
STEP 5: Attempt Practice Test
The most important step is to try your hands on the practice test. They keep your preparations under check and are a great way to identify gaps in your knowledge that you can work upon. Further, MS-500 practice tests provide exact insights about the exam. Also attempting multiple practice tests help you prepare well. There are plenty of practice tests available. Remember to choose the right and authentic ones. Start using Microsoft MS-500 Practice Tests!