Ready to have a quick revision for the AZ-104 exam? This cheat sheet will provide a recap for the AZ-104 exam with all the essential details and required resources to crack the exam. It is quite common that sometimes it gets confusing during the last minute preparation time for where to start and where not to. For clearing out this confusion, we have created this cheat for AZ-104 in such a way, that you will be able to revise everything in a sequential manner. And, the other big advantage of this cheat is that it is divided into sections starting with the basic exam requirements and ending with the essential AZ-104 study guide so that everything will not get mixed up.
However, in order to get a full understanding of the Microsoft Azure AZ-104 exam, it is important to have knowledge of the basic details and requirements. So, without wasting any time let's start with let's get started with the AZ-104 exam basic requirements and overview.
Microsoft Azure Administrator Associate AZ-104 Exam Overview
You should know that the Microsoft Azure Administrator Associate (AZ-104) exam is the new pathway to become Microsoft Azure Administrator replacing the AZ-103 exam. However, the AZ-104 certification exam is designed for measuring the candidate's skills as an Azure Administrator. And, the skills include can be implementing, managing, and monitoring identity in a cloud environment. Further, being the updated version, this comes with newly loaded and updated features such as:
Firstly, this defines the importance of identities
Secondly, this focuses on the management of data
Thirdly, there is a new domain for backup and recovery
Lastly, moving from virtual machines to compute resources
However, the exam overview is basic but the thing that is important to keep an eye on is its knowledge requirement part. So, let's check the knowledge required for the AZ-104 Exam.
knowledge Required
Microsoft Azure Administrator Associate (AZ-104) exam is developed for facilitating candidates planning a career as Azure Administrator. However, there are certain knowledge areas which you have to fulfil for this exam,
Firstly, a minimum of six months of hands-on experience administering Azure is essential.
Secondly, there must be a strong understanding of core Azure services, Azure workloads, security, and governance.
Thirdly, an experience in using PowerShell, the Command Line Interface, Azure Portal, and ARM templates.

AZ-104: Prerequisite Lessons for Azure Administrators
Below, you can see the list of lessons that you can get familiar with before applying for Azure Administrator AZ-104 exam.
Firstly, Learn governance and Management in Azure
Secondly, Intro to Azure Virtual Machines
Thirdly, Networking Fundamentals
Then, Network Security
Next, Using Azure CLI to control azure services
After that, Using Azure Powershell to automate azure tasks
Then, Introduction to Azure Active Directory
Next, Intro to Docker Containers
After that, Intro to data storage in azure
Lastly, Learn data storage approach in azure
Above we have understood the essential requirements and quick brief about the Azure AZ-104 exam. Now, moving on to the important part of the blog that is the preparation guide. Moreover, this is the part where you will spend most of the time in this cheat sheet. So, let's check this.
Microsoft Azure AZ-104 Study Guide
In the Microsoft Azure Administrator Associate (AZ-104) exam study guide, we will cover the topmost areas of learning resources that you can use to have a good revision. Moreover, this includes Microsoft documentation links that directly take you to the exam topic you want to learn about. Let's start with the guide and help you to prepare in a better way. Get ready to attain the AZ-104 passing score and become a Microsoft Azure Administrator Now!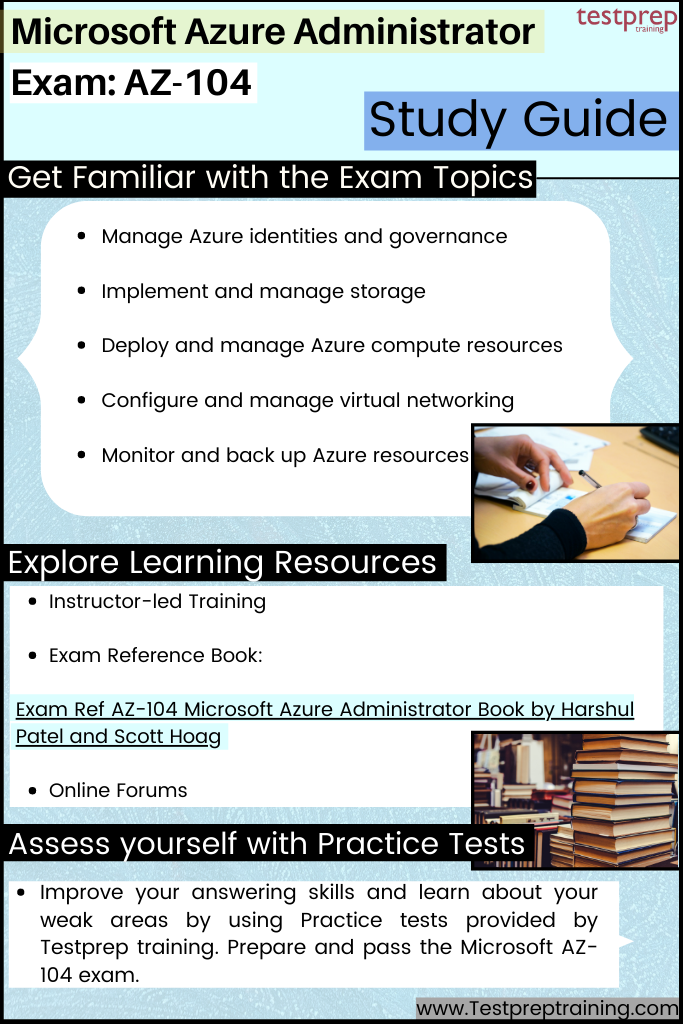 Exam Topics AZ-104
This cheat is all about providing a quick recap of things you already have knowledge about. And, the important thing to start with is the exam objectives for the AZ-104 exam. That is to say, would be best to first go through the Microsoft exam objectives to maintain that familiarity with the exam important areas. Doing so will fill up your mind with the Microsoft Azure AZ-104 topics and skills. Also, reviewing the exam objectives will leave no space for confusion in your head and you can focus move for further revisions. Moreover, the exam objectives can help you strengthen the modules and the respective subtopics. For the Microsoft Azure Administrator Associate (AZ-104) exam, below we will learn about the important AZ-104 exam topics.
Microsoft AZ-104 Exam has been updated in the course outline as on July 28, 2022.
The Microsoft AZ-104 exam topics include:
Module 1: Manage Azure identities and governance (15-20%)
1.1 Manage Azure Active Directory (Azure AD) objects
Read the following documentations
1.2 Manage access control
1.3 Manage subscriptions and governance
Module 2: Implement and manage storage (15-20%)
2.1 Configure access to storage
2.2 Manage data in Azure storage accounts
2.3 Configure Azure files and Azure blob storage
Module 3: Deploy and manage Azure compute resources (20-25%)
3.1 Automate deployment of resources by using templates
3.2 Create and configure VMs
3.3 Create and configure containers
3.4 Create and configure Azure App Service
Module 4: Configure and manage virtual networking (20-25%)
4.1 Configure virtual networks
4.2 Configure secure access to virtual networks
4.3 Configure load balancing
4.4 Monitor virtual networking
Module 5: Monitor and back up Azure resources (10-15%)
5.1 Monitor resources by using Azure Monitor
5.2 Implement backup and recovery
Learn how to pass AZ-104 Exam with Practice Test
Microsoft Instructor Led Training
For any certification, having the right source of training is important. However, for the Microsoft AZ-104 exam training, you will get Instructor-led training that is basically an online training course to covering up the basic understanding of the skills that are required for the exam. There are various modules covered in this training so, you can go through them. Moreover, there are two instructor-led training courses for AZ-104 included with the lab for adding support and exhibiting the structure of various application scenarios. So, let's have a look at them.
Reference Books
Books are the most important ingredient while you prepare for your certification exam. Moreover, this can be very beneficial during revision time. As you can easily locate the topic you want to check and learn. Related to the exam, there are some excellent AZ-104 books ruling the market for years that you can use or refer to study. Some of the books are:
Firstly, Exam Ref AZ-104 Microsoft Azure Administrator by Harshul Patel, Michael Washam, Jonathan Tuliani
Secondly, Hands-On Cloud Administration in Azure by Mustafa Toroman
Online Forums
Joining online forums is a great idea to boost your preparation process as they help you meet different people who are on the same road as you. They provide you the advantage to ask your queries immediately and receive the response in a prompt manner. Online forums are generally headed by industry experts or certified professionals. But the idea to join an online forum is completely subjective. There is no such compulsion for the same.
Assess yourself with AZ-104 Practice Tests
Practice tests are important for better preparation as by assessing yourself with these tests you will know about your weak and strong areas. You can start taking AZ-104 exam practice tests as this will not help you to assess or evaluate yourself. Moreover, it will improve your answering skills as well which will result in saving a lot of time. And, the best way to start doing AZ-104 practice tests is after completing one full topic as this will provide a good revision. Lastly, just make sure to study well and crack the exam.