The pre-requisite to crack any exam is to understand every minute detail about it. Since you have decided to take up the AZ-900 Exam, Microsoft Azure Fundamentals, therefore, it is very important for you to understand every basic detail about the exam. The exam is designed for individuals looking to showcase their foundational knowledge of cloud services and their implementation. To kickstart our AZ-900 exam preparation, let's begin by exploring some essential exam definitions and concepts.
What is cloud computing?
Cloud computing involves providing computing services such as servers, storage, databases, networking, software, analytics, and intelligence through the Internet (known as the cloud). This approach enables quicker innovation, flexible resource allocation, and cost savings. It allows you to reduce operational expenses, optimize infrastructure management, and adapt to evolving business requirements.
What is Azure?
Azure is a cloud computing platform that offers a growing array of services designed to assist you in creating solutions that align with your business objectives. These services encompass everything from cloud-hosted computing resources for running your applications and data storage to advanced functionalities like Artificial Intelligence and the Internet of Things (IoT).
You can consider this exam as an initial introduction to understanding the fundamentals of cloud services and how they are illustrated through Microsoft Azure. It can serve as a preliminary step before pursuing more specific Microsoft Azure or Microsoft cloud services exams. Although it's a helpful way to validate your foundational knowledge, please note that passing this exam is not required before taking any other Azure-related certifications.
About Microsoft Azure Fundamentals AZ-900 Exam
The Microsoft Azure Fundamental Exam (AZ-900) is designed for individuals who are just starting to explore cloud-based solutions and services, especially those who are new to Azure. This exam assesses your understanding of fundamental cloud concepts, various Azure services, Azure workloads, security and privacy considerations within Azure, as well as Azure pricing and support. To excel in this exam, you should have a grasp of essential technology concepts, such as networking, storage, compute, application support, and application development.
Who should take the AZ-900 exam?
The Microsoft Azure AZ-900 exam is intended for candidates –
With non-technical backgrounds, such as candidates involved in selling or purchasing cloud-based solutions and services.
Also for candidates who have some involvement with cloud-based solutions and services
As well as candidates with a technical background who have a need to validate their foundational level knowledge around cloud services.
There are no prerequisites for this course, however, students with some IT knowledge or experience will find the concepts easier to understand.
Microsoft Azure AZ-900: Glossary
Here are some key terms and concepts related to Exam AZ-900 Microsoft Azure Fundamentals:
Azure: Microsoft's cloud computing platform, which provides a range of services and solutions for building and managing applications and services.
Cloud Computing: The provision of computing services over the internet, encompassing storage, computational capabilities, and databases.
Infrastructure as a Service (IaaS): A cloud computing model that provides virtualized computing resources over the internet, including virtual machines, storage, and networking.
Platform as a Service (PaaS): A cloud computing model that provides a platform for developers to build, deploy, and manage applications without having to manage the underlying infrastructure.
Software as a Service (SaaS): A cloud computing model that provides access to software applications over the internet, without the need to install or maintain software on local devices.
Virtual Machine (VM): A virtualized computing environment in which multiple operating systems and applications can operate on a single physical computer.
Region: A geographical location that contains one or more datacenters, which are used to host Azure services.
Availability Zone: A physically separate datacenter within an Azure region, which provides additional redundancy and fault tolerance.
These are just a few of the many terms and concepts you will encounter in Exam AZ-900 Microsoft Azure Fundamentals. It's important to familiarize yourself with these and other key concepts to have a solid understanding of Azure and its capabilities.
Microsoft Azure AZ-900: Exam Tips and Tricks
Preparing for the Exam AZ-900 Microsoft Azure Fundamentals can seem daunting, but with a solid plan and some effective study strategies, you can successfully pass the exam. Here are some tips to help you prepare:
Understand the exam format: The exam is comprised of multiple-choice questions, and you will be allotted 85 minutes to finish it. To pass, you need to achieve a score of 700 out of 1000.
Familiarize yourself with the exam topics: The exam covers a range of topics related to Azure, including cloud concepts, Azure services, security, compliance, and pricing.
Use Microsoft's official study materials: Microsoft provides a range of free study materials, including a learning path, online courses, and practice exams. These resources are designed to help you prepare for the exam and are based on the latest exam objectives.
Take practice exams: Taking practice exams can help you identify areas where you need to focus your study efforts. You can find practice exams on Microsoft's website or from third-party providers.
Hands-on experience: Using Azure and getting hands-on experience with the platform can help you better understand the concepts covered in the exam. Consider signing up for a free Azure account and experimenting with different services.
Join a study group: Studying with a group can be helpful as you can share your knowledge and learn from others. Consider joining a study group or forming one with colleagues or peers.
By following these tips and dedicating time and effort to your studies, you'll be well on your way to passing the Exam AZ-900 Microsoft Azure Fundamentals.
Microsoft Azure AZ-900 Learning Path
In this learning path, you will –
Gain knowledge in cloud principles like High Availability, Scalability, Elasticity, Agility, Fault Tolerance, and Disaster Recovery.
Comprehend the advantages of utilizing Azure cloud computing, including its time and cost-saving benefits.
Differentiate between fundamental approaches to migrate to the Azure cloud.
Discover the wide array of services offered in Azure, spanning compute, network, storage, and security.
AZ-900 Exam Pattern
| | |
| --- | --- |
| Exam Name | Microsoft Azure Fundamentals |
| Exam Code | AZ-900 |
| Exam Type | Cloud Computing |
| Exam Format | Multiple Choice & Multi Responsive |
| Exam Duration | 85 Minutes |
| Number Of Questions | 40-60 Questions |
| Passing Score | 700 (on the scale 1-1000) |
| Exam Fees | $99 USD (₹3696 INR) |
| Exam Languages | English, Japanese, Chinese (Simplified), Korean, Spanish, German, French |
Modes of Exam
| | |
| --- | --- |
| For non-students interested in technology | Schedule with Pearson VUE |
| For students or instructors | Schedule with Certiport |
AZ-900 Exam Topics
Understanding the course outline of the AZ-900 exam is the next important step. It familiarises you with the exam framework. The exam course includes 3 domains.
The content includes updates of English version of the exam as of July 31, 2023
Module 1 – Describe cloud concepts (25–30%)
The Microsoft Azure Fundamentals Exam cover the latest and updated exam guide including –
Describe cloud computing
Describe the benefits of using cloud services (Benefits of Cloud Computing Services)
Describe cloud service types
Module 2 – Describe Azure architecture and services (35–40%)
Describe the core architectural components of Azure
Describe Azure compute and networking services
Compare compute types, including container instances, virtual machines, and functions (Choose an Azure compute service, Azure Container Instances, Introduction to Azure virtual machines, Introduction to Azure Functions)
Describe Virtual Machine options, including Azure Virtual Machines, Azure Virtual Machine Scale Sets, availability sets, and Azure Virtual Desktop (Virtual machines in Azure, What are virtual machine scale sets? and What is Azure Virtual Desktop?)
Describe resources required for virtual machines (Windows virtual machines in Azure)
Describe application hosting options, including Web Apps, containers, and virtual machines
Describe virtual networking, including the purpose of Azure Virtual Networks, Azure virtual subnets, peering, Azure DNS, Azure VPN Gateway, and Azure ExpressRoute (What is Azure Virtual Network?, Virtual Network Subnet, Azure Virtual Network Peering, Azure Peering Service Overview, What is Azure DNS?, What is Azure VPN Gateway?, Azure ExpressRoute and Significance of Azure ExpressRoute)
Define public and private endpoints (What is a private endpoint?)
Describe Azure storage services
Describe Azure identity, access, and security
Module 3 – Describe Azure management and governance (30–35%)
Describe cost management in Azure
Describe features and tools in Azure for governance and compliance
Describe features and tools for managing and deploying Azure resources
Describe monitoring tools in Azure
For more reference: Microsoft AZ-900 Cheat Sheet
Ultimate Microsoft Azure Fundamental AZ-900 Preparation Guide
Looking for a preparation guide to pass the AZ-900 exam. No worries! We will be sharing with you a list of expert learning resources and preparation exams to help you sail through smoothly and pass the exam. It is very important to choose your preparation steps wisely.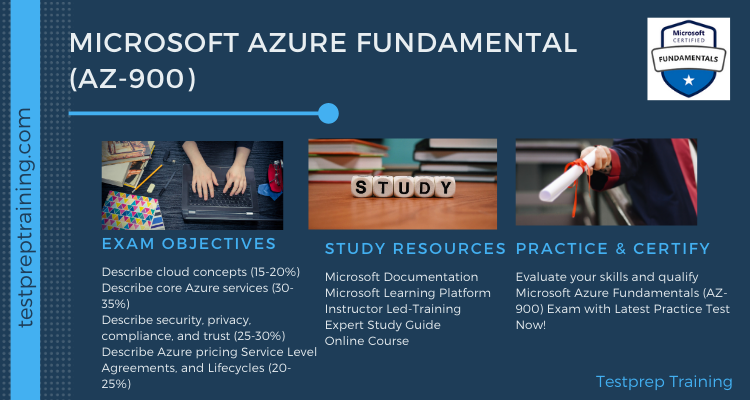 Microsoft Learning Platform
Cracking an exam should be done smartly; therefore, referring to the authentic websites and gathering resources does it right! Visiting and referring to the Learning Platform at the official site of Microsoft is definitely that we strongly recommend. All you need to do is locate the page about exam AZ-900, and you'll be easily headed to the right learning platform and resources to study. Moreover, it is the best practice to go through the exam objectives thoroughly –
Describe cloud concepts (15-20%)
Describe core Azure services (30-35%)
Describe security, privacy, compliance, and trust (25-30%)
Describe Azure pricing Service Level Agreements, and Lifecycles (20-25%)
Refer Official Microsoft Azure Fundamentals (Az-900) Exam
Microsoft Documentation
Next up we recommend Microsoft Documentation. Here, it'll get easier for you to understand the Microsoft Azure Fundamentals. Not just that, but you'll also be aware of the variant scales of all the different Azure services. Doing this will surely add to your learning directly form the right people and technology.
Refer: Microsoft Azure Fundamentals (AZ-900) Online Tutorials
Instructor-Led Training
However, Microsoft also provides instructor-led training. These are online learning sessions for AZ-900, led by certified instructors. These virtual classrooms allow you to schedule classes at your convenience and learn at your own pace.
Books always to the rescue!
While preparing for an exam, the right questions to refer and practice is something that you always look into. Books are the right resource to help you out with this problem. There are some excellent books you can use to prepare for the AZ-900 exam. Therefore, we recommend you the following
Microsoft Azure Fundamentals (AZ-900) Exam; Jim Cheshire.
Microsoft Azure For Beginners; Adney Ainsley
Microsoft Azure Ultimate Beginners Guide; Kennan Bismar
Microsoft Azure Tutorial for Beginners; Dennis Hutten
Beginner's Guide to Microsoft Azure
These book offers professional-level preparation to assist candidates preparing for the AZ-900 exam prep to maximize their exam performance and boost their skills for better opportunities. The exam reference focuses on the specific areas of expertise that modern IT professionals need to demonstrate real-world mastery of cloud services and how they can be provided with Microsoft Azure.
Join study groups and online forums
Engaging in online forums and study groups can prove to be highly advantageous during your exam preparation. Don't hesitate to join these study forums or groups, as they offer an opportunity to connect with individuals on a similar exam preparation journey. Additionally, they provide a platform to seek clarification for any doubts you may have and encourage participation in discussions, which enhances the depth of your learning experience.
Microsoft Exam AZ-900 Study Guide

Self Evaluate with Practice Tests
It is always better to evaluate your skills and enhance your learning with AZ-900 Practice Tests to crack the exam. We all know that for a complete preparation it is better to practice thoroughly for the exam. The AZ-900 Practice Exam offers a precise assessment of your current standing. In simpler terms, it enables you to identify your areas of strength and weakness. Therefore, ensure that you locate a reliable and authentic AZ-900 practice question source to prepare effectively for the exam.
Microsoft Azure Fundamentals (AZ-900) Free Practice Test
Expert's Corner
On a concluding note, obtaining this professional AZ-900 certification surely brings career advancements for you. Always remember that all incredible things need time. Therefore preparing for certification is not easy; but it is worth the hard work and determination.Given the vast syllabus, this exam is said to be quite tricky. But with our preparatory guide and resources you are bound to shine. Follow our preparatory guide with consistency and you surely will have this certification under your hat very soon!
Boost your learning and get ready to validate your expertise with Microsoft AZ-900 Exam. Start preparing with AZ-900 Free Practice Test free now!