The current professional environment is highly competitive. In order to succeed and gain attention, professionals need to acquire specialized skills and experience. This will allow them to distinguish themselves and stand apart from the crowd. Right now, the market space is brewing up for candidates who are specialised and have skills that are in favour of the associations. So, the only question is do you have it to make the cut?
If no, then you don't be anxious. We will lead you, straight to it. In that spirit, let us give you a clue. Certifications are the best credential you can bag up to shine your way through it and become an important asset to the company.
With that being said, we recommend you to go for vendor-neutral certification. The biggest advantage here is you have a balanced approach and a knowledge base of all the aspects. In the same vein, we would like to throw some light on Cloud Technology Association Certification. And, one of the most popular among their certifications is the "Cloud Technology Associate".
Therefore, in this article, we're going to provide with the preparation guide. Also, we're providing each and every information, you may require. So, let's begin because we spare no details!
All Exam Information Here!
The CCC Cloud Technology Associate certification by Cloud Technology Association is a great way to get inherited with all the foundation knowledge of the Cloud. As the name suggests, this is an associate-level certification. 
This certification is a significant step to advance your career as industries look for qualified Cloud Technology Associates. The certification enables IT professionals to perform effectively in a cloud environment as they can express an understanding of the cloud key concepts and its relevant terminology. Not to mention, it exhibits that candidates have the basic ability set and experience associated with cloud and virtualization.
After qualifying the CCC Cloud Technology Associate exam, the candidate will be able to perform the following tasks placidly-
First of all, the candidate will able to identify the fundamental ideas of cloud computing and virtualization.
Secondly, he/she will understand and have a brief idea regarding business profits of cloud computing and technical aspects (high-level) of virtualization.
Subsequently, you can easily identify the technical tests and the mitigation measures required in cloud computing and virtualization.
Also, he/she will have a greater understanding of the latest digitization trends linked to cloud computing.
Moreover, every detail from defining cloud security and identifying the risks associated in cloud computing as well as the risk mitigation measures.
Last but not least, you'll get hold of the steps to strongly adopt cloud services.
Target Audience
Before venturing onto any exam, we strongly recommend you to view the target audience list, or else it will all be in vain. And, of course, we don't want that. Therefore, make sure to view the list properly.
To begin with, IT Specialists (Analysts, Developers, Architects, Testers, etc.)
Secondly, IT Administrators (Network, System, Database, etc.)
Thirdly, IT Provisioning and Maintenance (Hardware, Network, Storage, etc.)
Also, IT Managers
Not to mention, IT Project Managers
Lastly, other functions affected by cloud (Sales, Purchase, Audit, Legal, etc.)
Prerequisites
Now that, you have a clear idea that you're designation is mentioned in the aforementioned list. It's time to review the prerequisites. The next important part of your journey.
So, the CCC Associate level certifications do not have required prerequisites as such. However, it is recommended that the candidates possess intermediate knowledge (6+ months of experience) on internet/web technologies.
Also, they must have basic knowledge of storage and network technologies, which is a great addon.
Basic Details
These may seem as basic exam details, but we beg to differ if you skip this section. This section allows you to understand the layout of the exam in all. And, if you still don't agree with us. Just answer this question- Would rather know the exam beforehand and choose to get shocked on your most important day?
Well, we know your answer. In the same vein, there will be 40 multiple-choice Cloud Technology Associate exam questions. One must complete the exam within 60 minutes. And, to qualify you must pass the exam with 65% and more. This is an online proctored exam. Additionally, it's an open book test. 
Also, check out the box below-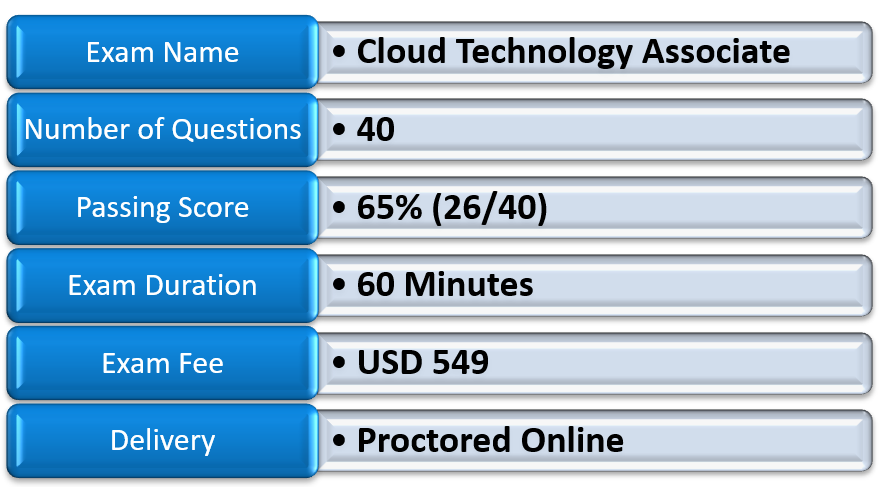 Module Objectives: Cloud Technology Associate Exam
Finally, we have arrived at the module list. This is by far the most important aspect of the exam. Since the exam questions will comprise from this module list. Hence we suggest understanding each and every module in depth. Success will be yours if your foundation is stronger. So, don't skip this section, no matter what.
Domain 1: Introduction to Cloud Services Model
Get acquainted with challenges and concerns for traditional computing methodology.
Defining NIST's and Gartner's definition of cloud computing.
Demonstrate the evolution of cloud computing and list the cloud's essential characteristics, service models, and deployment models.
Definition of NIST's cloud Taxonomy (service provider versus consumer responsibility model) and Cloud Actors (service providers, consumers, auditors, carriers, brokers).
The difference between traditional and cloud computing models in terms of business value.
Listing all the cloud computing benefits and its challenges.
Defining the various common cloud terminologies used in cloud computing.
Domain 2: Introduction to Virtualization: The Backbone Technology of Cloud Computing
Understanding the definition, history, and fundamental notions of virtualization including the relationship between virtualization and cloud computing.
Understanding the advantages, challenges, risks, and suitability of virtualization to organizations.
Learning all about hypervisor and its role in virtualization, and different types of hypervisors.
Recognizing the leading hypervisor manufacturers and service providers using them.
Understanding the different virtualization terminologies.
Understanding briefly about various types of virtualization (server, storage, network, desktop, application).
Domain 3: Overview of Cloud Technologies and Applications
Understanding the concepts of Big Data and Big Data Analytics, Hadoop, NoSQL databases, and their characteristics and types.
Learning all about the Internet of Things (IoT) and its types.
Explaining the course of cloud computing and DevOps together.
Getting to know the latest digitization trends in Artificial Intelligence (AI) and Machine Learning (ML).
Domain 4: Cloud Security, Risk, Compliance and Governance
Understanding the general definitions of IT security, risk and risk management.
Understanding the role of IT compliance and audits.
Reviewing the impact of cloud essential characteristics, cloud service models, cloud deployment models on business value and risk.
Identifying common cloud attack vectors and remediating controls.
Domain 5: Preparing for Cloud Adoption
Explaining typical steps that lead to the successful adoption of cloud computing services.
Drawing the appropriate solution architectures for various service and deployment models.
Understanding the organizational capabilities that are relevant for realizing cloud benefits.
Mastering the roles and capabilities of cloud computing providers, vendors and dependencies on vendors.
Drawing multiple approaches for migrating applications.
Domain 6: Cloud Service Management
Finally, we're made it to the end. Surely, you would now understand the importance of this list. If you feel like fainting after seeing the list, let's pick you up now. The section below is your master key to qualify the Cloud Technology Associate exam. So, let's get this key with a step by step Preparatory Guide.
Preparatory Guide: CCC Cloud Technology Associate Exam
A step by step preparatory guide will offer you a close view on how to undertake the CCC Cloud Technology Associate certification exam. Not only will you build a stronger foundation with this guide, but also ensure that you don't miss out on any important information. Every right direction is the very essence of this Preparatory Guide. Also, we will assure you that after you're done with the preparation, you'll feel confident in yourself.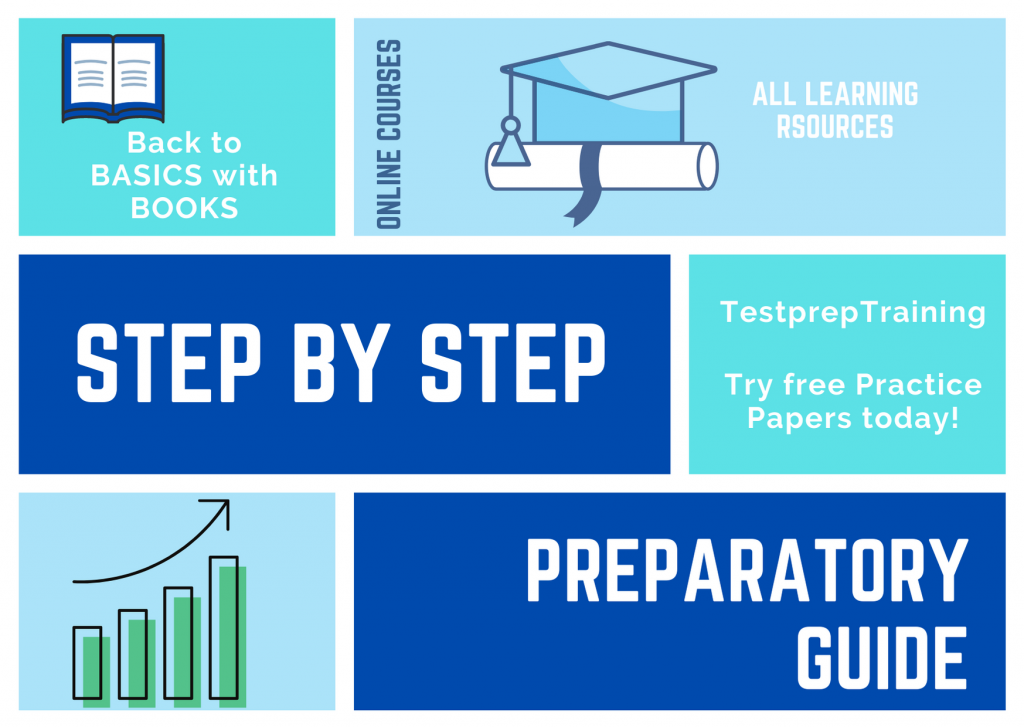 So, keeping that confidence alive, let's begin with the first step of the guide.
STEP 1: Review all Exam Objectives
Before, venturing on any journey, one must have a clear idea of what he/she is putting themselves into. With that being said, reviewing each and every exam objective becomes the most important part of your preparation. So, make sure you visit the Official website of CCC, to have a clear view. Since it is the most authentic site to provide any information regarding the CCC Cloud Technology Associate exam. After you've gone through the basic exam details. It's time to hit the exam guide.
STEP 2: Download the Course Outline
The second most crucial step is to download the Course outline aka the Exam Guide. It consists of all the domains and topics of the examination. So, make sure to download the Course Outline. This allows you to prepare for the Cloud Technology Associate exam, keeping in mind all the objectives.
STEP 3: Understanding the Certification Path
The CCC's vendor-neutral certifications are intended to enable IT professionals, to support vendor-specific technical training and/or generic IT best practices. IoT, Blockchain, Big Data, and Cloud principles bridge the gap between technical skills and the desired business outcomes encountered in practice.
STEP 4: Don't miss out on the CCC Online Self Study Plan
This particular page will allow you to purchase any study plan in accordance with your examination. You'll be able to buy self-study modules and then prepare yourself very easily. Short and simple, it's one of the best ways to get yourself acquainted with the Cloud Technology Associate exam syllabus.
STEP 5: Get started with Training Course
Getting hands-on experience is the most important experience for exams like the CCC Cloud Technology Associate exam. And, the only way you can achieve is through Training Course. You can easily begin with CCC Cloud Technology Associate training courses. Nonetheless, many vendors offer the candidate with quite a few options to choose from. We highly recommend training courses. The understanding here is not one-dimensional but rather viewing a problem from every angle possible. 
STEP 6:Join the Community/ Online Forum
Online forums and study groups are a great way to prepare for the Cloud Technology Associate exam. Therefore, feel free to get in touch with other candidates through study forums or online groups to ask a question related to the topic you're having difficulty with.
However, it's not something you have to join. It's just something very subjective. Not to mention, these online groups help you stay equated with the other people who are also walking through the same path as yours. Moreover, you can also ask a question related to the topic you're having difficulty with.
STEP 7:Self-evaluation Time
Finally, we're on the last step for the preparatory guide. Further, this final step will give the candidate the exact insight of the topics in which they're lacking. So, make sure you're going through sample tests after you have gone through the entire syllabus. Most importantly, all the practice tests are designed to encounter the real exam environment. However, practice papers can be from various sources. Above all, remember the more you test yourself the better you're going to become. SO START PRACTICING NOW!
Expert's Corner
In the end, remember, the demands for CCC skilled talent is HUGE. So, it's time for you to get in on the action!
With the preparatory guide mentioned above, we are very sure that you'll qualify the exam with flying colours. Just follow the preparatory Guide here, and don't underestimate the power of CCC Cloud Technology Associate Practice Exam Tests. The whole process can be a bit of an overwhelming process, we get it. But, remember your goal, and concentrate on the important sections of the exam. Have faith in yourself and take the leap. 

Begin your career with the CCC Certification. Prepare and become Certified Cloud Technology Associate.