Are you someone who wants to kick start a new career, who want to secure a job in the industry of Splunk or get into the software equilibrium? Are you in the quest for an organized study guide that'll help you pass the Splunk Core Certified Power User exam? If your answer to these questions is yes, then you are in the right place. In this article, we have compiled a well-elaborated guide to assist you throughout your exam preparation. So why wait? Let's get started!
To start with, the Splunk Core Certified Power User (SCCPU) exam by Splunk is an entry-level exam that exhibits a candidate's credibility to use, navigate, and manipulate the Splunk software. Furthermore, this certification also provides access to interpret and dominate Splunk's datasets features and the Pivot interface to the candidates. And now that you know about the chief purpose of the exam, let's head on to know more about Splunk certifications.
Why Choose Splunk?
First and foremost, there are two things you need to know that will encompass all the reasons why you should go for Splunk certifications –
Firstly, Splunk has been the best recommended and trusted ecosystem in the industry. Adding to that, it has brilliant investigative capabilities, intuitive visualizations, and seamless collaboration. These features will, therefore, help you function your work in the modern world as well as digitize
Finally, it's one of the leading brands because it can work with any structure, source, timescale, insight, and action. This is because it has a great capacity to store data from anywhere and any device. Moreover, they also have smart ML/AI at your service to get insights, you can stream your old records as well as the new ones within seconds. Also, it supports a spectacularly broad range of users, you and your business partners can work smoothly and securely
Skills Required for Splunk Core Certified Power User Exam
We all know, to get certified, you must pass the certification exam. But to qualify for the Splunk Core Power User exam, you need to have a great amount of enthusiasm and patience. Besides, you must be very clear with the exam objectives. This will help you greatly in the long run. Not only will it help you pass the exam, but will also grant you expertise in the subject to achieve high grades.
Following are the key soft skills and processes that a Splunk certified Core Power user must know:
Knowing the basics of SPL searching and reporting commands.
Creating knowledge objects, tags, and event types
Using field aliases, calculated fields, and macros
Creating workflow actions and data models.
Normalizing data in Splunk Enterprise/ Splunk Cloud platforms with Common Information Model.
Something that Splunk suggests: Candidates are advised to give an exam before applying for the SCCPU exam; viz, Splunk Core Certified User.
Splunk Core Certified User is a recommended entry-level exam to Splunk Core Certified Power User. It is encouraged that all candidates should go for Splunk Core Certified Users as their first step in our certification program, though it is not required
Exam Overview
Firstly, talking about the Splunk Core Certified Power User questions, there will be a total of 65 questions.
Secondly, the duration of the exam will be 60 minutes
If you fail in your first attempt, then you can retake the exam after a waiting period of wait 7 days
The Splunk Core Certified Power User certification cost is $125 USD
Finally, the certification is valid for a period of 3 years
So with that, you now know the basic structure that'll be followed in the Splunk Core Power User certification exam. We must now move on to the more technical part of your exam preparation, ie., the course outline. You must get yourself familiar with the course outline, as it defines the areas in which your skills and expertise will be tested. Thoroughly analyze the course outline to excel in the exam, and attain your desired certification.
Course Outline : Splunk Core Certified Power User
Here, each of the ten domains enlists the concepts and competencies that are required for the exam. Percentage against each Knowledge area signifies its contribution to the final exam. However, the Splunk Core Certified Power User exam objectives include:
Using Transforming commands and visualizations – 5%
Use the chart command
Use the time chart command
Filtering and formatting results – 10%
The eval command
Use the search and where commands to filter results
The fillnull command
Correlating events – 15%
Identify transactions
Group events using fields
Group events using fields and time
Search with transactions
Report on transactions
Determine when to use transactions vs. stats
Knowledge objects – 10%
Perform regex field extractions using the Field Extractor (FX)
Perform delimiter field extractions using the FX
Fields (field aliases, field extractions, calculated fields) – 10%
Describe, create, and use field aliases
Describe, create, and use calculated field
Tags and event types – 10%
Create and use tags
Describe event types and their uses
Create an event type
Macros – 10%
Describe macros
Create and use a basic macro
Define arguments and variables for a macro
Add and use arguments with a macro
Workflow actions – 10%
Describe the function of GET, POST, and Search workflow actions
Create a GET workflow action
Also, create a POST workflow action
Create a Search workflow action
Data models – 10%
Describe the relationship between data models and pivot
Identify data model attributes
Create a data model
Splunk Common Information Model (CIM) – 10%
Describe the Splunk CIM
List the knowledge objects included with the Splunk CIM Add-On
Use the CIM Add-On to normalize data
Splunk Core Certified Power User Study Guide
To enhance your proficiency, and hence to attain the certification, you need to work more efficiently. You are going to take an exam, whose preparation took long stretches of hard work, and master planning. This study guide will assist you in planning the Splunk Core Certified Power User blueprint and creating a study plan to pass the exam.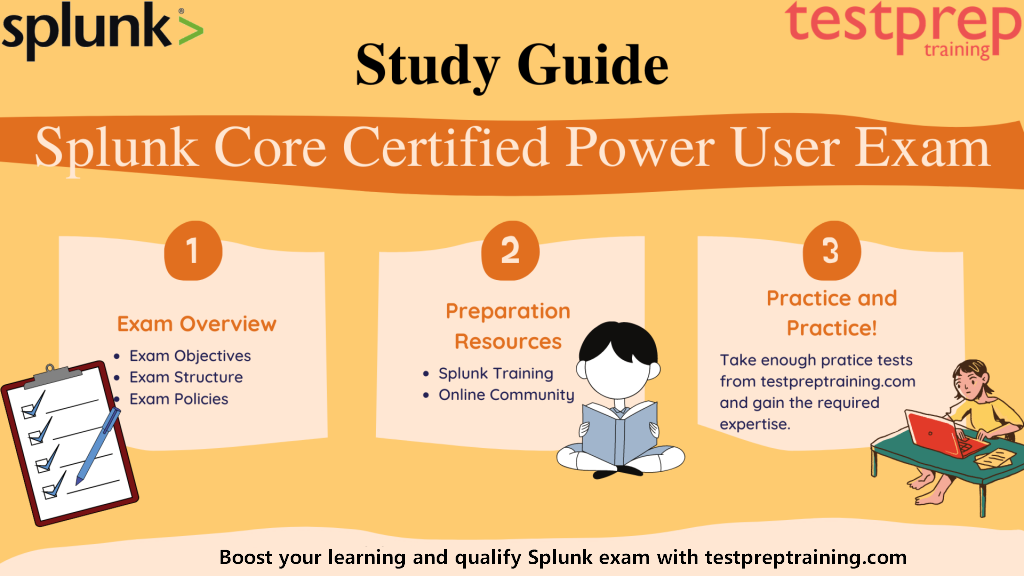 Training Course
To ease your preparation, and help you attain proficiency to crack the Splunk Core Certified Power User Exam, Splunk offers two very important training courses. We highly recommend you to undertake these Splunk Core Certified Power User training courses, as they will help you to a very great extent. Not only, will it help you familiarize yourself with the objectives of the exam, but will also give you the expertise required in the practical scenarios.
Training Course 1 – Splunk Fundamentals 1
This course provides all the important subjects you need to study, for eg. how to search, navigate and do basic tasks in Splunk, use aliases/calculated fields, get all the statistics from your data, create the commanding reports, dashboards, lookups, and alerts. Hypothetically-based examples, mind-stimulating challenges, and training will allow the candidate to learn the above-mentioned things comfortably at their own pace. It also introduces the candidates to Splunk's datasets features and the Pivot interface.
Benefits of the Splunk Core Certified Power User Course
Course's format – ELearning mode
Interactive – Full on 30 days access to myriad types of content and material that's been provided and a 20-minute scheduled live talk session with the instructor.

Training Course 2 – Splunk fundamentals 2
This course is the same as Splunk's Splunk fundamentals 1, this one also focuses on searching, reporting, and creating commands, knowledge objects, etc. The Splunk Core Certified Power User training course consists of subjects like usage of transforming commands and visualizations, filtering and formatting the results, correlation of particular events, creating tags, knowledge objects, event types, etc.
Benefits of Training Courses
Disciplined schedule: The course will be led by an instructor and will have a full control of the schedule.
Join Online Community
Joining an online community is always beneficial, no matter where it is done. The prospects of getting resolutions to an issue increase steeply when a greater number of people are involved. Also, multiple viewpoints make the stuff more dynamic. These discussions make the studies more comprehensive. Introverts get a chance to express themselves, who might otherwise prefer staying out of discussions. Forums work really well to build a community that is essential for understanding others.
Practice Tests
Taking a Splunk Core Certified Power User practice tests is a great way to diversify your study strategy and ensure the best possible results for the real thing. Analyzing your answers will help you identify the areas where you need to give special attention, and will also let you know your alignment with the exam objectives. So start practicing for the Splunk Core Certified Power User exam Now!

Enrich Your Skills and Knowledge to Become a Splunk Core Certified Power User with Hundreds of Practice Exams. Start Practicing Now!