Preparation for any exam has always been nerve recking but what is more important is to have all the right resources at the right time to successfully qualify the exam. When we talk about Blockchain, it is a system of recording information in a way that makes it difficult or impossible to change, hack, or cheat the system. The Certified Blockchain Expert exam is for professionals to gain an understanding of Blockchain technology profoundly and build Blockchain-based applications for organizations and business units. Blockchain Expert certifications exam plays a very important role to boost your career for better opportunities. Moreover, due to increased demand for such technology and continuous technology updates, therefore, gaining certification like this can be of utmost benefit. The blockchain technology is in demand in every major and highly paid job role –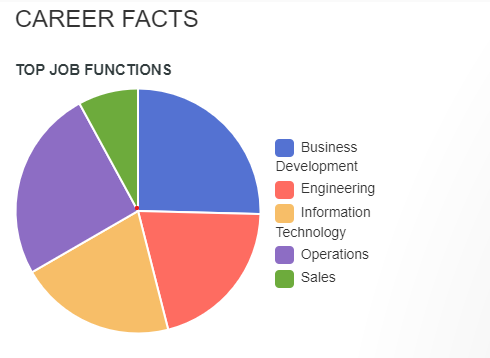 We shall now move towards getting the exam details of this valuable credential. Since you are preparing for the exam therefore having all the exam details tick marked. Let's now dig deeper and start by understanding more about the exam.

What is Blockchain Expert Certification Exam?
Certified Blockchain Expert is considered as a professional who understands Blockchain technology profoundly and can build Blockchain-based applications for organizations and business units. Also, Certified Blockchain Expert CBE is an exhaustive training programme, with an exam aiming to provide in-depth practical knowledge in Blockchain technology. Certified Blockchain Expert works closely with product teams to design and build Blockchain-based applications for enterprises and businesses. Let us look at some basic exam details.
Exam Overview
Firstly, The Certified Blockchain Expert exam will be conducted for a total of 100 marks, followed by the certification session.
Secondly, you will need to acquire 60+ (60%) marks to clear the exam.
Also, if you fail to acquire 60+marks, you can retake the exam after one day.
Furthermore, the maximum number of retakes allowed are three.
Also, the cost of taking the exam is INR 9,999.
However, if you fail to acquire 60+ marks even after three attempts, then you need to contact Blockchain Council to get assistance for clearing the exam.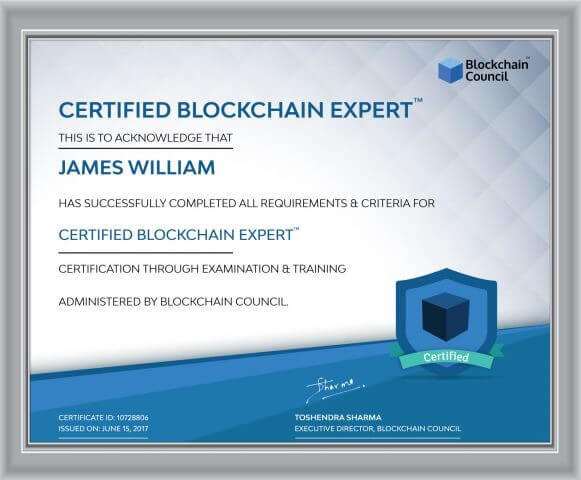 Let us now move forth to the syllabus details for the Certified Blockchain Expert exam. Make sure you have gone through all the exam details and exam prerequisites so that you don't miss on anything.
Exam Prerequisites
The Certified Blockchain Expert Exam does not require any past experience. However, it is expected that you have exposure about the following –
Basic knowledge of computer science
A zeal to learn a new technology like Blockchain
Awareness Blockchain and crypto currency overview and latest updates.
Certified Blockchain Expert Course Outline
The Certified Blockchain Expert exam will evaluate candidates on the following basis –
Introduction to Blockchain
Firstly, What is Blockchain?
Secondly, Why Blockchain is a Distributed P2P network?
Also, Benefits of using Blockchain Technology
Subsequently, What are different Blockchain technologies?
Finally, Bitcoin & Blockchain: What is the relation?
Blockchain Ecosystem
Firstly, Blockchain Architecture
Also, Components of Blockchain Ecosystem
Furthermore, Blocks, Wallets and Addresses
Subsequently, Public and Private Key
Also, Merkle Tree and Hashing
Subsequently, Cryptography and Blockchain Algorithms
Furthermore, Transaction execution & distribution
Finally, Types of Blockchain
Blockchain Mining
Firstly, What is Blockchain mining?
Secondly, Types of mining
Thirdly, What are Miners?
Security and Privacy
Firstly, What are Smart Contracts?
Secondly, What is Consensus?
Also, Types of Consensus Algorithms
Building your own Blockchain
Creating your own blockchain solution
Use Cases
Firstly, Blockchain in Supply Chain
Secondly, Blockchain in Manufacturing
Thirdly, Blockchain in Automobiles
Also, Blockchain in Healthcare
Subsequently, Blockchain in Cyber security
Lastly, Blockchain in Financial Industry
Let us now look at some of the resources that can be beneficial for preparation and passing the exam with flying colors.
Study Guide for Certified Blockchain Expert
There are so many resources available that can be used for preparation. But one should be very careful while choosing the resources as they determine how well you pass the exam. Let us look at some resources –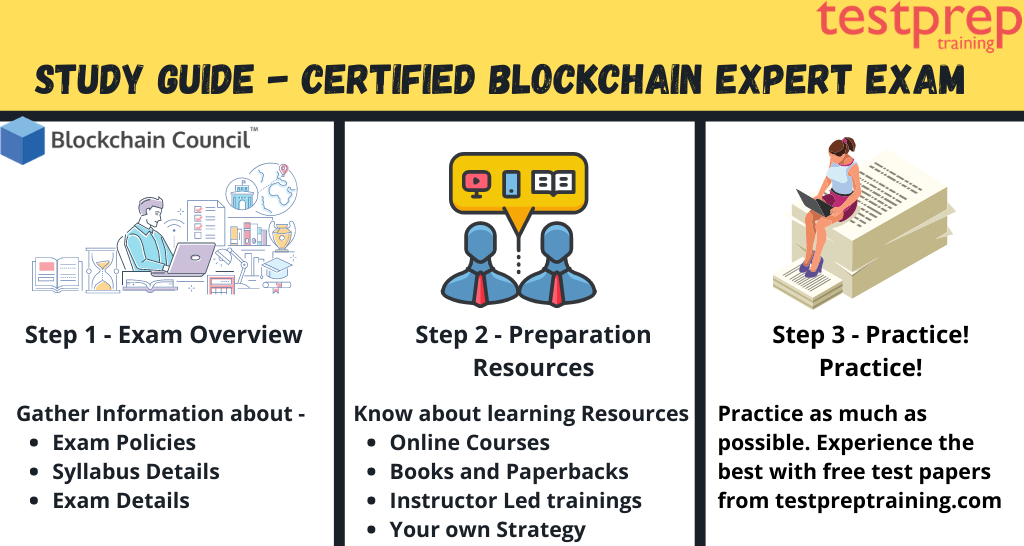 Official Resources
There are some resources that are made available by the official site. These are the most authentic resources in terms of the syllabus. But in terms of quality, you can find even better resources at many educational sites. These are the list of resources officially available.
Building your Own Strategy
Prepare your own strategy for study. Self-study is the key that will help you score more and will lead to perfection. Categories the syllabus into the parts which demands hands-on training and which is theoretical. Break the big parts into smaller one and then try to learn them. This will enable you to grasp things easily. Always make sure to never skip classes and keep your practice regular. Make notes and keep revising time to time. You can also try Online Tutorials by testpreptraining.com.

Books your best friends!
Books are indeed the best valued resource that is readily available at ease. You can refer any book of your choice or can go for those as prescribed by the open group. Remember to match your syllabus and prepare in the right direction. Some books that can be used for the preparation are –
Certified Blockchain Expert v2 Complete Training Guide with Exam
Beginning Blockchain: A Beginner'S Guide To Building Blockchain Solutions
Blockchain From Concept to Execution: BitCoin, Ethereum, Quorum, Ripple, R3 Corda, Hyperledger Fabric/SawTooth/Indy, MultiChain, IOTA, CoCo
A Practical Guide to Blockchain and its Application
Online classes and Instructor-Led Training
There are many online resources available for studies such as online classes and online instructor-led courses. Many sites today offer the preparation sets such as classes with test series and practice papers which are readily available and are a reliable source. You can also take the classes prescribed on the official site of the open group. The instructor-led courses are interactive enough to clear your doubts and helps you prepare thoroughly.
Evaluate with Practice Test
Learning from practice test and test series is one of the best ways out to identify the loopholes in your preparation and let you prepare in the best possible way. They build your confidence and also makes you familiar with the exam pattern so that you don't panic on the exam day. Practice as many sample papers and take as many test series as you can as this will instil perfection in you and you will be able to handle the tricky part of the exam. Start practising now!

Give a boost to your career and enhance your skills by taking the Certified Blockchain Expert Exam. Start your preparations now!