Machine Learning is currently one of the hottest topics in IT sector – technologies like Big Data, Artificial Intelligence, Automation and Machine Learning are increasingly shaping future of work and jobs. In layman terms Machine Learning is considered as a specific set of techniques that enable machines to learn from data, and make predictions. It has been predicted that the demand for Machine Learning is going to rise exponentially in the times to come. AWS Machine Learning Specialty certification is the key to become professionally certified and validate your skills in using various AWS services.
Machine learning is in trend and is opted by many top organizations. AWS Machine Learning Specialty certification imparts the required skills and experience that helps get highest paying job with expert tag within organization. AWS certifications include Specialty levels certifications designed for professionals having a deep and advanced knowledge of the Machine Learning functionalities. AWS came up with AWS Machine Learning Specialty Certification, recommended for individuals performing Data Scientist and Development role.
AWS Certification Levels
Why choose AWS Machine Learning Specialty (MLS-C01)?
AWS with its latest technologies now has more professional and advanced certifications that are built to enhance your skills and knowledge for professional advancement. AWS Machine Learning Specialty certification is for individuals performing Data science or Developer role. The certification exam checks your ability to train, tune, deploy and build machine learning (ML) models using AWS cloud.
Do you know? AWS Machine Learning Specialty certification demand is constantly increasing with now higher level job opportunities. Getting higher pay with good reputation this certification is best to invest your knowledge, experience and time. Before you start preparing for the exam lets gather all the information at one place so that you don't miss out on anything.
AWS Machine Learning Specialty Exam Structure
AWS Machine Learning Specialty exam is intended for data scientist and people performing development role. The certification has been built to validate your skills in designing, maintaining, implementing and deploying Machine learning (ML) solutions for business purposes. This certification helps the developers to identify the patterns using algorithms and also checks ability to run or design workloads on AWS cloud.
AWS Machine Learning Specialty Exam Details
AWS Machine Learning Certification Questions are in Multiple Choice format. Moreover, you get only 170 minutes to complete the exam. Also, AWS Machine Learning Certification Cost is USD $ 300. You can take the exam in various languages including English, Japanese, Korean, and Simplified Chinese.
| | |
| --- | --- |
| Exam Code | MLS-C01 |
| Exam Type | Specialty |
| Exam Duration | 170 minutes |
| Exam Cost | USD $ 300 |
| Exam Format | Multiple-choice Questions and Multiple-response Questions |
| Exam Scoring | Scaled score from 100 to 1000 |
| Passing Score | 750 |
| Exam Language | English, Japanese, Korean, and Simplified Chinese |
AWS Machine Learning Certification Prerequisites
For AWS Machine Learning Specialty exam,
You should have experience of 1 or 2 years in developing, architecting and running machine learning or deep learning workloads on AWS cloud.
You should be having experience in machine and deep learning frameworks and in performing hyper parameter optimizations.
It is required to have ability to follow operational, deployment and model training best practices.
Abilities you should have…
Good understanding of selecting and justifying appropriate machine learning approach for given problem.
Ability to identify appropriate AWS services to implement Machine learning solutions.
Ability to implement and design secure and cost efficient Machine learning solutions.
AWS Machine Learning Certification Course
There are 4 domains to focus on in this AWS Machine Learning Specialty Certificate,
Domain 1 – Data Engineering
This domain covers 20% of the weightage in the exam. The sections which are included in this domain are,
Creating machine learning data repositories.
Implementing and identifying data ingestion solution.
Implementing and identifying data transformation solution.
Domain 2 – Exploratory Data Analysis
You will study about data for machine learning and modeling concepts in this domain. It covers 24% of total weightage. The sections included in this are,
Preparing and sanitizing data for modeling.
Performing feature engineering.
Visualizing and analyzing data for machine learning.
Domain 3 – Modeling
With nearly 36% weightage in the exam, this domains is considered to be an important area to focus on and it covers the following sections,
Framing business problems as machine learning problems.
Training machine learning model.
Selecting the correct model for given machine learning problem.
Performing hyperparameter optimization.
Evaluating machine learning models.
Domain 4 – Machine Learning Implementation and Operations
This is the last domain which includes concepts of machine learning services and implementation. It covers 20% of weightage in the exam.
The section covered in this are,
Building machine learning solutions for fault tolerance, availability, resiliency and performance.
Recommending and implementing the correct machine learning services for given problem.
Applying basic AWS security practices to machine learning solutions.
Deploying and operationalizing machine learning solutions.
About AWS Machine Learning Specialty Exam
Exam Question types
AWS Machine Learning Certification Exam Questions are in following formats:
There will be multiple choice questions in which you only have select one correct option out of four options.
And multiple responsive questions in which there can be multiple correct answers from the options given.
Scoring Guide
In Machine Learning Specialty exam you can choose one or more best suitable answers depends on the type of questions.
In this exam no marks will be deducted on giving wrong answer.
In the exam you can see some portion which does not have any score. It is there just for collecting general information and will not have any effect on the exam.
Result Pattern
Score is scaled between 100 to 1000.
To pass this you need to score 750.
AWS Machine Learning Specialty exam is based on pass or fail format. And also the exam result will be mailed to you within five business days from the day of the exam.
For this exam you just have to get the overall passing score so it is not necessary to pass each section.
Each section in this exam has a varying weighting, with differ in number of questions listed against each section in the exam.
Examination Retake Policy
AWS have certain rules for giving certification exam again. It states that you have to wait for 14 days before retaking the exam. There is no such limit for giving the exam, you can take the exam as many times as you want until you have passed the certification. Also you have to pay the full registration fee for each attempt you take.
Registering for the exam
You need to register first and then sign in to aws.training.
After that, click on Certification on the top of the page.
Then click on AWS Certification account, Schedule new exam.
Check for the exam you want to take and click schedule at Pearson VUI button or PSI.
At the time of exam before entering the test center you are required to provide two government issued IDs with matching your name on it as on the application form.
Path for AWS Machine Learning Professionals
AWS has designed Machine Learning path so that Professionals can examine their skills and experience based on developing, tuning, training and deploying Machine learning models using services of AWS cloud.
For AWS Machine Learning Certification Path in AWS have two paths,
Machine Learning Path for Data Scientist
This path is for individuals who are skilled in statistics, mathematics\s and analysis and want to become an expert in Machine learning in their organization. In this you will learn about the frameworks and analysis tools which are used for improving workplace.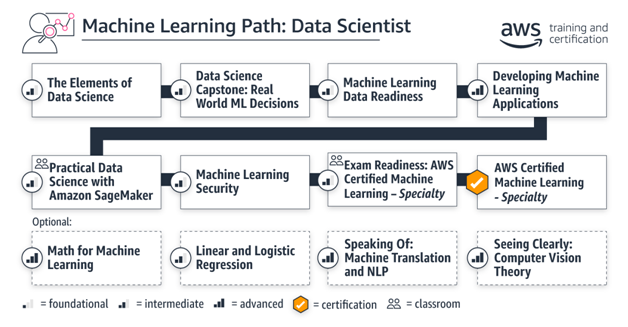 Machine Learning Path for Developer
Machine Learning Developer path is for software developers and builders. This will help you learn how Artificial Intelligence and Machine learning together can help you get better partner with Data Scientist to innovating with Machine learning technologies.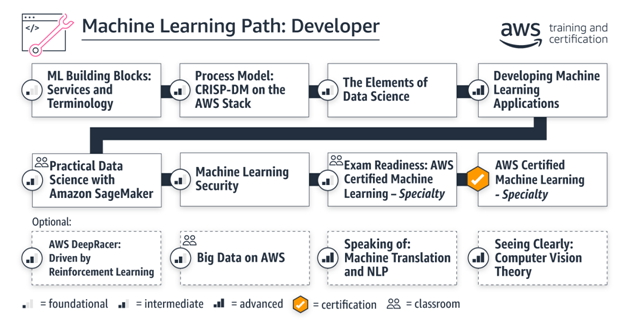 AWS Certification Exam Resources
For AWS Machine Learning Specialty exam there are many resources that are available. Most importantly these resources will help you during preparation for the exam. It will also let you understand the topics better and will provide an expert like assistance to solve your queries.
AWS Machine Learning Documentation
One of the most preparation guide for the AWS Certified Machine Learning Specialty exam is the AWS official documentation. AWS official documentation is a great source to learn the different sub-topics required for the machine learning specialty certification examination. We can find documentation related to amazon machine learning concepts like splitting data, types of machine learning models, and data transformations. The recommended documents while preparing for AWS Machine Learning Specialty –
AWS Machine Learning Specialty References
There are many references which are available for AWS Machine Learning Specialty exam online and offline. However, there are many websites also which provide online training for the exam with a full assistance to the course like – Simplilearn, Pluralsight and Udemy.
Discussion Forums
There are many websites which provide good information and topic details related to the certification. This can be helpful when you are having any doubt or want to know something about the exam. Some of them include – Answers.com, Quora and Stackoverflow.
Join Study Group and Learning Communities
Subsequently you must also join study groups and communities to improve your preparations. Since study groups and communities have like-minded participants. So, it becomes easier for you to interact with other candidates and find unique responses to some of your doubts. Also, you may get the opportunity to interact with subject matter experts that will help you refine your preparation methods. Most importantly, you may also find study partners for your preparation in these groups and forums to resolve any query or doubts during the preparation guide.
Above All Try – Practice Exams
AWS Machine Learning Certification Practice Exam is all you need to check your preparations. Practice sets of questions can be used for increasing speed and better preparation. There are websites which provides Practice test and they also validate you on the basis of your skills and knowledge on AWS cloud. You can also check for practice sets on Amazon but not all the topics will be covered there.  At Testprep Training you get bulk of practice sets of questions on AWS Machine Learning Specialty exam in two ways,
Training at AWS
AWS offers AWS Machine Learning Certification Training exam at https://aws.amazon.com/training/. Moreover these trainings required registration and are available at zero cost. You can have access to various Learning libraries in AWS, to get to know more about the AWS services. 
Exam Preparation guide for AWS Machine Learning Specialty exam
This certification exam is important for individuals who are performing role of Data Scientist and developer. You have to make a mindset that you have to and you should pass this certification anyhow. This will require a good study plan for the examination as well as it also important that you get experience and practical knowledge in Machine learning in AWS cloud. Above all the certification will provide you many new opportunities and will improve your skills set and advanced knowledge. To help you out we provide the AWS Machine Learning Specialty Study Guide
1. Creating Study Timetable
Before you plan to create a time table for yourself it is important to start your preparation with some research. It is suggested to go through the Machine learning workloads concepts together its exam topics thoroughly. In order to arrange your time table you must rearrange the topics according to their weightage in their exam and then decide how to exactly move forward in this exam.
2. Getting Hands on Experience
In order assess your skills and knowledge by your own together with a better understanding of its application it becomes very important to understand the concepts and then advance your experience in that. It is suggested to have hands on experience in Machine learning workloads using AWS cloud.
3. Refer Online Training Programs
You may find enormous websites providing learning and training material to pass the AWS certification exam with assistance and practice sets of questions. There are alot of websites providing free practice sets of questions. Together with free trial before purchasing the whole training materials. If you are into self-study then you can buy AWS reference books to study and prepare for the exam.
4. Stay Up to Date with the Exam Updates
Read the exam related FAQs which are provided so that you should know if there is any update related to the certification. Join groups or communities to get the latest details about the exam. You have to remain focused about every change that is happening in the exam. So that nothing is left behind when preparing.
5. Practice ! Practice! Practice!
Practicing on a daily basis will help you understand the concepts more easily. This will let you know about you weakest and strongest areas. After completing any topic, give it a quick revision and try to assess yourself on that topic using exam dumps. There are many free practice tests which are available online and you can also go for paid questions sets.
Moreover, it is suggested to Make a schedule for studying as well as practicing questions. This will help you cover the topics quickly with giving time for practice.
Advice by Our Expert
AWS Machine Learning Specialty exam can help the professional in achieving a more advanced career as well as open doors for new opportunities. However, to earn this it is recommended to focus on understanding the exam concepts and prepare well for the exam. For this, it is required to practice and get into the preparation mode. SO, all the best and crack the exam.
Get certified Now!