Amazon Web Services (AWS) certifications are one of the most sought-after certification brands since Amazon holds the largest public cloud market share. So, whether you are a hands-on engineer or a consultant by trade, having this on your resume is extremely beneficial. But, earning this requires a lot of hard work, dedication, and the right study resources. So, for the AWS Certified Solutions Architect Associate exam, we will help you reduce the difficult part by learning the related details and using the right resources for preparation.
Moreover, with good certification, you can easily excel in your career. Clearly, you are in luck today as we have curated the article with all the details and learning resources that will help you plan better. Let's begin by looking at some exam details that are essential to know!
About AWS Certified Solutions Architect Associate Exam

:
The certification exam for AWS Certified Solutions Architect – Associate is intended for professionals who perform a solutions architect role. The certification exam validates the candidate's ability to effectively demonstrate knowledge of how to architect and deploy secure and robust applications on AWS technologies. The objective of the certification is to validate –
Individuals' ability to define a solution using architectural design principles based on customer requirements.
Individual's ability to provide implementation guidance based on best practices to the organization throughout the life cycle of the project.
– Recommended Knowledge:
Nothing comes easy right, for the AWS Certified Solutions Architect Associate examination, you need to have the following knowledge –
Firstly, One year of hands-on experience designing available, cost-efficient, fault-tolerant, and scalable distributed systems on AWS
Secondly, Hands-on experience using compute, networking, storage, and database AWS services
Thirdly, Hands-on experience with AWS deployment and management services
Fourthly, the ability to identify and define technical requirements for an AWS-based application
Subsequently, the Ability to identify which AWS services meet a given technical requirement
Furthermore, Knowledge of recommended best practices for building secure and reliable applications on the AWS platform
Next, Understanding the basic architectural principles of building on the AWS Cloud
To add on, Understanding of the AWS global infrastructure
Last but not the least, Understanding of network technologies as they relate to AWS an understanding of security features and tools that AWS provides and how they relate to traditional services.
– Exam Details
The AWS Certified Solutions Architect Associate examination, consists of case studies, short answers, multiple-choice, mark review, etc. Since there are different types of questions, you can complete the case study questions first. Subsequently, they are the most time-consuming ones. Next, you can go for short answers, followed by multiple-choice. Furthermore, you are given 130 minutes to complete the examination, therefore, manage your time wisely. Keep in mind to select the language of your preference as this examination is available in English, Japanese, Korean, and Simplified Chinese. Last but not the least, results for the examination are reported as a score from 100-1000, with a minimum passing score of 720.
AWS Exam Course Structure
The AWS Certified Solutions Architect Associate exam covers the following topics –
Domain 1: Design Resilient Architectures
1.1 Design a multi-tier architecture solution
1.2 Design highly available and/or fault-tolerant architectures
1.3 Design decoupling mechanisms using AWS services
1.4 Choose appropriate resilient storage
Domain 2: Design High-Performing Architectures
2.1 Identify elastic and scalable compute solutions for a workload
2.2 Select high-performing and scalable storage solutions for a workload
2.3 Select high-performing networking solutions for a workload
2.4 Choose high-performing database solutions for a workload
Domain 3: Design Secure Applications and Architectures
3.1 Design secure access to AWS resources
3.2 Design secure application tiers
3.3 Select appropriate data security options
Domain 4: Design Cost-Optimized Architectures
4.1 Identify cost-effective storage solutions
4.2 Identify cost-effective compute and database services
4.3 Design cost-optimized network architectures
How difficult is the AWS Certified Solutions Architect Associate Exam?
To begin with, nothing comes easy, however, nothing is impossible. Therefore when it comes to the AWS Certified Solutions Architect Associate examination, all you need is the right resources and a guide to practice. With the right study material and your efforts, you are able to crack this examination. There are rumors and other assumptions that this examination might be difficult. The reason behind this is people are afraid of making efforts and working hard. Also, the cloud computing industry is very dynamic, therefore, updating yourself is a tedious task. But we have sorted all of the things required for you here. Let's get started: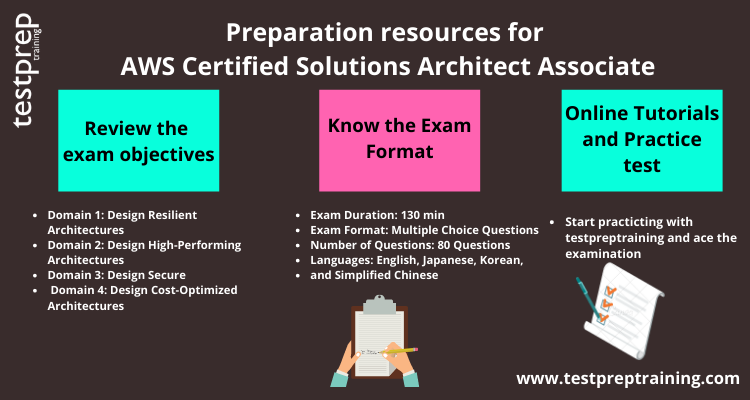 To know more about the details of the exam you can also visit the AWS Certified Solutions Architect Associate Exam Online Tutorials by Testpreptraining.com!
1. AWS Learning Path
AWS learning path is specifically designed for candidates looking to build and validate their overall understanding of the AWS Cloud. Further, this path is useful for individuals in technical, managerial, sales, purchasing, or financial roles who work with the AWS Cloud.
2. AWS Whitepapers & Learning Resources
After, this you must go through AWS whitepapers. With these, you will expand your knowledge of the cloud with AWS technical content. Also, you'll find various technical whitepapers, technical guides, reference material, and reference architecture diagrams. You can to go through the following-
Overview of Amazon Web Services
Architecting for the Cloud: AWS Best Practices
How AWS Pricing Works
Compare AWS Support Plans
Refer to official AWS Whitepapers

3. Join a Community
It is essential to stay connected with people who have similar aims as you. This will not help you clarify your doubts but it will also help to gain additional knowledge related to the AWS Certified Solutions Architect Associate examination. You should join some study groups where you can discuss the concepts with the people who have the same goal. This will lead the candidate throughout their preparation.
4. Evaluate with Practice Test
When you are done with all your preparation it is always advisable to go for some mock test before you plan to sit for the actual examination. This will not only boost your confidence but will also make you aware of the weak portions in your preparation and which require some more focus and hard work. Taking real-time practice tests will also release you from exam fear and exam pressure. Start your learning with AWS Solutions Architect Associate Free Practice Test now!