Despite the fast expansion of the cloud market, every business today needs a certified community cloud consultant. AWS Cloud Practioner Exam is the most popular of the top certifications. The AWS Certified Cloud Practitioner Exam is not easy to pass, but it is achievable with constant effort and credible learning resources. However, cloud computing has made inroads into a variety of businesses and sectors throughout the world, transforming the way people commute, interact, and conduct business. In truth, nothing in this world is unreachable if one continues to put forth honest and consistent effort.
That is to say, you need to have a perfect AWS Certified Cloud Practitioner study guide and material to be able to make it through it. If you are planning to take this certificate then this is the perfect destination for you. This blog will serve as a perfect guide for you by serving every detail of the exam and suggesting the study resources that will be most beneficial. No matter how difficult the exam is, one can always make it through that with consistent practice and hard work. Let us get started by looking at some exam details that are essential to know!
About AWS Certified Cloud Practitioner Certification
Independent of particular technical responsibilities covered by other AWS Certifications, the AWS Certified Cloud Practitioner exam is appropriate for professionals with the solid knowledge and abilities necessary to successfully show a good grasp of the AWS Cloud.
What are the skills validated?
The exam validates the following skills of a candidate –
Firstly, Define what the AWS Cloud is and the basic global infrastructure
Secondly, Describe basic AWS Cloud architectural principles
Furthermore, Describe the AWS Cloud value proposition
In addition, Describe key services on the AWS platform and their common use cases (for example, compute and analytics)
Also, Describe basic security and compliance aspects of the AWS platform and the shared security model
Subsequently, Define the billing, account management, and pricing models
In addition, Identify sources of documentation or technical assistance (for example, whitepapers or support tickets)
Lastly, Describe basic/core characteristics of deploying and operating in the AWS Cloud.
Recommended Knowledge

:
If you are planning to take for AWS Certified Cloud Practitioner exam preparation, Amazon recommends having some experience as mentioned below –
It is suggested to have at least 6 months of experience with the AWS Cloud in any role. This may include traditional and non-traditional students, educators, and individuals exploring the AWS Cloud, including project managers, IT managers, sales managers, decision-makers, and marketers, as well as those working in finance, procurement, and legal departments.
Subsequently, It is also suggested to have a basic understanding of IT services and their uses in the AWS Cloud platform.
Exam Details
Now that we are done with the basic exam knowledge, let us jump to the exam details. Not to forget that knowing the exam details and some other basic information about the exam is as important as preparing and practicing for the exam. Let us now look at some of the details related to the exam, they are summarized later in the form of a table for ease of access –
The  AWS Certified Cloud Practitioner Exam format comprises of around 65 questions.
Furthermore, all the questions in the examination will be either multiple-choice questions or multiple responses.
You will also have only 90 minutes to finish the exam.
The registration fee is set at USD 100. In addition, the test is offered in four other languages. English, Japanese, Korean, and Simplified Chinese are included among these languages.
| | |
| --- | --- |
| 1. Exam Name AWS Certified Cloud Practitioner | 2. Exam Code CLF-C01 |
| 3. Exam Duration 90 Minutes | 4. Exam Format Multiple Choice and Multi-Response Questions |
| 5. Exam Type Foundational | 6. Number of Questions 65 questions |
| 7. Passing Score 700 (on a scale of 100-1000) | 8. Exam Fee $100 USD |
| 9. Exam Language English, Japanese, Korean, and Simplified Chinese | 10. Validity 3 years |
Let us now look at the course structure for the exam to then utilize our study resources judiciously!
AWS Certified Cloud Practitioner Exam Guide
Domain 1: Cloud Concepts (26%)
Define the AWS Cloud and its value proposition
Identify aspects of AWS Cloud economics
List the different cloud architecture design principles
Domain 2: Security and Compliance (25%)
Define the AWS Shared Responsibility model
Define AWS Cloud security and compliance concepts
Identify AWS access management capabilities
Identify resources for security support
Domain 3: Technology (33%)
Define methods of deploying and operating in the AWS Cloud
Define the AWS global infrastructure
Identify the core AWS services
Identify resources for technology support
Domain 4: Billing and Pricing (16%)
Compare and contrast the various pricing models for AWS
Recognize the various account structures in relation to AWS billing and pricing
Identify resources available for billing support
How difficult is the AWS Certified Cloud Practitioner Exam?
Well, there are certifications that can be difficult to crack and the AWS Cloud Practitioner Exam is one of those. But it is righteously said that nothing in the world comes for free. Apparently, you have to put in enough hard work combined with the right set of resources for the exam. Due to the rising competition and rising demand passing the exam has become very critical. Therefore, the exam has been built to filter the best talent is making the exams more comprehensive and extensive.
Therefore, you must put your best foot forward and learn by practicing more and referring to authentic resources to help plan better. Let us now look at the resources that can be used to prepare well and help you pass the exam. To know more about the details of the exam you can also visit the AWS Cloud Practitioner Exam Online Tutorials
Learning Resources for AWS Certified Cloud Practitioner Exam Preparation
Now that you have complete details about the exam, let us look into the pool of resources you have for preparation. The right set of resources will always help to clear your conceptual parts and will help you pass the examinations smoothly. Some of the resources that you can refer for better preparation and to qualify the exam without any hurdles.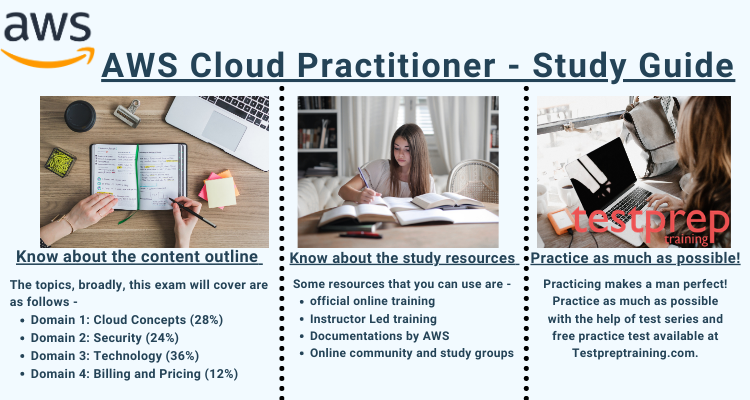 1. AWS Cloud Practitioner Learning Path
The AWS Cloud Practitioner study path is targeted at applicants who want to deepen and confirm their knowledge of the AWS Cloud. Individuals that deal with the AWS Cloud in technical, managerial, sales, buying, or financial roles will benefit from this course.
Refer: Learn about AWS Cloud Practitioner Exam
2. AWS Certified Cloud Practitioner Whitepapers
After, this you must go through AWS whitepapers. With these, you will expand your knowledge of the cloud with AWS technical content. Also, you'll find various technical whitepapers, technical guides, reference material, and reference architecture diagrams. But, we have narrowed it down to the following. So, make sure to go through the following-
Overview of Amazon Web Services
Architecting for the Cloud: AWS Best Practices
How AWS Pricing Works
Compare AWS Support Plans
Refer: AWS Certified Cloud Practitioner Whitepapers

3. Join the Online Community
Online forums and study groups are a great way to prepare for the certification exam. Therefore, feel free to get in touch with other candidates through study forums or online groups to ask a question related to the topic you're having difficulty with.
4. Evaluate yourself with Practice test
This is the most important part of your preparation, solve as many sample papers and practice tests as you can. This will help you improve your weak parts and also will clear your conceptual portions. You will feel more confident by practicing as much as you can. Testpreptraining.com has very good collection. Try the free test now!

Validate your skills and Climb up the corporate ladder by taking The AWS Cloud Practitioner Exam. Start preparing now!