Do you aspire to become an Azure Architect? Looking for opportunities to advance your career prospects? Then the Microsoft Azure AZ-304 certification exam is just the right certification for your dream job. It will act as a stepping stone to your promising career as a Microsoft Azure Architect. It is well known that Microsoft holds a reputed stand in the IT world. Certifications from Microsoft act as a credible indicator of your professional efficiency in various technical roles.
However, passing the Microsoft Azure AZ-304: Microsoft Azure Architect Design exam is no child's play. You need the right preparation strategy to clear the exam. But before we discuss any further, it's better to get a grip on the exam details.
Microsoft Azure AZ-304: Overview
The Microsoft Azure AZ-304 exam certifies you to become a Microsoft Azure Architect. An Azure Solution Architect partners with cloud administrators, cloud DBAs, and clients to implement solutions. Responsibilities for an Azure Solution Architect include advising stakeholders and translating business requirements into secure, scalable, and reliable cloud solutions. Candidates appearing for this exam should have subject matter expertise in designing and implementing solutions that run on Microsoft Azure, including aspects like compute, network, storage, and security.
Recommended Knowledge
A candidate for this exam should have advanced experience and knowledge of IT operations, including networking, virtualization, identity, security, business continuity, disaster recovery, data platform, budgeting, and governance–this role should manage how decisions in each area affect an overall solution. In addition, candidates in this role should have expert-level skills in Azure administration and have experience with Azure development and DevOps processes.
AZ-304 Exam Format
Before jumping into the Microsoft Azure AZ-304 preparations one must have a clear idea of what he/she is putting themselves into. This translates to the fact that you must be familiar with the AZ-304 exam format. It will help you devise your study plan and get ready for the exam day. Microsoft Azure AZ-304 covers 40 to 60 questions which are in multiple-choice format. However, for the AZ-304 exam time duration, you only get 150 minutes to complete the exam. Also, the Microsoft AZ-304 exam fee is $165 USD and is available in the English language only.
Microsoft Azure AZ-304 Exam Course Outline
Course Outline deeply analyses the exam objectives. These objectives form the blueprint of the exam. Moreover, the course outline provides a detailed description of all the exam concepts. 
Microsoft AZ-304 Exam has updates in the course outline as on January 27, 2021.
The updated Microsoft AZ-304 exam topics include:
Domain 1: Design Monitoring (10-15%)
Firstly, Design for cost optimization
Secondly, Design a solution for logging and monitoring
Domain 2: Design Identity and Security (25-30%)
Next, Design authentication
Then, Design authorization
Subsequently, Design governance
Also, Design security for applications
Domain 3: Design Data Storage (15-20%)
Firstly, Design a solution for databases
Secondly, Design data integration
Moreover, Select an appropriate storage account
Domain 4: Design Business Continuity (10-15%)
Further, Design a solution for backup and recovery
Likewise, Design for high availability
Domain 5: Design Infrastructure (25-30%)
To begin with, Design a compute solution
Furthermore, Design a network solution
Additionally, Design an application architecture
Finally, Design migrations
How difficult is Microsoft Azure AZ-304?
Microsoft Certifications give you a valuable benchmark and set you aside from the ever increasing competition. However, they are really tough to pass. Given the credibility a Microsoft Certification offers, it is definitely not easy to earn one. Moreover, Microsoft exams are known for their tricky questions that check you on each minute detail.
Targeting the most important question that follows: 'How difficult is it to prepare for the exam?' Well preparing for an exam that has such a vast syllabus seems really challenging. But this does not mean you cant achieve the credential. Access to the right resources sprinkled with your extra efforts is the perfect recipe for your strong preparations.
The person who is well prepared has already won half of the battle. Therefore to ease your difficulty we have a list of the most promising resources in the next section.
Microsoft Azure AZ-304 Preparatory Resources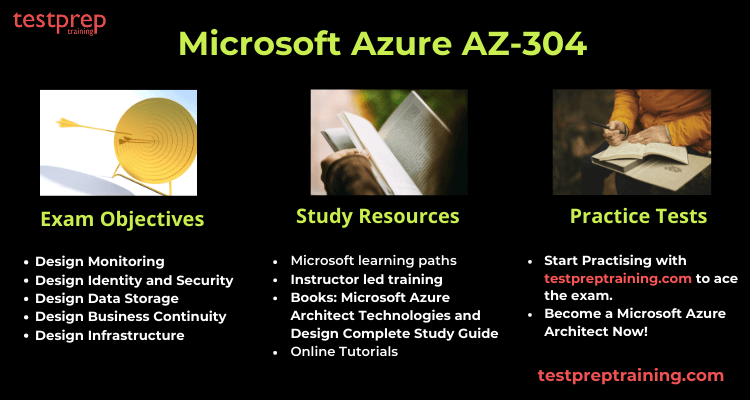 Preparatory Resources define your preparations. They supplement your learning experience and thus you should choose them very carefully after analyzing all your options. However, the market is flooded with preparatory resources which makes it difficult to select the best ones. Further, this will work as a Microsoft AZ-304 exam guide. These resources will set you on the right track!
Microsoft learning paths
Microsoft AZ-304 exam learning paths are the official resources mainly the online classes which are made available for the candidates. These are made available absolutely free of cost and can help in preparing by developing crystal clear concepts for the exam topics. You can access them through the links mentioned below –
Go for Instructor-led training
The instructor led training can be the right choice for you if you are an inquisitive person and encounter so many doubts. The Course AZ-304T00-A: Microsoft Azure Architect Design teaches Solutions Architects how to translate business requirements into secure, scalable, and reliable solutions. Lessons include design considerations related to logging, cost analysis, authentication and authorization, governance, security, storage, high availability, and migration.
Online Tutorials
Also, the best way to enhance your knowledge is by referring to Online AZ-304 Tutorials. These Tutorials provide comprehensive information about the exam and its concepts. Additionally, they also cover exam details and policies. Therefore learning with Online Tutorials will result in strengthening your preparation.

Books to refer
AZ-304 exam books are indeed the best-valued resource for preparation. You can refer to multiple books of your choice and can also pick the books from libraries or book stores. You can refer to Microsoft Azure Architect Technologies and Design Complete Study Guide Exams AZ–303 and AZ–304 Paperback
Evaluate yourself with Practice Test
The practice is what decides your future. Self-evaluation, as we say, will provide you with better insight if you are well skilled or not. Most importantly, self-evaluation will assist you to acknowledge the areas where you lack. Not to mention, you must start your AZ-304 exam practice tests once you have completed the full syllabus. Remember the more you practice, the better the result. So Start Practising Now to boost your confidence!

Validate your skills and get ready to qualify for Microsoft Azure Architect Design. Start preparing AZ-304 now!