An Google Associate Cloud Engineer deploys applications, monitors operations, and manages enterprise solutions. Cloud computing sector has boomed a lot in the past few years. Presently, every IT enthusiast wants to learn cloud computing as this field is fetching high salaries and is expected to grow at a faster pace in future. With this exam, you will be able to experience working with public clouds and on-premises solutions. Also, you will be able to use Google Cloud Console and the command-line interface to perform common platform-based tasks to maintain one or more deployed solutions that leverage Google-managed or self-managed services on Google Cloud.
Skills Assessed
The Google Associate Cloud Engineer Certification Exam assesses your ability to – 
Firstly, set up a cloud solution environment
Secondly, plan and configure a cloud solution
Then, deploy and implement a cloud solution
Also, ensure successful operation of a cloud solution
Moreover, configure access and security
Who should take this exam?
This exam is designed to test technical skills related to the job role. Hands-on experience is the best preparation for the exam. If you feel you may need more experience or practice, use the hands-on labs available on Qwiklabs as well as the GCP free tier to level up your knowledge and skills.
Google Associate Cloud Engineer Study Guide
Due to the growing competition in this sector and its allied exam, cracking the certifications is a difficult task. With the right set of resources and right strategy you can easily pass the exam. there are numerous resources that you can choose for preparation. But you should be very careful while picking the resources and choose the authentic ones. Let's have look at the recommended resources and discuss step by step.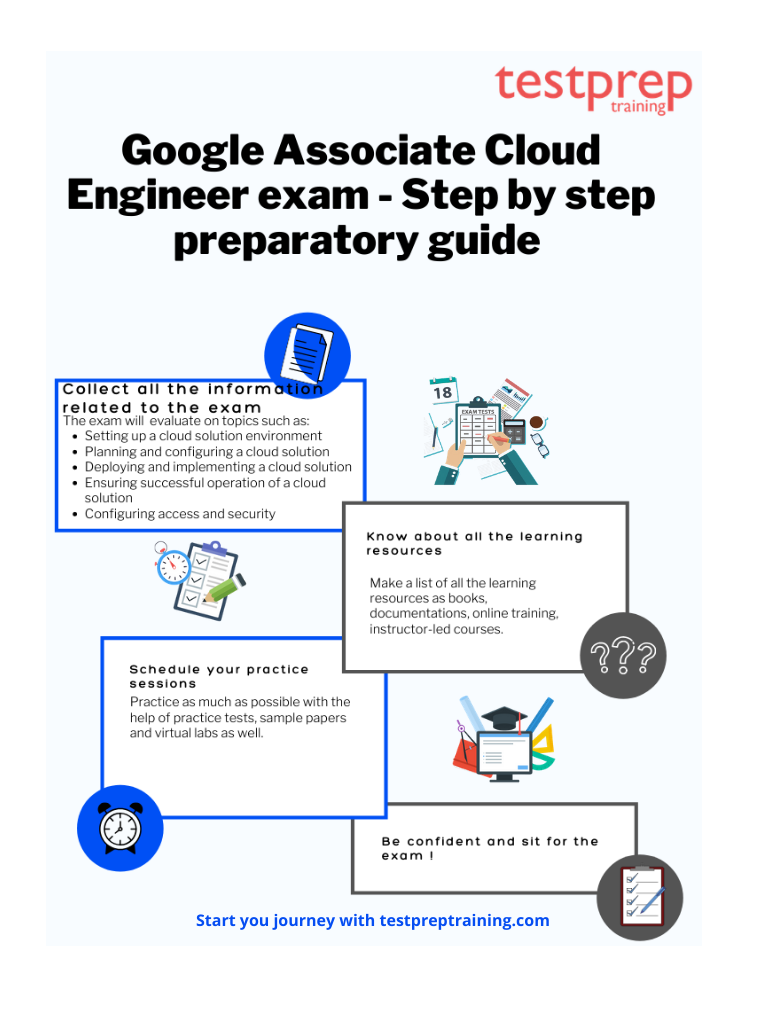 Step 1- Understand the Exam Details
Firstly, you must have clarity about the exam details and policies. It is very important to have such information handy before beginning your preparation journey. Moreover, familiarising yourself with the exam course is yet again very essential to grasp the exam concepts. Given the wide syllabus this exam covers, it is suggested that you refer the Official Exam Guide by Google and learn more about the exam course. This exam covers 5 domains which are further subdivided into various topics. Each topic is essential for you to ace the exam. Tailor your study plan around these course domains to improve your preparations. The Google Associate Cloud Engineer Course domains are-
Setting up a cloud solution environment
The first domain covers concepts like Setting up cloud projects and accounts and Managing billing configuration. It also focuses on installing and configuring the command line interface (CLI), specifically the Cloud SDK .
Planning and configuring a cloud solution
Further this domain covers the aspects of planning and estimating GCP product use using the Pricing Calculator. It also covers planning and configuring compute resources, considerations, data storage options and network resources.
Deploying and implementing a cloud solution
Moreover this domain is focused on deploying and implementing Compute Engine resources, Google Kubernetes Engine resources, App Engine, Cloud Run, and Cloud Functions resources. The Tasks included in this domain are, deploying and implementing data solutions, networking resources, and infrastructure using Cloud Deployment Manager.
Ensuring successful operation of a cloud solution
Subsequently, this domain of the exam course aims at managing Compute Engine resources, managing Google Kubernetes Engine resource, App Engine and Cloud Run resources. It also builds an understanding about managing storage and database solutions, networking resources monitoring and logging.
Configuring access and security
Lastly, this domain is much focused on building your skills for managing identity and access management (IAM) and service accounts. It also emphasises on viewing audit logs for project and managed services.
Step 2- Explore Learning Resources
The demand for Google Cloud Certified Associate Cloud Engineer exam has accelerated and so there are abundant resources in the marketplace for your preparations. It is necessary to choose the ones that best suit you and are authentic. Here are some recommended Google Associate Cloud Engineer Study Material for you to explore-

Online Training
There are various sites that provides the online training for this exam. the online training is the best way to prepare for the exam while developing strong understanding of the concepts. The online classes also provide you with good reading material like notes or recommends books that might be beneficial for you. Google has itself recommended some trainings that might help you in scoring well and that are prepared officially by google itself via coursera and other sites.
Complete the recommended curriculum in Google Associate Cloud Engineer Training:
Broaden your knowledge with additional self-paced labs and quests:
Instructor led trainings
Instructor led trainings are also one of the best options to prepare for the exam. the instructors who are well versed with this and have excelled in this field are on board for teaching in the best possible way. Again, you can find many reliable sites that provide online training and also provide you additional resources that can help you a lot. Google recommends Google Associate Cloud Engineer Online Trainings through the following labs:
Complete the recommended curriculum:
Hands – on trainings
Practicing and learning to apply the concepts in real life is very important. This exam tests your competency for a job so all your concepts should be crystal clear and you should know their application too. Google recommends trainings through the following labs: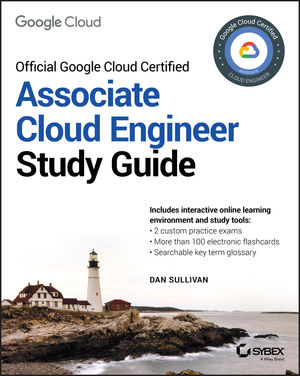 Books – Your best friends
Books have been an age old tradition and essential ingredient when it comes to preparing for any exam. They provide deep understanding of the exam concepts. Also Google Associate Cloud Engineer Books offer real life scenarios that help you prepare for a practical exam. We recommend you to refer the Official Google Cloud Certified book by Dan Sullivan for the preparation of your exam.
Google documentation
Google documentation is the most authentic resource for preparation and that too free of cost. You can go to official site of google for this exam and can find the documentations. Google has divided its documentations in the following four major sections:
You can explore these documentations and can find absolutely reliable and quality content for your preparation.
Step 3- Evaluate yourself – Try Practice Tests
Practice is what decides your future. You should try to take Google Associate Cloud Engineer Practice Tests as much as you can as this will never let you down. Practising will help you determine where do you lack in performing best and will also help you in getting more confident on the day of exam by eradicating your silly mistakes. Try to solve multiple practice tests. They will let you identify the loopholes in your preparation and will help you in reaching the next level of preparation. Such practice tests boost your confidence and improve your skills. Start Practising Now!

Enrich your learning experience and get ready to qualify Google Associate Cloud Engineer exam with hundreds of practice exam and expert resources. Start Preparing Now!