Are you ready to take the next step in your career by becoming a Microsoft Certified Professional? Looking for a quick recap with right study resource? Then you are definitely at the right place. We provide you with Microsoft Windows 10 MD-100 Cheat Sheet will be your information goldmine for your revisions. It includes all the essential study resources to boost up your knowledge and confidence.
Microsoft MD-100: Overview
The Microsoft Windows 10 MD-100 exam equips you with skills to manage identity, access, policies, updates, and apps. As an Administrator, you will typically collaborate with the Microsoft 365 Enterprise Administrator to design and implement a device strategy that meets the business needs of a modern organization.
MD-100 Exam Prerequisites
There are no prerequisites for the Microsoft MD-100 Windows 10 Exam. However you must be familiar with Microsoft 365 workloads. Additionally, you must be proficient and experienced in deploying, configuring, and maintaining Windows 10 and non-Windows devices and technologies
Target Audience : MD-100
The MD-100 Certification Exam is valuable for new IT Professionals with at least a year of working in Windows 10, and also for experienced desktop support specialists looking to validate their Windows 10 skills. This MD-100 exam covers everything you need to know to run an enterprise Windows 10 environment.
Certification Details
With the successful completion of MD-100 : Windows 10 and MD-101 : Managing Modern Desktops you will earn the certification Microsoft 365 Certified: Modern Desktop Administrator Associate.

Cheat Sheet
Cracking the certifications like Microsoft Windows 10 Exam can be challenging enough. But the exam is worth taking as this gives you global recognition in this field along with the access to huge community. This cheat sheet will provide a quick summary of all the essential resources to crack the exam. Moreover, it will set you on the right track to ace this exam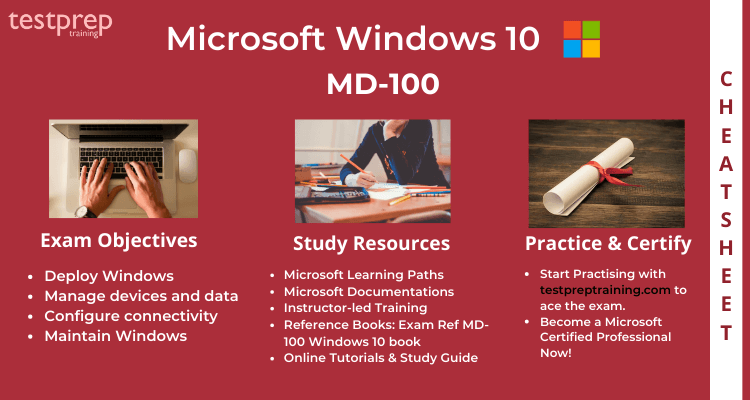 Revise the exam objectives
Firstly, you need to go through the Official guide of Microsoft MD-100 exam. Familiarise yourself with all the objectives and course domains of the exam. Also, devote enough time to each topic and have in depth knowledge of the subject by tailoring your study focus around the course domains. Moreover, the official guide acts as a blueprint for the exam, hence always remember to refer it.
Microsoft MD-100 exam updated course outline as on March 8, 2021
This exam covers the following domains:
1. Deploy Windows
Install Windows 10
Perform post-installation configuration
2. Manage devices and data
Manage users, groups, and devices
Configure devices by using local policies
Manage Windows security
3. Configure storage and connectivity
Configure networking
Configure data access and protection
4. Maintain Windows
Configure system and data recovery
Manage updates
Monitor and manage Windows
Configure remote connectivity
Quick Links to Resources
Choosing the right resources with reliable content is very important. As a matter of fact, there are various resources to choose from. This makes it difficult to select the authentic and genuine ones. As you have probably been preparing for this exam we hope that you have made a wise choice in terms of your learning resources. However, here area few quick links that will definitely benefit your preparations and help you ace the exam:
Books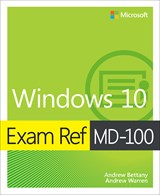 Books are the most important ingredient of preparation. There are a vast variety of books available in the market which you can use to prepare for the Microsoft MD-100 Exam. We suggest you the Exam Ref MD-100 Windows 10 book offered at the Microsoft Press Store. This book focuses on the critical thinking and decision-making acumen needed for success at the Microsoft Certified Associate level.
Training Course
Microsoft offers their training courses to provide you with the necessary tools and resources. Microsoft offers the Course MD-100T00-A: Windows 10 as a part of its instructor led training. Also, you get access to online learning course to assist your self- paced learning. Modernize your enterprise deployment with Windows 10 and Microsoft 365 Apps
Online Tutorials and Study Guides
The roadmap to your success is only complete when you have the right strategy. Study Guides will be your support throughout your revision journey. Also, Online Tutorials will result in strengthening your preparation by providing in depth understanding about the exam concepts.

Practice Tests
Finally, it is time to check your preparations. Self-Evaluation is the key and hence your next step is to go for practice tests. The more you're going to practice, the better for you. Moreover, these practice tests provide you with the real exam environment and also help you analyse areas that need improvement. Strengthening your weaker domains will surely help you pass with flying colours. Therefore, attempt as many practice tests as you can. Start practising now!

Enrich and upgrade your profile with the Microsoft MD-100 Windows 10. Start Preparing Now!